On Christmas day, the Bridgerton series by Julia Quinn aired on Netflix as an original adaptation. Starring the members of the Bridgerton family, these English Regency romances feature a mix of humor, wit, and passion. Read the ebooks on OverDrive or listen to the audiobooks on hoopla! Find more books centered on the Regency era below.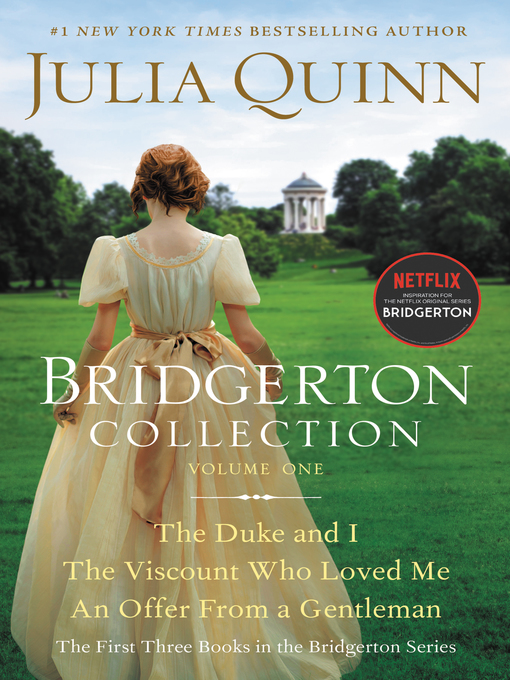 ---
Regency Nonfiction
Mad & Bad: Real Heroines of the Regency by Bea Koch
book
OverDrive ebook
OverDrive audiobook
Discover a feminist pop history that looks beyond the ton and Jane Austen to highlight the Regency women who succeeded on their own terms and were largely lost to history — until now. Regency England is a world immortalized by Jane Austen and Lord Byron in their beloved novels and poems. The popular image of the Regency continues to be mythologized by the hundreds of romance novels set in the period, which focus almost exclusively on wealthy, white, Christian members of the upper classes. But there are hundreds of fascinating women who don't fit history books' limited perception of what was historically accurate for early 19th century England. Women like Dido Elizabeth Belle, whose mother was a slave but was raised by her white father's family in England; Caroline Herschel, who acted as her brother's assistant as he hunted the heavens for comets, and ended up discovering eight on her own; Anne Lister, who lived on her own terms with her common-law wife at Shibden Hall; and Judith Montefiore, a Jewish woman who wrote the first English language Kosher cookbook.

As one of the owners of the successful romance-only bookstore The Ripped Bodice, Bea Koch has had a front row seat to controversies surrounding what is accepted as "historically accurate" for the wildly popular Regency period. Following in the popular footsteps of books like Ann Shen's Bad Girls Throughout History, Koch takes the Regency, one of the most loved and idealized historical time periods and a huge inspiration for American pop culture, and reveals the independent-minded, standard-breaking real historical women who lived life on their terms. She also examines broader questions of culture in chapters that focus on the LGBTQ and Jewish communities, the lives of women of color in the Regency, and women who broke barriers in fields like astronomy and paleontology. In Mad and Bad, we look beyond popular perception of the Regency into the even more vibrant, diverse, and fascinating historical truth.
---
A Royal Experiment: The Private Life of King George III by Janice Hadlow
book
In the U.S., Britain's George III is known as the king from whom Americans won their independence and as "the mad king," but in Janice Hadlow's groundbreaking and entertaining new biography, he is another character altogether–compelling and relatable.
He was the first of Britain's three Hanoverian kings to be born in England, the first to identify as native of the nation he ruled. But this was far from the only difference between him and his predecessors. Neither of the previous Georges was faithful to his wife, nor to his mistresses. Both hated their own sons. And, overall, their children were angry, jealous, and disaffected schemers, whose palace shenanigans kick off Hadlow's juicy narrative and also made their lives unhappy ones.
Pained by his childhood amid this cruel and feuding family, George came to the throne aspiring to be a new kind of king–a force for moral good. And to be that new kind of king, he had to be a new kind of man. Against his irresistibly awful family background–of brutal royal intrigue, infidelity, and betrayal–George fervently pursued a radical domestic dream: he would have a faithful marriage and raise loving, educated, and resilient children.
The struggle of King George–along with his wife, Queen Charlotte, and their 15 children–to pursue a passion for family will surprise history buffs and delight a broad swath of biography readers and royal watchers.
Regency Fiction
Georgette Heyer is best known for her Regency- and Georgian-era romantic comedies of manners, but she also wrote other historical fiction and mysteries during the "Golden Age" of the twentieth century. Her historicals are remarkable both for the extent of her research and the consistency with which she portrayed her settings, bringing them to life with carefully chosen details. The wit and style of her characters and lightness and humor of her plots combine with the vividly-portrayed settings and a touch of suspense to produce entertaining stories to which many fans return again and again. – from NoveList Plus
books by Georgette Heyer
OverDrive ebooks
hoopla ebooks and audiobooks
ebooks on Freading
---
Mary Balogh writes sensual historical romances that feature sparkling dialog and humor; colorful historical details which capture the spirit of the times; and sympathetic characterizations of strong heroes and heroines. Balogh is best known for her Regency Romances that, while heartwarming and upbeat, explore the dark side of the Regency era (1811-1820) and portray physically and emotionally flawed characters that maintain their dignity and discover redemption through love. These are insightful stories that reflect complex desires and emotions, as well as social mores and issues. – from NoveList Plus
books by Mary Balogh
OverDrive ebooks
hoopla ebooks and audiobooks
---
Julie Klassen's historical inspirational romances, generally set in the English Regency period, are well-regarded among both inspirational and general romance readerships. Gently grounded in much specific historical detail, her novels follow sympathetic and relatable protagonists as they find themselves in difficult circumstances and struggle to break free, while remaining faithful to their religious beliefs. Elements of intrigue, adventure, and misunderstanding give her love stories verve, and provide characters with opportunity to grow together and as individuals. Klassen deftly blends complex plot threads, adding examination of faith issues in a subtle and historically-appropriate way. – from NoveList Plus
books by Julie Klassen
OverDrive ebooks
hoopla ebooks and audiobooks
---
*All summaries are courtesy of the publisher unless otherwise noted.