The longstanding tradition of fantasy novels continues with these contemporary selections that hit the high notes with magic, fantastical creatures, epic world building and more. Recommended by Samantha Matherne.
Young Adult
Children of Blood and Bone by Tomi Adeyemi
book
large print book
Overdrive ebook
hoopla audiobook
They killed my mother.
They took our magic.
They tried to bury us.
Now we rise.
Zélie Adebola remembers when the soil of Orïsha hummed with magic. Burners ignited flames, Tiders beckoned waves, and Zélie's Reaper mother summoned forth souls. But everything changed the night magic disappeared. Under the orders of a ruthless king, maji were killed, leaving Zélie without a mother and her people without hope.
Now Zélie has one chance to bring back magic and strike against the monarchy. With the help of a rogue princess, Zélie must outwit and outrun the crown prince, who is hell-bent on eradicating magic for good.
Danger lurks in Orïsha, where snow leoponaires prowl and vengeful spirits wait in the waters. Yet the greatest danger may be Zélie herself as she struggles to control her powers and her growing feelings for an enemy.
---
Artemis Fowl by Eoin Colfer
book
large print book
book on CD
OverDrive ebook
OverDrive audiobook
hoopla ebook / hoopla ebook / hoopla ebook
Twelve-year-old Artemis is a millionaire, a genius, and above all, a criminal mastermind. But Artemis doesn't know what he's taken on when he kidnaps a fairy, Captain Holly Short of the LEPrecon Unit. These aren't the fairies of the bedtime stories. They're dangerous!
---
Seraphina by Rachel Hartman
book
OverDrive ebook
In the kingdom of Goredd, dragons and humans live and work side by side, while below the surface, tensions and hostility simmer.
The newest member of the royal court, a uniquely gifted musician named Seraphina, holds a deep secret of her own. One that she guards with all of her being.
When a member of the royal family is brutally murdered, Seraphina is drawn into the investigation alongside the dangerously perceptive—and dashing—Prince Lucien. But as the two uncover a sinister plot to destroy the wavering peace of the kingdom, Seraphina's struggle to protect her secret becomes increasingly difficult, while its discovery could mean her very life.
---
The Fifth Season by N. K. Jemisin
book
OverDrive ebook
OverDrive audiobook
This is the way the world ends…for the last time.
It starts with the great red rift across the heart of the world's sole continent, spewing ash that blots out the sun. It starts with death, with a murdered son and a missing daughter. It starts with betrayal, and long dormant wounds rising up to fester.
This is the Stillness, a land long familiar with catastrophe, where the power of the earth is wielded as a weapon. And where there is no mercy.
---
Eragon (Inheritance Cycle, Book 1) by Christopher Paolini
book
book on CD
OverDrive ebook
OverDrive audiobook
Fifteen-year-old Eragon believes that he is merely a poor farm boy—until his destiny as a Dragon Rider is revealed. Gifted with only an ancient sword, a loyal dragon, and sage advice from an old storyteller, Eragon is soon swept into a dangerous tapestry of magic, glory, and power. Now his choices could save—or destroy—the Empire.
---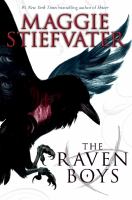 The Raven Boys by Maggie Stiefvater
book
hoopla audiobook
Part 1 of the Raven Cycle series
"There are only two reasons a non-seer would see a spirit on St. Mark's Eve," Neeve said. "Either you're his true love . . . or you killed him." Every year, Blue Sargent stands next to her clairvoyant mother as the soon-to-be dead walk past. Blue herself never sees them-not until this year, when a boy emerges from the dark and speaks directly to her. His name is Gansey, and Blue soon discovers that he is a rich student at Aglionby.
Adult
Ninth House by Leigh Bardugo
large print book
OverDrive ebook
hoopla audiobook
The mesmerizing adult debut from Leigh Bardugo, a tale of power, privilege, dark magic, and murder set among the Ivy League elite.
Galaxy "Alex" Stern is the most unlikely member of Yale's freshman class. Raised in the Los Angeles hinterlands by a hippie mom, Alex dropped out of school early and into a world of shady drug-dealer boyfriends, dead-end jobs, and much, much worse. In fact, by age twenty, she is the sole survivor of a horrific, unsolved multiple homicide. Some might say she's thrown her life away. But at her hospital bed, Alex is offered a second chance: to attend one of the world's most prestigious universities on a full ride. What's the catch, and why her?
Still searching for answers, Alex arrives in New Haven tasked by her mysterious benefactors with monitoring the activities of Yale's secret societies. Their eight windowless "tombs" are the well-known haunts of the rich and powerful, from high-ranking politicos to Wall Street's biggest players. But their occult activities are more sinister and more extraordinary than any paranoid imagination might conceive. They tamper with forbidden magic. They raise the dead. And, sometimes, they prey on the living.
---
Neverwhere by Neil Gaiman
book
books on CD
OverDrive ebook
hoopla ebook
hoopla audiobook
Freading ebook
Published in 1997, Neil Gaiman's darkly hypnotic first novel, Neverwhere, heralded the arrival of a major talent and became a touchstone of urban fantasy. Over the years, a number of versions were produced both in the U.S. and the U.K. Now Gaiman's preferred edition of his classic novel reconciles these works and reinstates a number of scenes cut from the original published books.
Neverwhere is the story of Richard Mayhew, a young London businessman with a good heart and an ordinary life, which is changed forever when he discovers a girl bleeding on the sidewalk. He stops to help her: an act of kindness that plunges him into a world he never dreamed existed.
Slipping through the cracks of reality, Richard lands in the Neverwhere, a London of shadows and darkness, monsters and saints, murderers and angels that exists entirely in a subterranean labyrinth. The Neverwhere is home to Door, the mysterious girl Richard helped in the London Above. Door, a noblewoman whose family has been murdered, is on a quest to find the agent that slaughtered her family and thwart the destruction of this underworld kingdom. If Richard is ever to return to his former life, he must join the journey to save Door's world — and find a way to survive.
---
The Magicians by Lev Grossman
book
OverDrive ebook
OverDrive audiobook
Quentin Coldwater is brilliant but miserable. A high school math genius, he's secretly fascinated with a series of children's fantasy novels set in a magical land called Fillory, and real life is disappointing by comparison. When Quentin is unexpectedly admitted to an elite, secret college of magic, it looks like his wildest dreams have come true. But his newfound powers lead him down a rabbit hole of hedonism and disillusionment, and ultimately to the dark secret behind the story of Fillory. The land of his childhood fantasies turns out to be much darker and more dangerous than he ever could have imagined.
The prequel to the New York Times bestselling book The Magician King and the #1 bestseller The Magician's Land, The Magicians is one of the most daring and inventive works of literary fantasy in years. No one who has escaped into the worlds of Narnia and Harry Potter should miss this breathtaking return to the landscape of the imagination.
---
A Discovery of Witches by Deborah Harkness
book
large print book
books on CD
OverDrive ebook
OverDrive audiobook
hoopla audiobook
Deborah Harkness's sparkling debut, A Discovery of Witches, has brought her into the spotlight and galvanized fans around the world. In this tale of passion and obsession, Diana Bishop, a young scholar and a descendant of witches, discovers a long-lost and enchanted alchemical manuscript, Ashmole 782, deep in Oxford's Bodleian Library. Its reappearance summons a fantastical underworld, which she navigates with her leading man, vampire geneticist Matthew Clairmont.
Harkness has created a universe to rival those of Anne Rice, Diana Gabaldon, and Elizabeth Kostova, and she adds a scholar's depth to this riveting tale of magic and suspense. The story continues in book two, Shadow of Night, and concludes with The Book of Life.
---
The Ten Thousand Doors of January by Alix E. Harrow
book
book on CD
OverDrive ebook
OverDrive audiobook
In the early 1900s, a young woman embarks on a fantastical journey of self-discovery after finding a mysterious book in this captivating and lyrical debut.
In a sprawling mansion filled with peculiar treasures, January Scaller is a curiosity herself. As the ward of the wealthy Mr. Locke, she feels little different from the artifacts that decorate the halls: carefully maintained, largely ignored, and utterly out of place.
Then she finds a strange book. A book that carries the scent of other worlds, and tells a tale of secret doors, of love, adventure and danger. Each page turn reveals impossible truths about the world and January discovers a story increasingly entwined with her own.
---
Circe by Madeline Miller
book
OverDrive ebook
OverDrive audiobook
In the house of Helios, god of the sun and mightiest of the Titans, a daughter is born. But Circe is a strange child—not powerful, like her father, nor viciously alluring like her mother. Turning to the world of mortals for companionship, she discovers that she does possess power—the power of witchcraft, which can transform rivals into monsters and menace the gods themselves.
Threatened, Zeus banishes her to a deserted island, where she hones her occult craft, tames wild beasts and crosses paths with many of the most famous figures in all of mythology, including the Minotaur, Daedalus and his doomed son Icarus, the murderous Medea, and, of course, wily Odysseus.
But there is danger, too, for a woman who stands alone, and Circe unwittingly draws the wrath of both men and gods, ultimately finding herself pitted against one of the most terrifying and vengeful of the Olympians. To protect what she loves most, Circe must summon all her strength and choose, once and for all, whether she belongs with the gods she is born from, or the mortals she has come to love.
With unforgettably vivid characters, mesmerizing language and page-turning suspense, Circe is a triumph of storytelling, an intoxicating epic of family rivalry, palace intrigue, love and loss, as well as a celebration of indomitable female strength in a man's world.
---
The Starless Sea by Erin Morgenstern
book
large print book
OverDrive ebook
OverDrive audiobook
From the New York Times bestselling author of The Night Circus, a timeless love story set in a secret underground world—a place of pirates, painters, lovers, liars, and ships that sail upon a starless sea.
Zachary Ezra Rawlins is a graduate student in Vermont when he discovers a mysterious book hidden in the stacks. As he turns the pages, entranced by tales of lovelorn prisoners, key collectors, and nameless acolytes, he reads something strange: a story from his own childhood. Bewildered by this inexplicable book and desperate to make sense of how his own life came to be recorded, Zachary uncovers a series of clues—a bee, a key, and a sword—that lead him to a masquerade party in New York, to a secret club, and through a doorway to an ancient library, hidden far below the surface of the earth. What Zachary finds in this curious place is more than just a buried home for books and their guardians—it is a place of lost cities and seas, lovers who pass notes under doors and across time, and of stories whispered by the dead. Zachary learns of those who have sacrificed much to protect this realm, relinquishing their sight and their tongues to preserve this archive, and also those who are intent on its destruction. Together with Mirabel, a fierce, pink-haired protector of the place, and Dorian, a handsome, barefoot man with shifting alliances, Zachary travels the twisting tunnels, darkened stairwells, crowded ballrooms, and sweetly-soaked shores of this magical world, discovering his purpose—in both the mysterious book and in his own life.
---
Uprooted by Naomi Novik
OverDrive ebook
OverDrive audiobook
Agnieszka loves her valley home, her quiet village, the forests, and the bright shining river. But the corrupted Wood stands on the border, full of malevolent power, and its shadow lies over her life.
Her people rely on the cold, driven wizard known only as the Dragon to keep its powers at bay. But he demands a terrible price for his help: one young woman handed over to serve him for ten years, a fate almost as terrible as falling to the Wood.
The next choosing is fast approaching, and Agnieszka is afraid. She knows—everyone knows—that the Dragon will take Kasia: beautiful, graceful, brave Kasia, all the things Agnieszka isn't, and her dearest friend in the world. And there is no way to save her.
But Agnieszka fears the wrong things. For when the Dragon comes, it is not Kasia he will choose.