Western fantasy is a cross-genre that blends the Wild West with a dash of the supernatural. Curated by Samantha Matherne.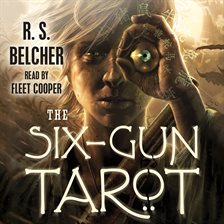 The Six-Gun Tarot by R. S. Belcher
hoopla audiobook
hoopla dramatized adaptation audiobook
The Six-Gun Tarot is the first audiobook in the twisted weird west world of the Golgotha series by R.S. Belcher. Nevada, 1869: Beyond the pitiless 40-Mile Desert lies Golgotha, a cattle town that hides more than its share of unnatural secrets. The sheriff bears the mark of the noose around his neck; some say he is a dead man whose time has not yet come. His half-human deputy is kin to coyotes. The mayor guards a hoard of mythical treasures. A banker's wife belongs to a secret order of assassins. And a shady saloon owner, whose fingers are in everyone's business, may know more about the town's true origins than he's letting on. A haven for the blessed and the damned, Golgotha has known many strange events, but nothing like the primordial darkness stirring in the abandoned silver mine overlooking the town. Bleeding midnight, an ancient evil is spilling into the world, and unless the sheriff and his posse can saddle up in time, Golgotha will have seen its last dawn…and so will all of Creation.
---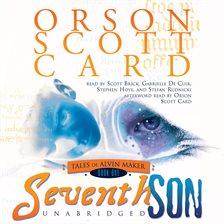 Seventh Son by Orson Scott Card
book
hoopla audiobook
Young Alvin Maker is the seventh son of a seventh son. Born into an alternative frontier America where life is hard and folk magic is real, Alvin is gifted with power, but he must learn to use his gift wisely. Dark forces are arrayed against Alvin, and only a young girl with second sight can protect him.
---
Walk on Earth a Stranger by Rae Carson
book
hoopla ebook
hoopla audiobook
Freading ebook
A young woman with the magical ability to sense the presence of gold must flee her home, taking her on a sweeping and dangerous journey across Gold Rush-era America. Walk on Earth a Stranger begins an epic saga from one of the finest writers of young adult literature.
Lee Westfall has a secret. She can sense the presence of gold in the world around her. Veins deep beneath the earth, pebbles in the river, nuggets dug up from the forest floor. The buzz of gold means warmth and life and home, until everything is ripped away by a man who wants to control her. Left with nothing, Lee disguises herself as a boy and takes to the trail across the country. Gold was discovered in California, and where else could such a magical girl find herself, find safety?
Rae Carson, author of the acclaimed Girl of Fire and Thorns series, dazzles with the first book in the Gold Seer Trilogy, introducing a strong heroine, a perilous road, a fantastical twist, and a slow-burning romance, as only she can.
---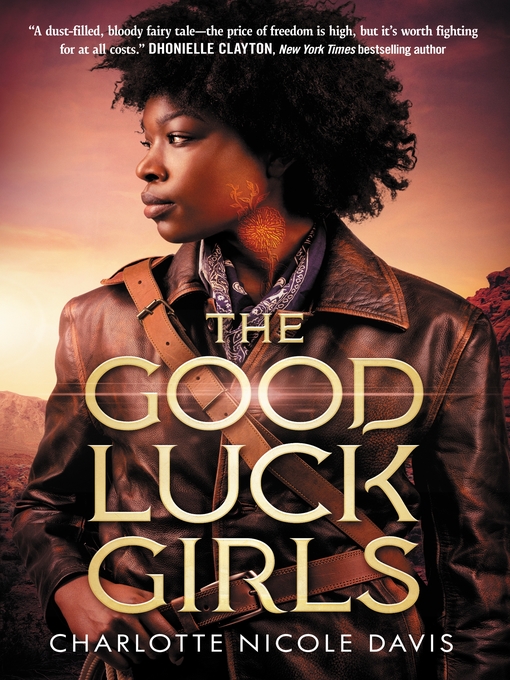 The Good Luck Girls by Charlotte Nicole Davis
OverDrive ebook
OverDrive audiobook
Aster, the protector.
Violet, the favorite.
Tansy, the medic.
Mallow, the fighter.
Clementine, the catalyst.
The country of Arketta calls them Good Luck Girls. They know their luck is anything but.
Sold to a "welcome house" as children and branded with cursed markings.
Trapped in a life they would never have chosen.
When Clementine accidentally kills a man, the girls risk a dangerous escape and harrowing journey to find freedom, justice, and revenge in a country that wants them to have none of those things. Pursued by Arketta's most vicious and powerful forces, both human and inhuman, their only hope lies in a bedtime story passed from one Good Luck Girl to another, a story that only the youngest or most desperate would ever believe.
It's going to take more than luck for them all to survive.
---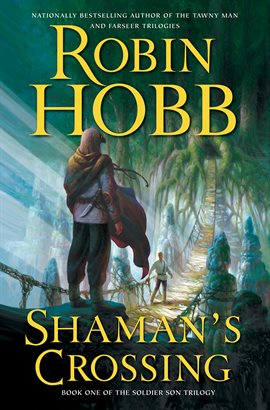 Shaman's Crossing by Robin Hobb
book on CD
hoopla ebook
hoopla audiobook
Freading ebook
Freading ebook bundle – The Soldier Son Trilogy
Nevare Burvelle is the second son of a second son, destined from birth to carry a sword. The wealthy young noble will follow his father — newly made a lord by the King of Gernia — into the cavalry, training in the military arts at the elite King's Cavella Academy in the capital city of Old Thares. Bright and well-educated, an excellent horseman with an advantageous engagement, Nevare's future appears golden.
But as his Academy instruction progresses, Nevare begins to realize that the road before him is far from straight. The old aristocracy looks down on him as the son of a "new noble" and, unprepared for the political and social maneuvering of the deeply competitive school and city, the young man finds himself entangled in a web of injustice, discrimination, and foul play. In addition, he is disquieted by his unconventional girl-cousin Epiny, who challenges his heretofore unwavering world view, and by the bizarre dreams that haunt his nights.
For twenty years the King's cavalry has pushed across the grasslands, subduing and settling its nomads and claiming the territory in Gernia's name. Now they have driven as far as the Barrier Mountains, home to the Speck people, a quiet, forest-dwelling folk who retain the last vestiges of magic in a world that is rapidly becoming modernized. From childhood Nevare has been taught that the Specks are a primitive people to be pitied for their backward ways and feared for their indigenous diseases, including the deadly Speck plague, which has ravaged the frontier towns and military outposts.
The Dark Evening brings the carnival to Old Thares, and with it an unknown magic, and the first Specks Nevare has ever seen.
---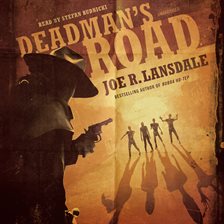 Deadman's Road by Joe R. Lansdale
hoopla audiobook
Deadwood meets Cthulhu in this wild and profane Western romp featuring zombies, werewolves, evil spirits, and one pissed-off gunslinging preacher. The Wild West has never seen the likes of the Reverend Jebediah Mercer, a hard man wielding a burning Bible in the battle between God and the devil, in an endless struggle he's not sure he cares who wins. With its five stories laced with fast-paced action, nonstop humor, and spine-tingling horror, Deadman's Road is your ride to hell, in which a vengeful shaman curses a town by conjuring a seemingly unstoppable army of the undead; an ill-advised shortcut leads to a bees' nest of terror; a man stands condemned, not for murdering his wife but for raising the Lovecraftian horror that killed her; a woman is attacked by werewolves and left for dead in a ghost town; and a mining camp faces off with a horde of cannibalistic fiends.
---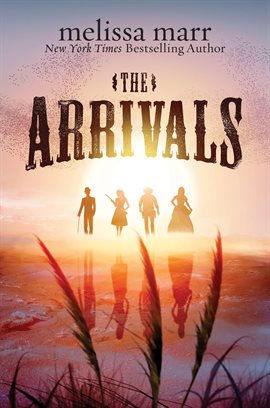 The Arrivals by Melissa Marr
hoopla ebook
hoopla audiobook
Freading ebook
Chloe walks into a bar and blows five years of sobriety. When she wakes, she finds herself in an unfamiliar world, The Wasteland. She discovers people from all times and places have also arrived there: Kitty and Jack, a brother and sister from the Wild West; Edgar, a prohibition bootlegger; Francis, a one-time hippie; Melody, a mentally unbalanced 1950s housewife; and Hector, a former carnival artist. None know why they arrived there or if there is a way out of a world populated by monsters and filled with corruption. Just as she did in Graveminder, Marr has created a vivid fantasy world that will enthrall. Melissa Marr's The Arrivals is a thoroughly original and wildly imagined tale about making choices in a life where death is unpredictable and often temporary.
---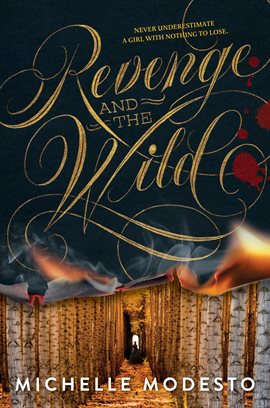 Revenge and the Wild by Michelle Modesto
hoopla ebook
Freading ebook
True Grit meets True Blood in this delightfully dark and fantastical Western perfect for fans of Gail Carriger, Cassandra Clare, and Holly Black. This thrilling novel is a remarkable tale of danger and discovery, from debut author Michelle Modesto. The two-bit town of Rogue City is a lawless place, full of dark magic and saloon brawls, monsters and six-shooters. But it's just perfect for seventeen-year-old Westie, the notorious adopted daughter of local inventor Nigel Butler.
Westie was only a child when she lost her arm and her family to cannibals on the wagon trail. Seven years later, Westie may seem fearsome with her foul-mouthed tough exterior and the powerful mechanical arm built for her by Nigel, but the memory of her past still haunts her. She's determined to make the killers pay for their crimes, and there's nothing to stop her except her own reckless ways.
But Westie's search ceases when a wealthy family comes to town looking to invest in Nigel's latest invention, a machine that can harvest magic from gold, which Rogue City desperately needs as the magic wards that surround the city start to fail. There's only one problem: the investors look exactly like the family who murdered Westie's kin. With the help of Nigel's handsome but scarred young assistant, Alistair, Westie sets out to prove their guilt. But if she's not careful, her desire for revenge could cost her the family she has now.
---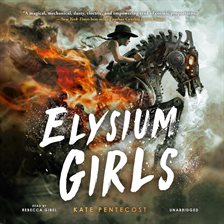 Elysium Girls by Kate Pentecost
hoopla audiobook
Elysium, Oklahoma, is a town like any other. Respectable. God-fearing. Praying for an end to the Dust Bowl — until the day the Dust Soldiers arrive — until the people of Elysium learn it's all a lie. You see, there isn't only one god. There are two sisters: Life and Death. And the Sisters like to gamble against each other with things like time and space and human lives.
Elysium is to become the play board in a ruthless game between the goddesses. The Dust Soldiers will return in ten years' time, and if the people of Elysium have not proved themselves worthy, all will be slain.
Nearly ten years later, seventeen-year-old Sal Wilkerson is called upon to lead Elysium as it prepares for the end of the game. But then an outsider named Asa arrives at Elysium's gates with nothing more than a sharp smile and a bag of magic tricks, and the frightened townspeople flock to this side. Sal tries to prove herself the best witch to lead Elysium, only to trigger a terrible accident that gets both her and Asa exiled into the brutal Desert of Dust and Steel.
There Sal and Asa stumble upon a gang of girls headed by another exile — a young witch everyone in Elysium believes to be dead. As the apocalypse looms, seven girls and one demon will use their gifts to create a cavalry of magic-powered scrap-metal horses to ride to Elysium's aid. But they must do more than simply tip the scales in Elysium's favor. Only by reinventing the rules can they beat Life and Death at their own game.
---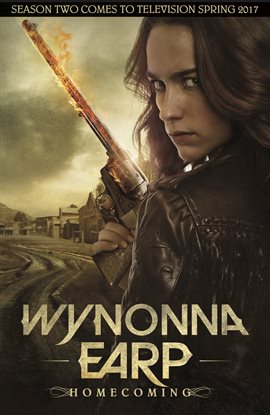 Wynonna Earp Vol. 1: Homecoming by Beau Smith
hoopla comic
The US Marshals Black Badge division has been fighting back against supernatural threats for decades. But even the toughest werewolf, most bloodthirsty vampire, or grisliest zombie knows there's one agent to avoid at all cost: Wynonna Earp. Descended from the legendary Wyatt Earp, Wynonna is dead set on bringing the unnatural to justice!
---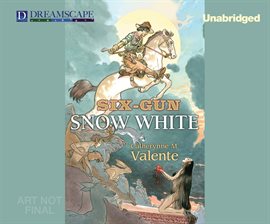 Six-Gun Snow White by Catherynne M. Valente
hoopla audiobook
A girl has been born into a world with no place for a half-native, half-white child. After being hidden for years, a very wicked stepmother finally gifts her with the name Snow White, referring to the pale skin she will never have. Filled with fascinating glimpses through the fabled looking glass and a close-up look at hard living in the gritty gun-slinging West, readers will be enchanted by this story at once familiar and entirely new.
---
Thirteenth Child by Patricia C. Wrede
book
Eff was born a thirteenth child. Her twin brother, Lan, is the seventh son of a seventh son. This means he's supposed to possess amazing talent — and she's supposed to bring only bad things to her family and her town. Undeterred, her family moves to the frontier, where her father will be a professor of magic at a school perilously close to the magical divide that separates settlers from the beasts of the wild.
With wit and wonder, Patricia Wrede creates an alternate history of westward expansion that will delight fans of both J. K. Rowling and Laura Ingalls Wilder.
*All summaries provided by the publisher unless otherwise noted.