Read historical fiction not set during World War II.
Many of us are drawn to the fascinating narratives of people who lived, fought, and triumphed during World War II, and the publishing world reflects that widespread interest. For this historical fiction challenge, we're asking you to explore different narratives and time periods. We hope this challenge will help you discover a new era in history! Find recommendations for adults, teens, tweens, and children. Get more information about the Read 2021 Challenge here.
Adults
Far Side of the Sea by Kate Breslin
book
large print book
hoopla ebook
hoopla audiobook
OverDrive ebook
In spring 1918, Lieutenant Colin Mabry, a British soldier working with MI8 after suffering injuries on the front, receives a message by carrier pigeon. It is from Jewel Reyer, the woman he once loved and who saved his life — a woman he believed to be dead. Traveling to France to answer her urgent summons, he desperately hopes this mission will ease his guilt and restore the courage he lost on the battlefield. Colin is stunned, however, to discover the message came from Jewel's half sister, Johanna. Johanna, who works at a dovecote for French Army Intelligence, found Jewel's diary and believes her sister is alive in the custody of a German agent. With spies everywhere, Colin is skeptical of Johanna, but as they travel across France and Spain, a tentative trust begins to grow between them. When their pursuit leads them straight into the midst of a treacherous plot, danger and deception turn their search for answers into a battle for their lives.
---
Cinnamon and Gunpowder by Eli Brown
book
hoopla audiobook
The year is 1819, and the renowned chef Owen Wedgwood has been kidnapped by a beautiful yet ruthless pirate. He will be spared, Mad Hannah Mabbot tells him, as long as he can conjure an exquisite meal every Sunday from the ship's meager supplies. While Wedgwood attempts to satisfy his captor with feats such as tea-smoked eel and pineapple-banana cider, he realizes that Mabbot herself is under siege. Hunted by a deadly privateer and plagued by a saboteur, she pushes her crew past exhaustion in her search for the notorious Brass Fox. But there is a method to Mabbot's madness, and as the Flying Rose races across the ocean, Wedgwood learns to rely on the bizarre crew members he once feared: a formidable giant who loves to knit; a pair of stoic martial arts masters, sworn to defend their captain; and the ship's deaf cabin boy, who becomes the son he never had. An anarchic tale of love and appetite, Eli Brown's Cinnamon and Gunpowder is a wildly original feat of the imagination, deep and startling as the sea itself.
---
Girl with a Pearl Earring by Tracy Chevalier
book
hoopla audiobook
OverDrive audiobook
Girl with a Pearl Earring tells the story of Griet, a 16-year-old Dutch girl, who becomes a maid in the house of the painter Johannes Vermeer. Her calm and perceptive manner not only helps her in her household duties, but also attracts Vermeer's attention. He slowly draws her into the world of his paintings and ultimately has her sit for him as a model. An account of the artistic process from the grinding of paints to the inclusion and removal of background objects lay at the core of the novel. Chevalier's inventive portrayal of this tumultuous time, when Protestantism began to dominate Catholicism, and the growing bourgeoisie took the place of the Church as patrons of the arts, draws the reader into a lively, if little known, time and place in history.
---
Next Year in Havana by Chanel Cleeton
book
OverDrive ebook
Havana, 1958. The daughter of a sugar baron, nineteen-year-old Elisa Perez is part of Cuba's high society, where she is largely sheltered from the country's growing political unrest–until she embarks on a clandestine affair with a passionate revolutionary.
Miami, 2017. Freelance writer Marisol Ferrera grew up hearing romantic stories of Cuba from her late grandmother Elisa, who was forced to flee with her family during the revolution. Elisa's last wish was for Marisol to scatter her ashes in the country of her birth.
Arriving in Havana, Marisol comes face-to-face with the contrast of Cuba's tropical, timeless beauty and its perilous political climate. When more family history comes to light and Marisol finds herself attracted to a man with secrets of his own, she'll need the lessons of her grandmother's past to help her understand the true meaning of courage.
---
The Chelsea Girls by Fiona Davis
book
OverDrive ebook
From the dramatic redbrick facade to the sweeping staircase dripping with art, the Chelsea Hotel has long been New York City's creative oasis for the many artists, writers, musicians, actors, filmmakers, and poets who have called it home—a scene playwright Hazel Riley and actress Maxine Mead are determined to use to their advantage. Yet they soon discover that the greatest obstacle to putting up a show on Broadway has nothing to do with their art, and everything to do with politics. A Red scare is sweeping across America, and Senator Joseph McCarthy has started a witch hunt for Communists, with those in the entertainment industry in the crosshairs. As the pressure builds to name names, it is more than Hazel and Maxine's Broadway dreams that may suffer as they grapple with the terrible consequences, but also their livelihood, their friendship, and even their freedom.
Spanning from the 1940s to the 1960s, The Chelsea Girls deftly pulls back the curtain on the desperate political pressures of McCarthyism, the complicated bonds of female friendship, and the siren call of the uninhibited Chelsea Hotel.
---
Z : A Novel of Zelda Fitzgerald by Therese Anne Fowler
book
large print Book
A dazzling novel that captures all of the romance, glamour, and tragedy of the first flapper, Zelda Fitzgerald.
When beautiful, reckless Southern belle Zelda Sayre meets F. Scott Fitzgerald at a country club dance in 1918, she is seventeen years old and he is a young army lieutenant stationed in Alabama. Before long, the "ungettable" Zelda has fallen for him despite his unsuitability: Scott isn't wealthy or prominent or even a Southerner, and keeps insisting, absurdly, that his writing will bring him both fortune and fame. Her father is deeply unimpressed. But after Scott sells his first novel, This Side of Paradise, to Scribner's, Zelda optimistically boards a train north, to marry him in the vestry of St. Patrick's Cathedral and take the rest as it comes.
What comes, here at the dawn of the Jazz Age, is unimagined attention, success, and celebrity that will make Scott and Zelda legends in their own time. Everyone wants to meet the dashing young author of the scandalous novel–and his witty, perhaps even more scandalous wife. Zelda bobs her hair, adopts daring new fashions, and revels in this wild new world. Each place they go becomes a playground: New York City, Long Island, Hollywood, Paris, and the French Riviera–where they join the endless party of the glamorous, sometimes doomed Lost Generation that includes Ernest Hemingway, Sara and Gerald Murphy, and Gertrude Stein.
Everything seems new and possible. Troubles, at first, seem to fade like morning mist. But not even Jay Gatsby's parties go on forever. Who is Zelda, other than the wife of a famous — sometimes infamous — husband? How can she forge her own identity while fighting her demons and Scott's, too? With brilliant insight and imagination, Therese Anne Fowler's New York Times bestseller brings us Zelda's irresistible story as she herself might have told it.
---
The Museum of Extraordinary Things by Alice Hoffman
large print book
OverDrive audiobook
Coralie Sardie is the daughter of the sinister impresario behind The Museum of Extraordinary Things, a Coney Island freak show that thrills the masses. An exceptional swimmer, Coralie appears as the Mermaid in her father's "museum," alongside performers like the Wolfman and the Butterfly Girl. One night Coralie stumbles upon a striking young man taking pictures of moonlit trees in the woods off the Hudson River.
The dashing photographer is Eddie Cohen, a Russian immigrant who has run away from his community and his job as a tailor's apprentice. When Eddie photographs the infamous Triangle Shirtwaist Factory fire, he becomes embroiled in the mystery behind a young woman's disappearance. And he ignites the heart of Coralie.
---
Louis L'Amour Collection by Louis L'amour
hoopla audiobook
Willie Nelson reads six titles and one is fully dramatized by Nelson, the late Johnny Cash, Kris Kristofferson, and the late Waylon Jennings, who together were known as The Highwaymen. The collection includes: Riding for the Brand, The Black Rock Coffin Makers, Dutchman's Flat, The Nester and the Piute, Mistakes Can Kill You, Trail to Pie Town, and Big Medicine.
---
Madame Tussaud: A Novel of the French Revolution by Michelle Moran 
OverDrive ebook
The world knows Madame Tussaud as a wax artist extraordinaire. But who was this woman, and how did she become one of the most famous sculptresses of all time? In this novel, her tumultuous story comes to life as only Michelle Moran could tell it. 
The year is 1788, and a revolution is about to begin. Marie Tussaud has learned the secrets of wax sculpting by working alongside her uncle in their celebrated wax museum, the Salon de Cire. From her popular model of the American ambassador Thomas Jefferson to her tableau of the royal family at dinner, Marie's museum provides Parisians with the very latest news on fashion, gossip, even politics. Her customers hail from every walk of life, and when word arrives that the royals themselves are coming to see their likenesses, Marie never dreams that the king's sister will request her presence at Versailles as a royal tutor in wax sculpting. Yet when a letter with a gold seal is delivered to her home, Marie knows she cannot refuse-even if it means time away from her beloved Salon and her increasingly dear friend Henri Charles. As Marie becomes acquainted with her pupil, Princess Élisabeth, she is taken to meet both Marie Antoinette and King Louis XVI, who introduce her to the glamorous life at court.
From lavish parties with more delicacies than she's ever seen to rooms filled with candles lit only once before being discarded, Marie steps into a world entirely different from her home on the Boulevard du Temple, where people are selling their teeth in order to put food on the table. Meanwhile, many resent the vast separation between rich and poor. In salons and cafes across Paris, people like Camille Desmoulins, Jean-Paul Marat, and Maximilien Robespierre are lashing out against the monarchy. Soon, there's whispered talk of revolution. Will Marie be able to hold on to both the love of her life and her friendship with the royal family as France approaches civil war? More important, will she be able to fulfill the demands of powerful revolutionaries who ask that she make the death masks of beheaded aristocrats, some of whom she knows? Spanning five years from the budding revolution to the Reign of Terror, Madame Tussaud brings us into the world of an incredible heroine whose talent for wax modeling saved her life and preserved the faces of a vanished kingdom.
---
The Vanishing Act of Esme Lennox by Maggie O'Farrel
book: 1st edition
book: 1st Harvest edition
hoopla ebook
hoopla audiobook
In the middle of tending to the everyday business at her vintage-clothing shop and sidestepping her married boyfriend's attempts at commitment, Iris Lockhart receives a stunning phone call: Her great-aunt Esme, whom she never knew existed, is being released from Cauldstone Hospital-where she has been locked away for more than sixty-one years. Iris's grandmother Kitty always claimed to be an only child. But Esme's papers prove she is Kitty's sister, and Iris can see the shadow of her dead father in Esme's face. Esme has been labeled harmless: sane enough to coexist with the rest of the world. But she's still basically a stranger, a family member never mentioned by the family, and one who is sure to bring life-altering secrets with her when she leaves the ward. If Iris takes her in, what dangerous truths might she inherit? A gothic, intricate tale of family secrets, lost lives, and the freedom brought by truth, The Vanishing Act of Esme Lennox will haunt you long past its final page.
---
Exit Stage Left: The Snagglepuss Chronicles (Issues 1-6) by Mark Russell
hoopla graphic novel
A bold new take on the beloved cartoon comedy from the writer of The Flintstones.
Drama! Comedy! Tragedy! For the renowned Southern playwright called Snagglepuss, these are the ingredients that have made him a star of the New York stage and the glittering world that surrounds it. But the year is 1953, and behind the bright lights, darkness is brewing. As Snagglepuss prepares for his next hit play, there's already a target on his back. The Red Scare is in full effect, and the House Un-American Activities Committee is hunting down every last subversive in show business. So far, Snagglepuss has stayed out of their spotlight. But one by one, his best friends are being blackballed, from legends like Lillian Hellman and Dorothy Parker to his fellow Southern gentleman Huckleberry Hound. Can Snagglepuss' reputation survive the rampage long enough for him to stage his next masterpiece? One thing's for sure: the show must go on!
Hot off his surprise-hit reimagining of The Flintstones, writer Mark Russell joins artist Mike Feehan to unleash the fire and fury of his sharp-witted political satire in Exit Stage Left: The Snagglepuss Chronicles, a powerful look at what it means to be an American, no matter who or what you are. Also collects a Snagglepuss story from Suicide Squad/Banana Splits Special #1.
---
A Gentleman in Moscow by Amor Towles
book
book on CD
OverDrive ebook
OverDrive Audiobook
In 1922, Count Alexander Rostov is deemed an unrepentant aristocrat by a Bolshevik tribunal, and is sentenced to house arrest in the Metropol, a grand hotel across the street from the Kremlin. Rostov, an indomitable man of erudition and wit, has never worked a day in his life, and must now live in an attic room while some of the most tumultuous decades in Russian history are unfolding outside the hotel's doors. Unexpectedly, his reduced circumstances provide him entry into a much larger world of emotional discovery.
Brimming with humor, a glittering cast of characters, and one beautifully rendered scene after another, this singular novel casts a spell as it relates the count's endeavor to gain a deeper understanding of what it means to be a man of purpose.
---
Katherine of Aragón: The True Queen (Six Tudor Queens #1) by Alison Weir
book
book on CD
hoopla audiobook
OverDrive ebook
OverDrive audiobook
A princess of Spain, Catalina is only sixteen years old when she sets foot on the shores of England. The youngest daughter of the powerful monarchs Ferdinand and Isabella, Catalina is a coveted prize for a royal marriage — and Arthur, Prince of Wales, and heir to the English throne, has won her hand. But tragedy strikes and Catalina, now Princess Katherine, is betrothed to the future Henry VIII. She must wait for his coming-of-age, an ordeal that tests her resolve, casts doubt on her trusted confidantes, and turns her into a virtual prisoner.
Katherine's patience is rewarded when she becomes Queen of England. The affection between Katherine and Henry is genuine, but forces beyond her control threaten to rend her marriage, and indeed the nation, apart. Henry has fallen under the spell of Katherine's maid of honor, Anne Boleyn. Now Katherine must be prepared to fight, to the end if God wills it, for her faith, her legitimacy, and her heart.
Teens
In the Neighborhood of True by Susan Kaplan Carlton
book
hoopla ebook
hoopla audiobook
OverDrive ebook
OverDrive audiobook
New York transplant Ruth Robb hides her Jewish identity to fit into the segregated Atlanta of the 1950s, until a hate crime forces her to come to face the whole truth about the choices she's made, the boy she might love, and the true cost of living only in the neighborhood of true. Inspired by a real-life event.
---
Copper Sun by Sharon Draper
book
large print book
hoopla audiobook
In this "searing work of historical fiction" (Booklist), Coretta Scott King Award-winning author Sharon M. Draper tells the epic story of a young girl torn from her African village, sold into slavery, and stripped of everything she has ever known–except hope.
Amari's life was once perfect. Engaged to the handsomest man in her tribe, adored by her family, and fortunate enough to live in a beautiful village, it never occurred to her that it could all be taken away in an instant. But that was what happened when her village was invaded by slave traders. Her family was brutally murdered as she was dragged away to a slave ship and sent to be sold in the Carolinas. There she was bought by a plantation owner and given to his son as a birthday present.
Now, survival is all Amari can dream about. As she struggles to hold on to her memories, she also begins to learn English and make friends with a white indentured servant named Molly. When an opportunity to escape presents itself, Amari and Molly seize it, fleeing South to the Spanish colony in Florida at Fort Mose. Along the way, their strength is tested like never before as they struggle against hunger, cold, wild animals, hurricanes, and people eager to turn them in for reward money. The hope of a new life is all that keeps them going, but Florida feels so far away and sometimes Amari wonders how far hopes and dreams can really take her.
---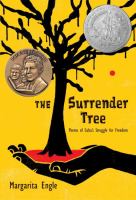 The Surrender Tree: Poems for Cuba's Struggle for Freedom by Magarita Engle
book
It is 1896. Cuba has fought three wars for independence and still is not free. People have been rounded up in reconcentration camps with too little food and too much illness. Rosa is a nurse, but she dares not go to the camps. So she turns hidden caves into hospitals for those who know how to find her.
Black, white, Cuban, Spanish — Rosa does her best for everyone. Yet who can heal a country so torn apart by war? Acclaimed poet Margarita Engle has created another breathtaking portrait of Cuba.
The Surrender Tree is a 2009 Newbery Honor Book, the winner of the 2009 Pura Belpre Medal for Narrative and the 2009 Bank Street – Claudia Lewis Award, and a 2009 Bank Street – Best Children's Book of the Year.
---
The Downstairs Girl by Stacy Lee
book
hoopla audiobook
OverDrive audiobook
By day, seventeen-year-old Jo Kuan works as a lady's maid for the cruel daughter of one of the wealthiest men in Atlanta. But by night, Jo moonlights as the pseudonymous author of a newspaper advice column for the genteel Southern lady, "Dear Miss Sweetie." When her column becomes wildly popular, she uses the power of the pen to address some of society's ills, but she's not prepared for the backlash that follows when her column challenges fixed ideas about race and gender. While her opponents clamor to uncover the secret identity of Miss Sweetie, a mysterious letter sets Jo off on a search for her own past and the parents who abandoned her as a baby. But when her efforts put her in the crosshairs of Atlanta's most notorious criminal, Jo must decide whether she, a girl used to living in the shadows, is ready to step into the light. With prose that is witty, insightful, and at times heartbreaking, Stacey Lee masterfully crafts an extraordinary social drama set in the New South.
---
Stalking Jack the Ripper by Kerri Maniscalco
book
Presented by James Patterson's new children's imprint, this deliciously creepy horror novel has a storyline inspired by the Ripper murders and an unexpected, blood-chilling conclusion.
Seventeen-year-old Audrey Rose Wadsworth was born a lord's daughter, with a life of wealth and privilege stretched out before her. But between the social teas and silk dress fittings, she leads a forbidden secret life. Against her stern father's wishes and society's expectations, Audrey often slips away to her uncle's laboratory to study the gruesome practice of forensic medicine. When her work on a string of savagely killed corpses drags Audrey into the investigation of a serial murderer, her search for answers brings her close to her own sheltered world. The story's shocking twists and turns, augmented with real, sinister period photos, will make this dazzling debut from author Kerri Maniscalco impossible to forget.
---
No Crystal Stair: A Documentary Novel of the Life and Work of Lewis Michaux, Harlem Bookseller by Vaunda Micheaux Nelson
book
hoopla ebook
"You can't walk straight on a crooked line. You do you'll break your leg. How can you walk straight in a crooked system?" Lewis Michaux was born to do things his own way. When a white banker told him to sell fried chicken, not books, because "Negroes don't read," Lewis took five books and one-hundred dollars and built a bookstore. It soon became the intellectual center of Harlem, a refuge for everyone from Muhammad Ali to Malcolm X.
In No Crystal Stair, Coretta Scott King Award-winning author Vaunda Micheaux Nelson combines meticulous research with a storyteller's flair to document the life and times of her great uncle Lewis Michaux, an extraordinary literacy pioneer of the Civil Rights era. "My life was no crystal stair, far from it. But I'm taking my leave with some pride. It tickles me to know that those folks who said I could never sell books to black people are eating crow. I'd say my seeds grew pretty damn well. And not just the book business. It's the more important business of moving our people forward that has real meaning."
---
The Magnolia Sword: A Ballad of Mulan by Sherry Thomas
book
CHINA, 484 A.D. A Warrior in Disguise.
All her life, Mulan has trained for one purpose: to win the duel that every generation in her family must fight. If she prevails, she can reunite a pair of priceless heirloom swords separated decades earlier, and avenge her father, who was paralyzed in his own duel.
Then a messenger from the Emperor arrives, demanding that all families send one soldier to fight the Rouran invaders in the north. Mulan's father cannot go. Her brother is just a child. So she ties up her hair, takes up her sword, and joins the army as a man.
Thanks to her martial arts skills, Mulan is chosen for an elite team under the command of the princeling–the royal duke's son, who is also the handsomest man she's ever seen. But the princeling has secrets of his own, which explode into Mulan's life and shake up everything she knows. As they cross the Great Wall to face the enemy beyond, Mulan and the princeling must find a way to unwind their past, unmask a traitor, and uncover the plans for the Rouran invasion . . . before it's too late.
---
On Blood Road by Steve Watkins
book
The last place on earth Taylor Sorenson wants to be is in Saigon in the middle of the Vietnam War. His mom dragged him here to visit his dad, who's stationed at the US embassy, and Taylor is bored out of his skull. One night, during an embassy dinner, he decides to sneak out to see the Tet celebrations in the city. But before he makes it very far, fighting erupts across all of South Vietnam–and Taylor is captured by the North Vietnamese Army.
Realizing he could be an important bargaining chip, the NVA decides to move Taylor to the North. The only way there is the Ho Chi Ming Trail, a series of dangerous paths that snake from South Vietnam through Laos and Cambodia before finally reaching North Vietnam. But thousands have died on the trail, and Taylor doesn't know what's waiting for him at the end.
What follows is a harrowing journey during one of the most controversial wars in US history, where one boy is forced to confront the true cost of war, and what it really means to survive.
---
I'm Glad I Did by Cynthia Weil
book
book on CD
hoopla audiobook
OverDrive audiobook
In 1963 sixteen-year-old JJ Green, a songwriter interning at New York City's famous Brill Building, finds herself a writing partner in Luke Silver, a boy who seems to connect instantly with her music, and they start cutting their first demo with Dulcie Brown, a legend who's fallen on hard times, with a secret past.
Tweens
Before We Were Free by Julia Alvarez
book
In the early 1960s in the Dominican Republic, twelve-year-old Anita learns that her family is involved in the underground movement to end the bloody rule of the dictator, General Trujillo.
Anita de la Torre never questioned her freedom living in the Dominican Republic. But by her 12th birthday in 1960, most of her relatives have emigrated to the United States, her Tio Toni has disappeared without a trace, and the government's secret police terrorize her remaining family because of their suspected opposition of el Trujillo's dictatorship. Using the strength and courage of her family, Anita must overcome her fears and fly to freedom, leaving all that she once knew behind. From renowned author Julia Alvarez comes an unforgettable story about adolescence, perseverance, and one girl's struggle to be free.
---
The Mighty Miss Malone by Christopher Paul Curtis
book
book on CD
OverDrive ebook
In the Newbery Medal and Coretta Scott King Award-winning Bud, Not Buddy, Bud met a girl named Deza Malone in a Hooverville. This is her story.
"We are a family on a journey to a place called wonderful" is the motto of Deza Malone's family. Deza is the smartest girl in her class in Gary, Indiana, singled out by teachers for a special path in life. But the Great Depression has hit Gary hard, and there are no jobs for black men. When her beloved father leaves to find work, Deza, Mother, and her older brother Jimmie go in search of him, and end up in a Hooverville outside Flint, Michigan. Jimmie's beautiful voice inspires him to leave the camp to be a performer, while Deza and Mother find a new home, and cling to the hope that they will find Father. The twists and turns of their story reveal the devastation of the Depression and prove that Deza truly is the Mighty Miss Malone.
---
Sources of Light by Margaret McMullan
hoopla ebook
It's 1962, a year after the death of Sam's father–he was a war hero–and Sam and her mother must move, along with their very liberal views, to Jackson, Mississippi, her father's conservative hometown. Needless to say, they don't quite fit in. People like the McLemores fear that Sam, her mother, and her mother's artist friend, Perry, are in the South to "agitate" and to shake up the dividing lines between black and white and blur it all to grey. As racial injustices ensue–sit-ins and run-ins with secret white supremacists–Sam learns to focus with her camera lens to bring forth the social injustice out of the darkness and into the light.
---
Words on Fire by Jennifer A. Nielsen
book
Playaway audiobook
hoopla audiobook
OverDrive ebook
OverDrive audiobook
Danger is never far from Audra's family farm in Lithuania. She always avoids the occupying Russian Cossack soldiers, who insist that everyone must become Russian. They have banned Lithuanian books, religion, culture, and even the language. But Audra knows her parents are involved in something secret and perilous.
In June 1893, when Cossacks arrive abruptly at their door, Audra's parents insist that she flee, taking with her an important package and instructions for where to deliver it. But escape means abandoning her parents to a terrible fate.
As Audra embarks on a journey to deliver the mysterious package, she faces unimaginable risks, and soon she becomes caught up in a growing resistance movement. Can joining the underground network of book smugglers give Audra a chance to rescue her parents?
---
Dolls of Hope by Shirley Parenteau
book
When eleven-year-old Chiyo Tamura is sent from her home in a small Japanese mountain village to a girls' school in the city of Tsuchiura, she never imagines that she will soon be in Tokyo helping to welcome more than twelve thousand Friendship Dolls from America–including Emily Grace, a gift to her own school. Nor could she dream that she'd have an important role in the crafting of Miss Tokyo, one of fifty-eight Japanese dolls to be sent to America in return. But when an excited Chiyo is asked to be Emily Grace's official protector, one jealous classmate will stop at nothing to see her fail. How can Chiyo reveal the truth–and restore her own good name? In another heartwarming historical novel, the author of Ship of Dolls revisits the 1926 Friendship Doll exchange, in which teacher-missionary Sidney Gulick organized American children to send thousands of dolls to Japan in hopes of avoiding a future war.
---
Becoming Muhammad Ali by James Patterson and Kwame Alexander
book
OverDrive ebook
OverDrive audiobook
Before he was a household name, Cassius Clay was a kid with struggles like any other. Kwame Alexander and James Patterson join forces to vividly depict his life up to age seventeen in both prose and verse, including his childhood friends, struggles in school, the racism he faced, and his discovery of boxing. Readers will learn about Cassius' family and neighbors in Louisville, Kentucky, and how, after a thief stole his bike, Cassius began training as an amateur boxer at age twelve. Before long, he won his first Golden Gloves bout and began his transformation into the unrivaled Muhammad Ali.
Fully authorized by and written in cooperation with the Muhammad Ali estate, and vividly brought to life by Dawud Anyabwile's dynamic artwork, Becoming Muhammad Ali captures the budding charisma and youthful personality of one of the greatest sports heroes of all time.
---
Loretta Little Looks Back by Andrea Davis Pinkney
book
OverDrive ebook
From a bestselling and award-winning husband and wife team comes an innovative, beautifully illustrated novel that delivers a front-row seat to the groundbreaking moments in history that led to African Americans earning the right to vote.
Loretta, Roly, and Aggie B., members of the Little family, each present the vivid story of their young lives, spanning three generations. Their separate stories — beginning in a cotton field in 1927 and ending at the presidential election of 1968 — come together to create one unforgettable journey.
Through an evocative mix of fictional first-person narratives, spoken-word poems, folk myths, gospel rhythms and blues influences, Loretta Little Looks Back weaves an immersive tapestry that illuminates the dignity of sharecroppers in the rural South. Inspired by storytelling's oral tradition, stirring vignettes are presented in a series of theatrical monologues that paint a gripping, multidimensional portrait of America's struggle for civil rights as seen through the eyes of the children who lived it. The novel's unique format invites us to walk in their shoes. Each encounters an unexpected mystical gift, passed down from one family member to the next, that ignites their experience of what it means to reach for freedom.
---
The Secret of Nightingale Wood by Lucy Strange
book
hoopla audiobook
A debut author pens a beautifully tangled story of friendship, fairy tales, and family secrets set in 1919.
With her father working abroad, her mother ill, and Nanny Jane too busy, Henrietta "Henry" uncovers the secrets of their new home, Hope House, but when she ventures into Nightingale Wood, she finds something that changes her whole world.
---
Countdown by Deborah Wiles
book
book on CD
It's 1962, and it seems everyone is living in fear. Twelve-year-old Franny Chapman lives with her family in Washington, DC, during the days surrounding the Cuban Missile Crisis. Amidst the pervasive threat of nuclear war, Franny must face the tension between herself and her younger brother, figure out where she fits in with her family, and look beyond outward appearances. For Franny, as for all Americans, it's going to be a formative year.
---
One Crazy Summer by Rita Williams-Garcia
book
hoopla ebook
hoopla audiobook
OverDrive audiobook
Eleven-year-old Delphine has it together. Even though her mother, Cecile, abandoned her and her younger sisters, Vonetta and Fern, seven years ago. Even though her father and Big Ma will send them from Brooklyn to Oakland, California, to stay with Cecile for the summer. And even though Delphine will have to take care of her sisters, as usual, and learn the truth about the missing pieces of the past.
When the girls arrive in Oakland in the summer of 1968, Cecile wants nothing to do with them. She makes them eat Chinese takeout dinners, forbids them to enter her kitchen, and never explains the strange visitors with Afros and black berets who knock on her door. Rather than spend time with them, Cecile sends Delphine, Vonetta, and Fern to a summer camp sponsored by a revolutionary group, the Black Panthers, where the girls get a radical new education.
Set during one of the most tumultuous years in recent American history, One Crazy Summer is the heartbreaking, funny tale of three girls in search of the mother who abandoned them-an unforgettable story told by a distinguished author of books for children and teens, Rita Williams-Garcia.
Children
Waiting for the Biblioburro by Monica Brown
OverDrive ebook
Ana loves stories. She often makes them up to help her little brother fall asleep. But in her small village there are only a few books, and she has read them all. One morning, Ana wakes up to the clip-clop of hooves, and there before her is the most wonderful sight: a traveling library resting on the backs of two burros‑all the books a little girl could dream of, with enough stories to encourage her to create one of her own.
Inspired by the heroic efforts of real-life librarian Luis Soriano, award-winning picture book creators Monica Brown and John Parra introduce readers to the mobile library that journeys over mountains and through valleys to bring literacy and culture to rural Colombia, and to the children who wait for the BiblioBurro.
---
When Jessie Came Across the Sea by Amy Hest
book
A thirteen-year-old Jewish orphan reluctantly leaves her grandmother and immigrates to New York City, where she works for three years sewing lace and earning money to bring Grandmother to the United States, too.
---
Red Kite, Blue Kite by Ji-li Jiang
OverDrive ebook
When Tai Shan and his father, Baba, fly kites from their roof and look down at the crowded city streets below, they feel free, like the kites. Baba loves telling Tai Shan stories while the kites—one red, and one blue—rise, dip, and soar together. Then, a bad time comes. People wearing red armbands shut down the schools, smash store signs, and search houses. Baba is sent away, and Tai Shan goes to live with Granny Wang. Though father and son are far apart, they have a secret way of staying close. Every day they greet each other by flying their kites—one red, and one blue—until Baba can be free again, like the kites. Inspired by the dark time of the Cultural Revolution in China, this is a soaring tale of hope that will resonate with anyone who has ever had to love from a distance.
---
The Firekeeper's Son by Linda Sue Park
book
hoopla audiobook
OverDrive audiobook
In Korea in the early 1800s, news from the countryside reached the king by means of signal fires. On one mountaintop after another, a fire was lit when all was well. If the king did not see a fire, that meant trouble, and he would send out his army.
Linda Sue Park's first picture book for Clarion is about Sang-hee, son of the village firekeeper. When his father is unable to light the fire one night, young Sang-hee must take his place. Sang-hee knows how important it is for the fire to be lit, but he wishes that he could see soldiers . . . just once.
Mountains, firelight and shadow, and Sunhee's struggle with a hard choice are rendered in radiant paintings, which tell their own story of a turning point in a child's life.
---
The Blessing Cup by Patricia Polacco
book
As a young Russian Jewish girl in the early 1900s, Anna and her family lived in fear of the Czar's soldiers. The family lived a hard life and had few possessions–their treasure was a beautiful china tea set. A wedding gift to Anna's parents, the tea set came with a wish that "Anyone who drinks from this will have blessings from God. They will never know a day of hunger. Their lives will always have flavor. They will know love and joy and they will never be poor."
When Anna's family leaves Russia for America, they bring the tea set and its blessings. A source of heritage and security, the tea set helps Anna's family make friends and find better lives in America. A cup from the tea set–The Blessing Cup–became an anchor of family history, and it remains a symbol of lasting love more than a century later.
This tender tribute to the importance of loving lineage is a prequel and companion to the perennial bestseller The Keeping Quilt and is told and illustrated with authenticity and tremendous heart.
---
Ruth and the Green Book by Calvin A. Ramsey
book
hoopla ebook
hoopla audiobook
OverDrive audiobook
Ruth was so excited to take a trip in her family's new car. In the early 1950s, few African Americans could afford to buy cars, so this would be an adventure. But she soon found out that black travelers weren't treated very well in some towns. Many hotels and gas stations refused service to black people. Daddy was upset about something called Jim Crow laws.
Finally, a friendly attendant at a gas station showed Ruth's family The Green Book. It listed all of the places that would welcome black travelers. With this guidebook–and the kindness of strangers–Ruth could finally make a safe journey from Chicago to her grandma's house in Alabama.
Ruth's story is fiction, but The Green Book and its role in helping a generation of African American travelers avoid some of the indignities of Jim Crow are historical fact.
---
The Boy, the Bear, the Baron, the Bard by Gregory Rogers
book
A brilliant and captivating wordless picture book for ages 6 and up about an ordinary boy on an extraordinary adventure to Shakespeare's London, by the winner of the prestigious Kate Greenaway medal.
---
The Gardener by Sarah Stewart
book
After her father loses his job, Lydia Grace must live with her Uncle Jim in the city. A series of letters relating her time there highlights Lydia's love of gardening.
"A moving, wonderfully rich illustrated story. It is that rarity, a pictorial delight that in 20 double pages gives more and more of itself each time it's read, and whose silent complexities reveal themselves with continuing pleasure." —The New York Times Book Review
---
Mailing May by Michael O. Tunnell
book
Nowadays it's no big deal for a girl to travel seventy-five miles. But when Charlotte May Pierstorff wanted to cross seventy-five miles of Idaho mountains to see her grandma in 1914, it was a very big deal indeed. There was no highway except the railroad, and a train ticket would have cost her parents a full day's pay.
Here is the true story of how May got to visit her grandma, thanks to her own spunk, her father's ingenuity, and the U.S. mail.
---
Friend on Freedom River by Gloria Whelan
book
hoopla ebook
On a cold December night, Louis must decide whether to brave the treacherous Detroit River to take a slave family to freedom.
In 1850 the Detroit River was a major track along the Underground Railroad — the last step to freedom. The journey across the river was dangerous, especially in winter and especially for a 12-year-old boy. When Louis's father left him in charge of the farm he offered his son this advice, "If you don't know what to do, just do what you think I would have done." Louis relies upon his father's words of wisdom when a runaway slave and her two children come looking for safe passage.
---
Show Way by Jacqueline Woodson
book
hoopla audiobook
hoopla movie
The making of "Show ways," or quilts which once served as secret maps for freedom-seeking slaves, is a tradition passed from mother to daughter in the author's family.
Soonie's great-grandma was just seven years old when she was sold to a big plantation without her ma and pa, and with only some fabric and needles to call her own. She pieced together bright patches with names like North Star and Crossroads, patches with secret meanings made into quilts called Show Ways — maps for slaves to follow to freedom. When she grew up and had a little girl, she passed on this knowledge. And generations later, Soonie — who was born free — taught her own daughter how to sew beautiful quilts to be sold at market and how to read.
From slavery to freedom, through segregation, freedom marches and the fight for literacy, the tradition they called Show Way has been passed down by the women in Jacqueline Woodson's family as a way to remember the past and celebrate the possibilities of the future. Beautifully rendered in Hudson Talbott's luminous art, this moving, lyrical account pays tribute to women whose strength and knowledge illuminate their daughters' lives.
*All summaries courtesy of the publisher unless otherwise noted.