In celebration of Black History Month, we are showcasing new books by Black authors. Check out the fiction and nonfiction selections for adults, teens, tweens, and children. Curated by Isabel Naquin.
Adult
Fiction
Hitting a Straight Lick with a Crooked Stick by Zora Neale Hurston
large print
hoopla ebook
hoopla audiobook
Freading ebook
In 1925, Barnard student Zora Neale Hurston–the sole black student at the college–was living in New York, "desperately striving for a toe-hold on the world." During this period, she began writing short works that captured the zeitgeist of African American life and transformed her into one of the central figures of the Harlem Renaissance. Nearly a century later, this singular talent is recognized as one of the most influential and revered American artists of the modern period.
Hitting a Straight Lick with a Crooked Stick is an outstanding collection of stories about love and migration, gender and class, racism and sexism that proudly reflect African American folk culture. Brought together for the first time in one volume, they include eight of Hurston's "lost" Harlem stories, which were found in forgotten periodicals and archives. These stories challenge conceptions of Hurston as an author of rural fiction and include gems that flash with her biting, satiric humor, as well as more serious tales reflective of the cultural currents of Hurston's world. All are timeless classics that enrich our understanding and appreciation of this exceptional writer's voice and her contributions to America's literary traditions.
---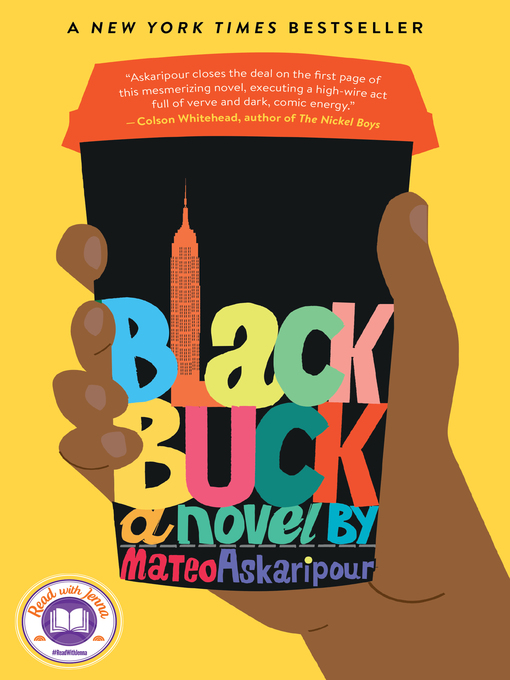 Black Buck by Mateo Askaripour
OverDrive ebook
There's nothing like a Black salesman on a mission.
An unambitious twenty-two-year-old, Darren lives in a Bed-Stuy brownstone with his mother, who wants nothing more than to see him live up to his potential as the valedictorian of Bronx Science. But Darren is content working at Starbucks in the lobby of a Midtown office building, hanging out with his girlfriend, Soraya, and eating his mother's home-cooked meals. All that changes when a chance encounter with Rhett Daniels, the silver-tongued CEO of Sumwun, NYC's hottest tech startup, results in an exclusive invitation for Darren to join an elite sales team on the thirty-sixth floor.
After enduring a "hell week" of training, Darren, the only Black person in the company, reimagines himself as "Buck," a ruthless salesman unrecognizable to his friends and family. But when things turn tragic at home and Buck feels he's hit rock bottom, he begins to hatch a plan to help young people of color infiltrate America's sales force, setting off a chain of events that forever changes the game.
---
Deacon King Kong by James McBride
book
OverDrive ebook
OverDrive audiobook
In September 1969, a fumbling, cranky old church deacon known as Sportcoat shuffles into the courtyard of the Cause Houses housing project in south Brooklyn, pulls a .38 from his pocket, and, in front of everybody, shoots the project's drug dealer at point-blank range.
The reasons for this desperate burst of violence and the consequences that spring from it lie at the heart of Deacon King Kong, James McBride's funny, moving novel and his first since his National Book Award–winning The Good Lord Bird. In Deacon King Kong, McBride brings to vivid life the people affected by the shooting: the victim, the African-American and Latinx residents who witnessed it, the white neighbors, the local cops assigned to investigate, the members of the Five Ends Baptist Church where Sportcoat was deacon, the neighborhood's Italian mobsters, and Sportcoat himself.
As the story deepens, it becomes clear that the lives of the characters—caught in the tumultuous swirl of 1960s New York—overlap in unexpected ways. When the truth does emerge, McBride shows us that not all secrets are meant to be hidden, that the best way to grow is to face change without fear, and that the seeds of love lie in hope and compassion.
---
Transcendant Kingdom by Yaa Gyasi
book
OverDrive ebook
Gifty is a sixth-year PhD candidate in neuroscience at the Stanford University School of Medicine studying reward-seeking behavior in mice and the neural circuits of depression and addiction. Her brother, Nana, was a gifted high school athlete who died of a heroin overdose after an ankle injury left him hooked on OxyContin. Her suicidal mother is living in her bed. Gifty is determined to discover the scientific basis for the suffering she sees all around her. But even as she turns to the hard sciences to unlock the mystery of her family's loss, she finds herself hungering for her childhood faith and grappling with the evangelical church in which she was raised, whose promise of salvation remains as tantalizing as it is elusive. Transcendent Kingdom is a deeply moving portrait of a family of Ghanaian immigrants ravaged by depression and addiction and grief—a novel about faith, science, religion, love.
Adult
Nonfiction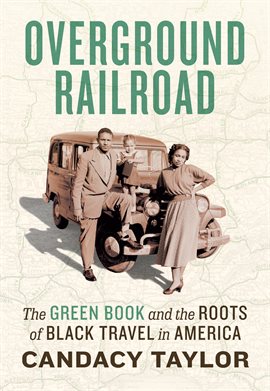 Overground Railroad by Candacy A. Taylor
hoopla ebook
hoopla audiobook
Freading ebook
The first book to explore the historical role and residual impact of the Green Book, a travel guide for black motorists.
Published from 1936 to 1966, the Green Book was hailed as the "black travel guide to America." At that time, it was very dangerous and difficult for African-Americans to travel because black travelers couldn't eat, sleep, or buy gas at most white-owned businesses. The Green Book listed hotels, restaurants, gas stations, and other businesses that were safe for black travelers. It was a resourceful and innovative solution to a horrific problem. It took courage to be listed in the Green Book, and Overground Railroad celebrates the stories of those who put their names in the book and stood up against segregation. It shows the history of the Green Book, how we arrived at our present historical moment, and how far we still have to go when it comes to race relations in America.
---
The Yellow House by Sarah M. Broom
book
hoopla ebook
OverDrive ebook
In 1961, Sarah M. Broom's mother Ivory Mae bought a shotgun house in the then-promising neighborhood of New Orleans East and built her world inside of it. It was the height of the Space Race and the neighborhood was home to a major NASA plant. The postwar optimism seemed assured. Widowed, Ivory Mae remarried Sarah's father Simon Broom; their combined family would eventually number twelve children. But after Simon died, six months after Sarah's birth, the Yellow House would become Ivory Mae's thirteenth and most unruly child.
A book of great ambition, Sarah M. Broom's The Yellow House tells a hundred years of her family and their relationship to home in a neglected area of one of America's most mythologized cities. This is the story of a mother's struggle against a house's entropy, and that of a prodigal daughter who left home only to reckon with the pull that home exerts, even after the Yellow House was wiped off the map after Hurricane Katrina. The Yellow House expands the map of New Orleans to include the stories of its lesser known natives, guided deftly by one of its native daughters, to demonstrate how enduring drives of clan, pride, and familial love resist and defy erasure.
Located in the gap between the "Big Easy" of tourist guides and the New Orleans in which Broom was raised, The Yellow House is a brilliant memoir of place, class, race, the seeping rot of inequality, and the internalized shame that often follows. It is a transformative, deeply moving story from an unparalleled new voice of startling clarity, authority, and power.
---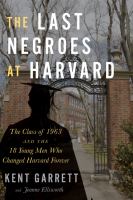 The Last Negroes at Harvard by Jeanna Ellsworth and Kent Garrett 
book 
book on CD 
OverDrive audiobook 
The untold story of the Harvard class of '63, whose Black students fought to create their own identities on the cusp between integration and affirmative action. In the fall of 1959, Harvard recruited eighteen "Negro" boys as an early form of affirmative action. Four years later they would graduate as African Americans. Some fifty years later, one of these trailblazing Harvard grads, Kent Garrett, began to reconnect with his classmates and explore their vastly different backgrounds, lives, and what their time at Harvard meant. Garrett and his partner Jeanne Ellsworth recount how these young men broke new ground. By the time they were seniors, they would have demonstrated against injustice, had lunch with Malcolm X, experienced heartbreak and the racism of academia, and joined with their African national classmates to fight for the right to form an exclusive Black students' group. Part journey into personal history, part group portrait, and part narrative history of the civil rights movement, this is the remarkable story of brilliant, singular boys whose identities were changed at and by Harvard, and who, in turn, changed Harvard.  
---
A Promised Land by Barack Obama
book
large print book
book on CD
OverDrive ebook
OverDrive audiobook
In the stirring, highly anticipated first volume of his presidential memoirs, Barack Obama tells the story of his improbable odyssey from young man searching for his identity to leader of the free world, describing in strikingly personal detail both his political education and the landmark moments of the first term of his historic presidency–a time of dramatic transformation and turmoil.
Obama takes readers on a compelling journey from his earliest political aspirations to the pivotal Iowa caucus victory that demonstrated the power of grassroots activism to the watershed night of November 4, 2008, when he was elected 44th president of the United States, becoming the first African American to hold the nation's highest office.
Reflecting on the presidency, he offers a unique and thoughtful exploration of both the awesome reach and the limits of presidential power, as well as singular insights into the dynamics of U.S. partisan politics and international diplomacy. Obama brings readers inside the Oval Office and the White House Situation Room, and to Moscow, Cairo, Beijing, and points beyond. We are privy to his thoughts as he assembles his cabinet, wrestles with a global financial crisis, takes the measure of Vladimir Putin, overcomes seemingly insurmountable odds to secure passage of the Affordable Care Act, clashes with generals about U.S. strategy in Afghanistan, tackles Wall Street reform, responds to the devastating Deepwater Horizon blowout, and authorizes Operation Neptune's Spear, which leads to the death of Osama bin Laden.
A Promised Land is extraordinarily intimate and introspective–the story of one man's bet with history, the faith of a community organizer tested on the world stage. Obama is candid about the balancing act of running for office as a Black American, bearing the expectations of a generation buoyed by messages of "hope and change," and meeting the moral challenges of high-stakes decision-making. He is frank about the forces that opposed him at home and abroad, open about how living in the White House affected his wife and daughters, and unafraid to reveal self-doubt and disappointment. Yet he never wavers from his belief that inside the great, ongoing American experiment, progress is always possible.
Teens
Dear Justyce by Nic Stone
book
OverDrive ebook
OverDrive audiobook
In the highly anticipated sequel to her New York Times bestseller, Nic Stone delivers an unflinching look into the flawed practices and silenced voices in the American juvenile justice system.
Vernell LaQuan Banks and Justyce McAllister grew up a block apart in the Southwest Atlanta neighborhood of Wynwood Heights. Years later, though, Justyce walks the illustrious halls of Yale University . . . and Quan sits behind bars at the Fulton Regional Youth Detention Center. Through a series of flashbacks, vignettes, and letters to Justyce, the protagonist of Dear Martin, Quan's story takes form. Troubles at home and misunderstandings at school give rise to police encounters and tough decisions. But then there's a dead cop and a weapon with Quan's prints on it. What leads a bright kid down a road to a murder charge? Not even Quan is sure.
---
A Phoenix First Must Burn: Sixteen Stories of Black Girl Magic, Resistance, and Hope edited by Patrice Caldwell
large print
hoopla audioook
Evoking Beyoncé's Lemonade for a teen audience, these authors who are truly Octavia Butler's heirs have woven worlds to create a stunning narrative that puts Black women and gender-nonconforming individuals at its center. A Phoenix First Must Burn will take you on a journey from folktales retold to futuristic societies and everything in between. Filled with stories of love and betrayal, strength and resistance, this collection contains an array of complex and true-to-life characters through which you cannot help but see yourself reflected. Witches and scientists, sisters and lovers, priestesses and rebels-the heroines of this anthology shine brightly. You will never forget them.
---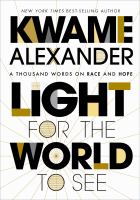 Light for the World to See by Kwame Alexander
book
From NPR correspondent and New York Times bestselling author, Kwame Alexander, comes a powerful and provocative collection of poems that cut to the heart of the entrenched racism and oppression in America and eloquently explores ongoing events. A book in the tradition of James Baldwin's "A Report from Occupied Territory," Light for the World to See is a rap session on race. A lyrical response to the struggles of Black lives in our world, to America's crisis of conscience, to the centuries of loss, endless resilience, and unstoppable hope. Includes an introduction by the author and a bold, graphically designed interior.

A collection of three powerful poems that take on racism and Black resistance in America by New York Times best-selling author Kwame Alexander. Includes an introduction by the author.
---
All the Days Past, All the Days to Come by Mildred D. Taylor
large print book
In her tenth book, Mildred Taylor completes her sweeping saga about the Logan family of Mississippi, which is also the story of the civil rights movement in America of the 20th century. Cassie Logan, first met in Song of the Trees and Roll of Thunder, Hear My Cry, is a young woman now, searching for her place in the world, a journey that takes her from Toledo to California, to law school in Boston, and, ultimately, in the 60s, home to Mississippi to participate in voter registration. She is witness to the now-historic events of the century: the Great Migration north; the rise of the civil rights movement, preceded and precipitated by the racist society of America; and the often violent confrontations that brought about change. Rich, compelling storytelling is Ms. Taylor's hallmark, and she fulfills expectations as she brings to a close the stirring family story that has absorbed her for over forty years. It is a story she was born to tell.
Tweens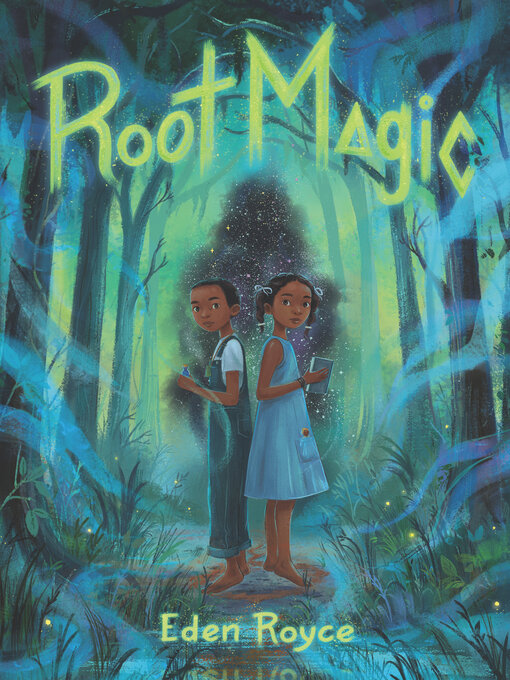 Root Magic by Eden Royce
OverDrive ebook
It's 1963, and things are changing for Jezebel Turner. Her beloved grandmother has just passed away. The local police deputy won't stop harassing her family. With school integration arriving in South Carolina, Jez and her twin brother, Jay, are about to begin the school year with a bunch of new kids. But the biggest change comes when Jez and Jay turn eleven, and their uncle, Doc, tells them he's going to train them in rootwork.
Jez and Jay have always been fascinated by the African American folk magic that has been the legacy of their family for generations—especially the curious potions and powders Doc and Gran would make for the people on their island. But Jez soon finds out that her family's true power goes far beyond small charms and elixirs…and not a moment too soon. Because when evil both natural and supernatural comes to show itself in town, it's going to take every bit of the magic she has inside her to see her through.
---
Claudette Colvin Refuses to Move: Courageous Kid of the Civil Rights Movement by Wilkins, Ebony
book
It's March 2, 1955, and an ordinary 15-year-old girl from Montgomery, Alabama is about to do something extraordinary. When a white bus driver orders Claudette Colvin to give up her seat for a white passenger, she refuses to move. After Claudette is arrested, her brave actions help inspire Civil Rights leaders organize bus boycotts and perform similar acts to defy segregation laws. Eventually, Claudette's court case results in overturning Alabama's unconstitutional laws and provides greater freedom for Black Americans everywhere.
---
The Only Black Girls in Town by Brandy Colbert
book
Beach-loving surfer Alberta has been the only Black girl in town for years. Alberta's best friend, Laramie, is the closest thing she has to a sister, but there are some things even Laramie can't understand. When the bed and breakfast across the street finds new owners, Alberta is ecstatic to learn the family is Black, and they have a 12-year-old daughter just like her. Alberta is positive she and the new girl, Edie, will be fast friends. But while Alberta loves being a California girl, Edie misses her native Brooklyn and finds it hard to adapt to small-town living. When the girls discover a box of old journals in Edie's attic, they team up to figure out exactly who's behind them and why they got left behind. Soon they discover shocking and painful secrets of the past and learn that nothing is quite what it seems.
---
Harbor Me by Jacqueline Woodson
book
large print book
Jacqueline Woodson's first middle-grade novel since National Book Award winner Brown Girl Dreaming celebrates the healing that can occur when a group of students share their stories.
It all starts when six kids have to meet for a weekly chat by themselves, with no adults to listen in. There, in the room they soon dub the ARTT Room (short for A Room to Talk), they discover it's safe to talk about what's bothering them — everything from Esteban's father's deportation and Haley's father's incarceration to Amari's fears of racial profiling and Ashton's adjustment to his changing family fortunes. When the six are together, they can express the feelings and fears they have to hide from the rest of the world. And together, they can grow braver and more ready for the rest of their lives.
Children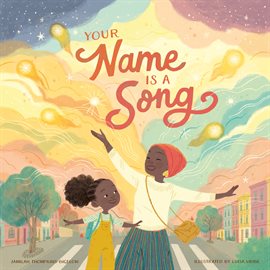 Your Name Is A Song by Jamilah Thompkins-Bigelow
hoopla ebook
Frustrated by a day full of teachers and classmates mispronouncing her beautiful name, a little girl tells her mother she never wants to come back to school. In response, the girl's mother teaches her about the musicality of African, Asian, Black American, Latinx, and Middle Eastern names on their lyrical walk home through the city. Empowered by this newfound understanding, the young girl is ready to return the next day to share her knowledge with her class. Your Name is a Song is a celebration to remind all of us about the beauty, history, and magic behind names.
Your Name is a Song includes back matter perfect for parents, educators, caregivers, and young readers who want to learn more about the names featured in the story. The Glossary of Names lists each name's meaning, origin, and pronunciation. Additionally, readers can use a listed link to access an online video of the author pronouncing all the names in the book.
---
Because You All Matter by Tami Charles
book
hoopla audiobook
Discover this poignant, timely, and emotionally stirring picture book, an ode to Black and brown children everywhere that is full of hope, assurance, and love.
Tami Charles pens a poetic, lyrical text that is part love letter, part anthem, assuring readers that they always have, and always will, matter. This powerful, rhythmic lullaby reassures readers that their matter and their worth is never diminished, no matter the circumstance: through the joy and wonder of their first steps and first laughs, through the hardship of adolescent struggles, and the pain and heartbreak of current events, they always have, and always will, matter.
Accompanied by illustrations by renowned artist Bryan Collier, a four-time Caldecott Honor recipient and a nine-time Coretta Scott King Award winner or honoree, All Because You Matter empowers readers with pride, joy, and comfort, reminding them of their roots and strengthening them for the days to come.
---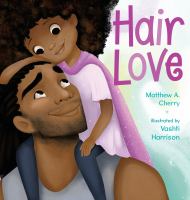 Hair Love by Matthew A. Cherry
book
hoopla audiobook
It's up to Daddy to give his daughter an extra-special hair style in this ode to self-confidence and the love between fathers and daughters, from Academy-Award winning director and former NFL wide receiver Matthew A. Cherry and New York Times bestselling illustrator Vashti Harrison.
Zuri's hair has a mind of its own. It kinks, coils, and curls every which way. Zuri knows it's beautiful. When Daddy steps in to style it for an extra special occasion, he has a lot to learn. But he LOVES his Zuri, and he'll do anything to make her — and her hair — happy.
Tender and empowering, Hair Love is an ode to loving your natural hair and a celebration of daddies and daughters everywhere.
---
Hands Up! by Breanna J. McDaniel
book
This triumphant picture book celebrates Black joy by reclaiming a charged phrase and showing readers how resistance can be part of their everyday lives.
A young Black girl lifts her baby hands up to greet the sun, reaches her hands up for a book on a high shelf, and raises her hands up in praise at a church service. She stretches her hands up high like a plane's wings and whizzes down a hill so fast on her bike with her hands way up. As she grows, she lives through everyday moments of joy, love, and sadness. And when she gets a little older, she joins together with her family and her community in a protest march, where they lift their hands up together in resistance and strength.