On February 7th, the Kansas City Chiefs will take on the Tampa Bay Buccaneers in Super Bowl LV. Get your game-day reading here with football-inspired adult fiction and nonfiction selections and youth fiction and nonfiction selections. Curated by Ashley Lee.
Adult Nonfiction
The Games That Changed the Game by Ron Jaworski
book
Professional football in the last half century has been a sport marked by relentless innovation. For fans determined to keep up with the changes that have transformed the game, close examination of the coaching footage is a must. In The Games That Changed the Game, Ron Jaworski, pro football's #1 game-tape guru, breaks down the film from seven of the most momentous contests of the last fifty years, giving readers a drive-by-drive, play-by-play guide to the evolutionary leaps that define the modern NFL.
From Sid Gillman's development of the Vertical Stretch, which launched the era of wide-open passing offenses, to Bill Belichick's daring defensive game plan in Super Bowl XXXVI, which enabled his outgunned squad to upset the heavily favored St. Louis Rams and usher in the New England Patriots dynasty, the most cutting-edge concepts come alive again through the recollections of nearly seventy coaches and players. You'll never watch NFL football the same way again.
---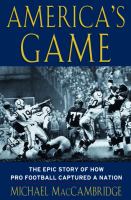 America's Game: The Epic Story of How Pro Football Captured A Nation by Michael MacCambridge
book
hoopla audiobook
It's difficult to imagine today, when the Super Bowl has virtually become a national holiday and the National Football League is the country's dominant sports entity, but pro football was once a ramshackle afterthought on the margins of the American sports landscape. In the span of a single generation in postwar America, the game charted an extraordinary rise in popularity, becoming a smartly managed, keenly marketed sports entertainment colossus whose action is ideally suited to television and whose sensibilities perfectly fit the modern age.
America's Game traces pro football's grand transformation, from the World War II years, when the NFL was fighting for its very existence, to the turbulent 1980s and 1990s, when labor disputes and off-field scandals shook the game to its core, and up to the sport's present-day preeminence. A thoroughly entertaining account of the entire universe of professional football, from locker room to boardroom, from playing field to press box, this is an essential book for any fan of America's favorite sport.
---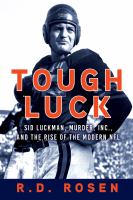 Tough Luck: Sid Luckman, Murder, Inc., and the Rise of the Modern NFL by R.D. Rosen
book
hoopla ebook
hoopla audiobook
In the long annals of sports and crime, no story compares to the one that engulfed the Luckman family in 1935. As eighteen-year-old Sid Luckman made headlines across New York City for his football exploits at Erasmus Hall High School in Brooklyn, his father, Meyer Luckman, was making headlines in the same papers for a very different reason: the gangland murder of his own brother-in-law. Amazingly, after Sid became a star at Columbia and then led the Chicago Bears to multiple NFL championships, all while Meyer wasted away in Sing Sing, the connection between sports celebrity son and mobster father was ignored by the press and then overlooked for eight decades.
Tough Luck traces two historic developments connected by a single immigrant family in Depression-era New York: the rise of the National Football League through the dynastic Chicago Bears, whose famed owner George Halas convinced Sid Luckman to help him turn the sluggish game of pro football into America's favorite pastime; and the demise, triggered by Meyer Luckman's crime, of the Brooklyn labor rackets and of Louis Lepke's infamous organization Murder Inc. Filled with colorful characters, from ambitious district attorney turned governor Thomas Dewey and legendary columnist Walter Winchell to Sid Luckman's rival quarterback "Slingin'" Sammy Baugh, from hit men like "Tick Tock" Tannenbaum to Sid's powerful post-career friends Frank Sinatra and Joe DiMaggio, Tough Luck unforgettably evokes an era of vicious Brooklyn mobsters and undefeated Monsters of the Midway, a time when the media kept their mouths shut and the soft-spoken son of a murderer could become a beloved Hall of Fame legend with a hidden past.
---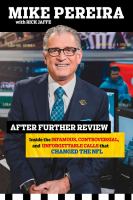 After Further Review by Mike Pereira
book
hoopla ebook
Freading ebook
Only recently in the world of NFL media have "rules experts" become an essential part of a fan's viewing experience. As the league continues to implement rule changes that have more and more of an impact on games and, sometimes, the final outcome, it's become imperative that fans understand the rules and how they're applied. But often, they need help. Mike Pereira, hired by Fox Sports in 2010 as the rules expert for both the NFL and college football, was not only the first to rise to prominence in the role, but he is consistently lauded as being the best by his peers and even rival media networks. Viewers have come to rely on Pereira, the former vice president of NFL officiating, to provide entertaining, informative, and reliable explanations of the league's often baffling and controversial rulings during games.
Now, Pereira digs a little deeper and gives NFL fans and casual viewers alike insight into NFL rules, their applications, and some of the most controversial calls in recent memory, in terms both can understand. In this book, Pereira draws on professional experience and his personal life, both his years of work at the pinnacle of the officiating world and his upbringing as the child of longtime official, Al Pereira.
---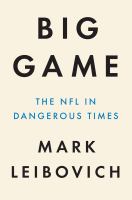 Big Game: The NFL in Dangerous Times by Mark Leibovich
book
Like millions of Americans, Mark Leibovich has spent more of his life tuned into pro football than he'd care to admit. Being a lifelong New England Patriots fan meant growing up on a steady diet of lovable loserdom. That is, until the Tom Brady/Bill Belichick era made the Pats the most ruthlessly efficient and polarizing sports dynasty of the modern NFL, and its fans the most irritating in all of Pigskin America. Leibovich kept his obsession quiet, making a nice career for himself covering that other playground for rich and overgrown children, American politics. Still, every now and then Leibovich would reach out to Tom Brady to gauge his willingness to subject himself to a profile. He figured that the chances of Brady agreeing were a Hail Mary at best, but Brady returned Mark's call in summer 2014 and kept on returning his calls through epic Patriots Super Bowl victory and defeat, and a scandal involving Brady–Deflategate–whose grip on sports media was as profound as its true significance was ridiculous.
So began a four-year odyssey that took Mark Leibovich deeper inside the NFL than anyone has gone before. From the owners' meeting to the draft to the sidelines of crucial games, he takes in the show at the elbow of everyone from Brady to big-name owners to the cordially despised NFL Commissioner, Roger Goodell. Ultimately, Big Game is a chronicle of "peak football," the high point of the sport's economic success and cultural dominance, but also the time when the dark side began to show. It is an era of explosive revenue growth, but also one of creeping existential fear. Players have long joked that NFL stands for "not for long," but as the true impact of concussions becomes inescapable background noise, it's increasingly difficult to enjoy the simple glory of football without the buzz-kill of its obvious consequences.
---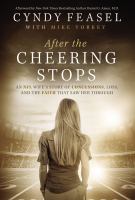 After the Cheering Stops: An NFL Wife's Story of Concussions, Loss, and the Faith That Saw Her Through by Cyndy Feasel
book
hoopla ebook
hoopla audibook
Freading ebook
Grant Feasel spent ten years in the NFL, playing 117 games as a center and a long snapper mostly for the Seattle Seahawks. The skull-battering, jaw-shaking collisions he absorbed during those years ultimately destroyed his marriage and fractured his family. Grant died on July 15, 2012, at the age of 52, the victim of alcohol abuse and a degenerative brain disease known as chronic traumatic encephalopathy, or CTE.
Cyndy Feasel watched their life together become a living hell as alcohol became Grant's medication for a disease rooted in the scores of concussions he suffered on the football field. Helmet-to-helmet collisions opened the door to CTE and transformed him from a sunny, strong, and loving man into a dark shadow of his former self. In this raw and emotional memoir that takes a closer look at the destruction wrought by a game millions love, Cyndy describes in painful and excruciating detail what can happen to an NFL player and his family when the stadium empties and the lights go down. A powerful tale of warning for football moms and NFL wives everywhere, After the Cheering Stops is also a story of the hard-won hope found in God's presence when everything else falls apart.
Adult Fiction
The Eleventh Man by Ivan Doig
book
hoopla ebook
Freading ebook
Driven by the memory of a fallen teammate, TSU's 1941 starting lineup went down as legend in Montana football history, charging through the season undefeated. Two years later, the "Supreme Team" is caught up in World War II. Ten of them are scattered around the globe in the war's various lonely and dangerous theaters. The eleventh man, Ben Reinking, has been plucked from pilot training by a military propaganda machine hungry for heroes. He is to chronicle the adventures of his teammates, man by man, for publication in small-town newspapers across the country. Ready for action, he chafes at the assignment, not knowing that it will bring him love from an unexpected quarter and test the law of averages, which holds that all but one of his teammates should come through the conflict unscathed.
---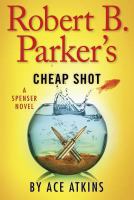 Robert B. Parker's Cheap Shot by Ace Atkins
book
The iconic, tough-but-tender Boston PI Spenser returns in an outstanding new addition to the New York Times-bestselling series from author Ace Atkins. Kinjo Heywood is one of the New England Patriots' marquee players, a hard-nosed linebacker who's earned his reputation as one of the toughest guys in the league. When off-field violence repeatedly lands Heywood in the news, his slick agent hires Spenser to find the men who he says have been harassing his client. Heywood's troubles seem to be tied to a nightclub shooting from two years earlier. But when Heywood's nine-year-old son, Akira, is kidnapped, ransom demands are given, and a winding trail through Boston's underworld begins, Spenser puts together his own all-star team of toughs. It will take both Hawk and Spenser's protege, Zebulon Sixkill, to watch Spenser's back and return the child to the football star's sprawling Chestnut Hill mansion. A controversial decision from Heywood only ups the ante as the clock winds down on Akira's future.
---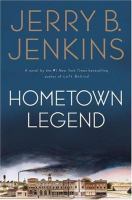 Hometown Legend by Jerry B. Jenkins
book
hoopla audiobook
Years after Athens City, Alabama lost the state high-school football championship and suffered a devastating tragedy, the town has fallen on hard times, until the former coach returns to head up one final season, aided by a local who teaches him a valuable lesson about love, reconciliation, and winning.
---
Intercepted by Alexa Martin (#1 in The Playbook series)
book
large print book
Marlee thought she scored the man of her dreams only to be scorched by a bad breakup. But there's a new player on the horizon, and he's in a league of his own.
Marlee Harper is the perfect girlfriend. She's definitely had enough practice by dating her NFL-star boyfriend for the last ten years. But when she discovers he has been tackling other women on the sly, she vows to never date an athlete again. There's just one problem: Gavin Pope, the new hotshot quarterback and a fling from the past, has Marlee in his sights. Gavin fights to show Marlee he's nothing like her ex. Unfortunately, not everyone is ready to let her escape her past. The team's wives, who never led the welcome wagon, are not happy with Marlee's return. They have only one thing on their minds: taking her down. But when the gossip makes Marlee public enemy number one, she worries about more than just her reputation. Between their own fumbles and the wicked wives, it will take a Hail Mary for Marlee and Gavin's relationship to survive the season.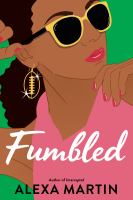 ---
The Bright Lands by John Fram
book
OverDrive ebook
hoopla audiobook
The town of Bentley holds two things dear: its football and its secrets. But when star quarterback Dylan Whitley goes missing, an unremitting fear grips this remote corner of Texas.
Joel Whitley was shamed out of conservative Bentley ten years ago, and while he's finally made a life for himself as a gay man in New York, his younger brother's disappearance soon brings him back to a place he thought he'd escaped for good. Meanwhile, Sheriff's Deputy Starsha Clark stayed in Bentley; Joel's return brings back painful memories, not to mention questions, about her own missing brother. And in the high school hallways, Dylan's friends begin to suspect that their classmates know far more than they're telling the police. Together, these unlikely allies will stir up secrets their town has long tried to ignore, drawing the attention of dangerous men who will stop at nothing to see that their crimes stay buried.
But no one is quite prepared to face the darkness that's begun to haunt their nightmares, whispering about a place long thought to be nothing but an urban legend: an empty night, a flicker of light on the horizon — The Bright Lands.
Shocking, twisty and relentlessly suspenseful, John Fram's debut is a heart-pounding story about old secrets, modern anxieties and the price young men pay for glory.
---
Hard Love by Peyton Banks
book
hoopla audiobook
Reiner Strickland had led his team to three national championships and playing a knight in shining armor was all in a day's work for the NFL star quarterback. Only his damsel in distress had no idea who he was, and it threw him off his game. He was the face of his organization and was used to everyone recognizing him. Her innocence, charm, and beauty captivated him. It wasn't until after they parted ways that he realized that he never got her number or even her last name.
Jada Dalton had no idea who her sexy knight in shining armor was, but knew that she'd probably never see him again. She was focused on building her business and didn't have time for love. Just because she was determined to become a successful businesswoman, it didn't mean she couldn't dream about her sexy-as-sin rescuer.
Another chance meeting brings the two together and this time, Jada discovers who exactly Reiner is. She learns quickly what goes along with dating a football legend and is not sure she can handle it. Reiner refuses to let Jada go. He'll have to dig deep and call out the most important play of his life to ensure that Jada Dalton remains on his team.
---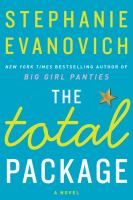 The Total Package by Stephanie Evanovich
book
OverDrive ebook
hoopla ebook
hoopla audiobook
Freading ebook
Heartthrob star quarterback Tyson Palmer has it all: a million-dollar arm, a winning season and the promise of a Superbowl ring. But more importantly, football's biggest star is the ultimate comeback kid. After an addiction to painkillers nearly derailed his career, Tyson got sober and went from zero to hero in the eyes of the public.
But one person remains unconvinced: Dani Carr, a sports commentator with high ratings and following of her own.
Dani can't forgive Tyson's transgressions or forget a single passionate night with him back in college. To make things worse, Tyson doesn't realize that the bombshell with huge ratings is the cute co-ed whose heart he once broke.
But can a sports journalist trying to claw her way to the top and a quarterback who knows all about rock bottom make it to the Super Bowl without destroying each other And what will happen when Tyson, riding high now that he's revived his career, realizes he needs to make an even more important comeback with Dani, Can he use his million-dollar moves to get past her defenses? Or will she sideline him for good?
Youth Nonfiction
Between the Lines: How Ernie Barnes Went From the Football Field to the Art Gallery by Sandra Neil Wallace
book
OverDrive ebook
When Ernie Barnes was growing up in North Carolina in the 1940s, he loved to draw. Even when he played as a boy with his friends he drew with a stick in the mud. And he never left home without a sketchbook. He would draw families walking home from church, or the old man on the sofa. He drew what he saw. But in the segregated south, Ernie didn't know how to make a living as an artist. Ernie grew tall and athletic and became a football star. Soon enough the colleges came calling. Still, in his heart Ernie longed to paint. Would that day ever come?
Ernie Barnes was one of the most important artists of his time known for his style of elongation and movement. His work has influenced a generation of painters and illustrators and can be found in museums and collections, such as the African American Museum in Philadelphia and the California African American Museum. Between the Lines is a story of inspiration, spirit, and of an American original who pursued his dream. This enchanting picture book includes pieces of artwork created by this little known artist who captured the truth and beauty of the world he saw around him.
---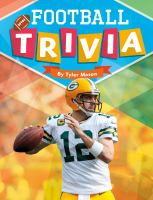 Football Trivia by Tyler Mason
book
hoopla ebook
Test your knowledge about the greats of the gridiron who made football the most popular sport in the United States today. The title features informative sidebars, a trivia quiz, a glossary, and further resources.
---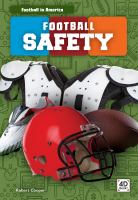 Football Safety by Robert Cooper
book
Hoopla ebook
This title offers readers an exciting introduction to football safety. Vivid photographs and easy-to-read text lead readers as they learn what sort of cautions need to be taken during football to stay safe. Features include a table of contents, two infographics, fun facts, a sidebar, Making Connections questions, a glossary, and an index. QR Codes in the book give readers access to book-specific resources to further their learning.
---
Greatest Moments in NFL History by Robert Cooper
book
hoopla ebook
This title offers readers an exciting introduction to the greatest moments in NFL history. Vivid photographs and easy-to-read text bring readers right into the action as they relive the excitement. Features include a table of contents, two infographics, fun facts, a sidebar, Making Connections questions, a glossary, and an index. QR Codes in the book give readers access to book-specific resources to further their learning.
---
Super Bowl by Aneel Brar
book
hoopla ebook
The Super Bowl is the annual championship game of the National Football League (NFL). It is one of the most-watched sporting events of the year. Learn more about this fascinating championship in Super Bowl, a title in the We Are the Champions series. Each title in the series features easy-to-read text, stunning visuals, and a challenging educational activity. A unique book code printed on page 2 unlocks multimedia content.
Youth Fiction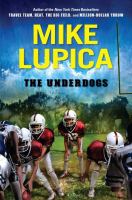 The Underdogs by Mike Lupica
book
Will Tyler can fly on a football field. He may not be the biggest running back around, but no one can touch him when it comes to hitting the hole and finding the end zone. And no one can match his love of the game. When Will has a football in hand, he may as well be flying for real because life can't touch him: his dad isn't so defeated, his town isn't so poor, and everyone has something to cheer for. All of which does him no good if the football season is canceled. With no funding for things like uniforms and a cared-for playing field, with seemingly every other family moving to find jobs, there simply isn't enough money or players for a season. Unless one kid can rally an entire town and give everyone a reason to believe.
---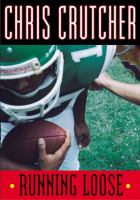 Running Loose by Chris Crutcher
book
hoopla ebook
Freading ebook
Louie Banks has it made. He's got a starting spot on the football team, good friends, and a smart, beautiful girlfriend who loves him as much as he loves her.
Early in the fall, he sees all his ideas of fair play go up in smoke; by spring, what he cares about most has been destroyed. How can Louie keep going when he's lost everything?
---
Before the Ever After by Jacqueline Woodson
book
For as long as ZJ can remember, his dad has been everyone's hero. As a charming, talented pro football star, he's as beloved to the neighborhood kids he plays with as he is to his millions of adoring sports fans. But lately life at ZJ's house is anything but charming. His dad is having trouble remembering things and seems to be angry all the time. ZJ's mom explains it's because of all the head injuries his dad sustained during his career. ZJ can understand that, but it doesn't make the sting any less real when his own father forgets his name.
As ZJ contemplates his new reality, he has to figure out how to hold on tight to family traditions and recollections of the glory days, all the while wondering what their past amounts to if his father can't remember it. And most importantly, can those happy feelings ever be reclaimed when they are all so busy aching for the past?
---
Coach Hyatt is a Riot! by Dan Gutman
book
OverDrive ebook
hoopla ebook
Freading ebook
The weirdness never stops!
It's Pee Wee Football season, and A.J.'s new coach is crazy. She wants the boys to do push-ups in the mud. She wants them to pick up a car. And worst of all, she wants to put girls on the team! You'll never believe in a million hundred years what happens in the big game.
---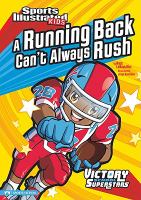 A Running Back Can't Always Rush by Nate LeBoutillier
book
Freading ebook
Danny loves to go fast. With his super speed, he can rush down the football field in seconds. The trouble is he forgets to slow down off of the field. When he zips through his homework, he makes mistakes. When he eats too fast, he feels sick. How will Danny learn that a running back can't always rush?
*All summaries courtesy of the publisher unless otherwise noted.