Looking for love this Valentine's Day? Get swept up in all the feels with these teen romances. Curated by Samantha Matherne.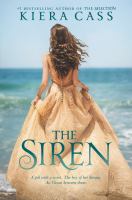 The Siren by Kiera Cass 
book 
hoopla ebook 
hoopla audiobook 
OverDrive ebook 
OverDrive audiobook 
Freading ebook 
From the New York Times bestselling author of The Selection series comes this sweeping standalone fantasy romance. A girl with a secret. The boy of her dreams. An ocean between them. 
Kahlen is a Siren, bound to serve the Ocean by luring humans to their watery graves with her voice, which is deadly to any human who hears it. Akinli is human, a kind, handsome boy who's everything Kahlen ever dreamed of. Falling in love puts them both in danger, but will Kahlen risk everything to follow her heart? 
This star-crossed YA romance is sure to captivate readers who grew up loving The Little Mermaid or fans of Jennifer Donnelly's WaterFire Saga. Originally self-published, The Siren has been completely rewritten and redesigned for this beautiful hardcover edition. 
---
Something in Between by Melissa de la Cruz 
book 
hoopla ebook 
hoopla audiobook 
Freading ebook 
Jasmine de los Santos has always done what's expected of her. Pretty and popular, she's studied hard, made her Filipino immigrant parents proud, and is ready to reap the rewards in the form of a full college scholarship. 
And then everything shatters. A national scholar award invitation compels her parents to reveal the truth: their visas expired years ago. Her entire family is illegal. That means no scholarships, maybe no college at all, and the very real threat of deportation. But Jasmine won't give up. Because when the rules you lived by no longer apply, the only thing to do is make up your own.
---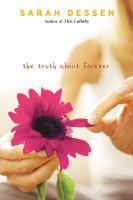 The Truth About Forever by Sarah Dessen 
book 
book on CD 
Expect the unexpected. 
Macy's got her whole summer carefully planned. But her plans didn't include a job at Wish Catering. And they certainly didn't include Wes. 
But Macy soon discovers that the things you expect least are sometimes the things you need most. 
---
Better Off Friends by Elizabeth Eulberg 
book 
For Macallan and Levi, it was friends at first sight. Everyone says guys and girls can't be just friends, but these two are. They hang out after school, share tons of inside jokes, their families are super close, and Levi even starts dating one of Macallan's friends. They are platonic and happy that way. 
Eventually they realize they're best friends — which wouldn't be so bad if they didn't keep getting in each other's way. Guys won't ask Macallan out because they think she's with Levi, and Levi spends too much time joking around with Macallan, and maybe not enough time with his date. They can't help but wonder . . . are they more than friends or are they better off without making it even more complicated? 
---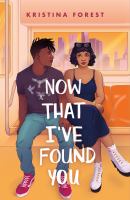 Now That I've Found You by Kristina Forest 
book 
Following in the footsteps of her überfamous grandma, eighteen-year-old Evie Jones is poised to be Hollywood's next big star. That is until a close friend's betrayal leads to her being blacklisted.
Fortunately, Evie knows just the thing to save her floundering career: a public appearance with America's most beloved actress — her grandma Gigi, aka the Evelyn Conaway. The only problem? Gigi is a recluse who's been out of the limelight for almost twenty years. Days before Evie plans to present her grandma with an honorary award in front of Hollywood's elite, Gigi does the unthinkable: she disappears. 
With time running out and her comeback on the line, Evie reluctantly enlists the help of the last person to see Gigi before she vanished: Milo Williams, a cute musician Evie isn't sure she can trust. As Evie and Milo conduct a wild manhunt across New York City, romance and adventure abound while Evie makes some surprising discoveries about her grandma — and herself. 
---
Shug by Jenny Han 
book 
hoopla audiobook 
OverDrive ebook 
Annemarie Wilcox, or Shug as her family calls her, is beginning to think there's nothing worse than being twelve. She's too tall, too freckled, and way too flat-chested. Shug is sure that there's not one good or amazing thing about her. And now she has to start junior high, where the friends she counts most dear aren't acting so dear anymore — especially Mark, the boy she's known her whole life through. Life is growing up all around her, and all Shug wants is for things to be like they used to be. How is a person supposed to prepare for what happens tomorrow when there's just no figuring out today? 
---
Tweet Cute by Emma Lord 
book 
OverDrive ebook 
Meet Pepper, swim team captain, chronic overachiever, and all-around perfectionist. Her family may be falling apart, but their massive fast-food chain is booming — mainly thanks to Pepper, who is barely managing to juggle real life while secretly running Big League Burger's massive Twitter account. 
Enter Jack, class clown and constant thorn in Pepper's side. When he isn't trying to duck out of his obscenely popular twin's shadow, he's busy working in his family's deli. His relationship with the business that holds his future might be love/hate, but when Big League Burger steals his grandma's iconic grilled cheese recipe, he'll do whatever it takes to take them down, one tweet at a time.
All's fair in love and cheese — that is, until Pepper and Jack's spat turns into a viral Twitter war. Little do they know, while they're publicly duking it out with snarky memes and retweet battles, they're also falling for each other in real life, on an anonymous chat app Jack built. 
As their relationship deepens and their online shenanigans escalate — people on the internet are shipping them — their battle gets more and more personal, until even these two rivals can't ignore they were destined for the most awkward, all-the-feels romance that neither of them expected. 
---
A Cuban Girl's Guide to Tea and Tomorrow by Laura Taylor Namey 
book 
OverDrive ebook 
For Lila Reyes, a summer in England was never part of the plan. The plan was 1) take over her abuela's role as head baker at their panadera, 2) move in with her best friend after graduation, and 3) live happily ever after with her boyfriend. But then the Trifecta happened, and everything — including Lila herself — fell apart. 
Worried about Lila's mental health, her parents make a new plan for her: Spend three months with family friends in Winchester, England, to relax and reset. But with the lack of sun, a grumpy inn cook, and a small town lacking Miami flavor (both in food and otherwise), what would be a dream trip for some feels more like a nightmare to Lila…until she meets Orion Maxwell.
A teashop clerk with troubles of his own, Orion is determined to help Lila out of her funk, and appoints himself as her personal tour guide. From Winchester's drama-filled music scene to the sweeping English countryside, it isn't long before Lila is not only charmed by Orion, but England itself. Soon a new future is beginning to form in Lila's mind, one that would mean leaving everything she ever planned behind. 
---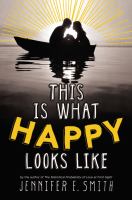 This is What Happy Looks Like by Jennifer E. Smith 
book 
hoopla audiobook 
If fate sent you an email, would you answer? 
When teenage movie star Graham Larkin accidentally sends small town girl Ellie O'Neill an email about his pet pig, the two seventeen-year-olds strike up a witty and unforgettable correspondence, discussing everything under the sun, except for their names or backgrounds.
Then Graham finds out that Ellie's Maine hometown is the perfect location for his latest film, and he decides to take their relationship from online to in-person. But can a star as famous as Graham really start a relationship with an ordinary girl like Ellie? And why does Ellie want to avoid the media's spotlight at all costs?
---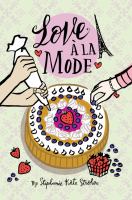 Love à la Mode by Stephanie Kate Strohm 
book 
Anna and the French Kiss meets TV's Chopped as Rosie and Henry, both enrolled in an elite cooking program in Paris, balance rivalry and romance in this delicious YA romantic comedy. 
Rosie Radeke firmly believes that happiness can be found at the bottom of a mixing bowl. But she never expected that she, a random nobody from East Liberty, Ohio, would be accepted to celebrity chef Denis Laurent's school in Paris, the most prestigious cooking program for teens in the entire world. Life in Paris, however, isn't all cream puffs and crepes. Faced with a challenging curriculum and a nightmare professor, Rosie begins to doubt her dishes.
---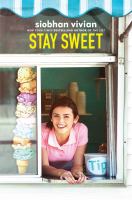 Stay Sweet by Siobhan Vivian 
book 
hoopla audiobook 
Summer in Sand Lake isn't complete without a trip to Meade Creamery–the local ice cream stand founded in 1944 by Molly Meade who started making ice cream to cheer up her lovesick girlfriends while all the boys were away at war. Since then, the stand has been owned and managed exclusively by local girls, who inevitably become the best of friends. Seventeen-year-old Amelia and her best friend Cate have worked at the stand every summer for the past three years, and Amelia is "Head Girl" at the stand this summer.
When Molly passes away before Amelia even has her first day in charge, Amelia isn't sure that stand can go on. That is, until Molly's grandnephew Grady arrives and asks Amelia to stay on to help continue the business. But Grady's got some changes in mind… 
---
Love & Gelato by Jenna Evans Welch 
OverDrive ebook 
Lina is spending the summer in Tuscany, but she isn't in the mood for Italy's famous sunshine and fairy-tale landscape. She's only there because it was her mother's dying wish that she get to know her father. But what kind of father isn't around for sixteen years? All Lina wants to do is get back home. 
 
But then Lina is given a journal that her mom had kept when she lived in Italy. Suddenly Lina's uncovering a magical world of secret romances, art, and hidden bakeries. A world that inspires Lina, along with the ever-so-charming Ren, to follow in her mother's footsteps and unearth a secret that has been kept for far too long. It's a secret that will change everything Lina knew about her mother, her father—and even herself. 
 
People come to Italy for love and gelato, someone tells her, but sometimes they discover much more. 
---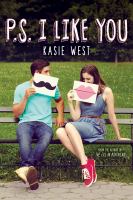 P. S. I Like You by Kasie West 
book 
What if the person you were falling for was a total mystery?
Signed, sealed, delivered… While spacing out in Chemistry class, Lily scribbles some of her favorite song lyrics onto her desk. The next day, she finds that someone has continued the lyrics on the desk and added a message to her. Soon, Lily and her anonymous pen pal are exchanging full-on letters — sharing secrets, recommending bands, and opening up to each other. Lily realizes she's kind of falling for this letter writer. Only who is he?
As Lily attempts to unravel the mystery, and juggle school, friends, crushes, and her crazy family, she discovers that matters of the heart can't always be spelled out. Kasie West brings irresistible wit, warmth, and sparkle to this swoon-worthy story of love showing up when you least expect it. 
---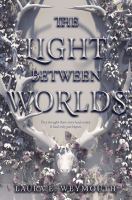 The Light Between Worlds by Laura E. Weymouth 
book 
hoopla ebook 
hoopla audiobook 
Six years ago, sisters Evelyn and Philippa Hapwell were swept away to a strange and beautiful kingdom called the Woodlands, where they lived for years. But ever since they returned to their lives in post-WWII England, they have struggled to adjust. 
Ev desperately wants to return to the Woodlands, and Philippa just wants to move on. When Ev goes missing, Philippa must confront the depth of her sister's despair and the painful truths they've been running from. As the weeks unfold, Philippa wonders if Ev truly did find a way home, or if the weight of their worlds pulled her under.
Walking the line between where fantasy and reality meet, this lyrical and magical novel is, above all else, an exploration of loss and healing, and what it means to find where you belong. 
*All summaries courtesy of the publisher unless otherwise noted.