Love is a tale as old as time. Celebrate this Valentine's day with a journey to the past in these historical fiction romances. Curated by Jessica Schiefelbein.
Outlander by Diana Gabaldon
book
book on CD
abridged book on CD
season 1, volume 1 DVD
season 1, volume 2 DVD
OverDrive ebook
OverDrive ebook Outlander series books 1-4 bundle
hoopla audiobook
Scottish Highlands, 1945. Claire Randall, a former British combat nurse, is just back from the war and reunited with her husband on a second honeymoon when she walks through a standing stone in one of the ancient circles that dot the British Isles. Suddenly she is a Sassenach—an "outlander"—in a Scotland torn by war and raiding clans in the year of Our Lord . . . 1743.
Claire is catapulted into the intrigues of a world that threatens her life and may shatter her heart. Marooned amid danger, passion, and violence, Claire learns her only chance of safety lies in Jamie Fraser, a gallant young Scots warrior. What begins in compulsion becomes urgent need, and Claire finds herself torn between two very different men, in two irreconcilable lives.
---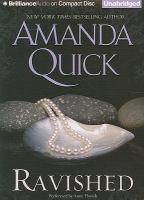 Ravished by Amanda Quick
book
book on CD
The New York Times bestselling author of Rendezvous presents a spellbinding new Regency historical destined to be a hot beach read this summer. Moving from the cozy confines of a tiny seaside village to the glittering crush of a fashionable London soiree, Quick offers an enthralling tale of a mismatched couple poised to discover the rapture of love.
---
The Bride by Julie Garwood
book
book on CD
OverDrive ebook
By edict of the king, the mighty Scottish laird Alec Kincaid must take an English bride. His choice is Jamie, youngest daughter of Baron Jamison — a feisty, violet-eyed beauty. Alec aches to touch her, to tame her, to possess her forever. But Jamie has vowed never to surrender to a man she considers a highland barbarian.

Alec is everything Jamie's heart has warned her against — an arrogant scoundrel whose rough good looks speak of savage pleasures. While Kincaid's scorching kisses set fire to her blood, she is determined to resist him… until one rapturous moment quells their clash of wills, and something far more dangerous than desire threatens to conquer her senses.
---
Something Wonderful by Judith McNaught
book
The tempestuous marriage of Alexandra Lawrence, an innocent country girl, and Jordan Townsende, the rich and powerful Duke of Hawthorne, is about to face its ultimate test of tender loyalty. Swept into the endlessly fascinating world of London society, free-spirited Alexandra becomes ensnared in a tangled web of jealousy and revenge, stormy pride and overwhelming passion. But behind her husband's cold, arrogant mask, there lives a tender, vital, sensual man, the man Alexandra married. Now, she will fight for his very life and the rapturous bond they alone can share.
---
Morning Glory by Lavyrle Spencer
book
In town, they called her "Crazy Widow Dinsmore." But Elly was no stranger to their ridicule. She had been an outsider all her life, growing up in a boarded-up old house under the strict eye of her eccentric grandparents. Now she is all alone, with two little boys to raise, and a third child on the way.
Will Parker drifted into Whitney, Georgia, one lazy afternoon in the summer, hoping to put his lonely past behind him. He yearned for the tenderness he had never known, the home he'd never had. All he needed was for someone to give him a chance.
Then he saw her classified ad: WANTED — A husband. When he stepped across Elly Dinsmore's cluttered yard, Will knew he had come home at last.
---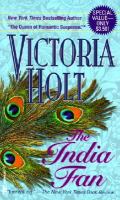 The India Fan by Victoria Holt
book
hoopla ebook
Beautiful as its peacock feathers may be, the priceless fan hidden deep within the Framling mansion has a legacy of death and destruction. And Drusilla Delany has no idea she's been marked by its curse.
But the fan's dark past might prove less of a danger than Fabian Framling himself. Dark, brooding, and dominating, will he be the one to save her from the fan's cruel fate…or cause her demise?
---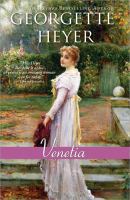 Venetia by Georgette Heyer
book
OverDrive ebook
hoopla ebook
Freading ebook
Venetia Lanyon, beautiful, intelligent and independent, lives in comfortable seclusion in rural Yorkshire with her precocious brother Aubrey. Her future seems safe and predictable: either marriage to the respectable but dull Edward Yardley, or a life of peaceful spinsterhood. But when she meets the dashing, dangerous rake Lord Damerel, her well-ordered life is turned upside down, and she embarks upon a relationship with him that scandalizes and horrifies the whole community. Has she found her soul mate, or is she playing with fire?
---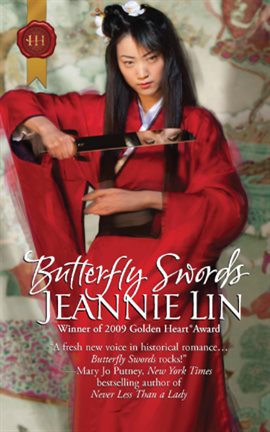 Butterfly Swords by Jeannie Lin
hoopla ebook
hoopla audiobook
Freading ebook
Part 1 of the Tang Dynasty series
During China's infamous Tang Dynasty, a time awash with luxury yet littered with deadly intrigues and fallen royalty, betrayed Princess Ai Li flees before her wedding. Miles from home, with only her delicate butterfly swords for defense, she enlists the reluctant protection of a blue-eyed warrior.
Battle-scarred, embittered Ryam has always held his own life at cheap value. Ai Li's innocent trust in him and honorable, stubborn nature make him desperate to protect her, which means not seducing the first woman he has ever truly wanted.
---
Someone to Romance by Mary Balogh
large print book
OverDrive ebook
Lady Jessica Archer lost interest in the glittering excitement of romance after her cousin and dearest friend, Abigail, was rejected by the ton when her father was revealed to be a bigamist. Now that she is twenty-five, however, Jessica decides it is time to wed. Though she no longer believes she will find true love, she is still very eligible. She is, after all, the sister of Avery Archer, Duke of Netherby.
Jessica considers the many qualified gentlemen who court her. But then she meets the mysterious Gabriel Thorne, who has returned to England from the New World to claim an equally mysterious inheritance. Jessica considers him completely unsuitable, especially when, while they are still barely acquainted, he announces his intention to wed her.
When Jessica guesses who Gabriel really is, however, and watches the lengths to which he will go in order to protect those who rely upon him, she is drawn to his cause — and to him.
---
Royal by Danielle Steel
book
large print book
book on CD
OverDrive ebook
OverDrive audiobook
As the war rages on in the summer of 1943, causing massive destruction and widespread fear, the King and Queen choose to quietly send their youngest daughter, Princess Charlotte, to live with a trusted noble family in the country. Despite her fiery, headstrong nature, the princess's fragile health poses far too great a risk for her to remain in war-torn London.
Third in line for the throne, seventeen-year-old Charlotte reluctantly uses an alias upon her arrival in Yorkshire, her two guardians the only keepers of her true identity. In time, she settles comfortably into a life out of the spotlight, befriending a young evacuee and training with her cherished horse. But no one predicts that in the coming months she will fall deeply in love with her protectors' son.
Charlotte longs for a normal life. Far from her parents, a tragic turn of events leaves an infant orphaned. Alone in the world, that child will be raised in the most humble circumstances by a modest stable manager and his wife. No one, not even she, knows of her lineage. But when a stack of hidden letters comes to light, a secret kept for nearly two decades finally surfaces, and a long-lost princess emerges.
*All summaries courtesy of the publisher unless otherwise noted.