These engaging anatomical titles will introduce you to your insides, from your lungs, blood, and bones to your genes and the microorganisms that call your gut home. Curated by Ashley Lewis.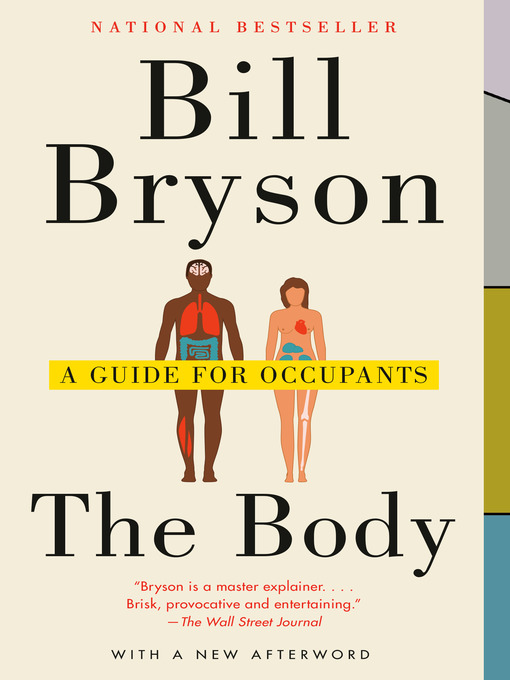 The Body by Bill Bryson
book
OverDrive ebook
OverDrive audiobook
Bill Bryson, bestselling author of A Short History of Nearly Everything, takes us on a head-to-toe tour of the marvel that is the human body. As compulsively readable as it is comprehensive, this is Bryson at his very best, a must-read owner's manual for everybody. Bill Bryson once again proves himself to be an incomparable companion as he guides us through the human body — how it functions, its remarkable ability to heal itself, and (unfortunately) the ways it can fail. Full of extraordinary facts (your body made a million red blood cells since you started reading this) and irresistible Bryson-esque anecdotes, The Body will lead you to a deeper understanding of the miracle that is life in general and you in particular. As Bill Bryson writes, "We pass our existence within this wobble of flesh and yet take it almost entirely for granted." The Body will cure that indifference with generous doses of wondrous, compulsively readable facts and information.
---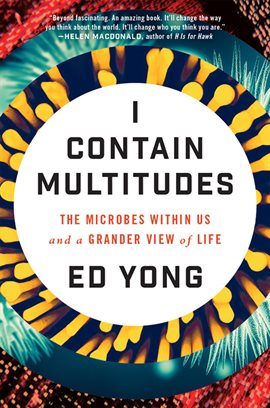 I Contain Multitudes by Ed Yong
hoopla ebook
hoopla audiobook
Joining the ranks of popular science classics like The Botany of Desire and The Selfish Gene, a groundbreaking, wondrously informative, and vastly entertaining examination of the most significant revolution in biology since Darwin-a "microbe's-eye view" of the world that reveals a marvelous, radically reconceived picture of life on earth.

Every animal, whether human, squid, or wasp, is home to millions of bacteria and other microbes. Ed Yong, whose humor is as evident as his erudition, prompts us to look at ourselves and our animal companions in a new light, less as individuals and more as the interconnected, interdependent multitudes we assuredly are.

The microbes in our bodies are part of our immune systems and protect us from disease. In the deep oceans, mysterious creatures without mouths or guts depend on microbes for all their energy. Bacteria provide squid with invisibility cloaks, help beetles to bring down forests, and allow worms to cause diseases that afflict millions of people.

Many people think of microbes as germs to be eradicated, but those that live with us — the microbiome — build our bodies, protect our health, shape our identities, and grant us incredible abilities. In this astonishing book, Ed Yong takes us on a grand tour through our microbial partners, and introduces us to the scientists on the front lines of discovery. It will change both our view of nature and our sense of where we belong in it.
---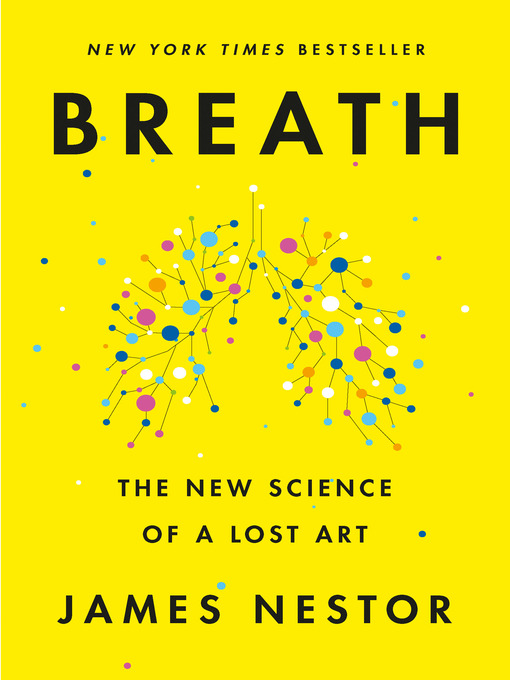 Breath by James Nestor
book
There is nothing more essential to our health and well-being than breathing: take air in, let it out, repeat 25,000 times a day. Yet, as a species, humans have lost the ability to breathe correctly, with grave consequences. Science journalist James Nestor travels the world to figure out what went wrong with our breathing and how to fix it. Why are we the only animals with chronically crooked teeth? Why didn't our ancestors snore? Nestor seeks out answers in muddy digs of ancient burial sites, secret Soviet facilities, New Jersey choir schools, and the smoggy streets of Sao Paulo, Brazil. He tracks down men and women exploring the science behind ancient breathing practices like Pranayama, Sudarshan Kriya, and Tummo and teams up with pulmonary tinkerers to scientifically test long-held beliefs about how we breathe. Modern research is showing us that changing the ways in which we breathe can jump-start athletic performance, halt snoring, rejuvenate internal organs, mute allergies and asthma, blunt autoimmune disease, and straighten scoliotic spines. None of this should be possible, and yet it is. Drawing on thousands of years of medical texts and recent cutting-edge studies in pulmonology, psychology, biochemistry, and human physiology, Breath turns the conventional wisdom of what we thought we knew about our most basic biological function on its head. You will never breathe the same again.
---
Nine Pints by Rose George
book
An eye-opening exploration of blood, the life-giving substance with the power of taboo, the value of diamonds, and the promise of breakthrough science.

Blood carries life, yet the sight of it makes people faint. It is a waste product and a commodity pricier than oil. It can save lives and transmit deadly infections. Each one of us has roughly nine pints of it, yet many don't even know their own blood type. And for all its ubiquity, the few tablespoons of blood discharged by 800 million women are still regarded as taboo: menstruation is perhaps the single most demonized biological event.
Rose George, author of The Big Necessity, is renowned for her intrepid work on topics that are invisible but vitally important. In Nine Pints, she takes us from ancient practices of bloodletting to the breakthrough of the "liquid biopsy," which promises to diagnose cancer and other diseases with a simple blood test. She introduces Janet Vaughan, who set up the world's first system of mass blood donation during the Blitz, and Arunachalam Muruganantham, known as "Menstrual Man" for his work on sanitary pads for developing countries. She probes the lucrative business of plasma transfusions, in which the US is known as the "OPEC of plasma." And she looks to the future, as researchers seek to bring synthetic blood to a hospital near you.
Spanning science and politics, stories and global epidemics, Nine Pints reveals our life's blood in an entirely new light.
---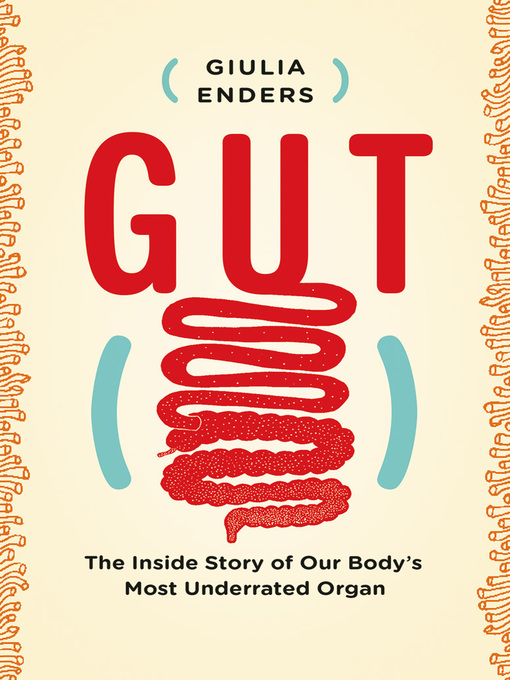 Gut by Giulia Enders
book
OverDrive ebook
hoopla ebook
Our gut is almost as important to us as our brain and yet we know very little about how it works. Gut: The Inside Story is an entertaining, informative tour of the digestive system from the moment we raise a tasty morsel to our lips until the moment our body surrenders the remnants to the toilet bowl. No topic is too lowly for the author's wonder and admiration, from the careful choreography of breaking wind to the precise internal communication required for a cleansing vomit. Along the way, the author provides practical advice such as the best ways to sit on the toilet to have a comfortable bowel movement, how clean your kitchen should be for optimum gut health, and how different laxatives work. She tells stories of gut bacteria that can lead to obesity, autoimmune diseases, or even suicide, and she discusses the benefits of dietary supplements such as probiotics. This book is a fascinating primer for anyone interested in how our ideas about the gut are changing in the light of cutting-edge scientific research. In the words of the author, "We live in an era in which we are just beginning to understand just how complex the connections are between us, our food, our pets and the microscopic world in, on, and around us. We are gradually decoding processes that we used to believe were part of our inescapable destiny."
---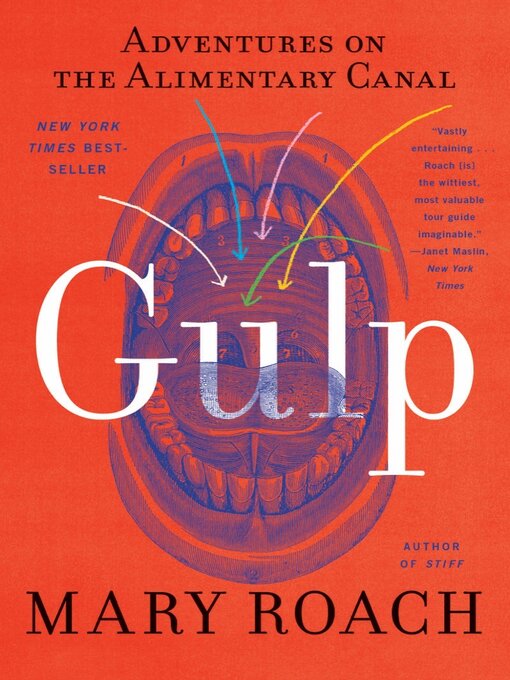 Gulp by Mary Roach
book
hoopla audiobook
The irresistible, ever-curious, and always best-selling Mary Roach returns with a new adventure to the invisible realm we carry around inside. "America's funniest science writer" (Washington Post) takes us down the hatch on an unforgettable tour. The alimentary canal is classic Mary Roach terrain: the questions explored in Gulp are as taboo, in their way, as the cadavers in Stiff and every bit as surreal as the universe of zero gravity explored in Packing for Mars. Why is crunchy food so appealing? Why is it so hard to find words for flavors and smells? Why doesn't the stomach digest itself? How much can you eat before your stomach bursts? Can constipation kill you? Did it kill Elvis? In Gulp we meet scientists who tackle the questions no one else thinks of or has the courage to ask. We go on location to a pet-food taste-test lab, a fecal transplant, and into a live stomach to observe the fate of a meal. With Roach at our side, we travel the world, meeting murderers and mad scientists, Eskimos and exorcists (who have occasionally administered holy water rectally), rabbis and terrorists who, it turns out, for practical reasons do not conceal bombs in their digestive tracts.
Like all of Roach's books, Gulp is as much about human beings as it is about human bodies.
---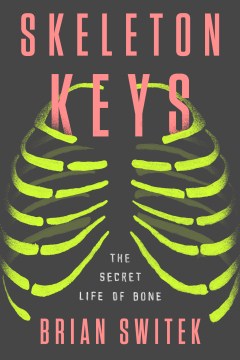 Skeleton Keys by Brian Switek
book
Bone is a marvel, an adaptable and resilient building material developed over more than four hundred million years of evolutionary history. It gives your body its shape and the ability to move. It grows and changes with you, an undeniable document of who you are and how you lived. Arguably, no other part of the human anatomy has such rich scientific and cultural significance, both brimming with life and a potent symbol of death.
In this delightful natural and cultural history of bone, Brian Switek explains where our skeletons came from, what they do inside us, and what others can learn about us when these artifacts of mineral and protein are all we've left behind.
Bone is as embedded in our culture as it is in our bodies. Our species has made instruments and jewelry from bone, treated the dead like collectors' items, put our faith in skull bumps as guides to human behavior, and arranged skeletons into macabre tributes to the afterlife. Switek makes a compelling case for getting better acquainted with our skeletons, in all their surprising roles. Bridging the worlds of paleontology, anthropology, medicine, and forensics, Skeleton Keys illuminates the complex life of bones inside our bodies and out.
---
Hallucinations by Oliver Sacks
book
book on CD
OverDrive audiobook
Have you ever seen something that wasn't really there? Heard someone call your name in an empty house? Sensed someone following you and turned around to find nothing?
Hallucinations don't belong wholly to the insane. Much more commonly, they are linked to sensory deprivation, intoxication, illness, or injury. People with migraines may see shimmering arcs of light or tiny, Lilliputian figures of animals and people. People with failing eyesight, paradoxically, may become immersed in a hallucinatory visual world. Hallucinations can be brought on by a simple fever or even the act of waking or falling asleep, when people have visions ranging from luminous blobs of color to beautifully detailed faces or terrifying ogres. Those who are bereaved may receive comforting "visits" from the departed. In some conditions, hallucinations can lead to religious epiphanies or even the feeling of leaving one's own body.
Humans have always sought such life-changing visions, and for thousands of years have used hallucinogenic compounds to achieve them. As a young doctor in California in the 1960s, Oliver Sacks had both a personal and a professional interest in psychedelics. These, along with his early migraine experiences, launched a lifelong investigation into the varieties of hallucinatory experience.
Here, with his usual elegance, curiosity, and compassion, Dr. Sacks weaves together stories of his patients and of his own mind-altering experiences to illuminate what hallucinations tell us about the organization and structure of our brains, how they have influenced every culture's folklore and art, and why the potential for hallucination is present in us all, a vital part of the human condition.
---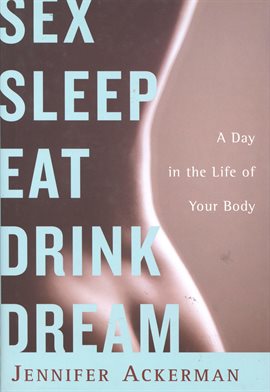 Sex Sleep Eat Drink Dream by Jennifer Ackerman
book
hoopla ebook
The acclaimed science writer Jennifer Ackerman lends her keen eye and lively voice to this marvelous exploration of the human body. Taking us through a typical day, from the arousal of the senses in the morning to the reverie of sleep and dreams, Ackerman reveals the human form as we've never seen it: busy, cunning, and miraculous.
Advances in genetics and medical imaging have allowed us to peer more deeply inside ourselves than ever before, and one of the most amazing recent discoveries is that we are intensely rhythmic creatures. The human body is like a clock — actually an entire shop of clocks — measuring out the seconds, minutes, days, and seasons of life. Weaving pieces of her own life with that of Everyman, Ackerman shows the importance of synchronizing our actions with our biological rhythms and how defying them can cause us real harm.
We learn the best time of day to drink a cocktail, take a nap, run a race, give a presentation, and take medication, along with a host of other curious facts, such as why you succumb to a cold and your spouse doesn't, even though you've both been exposed to the same sick child.
Did you know that you can tell time in your sleep? Or that up to half of the calories you consume can be burned off simply by fidgeting? That women have more nightmares than men? That tuna, sardines, and walnuts may ease depression? At once entertaining and deeply practical, this fascinating book will make you think of your body in an entirely new way.
---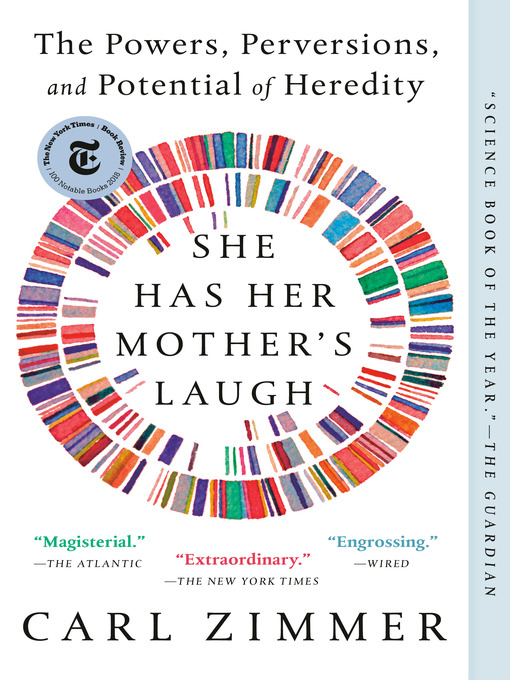 She Has Her Mother's Laugh by Carl Zimmer
book
Celebrated New York Times columnist and science writer Carl Zimmer presents a profoundly original perspective on what we pass along from generation to generation. Charles Darwin played a crucial part in turning heredity into a scientific question, and yet he failed spectacularly to answer it. The birth of genetics in the early 1900s seemed to do precisely that. Gradually, people translated their old notions about heredity into a language of genes. As the technology for studying genes became cheaper, millions of people ordered genetic tests to link themselves to missing parents, to distant ancestors, to ethnic identities.
But, Zimmer writes, "Each of us carries an amalgam of fragments of DNA, stitched together from some of our many ancestors. Each piece has its own ancestry, traveling a different path back through human history. A particular fragment may sometimes be cause for worry, but most of our DNA influences who we are—our appearance, our height, our penchants—in inconceivably subtle ways." Heredity isn't just about genes that pass from parent to child. Heredity continues within our own bodies, as a single cell gives rise to trillions of cells that make up our bodies. We say we inherit genes from our ancestors—using a word that once referred to kingdoms and estates—but we inherit other things that matter as much or more to our lives, from microbes to technologies we use to make life more comfortable. We need a new definition of what heredity is and, through Carl Zimmer's lucid exposition and storytelling, this resounding tour de force delivers it.
Weaving historical and current scientific research, his own experience with his two daughters, and the kind of original reporting expected of one of the world's best science journalists, Zimmer ultimately unpacks urgent bioethical quandaries arising from new biomedical technologies, but also long-standing presumptions about who we really are and what we can pass on to future generations.
---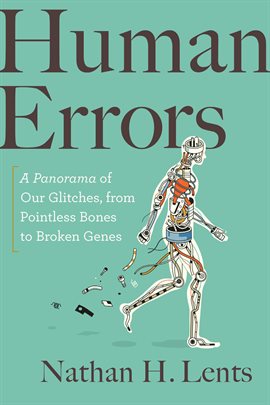 Human Errors by Nathan Lents
hoopla ebook
hoopla audiobook
We humans like to think of ourselves as highly evolved creatures. But if we are supposedly evolution's greatest creation, why do we have such bad knees? Why do we catch head colds so often — two hundred times more often than a dog does? How come our wrists have so many useless bones? Why is the vast majority of our genetic code pointless? And are we really supposed to swallow and breathe through the same narrow tube? Surely there's been some kind of mistake.
As professor of biology Nathan H. Lents explains in Human Errors, our evolutionary history is nothing if not a litany of mistakes, each more entertaining and enlightening than the last. The human body is one big pile of compromises. But that is also a testament to our greatness: as Lents shows, humans have so many design flaws precisely because we are very, very good at getting around them.
A rollicking, deeply informative tour of humans' four billion year long evolutionary saga, Human Errors both celebrates our imperfections and offers an unconventional accounting of the cost of our success.
---
The Story of the Human Body by Daniel Lieberman
book
In this landmark book of popular science, Daniel E. Lieberman gives us a lucid and engaging account of how the human body evolved over millions of years. He illuminates the major transformations that contributed to key adaptations to the body: the rise of bipedalism; the shift to a non-fruit-based diet; the advent of hunting and gathering; and how cultural changes like the Agricultural and Industrial Revolutions have impacted us physically. He shows how the increasing disparity between the jumble of adaptations in our Stone Age bodies and advancements in the modern world is occasioning a paradox: greater longevity but increased chronic disease. And finally—provocatively—he advocates the use of evolutionary information to help nudge, push, and sometimes even compel us to create a more salubrious environment and pursue better lifestyles.
*All summaries courtesy of the publisher unless otherwise noted.