Nordic Noir is crime fiction with dark, bleak backdrops set in Iceland, Norway, Sweden, Finland, and Denmark. Some well-known authors in this genre are Peter Høeg, Steig Larsson, Henning Mankell, and Jo Nesbø. Here are some highly regarded Nordic tales of murder and intrigue by less-familiar authors.  Curated by Samantha Matherne.
The Keeper of Lost Causes by Jussi Adler-Olsen
book
large print book
book on CD
OverDrive audiobook
The Keeper of Lost Causes, the first installment of Adler- Olsen's Department Q series, features the deeply flawed chief detective Carl Mørck, who used to be a good homicide detective, one of Copenhagen's best. Then, a bullet almost took his life. Two colleagues weren't so lucky. Carl, who didn't draw his weapon, blames himself. So a promotion is the last thing Carl expects.
But it all becomes clear when he sees his new office in the basement. Carl's been selected to run Department Q, a new special investigations division that turns out to be a department of one. With a stack of Copenhagen's coldest cases to keep him company, Carl's been put out to pasture. So he's as surprised as anyone when a case actually captures his interest. A missing politician vanished without a trace five years earlier. The world assumes she's dead. His colleagues snicker about the time he's wasting. But Carl may have the last laugh and redeem himself in the process.
Because she isn't dead . . . yet.
---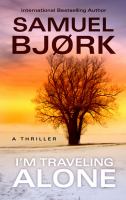 I'm Traveling Alone by Samuel Bjørk
large print book
A six-year-old girl is found in the Norwegian countryside, hanging lifeless from a tree and dressed in strange doll's clothes. Around her neck is a sign that says, "I'm traveling alone." A special homicide unit in Oslo re-opens with veteran police investigator Holger Munch at the helm. Holger's first step is to persuade the brilliant but haunted investigator Mia Krüger, who has been living on an isolated island, overcome by memories of her past. When Mia views a photograph of the crime scene and spots the number "1" carved into the dead girl's fingernail, she knows this is only the beginning. Could this killer have something to do with a missing child, abducted six years ago and never found, or with the reclusive religious community hidden in the nearby woods? Mia returns to duty to track down a revenge-driven and ruthlessly intelligent killer. But when Munch's own six-year-old granddaughter goes missing, Mia realizes that the killer's sinister game is personal, which leads to an explosive — and shocking — conclusion.
---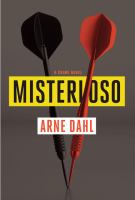 Misterioso by Arne Dahl
book
After successfully — but bloodily — dismantling a complicated hostage situation at a bank in the suburbs of Stockholm, Detective Paul Hjelm is faced with the requisite investigation by Internal Affairs. It is a potentially career-ending inquiry, but he is plucked out of it by the National Criminal Police commissioner, who drops him into an elite task force of officers assembled from across the country to find an elusive killer with a sophisticated modus operandi and even more sophisticated tastes. Targeting Sweden's high-profile business leaders, the killer breaks into their homes at night, waits for his victims, places two bullets in their heads with deadly precision, and removes the bullets from the walls — a ritual enacted to a rare bootleg recording of Thelonious Monk's jazz classic "Misterioso". As Hjelm, his young, doggedly energetic partner, Jorge Chavez, and the rest of the team follow one lead after another in their pursuit — navigating the murky underworlds of the Russian Mafia and the secretive members-only society of Sweden's wealthiest denizens — they must also delve into one of the country's most persistent ills: a deep-rooted xenophobia that affects both the police and the perpetrator in a small nation that is becoming rapidly internationalized. The first novel in Arne Dahl's gripping Intercrime series— widely considered to be one of Sweden's best — Misterioso is a penetrating, dark, and absorbing introduction to this acclaimed author's world.
---
Some Kind of Peace by Camilla Grebe & Åsa Träff
book
hoopla audiobook
Siri Bergman is a thirty-four-year-old psychologist who works in central Stockholm and lives alone in an isolated cottage out of the city. She has a troublesome secret in her past and has been trying to move on with her life. Terrified of the dark, she leaves all the lights on when she goes to bed–having a few glasses of wine each night to calm her nerves–but she can't shake the feeling that someone is watching her through the blackened windows at night.
When the lifeless body of Sara Matteus–a young patient of Siri's with a history of drug addiction and sexual abuse–is found floating in the water near the cottage, Siri can no longer deny that someone is out there, watching her and waiting. When her beloved cat goes missing and she receives a photo of herself from a stalker, it becomes clear that Siri is next. Luckily, she can rely on Markus, the young policeman investigating Sara's death; Vijay, an old friend and psychology professor; and Aina, her best friend. Together, they set about profiling Siri's aspiring murderer, hoping to catch him before he kills again.
But as their investigation unfolds, Siri's past and present start to merge and disintegrate so that virtually everyone in her inner circle becomes a potential suspect. With the suspense building toward a dramatic conclusion as surprising as it is horrifying, Siri is forced to relive and reexamine her anguished past, and finally to achieve some kind of peace.
---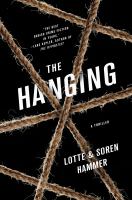 The Hanging by Lotte & Soren Hammer
book
hoopla audiobook
One morning before school, two children find the naked bodies of five men hanging from the gym ceiling. The case leads detective Konrad Simonsen and his murder squad to the school janitor, who may know more about the killings than he is telling. Soon, Simonsen realizes that each of the five murdered men had a dark and terrible secret in common. And when Simonsen's own daughter is targeted, he must race to find the culprit before his whole world is destroyed.
---
Blind Goddess by Anne Holt
book
The first book in Edgar-nominated Anne Holt's international bestselling mystery series featuring detective Hanne Wilhelmsen.
A small-time drug dealer is found battered to death on the outskirts of the Norwegian capital, Oslo. A young Dutchman, walking aimlessly in central Oslo covered in blood, is taken into custody but refuses to talk. When he is informed that the woman who discovered the body, Karen Borg, is a lawyer, he demands her as his defender, although her specialty is civil, not criminal, law. A couple of days later, Hansa Larsen, a lawyer of the shadiest kind, is found shot to death. Soon police officers Håkon Sand and Hanne Wilhelmsen establish a link between the two killings. They also find a coded message hidden in the murdered lawyer's apartment. Their maverick colleague in the drugs squad, Billy T., reports that a recent rumor in the drug underworld involves drug-dealing lawyers. Now the reason why the young Dutchman insisted on having Karen Borg as a defender slowly dawns on them: since she was the one to find and report the body, she is the only Oslo lawyer that cannot be implicated in the crime. As the officers investigate, they uncover a massive network of corruption leading to the highest levels of government. As their lives are threatened, Hanne and her colleagues must find the killer and, in the process, bring the lies and deception out into the open.
---
The Shadow District by Arnaldur Indriðason
book
hoopla audiobook
A deeply compassionate story of old crimes and their consequences, The Shadow District is the first in a thrilling new series by internationally bestselling author Arnaldur Indriðason.
THE PAST In wartime Reykjavik, a young woman is found strangled in 'the shadow district', a rough and dangerous area of the city. An Icelandic detective and a member of the American military police are on the trail of a brutal killer.
THE PRESENT A 90-year-old man is discovered dead on his bed, smothered with his own pillow. Konrad, a former detective now bored with retirement, finds newspaper cuttings reporting the WWII shadow district murder in the dead man's home. It's a crime that Konrad remembers, having grown up in the same neighborhood.
A MISSING LINK Why, after all this time, would an old crime resurface? Did the police arrest the wrong man? Will Konrad's link to the past help him solve the case and finally lay the ghosts of WWII Reykjavik to rest?
---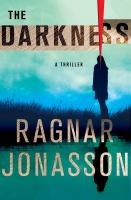 The Darkness by Ragnar Jónasson
book
hoopla audiobook
The body of a young Russian woman washes up on an Icelandic shore. After a cursory investigation, the death is declared a suicide and the case is quietly closed.
Over a year later Detective Inspector Hulda Hermannsdóttir of the Reykjavík police is forced into early retirement at 64. She dreads the loneliness, and the memories of her dark past that threaten to come back to haunt her. But before she leaves she is given two weeks to solve a single cold case of her choice. She knows which one: the Russian woman whose hope for asylum ended on the dark, cold shore of an unfamiliar country. Soon Hulda discovers that another young woman vanished at the same time, and that no one is telling her the whole story. Even her colleagues in the police seem determined to put the brakes on her investigation. Meanwhile the clock is ticking.
Hulda will find the killer, even if it means putting her own life in danger.
---
The Boy in the Suitcase by Lene Kaaberbøl
book
large print book
book on CD
OverDrive ebook
Nina Borg, a Red Cross nurse, wife, and mother of two, is a compulsive do-gooder who can't say no when someone asks for help — even when she knows better. When her estranged friend Karin leaves her a key to a public locker in the Copenhagen train station, Nina gets suckered into her most dangerous project yet. Inside the locker is a suitcase, and inside the suitcase is a three-year-old boy, naked and drugged but alive. Is the boy a victim of child trafficking? Can he be turned over to authorities, or will they only return him to whoever sold him? When Karin is discovered brutally murdered, Nina realizes that her life and the boy's are in jeopardy, too. In an increasingly desperate trek across Denmark, Nina tries to figure out who the boy is, where he belongs, and who exactly is trying to hunt him down.
---
The Hypnotist by Lars Kepler
book
large print book
In the frigid clime of Tumba, Sweden, a gruesome triple homicide attracts the interest of Detective Inspector Joona Linna, who demands to investigate the murders. The killer is still at large, and there's only one surviving witness—the boy whose family was killed before his eyes. Whoever committed the crimes wanted this boy to die:  he's suffered more than one hundred knife wounds and lapsed into a state of shock. Desperate for information, Linna sees only one option: hypnotism. He enlists Dr. Erik Maria Bark to mesmerize the boy, hoping to discover the killer through his eyes.
It's the sort of work that Bark has sworn he would never do again—ethically dubious and psychically scarring. When he breaks his promise and hypnotizes the victim, a long and terrifying chain of events begins to unfurl.
---
Marked for Life by Emelie Schepp
book
hoopla ebook
hoopla audiobook
Freading ebook
Marked for life. Trained for death. Some scars cut the deepest.
To protect her past, she must find the real suspect. Before the police do.
When a high-ranking head of the migration board is found shot to death in his living room, there is no shortage of suspects, including his wife. But no one expects to find mysterious, child-sized fingerprints in this childless home.
Public prosecutor Jana Berzelius steps in to lead the investigation. Young and brilliant but emotionally cold, Berzelius, like her famous prosecutor father, won't be swayed by the hysterical widow or intimidated by the threatening letters the victim had tried to hide. She is steely, aloof, and impenetrable. That is, until the boy…
A few days later on a nearby deserted shoreline, the body of a derelict preteen is discovered, and with him, the murder weapon that killed the official. Berzelius finds herself drawn more deeply into the case when, as she attends the boy's autopsy, she recognizes something familiar on his small, scarred, drug-riddled body. Cut deep into his flesh are initials that scream child trafficking and trigger in her a flash of memory from her own dark childhood. Her connection to this boy has been carved with deliberation and malice that penetrate to her very core.
Now, to protect her own horrific but hidden past, she must find the real suspect behind these murders, before the police do.
---
Last rituals:  An Icelandic Novel of Secret Symbols, Medieval Witchcraft, and Modern Murder by Yrsa Sigurðardóttir
book
hoopla ebook
hoopla audiobook
Freading ebook
Set in modern-day Iceland–and already an international sensation — Last Rituals introduces one of the most compelling and exceptional new characters to appear in years, attorney Thóra Guðmundsdóttir, in a tale of medieval witchcraft and modern murder.
After the body of a young German student – with his eyes cut out and strange symbols carved into his chest – is discovered at a university in Reykjavík, the police waste no time in making an arrest. The victim's family isn't convinced they have the right man, however, so they ask Thóra Guðmundsdóttir, attorney and single mother of two, to investigate. The fee is considerable – more than enough to make things a bit easier for the struggling lawyer and her children. It's not long before Thora and Matthew Reich, her new associate, discover something unusual about the deceased student: He had been obsessed with the country's grisly history of torture, execution, and witch hunts – a topic made all the more peculiar by the fact that unlike witch hunts in other countries, those in Iceland had targeted men not women. As Thora and Matthew dig deeper, they make the connection between long-bygone customs and the student's murder. But the shadow of dark traditions conceals secrets in both the past and the present, and the investigators soon realize that nothing is as it seems and that no one can be trusted.
---
The Chestnut Man: A Novel by Søren Sveistrup
book
OverDrive ebook
OverDrive audiobook
hoopla ebook
hoopla audiobook
Freading ebook
On the first Tuesday in October, Rosa Hartung is returning to her job as minister for social affairs following a year's leave of absence — granted after the dramatic disappearance of her twelve-year-old daughter. Linus Bekker, a mentally ill young man, confessed to her killing, but is unable to remember where he buried the various parts of her dismembered corpse, leaving Rosa with no choice but to try to move on without closure. The same day Rosa returns to parliament, a young single mother is found brutally murdered at her home in the suburbs of Copenhagen — she's been tortured, and one hand has been cut off. Thulin and Hess, the detectives sent to investigate the crime, arrive at the address to find a figure made of chestnuts hanging from a playhouse nearby. When yet another woman is murdered–this time with both hands cut off–and another chestnut figure is found, Thulin and Hess begin to suspect a connection to the Hartung case. To put an end to the killing spree, the pair, with nothing in common aside from equally troubled personal lives, realize they will need to put aside their differences in a race against time–and a brutal psychopath.
---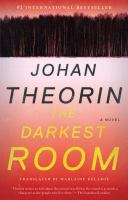 The Darkest Room by Johan Theorin
book
On the idyllic island of land off the coast of northern Sweden, a young couple from Stockholm tries to start life afresh. For Joakim and Katrine Westin, reclaiming a long-neglected family manor will be a labor of love, as they slowly bring the sprawling home back to life and introduce their two children to the island's woodlands, glens, and beaches. But in the Westins' new home, there are things that cannot be repaired, lives that have gone wrong, and secrets that have followed them. When the family is struck by tragedy, it's up to grief-stricken Joakim to put together a puzzle of inexplicable loss, unbearable suspicion, and tangled lives. In this powerhouse of suspense–at once a crime novel and a searing family drama–a home built as a shelter from the sea becomes a human storm of murder.
---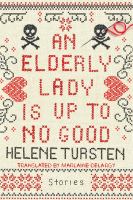 An Elderly Lady is Up to No Good by Helene Tursten
book
hoopla audiobook
Maud is an irascible 88-year-old Swedish woman with no family, no friends, and… no qualms about a little murder. This funny, irreverent story collection by Helene Tursten, author of the Irene Huss investigations, features two-never-before translated stories that will keep you laughing all the way to the retirement home.
Ever since her darling father's untimely death when she was only eighteen, Maud has lived in the family's spacious apartment in downtown Gothenburg rent-free, thanks to a minor clause in a hastily negotiated contract. That was how Maud learned that good things can come from tragedy. Now in her late eighties, Maud contents herself with traveling the world and surfing the net from the comfort of her father's ancient armchair. It's a solitary existence, and she likes it that way.
Over the course of her adventures–or misadventures–this little bold lady will handle a crisis with a local celebrity who has her eyes on Maud's apartment, foil the engagement of her long-ago lover, and dispose of some pesky neighbors. But when the local authorities are called to investigate a dead body found in Maud's apartment, will Maud finally become a suspect?
*All summaries courtesy of the publisher unless otherwise noted.