In this list, we have combined fiction based on stories and characters from Greek, Norse, Russian, Arabian, Slavic, Native American, and European mythology and folklore. Allow these magical stories to take you away to another time, another world, where anything is possible. Curated by Tabor Millien.
Piranesi by Susanna Clarke
book
OverDrive ebook
Piranesi's house is no ordinary building: its rooms are infinite, its corridors endless, its walls are lined with thousands upon thousands of statues, each one different from all the others. Within the labyrinth of halls an ocean is imprisoned; waves thunder up staircases, rooms are flooded in an instant. But Piranesi is not afraid; he understands the tides as he understands the pattern of the labyrinth itself. He lives to explore the house. There is one other person in the house, a man called The Other, who visits Piranesi twice a week and asks for help with research into A Great and Secret Knowledge. But as Piranesi explores, evidence emerges of another person, and a terrible truth begins to unravel, revealing a world beyond the one Piranesi has always known.
For readers of Neil Gaiman's The Ocean at the End of the Lane and fans of Madeline Miller's Circe, Piranesi introduces an astonishing new world, an infinite labyrinth, full of startling images and surreal beauty, haunted by the tides and the clouds.
---
The Witch's Heart by Genevieve Gornichec
book
OverDrive ebook
When a banished witch falls in love with the legendary trickster Loki, she risks the wrath of the gods in this moving, subversive debut novel that reimagines Norse mythology.
Angrboda's story begins where most witches' tales end: with a burning. A punishment from Odin for refusing to provide him with knowledge of the future, the fire leaves Angrboda injured and powerless, and she flees into the farthest reaches of a remote forest. There she is found by a man who reveals himself to be Loki, and her initial distrust of him transforms into a deep and abiding love.
Their union produces three unusual children, each with a secret destiny, who Angrboda is keen to raise at the edge of the world, safely hidden from Odin's all-seeing eye. But as Angrboda slowly recovers her prophetic powers, she learns that her blissful life, and possibly all of existence, is in danger.
With help from the fierce huntress Skadi, with whom she shares a growing bond, Angrboda must choose whether she'll accept the fate that she's foreseen for her beloved family or rise to remake their future. From the most ancient of tales this novel forges a story of love, loss, and hope for the modern age.
---
American Gods by Neil Gaiman
book
10th anniversary edition book
hoopla audiobook
OverDrive ebook
OverDrive audiobook
Freading ebook
season 1 DVD
season 2 DVD
Locked behind bars for three years, Shadow did his time, quietly waiting for the magic day when he could return to Eagle Point, Indiana. A man no longer scared of what tomorrow might bring, all he wanted was to be with Laura, the wife he deeply loved, and start a new life.
But just days before his release, Laura and Shadow's best friend are killed in an accident. With his life in pieces and nothing to keep him tethered, Shadow accepts a job from a beguiling stranger he meets on the way home, an enigmatic man who calls himself Mr. Wednesday. A trickster and a rogue, Wednesday seems to know more about Shadow than Shadow does himself.
Life as Wednesday's bodyguard, driver, and errand boy is far more interesting and dangerous than Shadow ever imagined–it is a job that takes him on a dark and strange road trip and introduces him to a host of eccentric characters whose fates are mysteriously intertwined with his own.
---
The Last Werewolf by Glen Duncan
book
book on CD
OverDrive ebook
Jake Marlowe has been alive too long. For two hundred years he has roamed the world, enslaved by his lunatic appetites, tormented by his first and most monstrous crime. But as Jake counts down to suicide, a violent murder and an extraordinary meeting plunge him back into the desperate pursuit of life, and the dangerous possibility of love.
---
The Bear and the Nightingale by Katherine Arden
book
OverDrive ebook
In a village at the edge of the wilderness of northern Russia, where the winds blow cold and the snow falls many months of the year, a stranger with piercing blue eyes presents a new father with a gift: a precious jewel on a delicate chain, intended for his young daughter. Uncertain of its meaning, Pytor hides the gift away and Vasya grows up a wild, willful girl, to the chagrin of her family. But when mysterious forces threaten the happiness of their village, Vasya discovers that, armed only with the necklace, she may be the only one who can keep the darkness at bay.
---
Two Years Eight Months and Twenty-eight Nights by Salman Rushdie
book
OverDrive ebook
In the near future, after a storm strikes New York City, the strangeness begins. A down-to-earth gardener finds that his feet no longer touch the ground. A graphic novelist awakens in his bedroom to a mysterious entity that resembles his own sub-Stan Lee creation. Abandoned at the mayor's office, a baby identifies corruption with her mere presence, marking the guilty with blemishes and boils. A seductive gold digger is soon tapped to combat forces beyond imagining. Unbeknownst to them, they are all descended from the whimsical, capricious, wanton creatures known as the jinn, who live in a world separated from ours by a veil.
Centuries ago, Dunia, a princess of the jinn, fell in love with a mortal man of reason. Together they produced an astonishing number of children, unaware of their fantastical powers, who spread across generations in the human world. Once the line between worlds is breached on a grand scale, Dunia's children and others will play a role in an epic war between light and dark spanning a thousand and one nights or two years, eight months, and twenty-eight nights. It is a time of enormous upheaval, in which beliefs are challenged, words act like poison, silence is a disease, and a noise may contain a hidden curse. Inspired by the traditional "wonder tales" of the East, Salman Rushdie's novel is a masterpiece about the age-old conflicts that remain in today's world.
---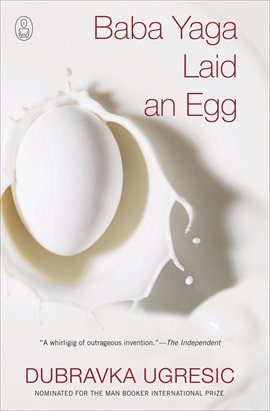 Baba Yaga Laid an Egg by Dubravka Ugresic
hoopla ebook
Freading ebook
According to Slavic myth, Baba Yaga is a witch who lives in a house built on chicken legs and kidnaps small children. In Baba Yaga Laid an Egg, internationally acclaimed writer Dubravka Ugresic takes the timeless legend and spins it into a fresh and distinctly modern tale of femininity, aging, identity, and love. With barbed wisdom and razor-sharp wit, Ugresic weaves together the stories of four women in contemporary Eastern Europe: a writer who grants her dying mother's final wish by traveling to her hometown in Bulgaria; an elderly woman who wakes up every day hoping to die; a buxom blonde hospital worker who's given up on love; and a serial widow who harbors a secret talent for writing. Through the women's fears and desires, and their struggles against invisibility, Ugresic presents a brilliantly postmodern retelling of an ancient myth that is infused with humanity and the joy of storytelling.
---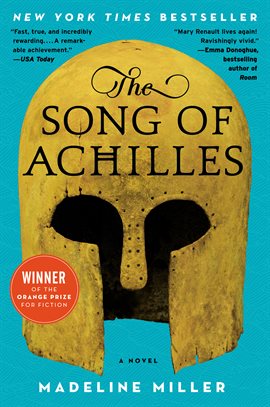 Song of Achilles by Madeline Miller
hoopla ebook
hoopla audiobook
OverDrive ebook
Freading ebook
The legend begins…Greece in the age of heroes. Patroclus, an awkward young prince, has been exiled to the kingdom of Phthia to be raised in the shadow of King Peleus and his golden son, Achilles. "The best of all the Greeks," strong, beautiful, and the child of a goddess, Achilles is everything the shamed Patroclus is not. Yet despite their differences, the boys become steadfast companions. Their bond deepens as they grow into young men and become skilled in the arts of war and medicine, much to the displeasure and the fury of Achilles' mother, Thetis, a cruel sea goddess with a hatred of mortals. When word comes that Helen of Sparta has been kidnapped, the men of Greece, bound by blood and oath, must lay siege to Troy in her name. Seduced by the promise of a glorious destiny, Achilles joins their cause, and, torn between love and fear for his friend, Patroclus follows. Little do they know that the Fates will test them both as never before and demand a terrible sacrifice.
Built on the groundwork of the Iliad, Madeline Miller's Song of Achilles is a page-turning, profoundly moving, and blisteringly paced retelling of the epic Trojan War.
Teen Fiction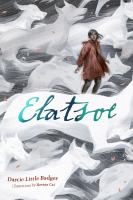 Elatsoe by Darcie Little Badger
book
hoopla audiobook
Imagine an America very similar to our own. It's got homework, best friends, and pistachio ice cream.
There are some differences. This America has been shaped dramatically by the magic, monsters, knowledge, and legends of its peoples, those Indigenous and those not. Some of these forces are charmingly everyday, like the ability to make an orb of light appear or travel across the world through rings of fungi. But other forces are less charming and should never see the light of day.
Elatsoe lives in this slightly stranger America. She can raise the ghosts of dead animals, a skill passed down through generations of her Lipan Apache family. Her beloved cousin has just been murdered, in a town that wants no prying eyes. But she is going to do more than pry. The picture-perfect facade of Willowbee masks gruesome secrets, and she will rely on her wits, skills, and friends to tear off the mask and protect her family.
---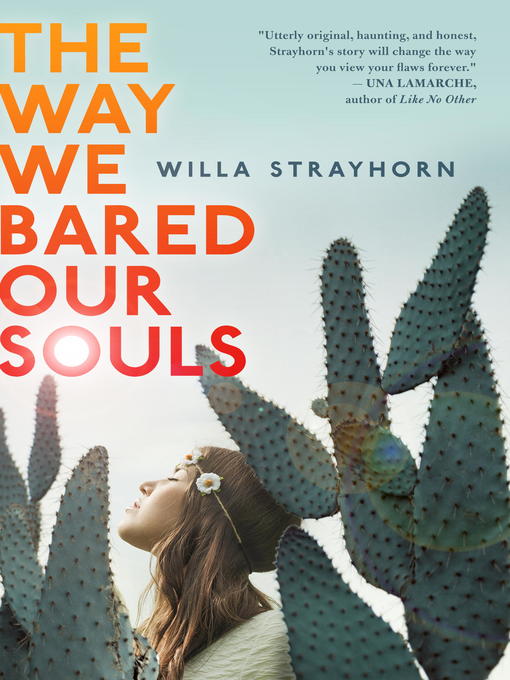 The Way We Bared Our Souls by Willa Strayhorn
OverDrive ebook
If you could trade your biggest burden for someone else's, would you do it?
Five teenagers sit around a bonfire in the middle of the New Mexico desert. They don't know it yet, but they are about to make the biggest sacrifice of their lives.
Lo has a family history of MS, and is starting to come down with all the symptoms. Thomas, a former child soldier from Liberia, is plagued by traumatic memories of his war-torn past. Kaya would do anything to feel physical pain, but a rare condition called CIP keeps her numb. Ellen can't remember who she was before she started doing drugs. Kit lost his girlfriend in a car accident and now he just can't shake his newfound fear of death.
When they trade totems as a symbol of shedding and adopting one another's sorrows, they think it's only an exercise. But in the morning, they wake to find their burdens gone…and replaced with someone else's. As the reality of the ritual unfolds, this unlikely group of five embarks on a week of beautiful, terrifying experiences that all culminate in one perfect truth: In the end, your soul is stronger than your burdens.
---
The Brides of Rollrock Island by Mago Lanagan
book
On remote Rollrock Island, men go to sea to make their livings and to catch their wives.
The witch Misskaella knows the way of drawing a girl from the heart of a seal, of luring the beauty out of the beast. And for a price, a man may buy himself a lovely sea-wife. He may have and hold and keep her. And he will tell himself that he is her master. But from his first look into those wide, questioning, liquid eyes, he will be just as transformed as she. He will be equally ensnared. And the witch will have her true payment.
Margo Lanagan weaves an extraordinary tale of desire, despair, and transformation. With devastatingly beautiful prose, she reveals characters capable of unspeakable cruelty, but also unspoken love.
---
Waiting for Odysseus by Clemence McLaren
book
Odysseus. His epic tale has been told countless times, but rarely is it heard through the voices of the women who loved and served him. Penelope, Circe, Athena, Eurycleia: Theirs are the silent voices, the voices of longing, waiting, strength. They are the women who moved him and motivated him. And now they shed new light on his age-old journey.
---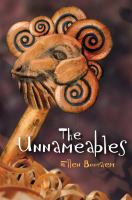 The Unnameables by Ellen Booraem
book
hoopla ebook
On an island in whose strict society only useful objects are named and the unnamed are ignored or forbidden, thirteen-year-old Medford encounters an unusual and powerful creature, half-man, half-goat, and together they attempt to bring some changes to the community.
*All summaries courtesy of the publisher unless otherwise noted.