If you're feeling romantically inclined, check out these new romantic comedy releases. Curated by Ashley Lee.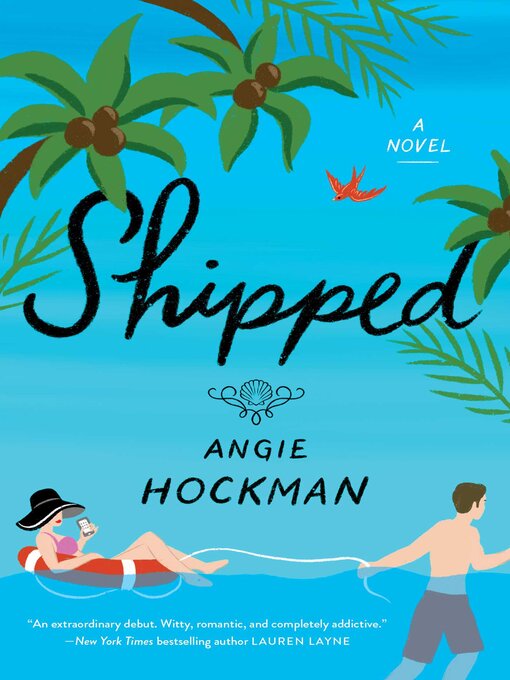 Shipped by Angie Hockman
book
OverDrive ebook
Between taking night classes for her MBA and her demanding day job at a cruise line, marketing manager Henley Evans barely has time for herself, let alone family, friends, or dating. But when she's shortlisted for the promotion of her dreams, all her sacrifices finally seem worth it.
The only problem? Graeme Crawford-Collins, the remote social media manager and the bane of her existence, is also up for the position. Although they've never met in person, their epic email battles are the stuff of office legend.
Their boss tasks each of them with drafting a proposal on how to boost bookings in the Galápagos. The best proposal wins the promotion. There's just one catch: they have to go on a company cruise to the Galápagos Islands…together. But when the two meet on the ship, Henley is shocked to discover that the real Graeme is nothing like she imagined. As they explore the islands together, she soon finds the line between loathing and liking thinner than a postcard.
With her career dreams in her sights and a growing attraction to the competition, Henley begins questioning her life choices. Because what's the point of working all the time if you never actually live?
---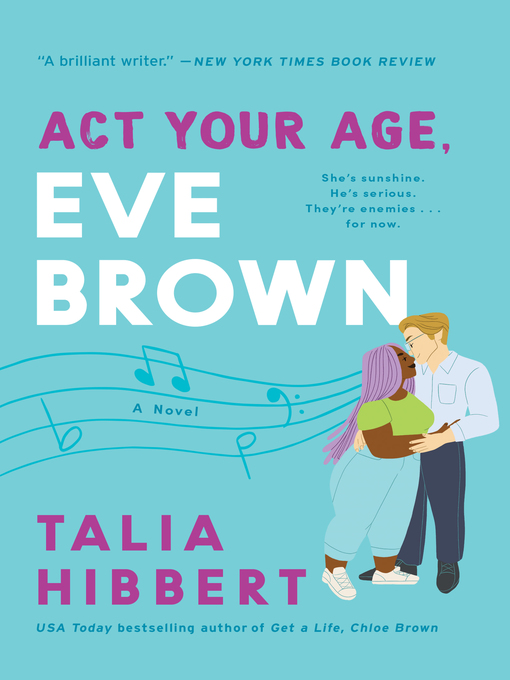 Act Your Age, Eve Brown by Talia Hibbert (Brown Sisters series, book 3)
OverDrive ebook
In Talia Hibbert's newest rom-com, the flightiest Brown sister crashes into the life of an uptight B&B owner and has him falling hard — literally.
Eve Brown is a certified hot mess. No matter how hard she strives to do right, her life always goes horribly wrong. So she's given up trying. But when her personal brand of chaos ruins an expensive wedding (someone had to liberate those poor doves), her parents draw the line. It's time for Eve to grow up and prove herself, even though she's not entirely sure how.
Jacob Wayne is in control. Always. The bed and breakfast owner's on a mission to dominate the hospitality industry and he expects nothing less than perfection. So when a purple-haired tornado of a woman turns up out of the blue to interview for his open chef position, he tells her the brutal truth: not a chance in hell. Then she hits him with her car, supposedly by accident. Yeah, right.
Now his arm is broken, his B&B is understaffed, and the dangerously unpredictable Eve is fluttering around, trying to help. Before long, she's infiltrated his work, his kitchen, and his spare bedroom. Jacob hates everything about it. Or rather, he should. Sunny, chaotic Eve is his natural-born nemesis, but the longer these two enemies spend in close quarters, the more their animosity turns into something else. Like Eve, the heat between them is impossible to ignore… and it's melting Jacob's frosty exterior.
Get a Life, Chloe Brown (book 1)
book
OverDrive ebook
hoopla ebook
hoopla audiobook
Freading ebook
Take a Hint, Dani Brown (book 2)
book
OverDrive ebook
---
Enjoy the View by Sarah Morgenthaler (Moose Springs, Alaska series, book 3)
book
OverDrive ebook
hoopla ebook
hoopla audiobook
Freading ebook
A grouchy mountaineer, a Hollywood starlet, and miles of untamed wilderness. What could possibly go wrong?
River Lane's acting career is tanking fast. Determined to start fresh behind the camera, she'll take whatever job she can get, including filming a documentary about the picturesque town of Moose Springs.
When mountaineer and Moose Springs local Easton Lockett sees what looks like a woman on her own in the wilderness, of course he offers to help. The last thing he expects is to interrupt a film shoot and earn River's wrath. But Easton has an idea: he can take River's crew up the local hidden gem, Mount Veil, to make it up to her. When bad weather strikes, putting the film crew at risk, it takes all of Easton's skill to get them back down safely…and to keep River in his arms.
The Tourist Attraction (book 1)
book
OverDrive ebook
hoopla ebook
hoopla audiobook
Freading ebook
Mistletoe and Mr. Right (book 2)
book
OverDrive ebook
hoopla ebook
hoopla audiobook
Freading ebook
---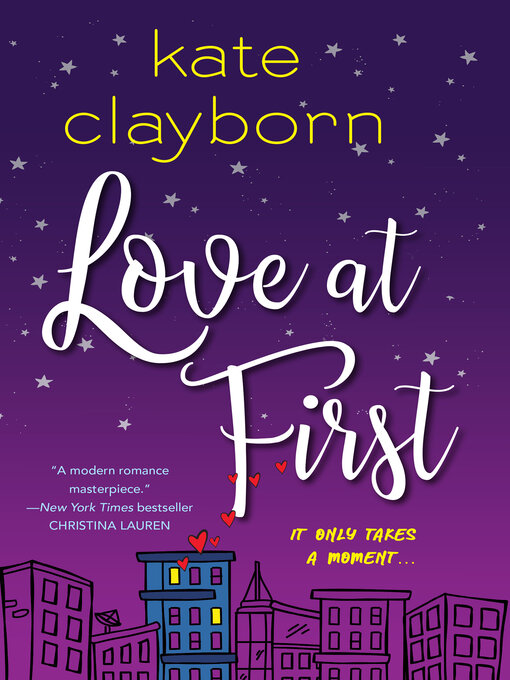 Love at First by Kate Clayborn
OverDrive ebook
Sixteen years ago, a teenaged Will Sterling saw — or rather, heard — the girl of his dreams. Standing beneath an apartment building balcony, he shared a perfect moment with a lovely, warm-voiced stranger. It's a memory that's never faded, though he's put so much of his past behind him. Now an unexpected inheritance has brought Will back to that same address, where he plans to offload his new property and get back to his regular life as an overworked doctor. Instead, he encounters a woman, two balconies above, who's uncannily familiar.

No matter how surprised Nora Clarke is by her reaction to handsome, curious Will, or the whispered pre-dawn conversations they share, she won't let his plans ruin her quirky, close-knit building. Bound by her loyalty to her adored grandmother, she sets out to foil his efforts with a little light sabotage. But beneath the surface of their feud is an undeniable connection. A balcony, a star-crossed couple, a fateful meeting — maybe it's the kind of story that can't work out in the end. Or maybe, it's the perfect second chance . . .
---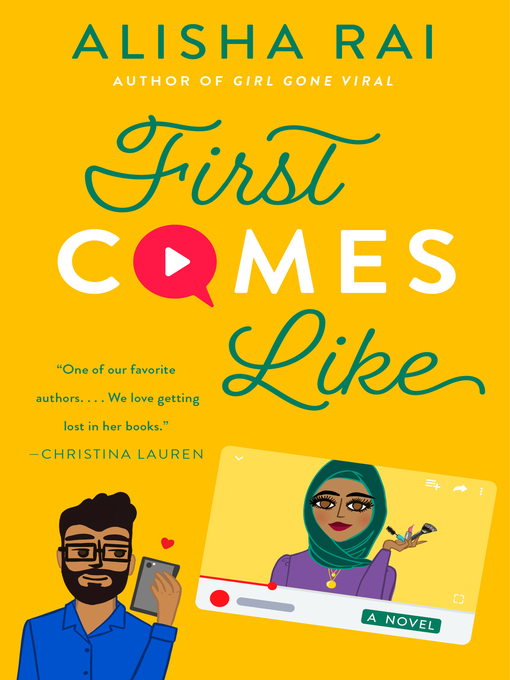 First Come Likes by Alisha Rai (Modern Love series, book 3)
OverDrive ebook
Beauty expert and influencer Jia Ahmed has her eye on the prize: conquering the internet today, the entire makeup industry tomorrow, and finally, finally proving herself to her big opinionated family. She has little time for love, and even less time for the men in her private messages — until the day a certain international superstar slides into her DMs, and she falls hard and fast.
There's just one wrinkle: he has no idea who she is.
The son of a powerful Bollywood family, soap opera star Dev Dixit is used to drama, but a strange woman who accuses him of wooing her online, well, that's a new one. As much as he'd like to focus on his Hollywood fresh start, he can't get Jia out of his head. Especially once he starts to suspect who might have used his famous name to catfish her.
When paparazzi blast their private business into the public eye, Dev is happy to engage in some friendly fake dating to calm the gossips and to dazzle her family. But as the whole world swoons over their relationship, Jia can't help but wonder: Can an online romance-turned-offline-fauxmance ever become love in real life?
The Right Swipe (book 1)
book
OverDrive ebook
hoopla ebook
hoopla audiobook
Freading ebook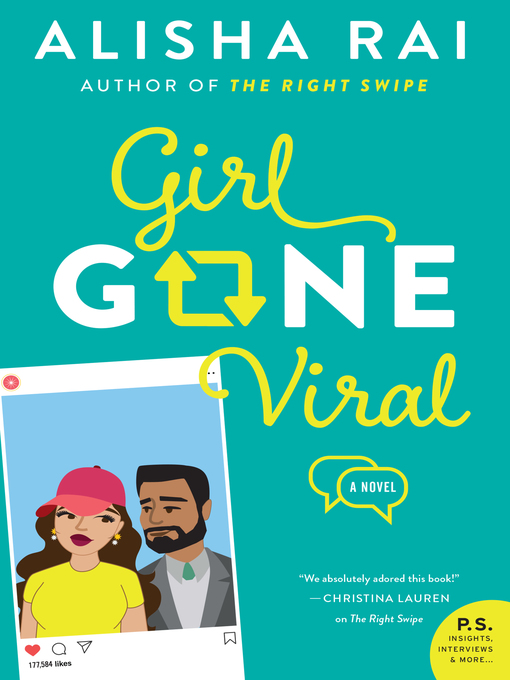 Girl Gone Viral (book 2)
book
OverDrive ebook
hoopla audiobook
---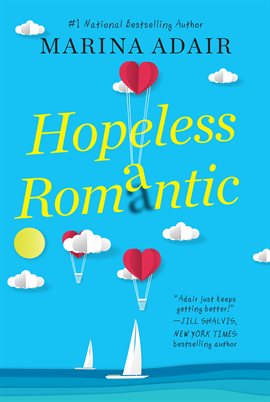 Hopeless Romantic by Marina Adair (When in Rome series, book 2)
hoopla ebook
Set against the breezy backdrop of coastal Rhode Island, bestselling author Marina Adair's latest novel asks whether two of a small town's biggest hearts can learn to put themselves first-in the name of love.
As caregiver for her autistic brother, Beckett Hayes knows how meaningful a little extra help can be when life happens. Which is why she runs Consider It Done, a personal concierge service in her small town. Her job also gives her the flexibility to follow her passion, being Rome, Rhode Island's unofficial special needs advocate, training emotional support companions in her spare time. There's not much of that, though, and certainly not enough for serious dating. It's always been family first for Beck. But one unquestionably gorgeous, good-natured man is suddenly a temptation that's getting tougher to resist.
Sixteen years ago, Levi Rhodes was ready to sail off into the sunset — literally. But then his father's death and his sister's unexpected pregnancy postponed his sailing scholarship and the adventures he had planned. Running the family marina and bar was the least he could do for his grieving mother. Plus, his niece needed a father-figure. But now that she's in high school and has her bio-dad in her life, Levi's wondering if it's time to get his sea legs under him again. Or he was wondering, until curvy, caring Beck showed up in his bar, and then in his dreams …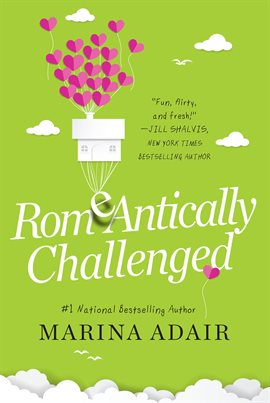 Romeantically Challenged
(book 1)
hoopla ebook
---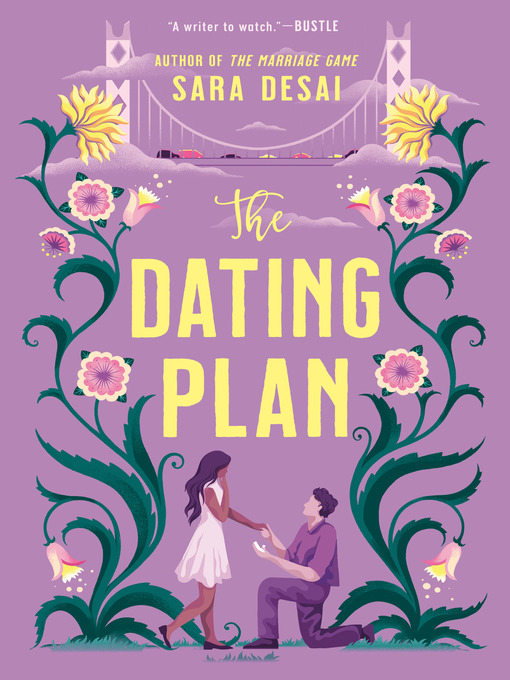 The Dating Plan by Sara Desai
OverDrive ebook
Daisy Patel is a software engineer who understands lists and logic better than bosses and boyfriends. With her life all planned out, and no interest in love, the one thing she can't give her family is the marriage they expect. Left with few options, she asks her childhood crush to be her decoy fiancé.

Liam Murphy is a venture capitalist with something to prove. When he learns that his inheritance is contingent on being married, he realizes his best friend's little sister has the perfect solution to his problem. A marriage of convenience will get Daisy's matchmaking relatives off her back and fulfill the terms of his late grandfather's will. If only he hadn't broken her tender teenage heart nine years ago.
Sparks fly when Daisy and Liam go on a series of dates to legitimize their fake relationship. Too late, they realize that very little is convenient about their arrangement. History and chemistry aren't about to follow the rules of this engagement.
---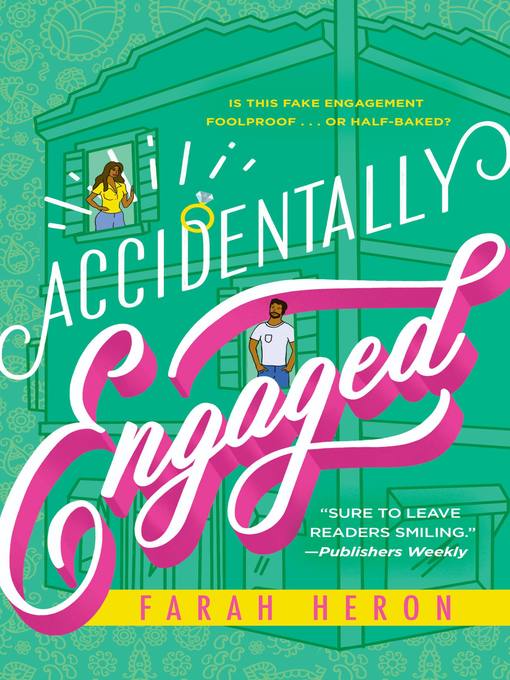 Accidentally Engaged by Farah Heron
OverDrive ebook
When it comes to bread, Reena Manji knows exactly what she's doing. She treats her sourdough starters like (somewhat unruly) children. But when it comes to Reena's actual family (and their constant meddling in her life) well, that recipe always ends in disaster.
Now Reena's parents have found her yet another potential Good Muslim Husband. This one has the body of Captain America, a delicious British accent, and lives right across the hall. He's the perfect, mouthwatering temptation . . . and completely ruined by the unwelcome side dish of parental interference.
Reena refuses to marry anyone who works for her father. She won't be attracted to Nadim's sweet charm or gorgeous lopsided smile. That is, until the baking opportunity of a lifetime presents itself: a couples' cooking competition with the prize of her dreams. Reena will do anything to win, even asking Nadim to pretend they're engaged. But when it comes to love, baking your bread doesn't always mean you get to eat it too.
---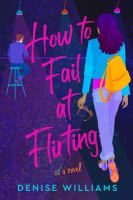 How to Fail at Flirting by Denise Williams
book
OverDrive ebook
One daring to-do list and a crash course in flirtation turn a Type A overachiever's world upside down.
When her flailing department lands on the university's chopping block, Professor Naya Turner's friends convince her to shed her frumpy cardigan for an evening on the town. For one night her focus will stray from her demanding job, and she'll tackle a new kind of to-do list. When she meets a charming stranger in town on business, he presents the perfect opportunity to check off the items on her list. Let the guy buy her a drink. Check. Try something new. Check. A no-strings-attached hookup. Check…almost.
Jake makes her laugh and challenges Naya to rebuild her confidence, which was left toppled by her abusive ex-boyfriend. Soon she's flirting with the chance at a more serious romantic relationship, except nothing can be that easy. The complicated strings around her dating Jake might destroy her career. Naya has two options. She can protect her professional reputation and return to her old life, or she can flirt with the unknown and stay with the person who makes her feel like she's finally living again.
---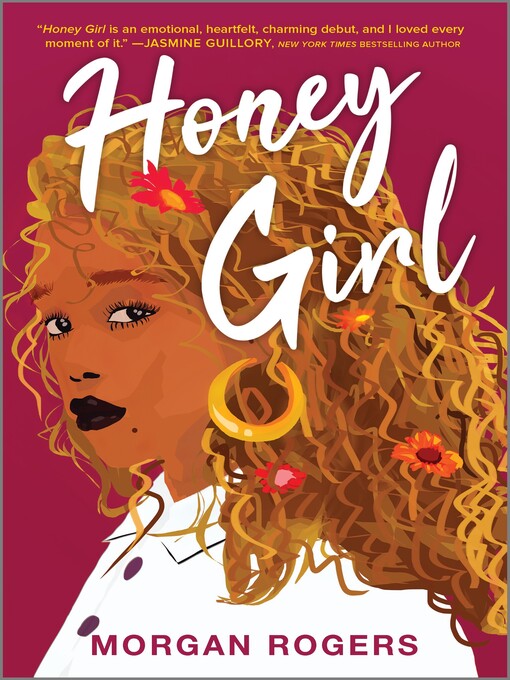 Honey Girl by Morgan Rogers
OverDrive ebook
With her newly completed PhD in astronomy in hand, twenty-eight-year-old Grace Porter goes on a girls' trip to Vegas to celebrate. She's a straight A, work-through-the-summer certified high achiever. She is not the kind of person who goes to Vegas and gets drunkenly married to a woman whose name she doesn't know…until she does exactly that.
This one moment of departure from her stern ex-military father's plans for her life has Grace wondering why she doesn't feel more fulfilled from completing her degree. Staggering under the weight of her parent's expectations, a struggling job market and feelings of burnout, Grace flees her home in Portland for a summer in New York with the wife she barely knows.
In New York, she's able to ignore all the constant questions about her future plans and falls hard for her creative and beautiful wife, Yuki Yamamoto. But when reality comes crashing in, Grace must face what she's been running from all along: the fears that make us human; the family scars that need to heal; and the longing for connection, especially when navigating the messiness of adulthood.
---
Marriage Code by Brooke Burrough
book
Emma has always lived her life according to a plan. But after turning down her boyfriend's proposal, everything starts to crumble. In an effort to save the one thing she cares about — her job — she must recruit her colleague, Rishi, to be on her development team…only she may or may not have received the position he was promised. (She did.)
Rishi cannot believe that he got passed over for promotion. To make matters worse, not only does his job require him to return home to Bangalore with his nemesis, Emma, but his parents now expect him to choose a bride and get married. So, when Emma makes him an offer — join her team, and she'll write an algorithm to find him the perfect bride — he reluctantly accepts.
Neither of them expect her marriage code to work so well, which leads Emma and Rishi to wonder if leaving fate up to formulas is really an equation for lasting love.
---
Ten Rules for Faking It by Sophie Sullivan
book
OverDrive ebook
hoopla audiobook
What happens when your love life becomes the talk of the town? As birthdays go, this year's for radio producer Everly Dean hit rock-bottom.
Worse than the "tonsillectomy birthday." Worse than the birthday her parents decided to split (the first time). But catching your boyfriend cheating on you with his assistant? Even clichés sting.
But this is Everly's year! She won't let her anxiety hold her back. She'll pitch her podcast idea to her boss. There's just one problem. Her boss, Chris, is very cute. (Of course). Also, he's extremely distant (which means he hates her, right? Or is that the anxiety talking)? And, Stacey the DJ didn't mute the mic during Everly's rant about Simon the Snake (syn: Cheating Ex). That's three problems.
Suddenly, people are lining up to date her, Bachelorette-style, fans are voting (Reminder: never leave house again), and her interest in Chris might be a two-way street. It's a lot for a woman who could gold medal in people-avoidance. She's going to have to fake it 'till she makes it to get through all of this. Perhaps she'll make a list: The Ten Rules for Faking It. Because sometimes making the rules can find you happiness when you least expect it.
---
Coming soon! Place your hold today.
*All summaries courtesy of the publisher unless otherwise noted.