Read a biography.
Biographies and memoirs give us insight into the lives and personal journeys of individual people. They can help us to see people who are different from us in a new light or help us find comfort in the experiences of people who are similar. In April, we challenge you to read a biography or a memoir. Find recommendations for adults, teens, tweens, and children. Get more information about the Read 2021 Challenge here.
Adults
Spirit Run: A 6,000-Mile Marathon Through North America's Stolen Land by Noé Álvarez
book
hoopla audiobook
OverDrive ebook
Growing up in Yakima, Washington, Noé Álvarez worked at an apple-packing plant alongside his mother, who "slouched over a conveyor belt of fruit, shoulder to shoulder with mothers conditioned to believe this was all they could do with their lives." A university scholarship offered escape, but as a first-generation Latino college-goer, Álvarez struggled to fit in.
At nineteen, he learned about a Native American/First Nations movement called the Peace and Dignity Journeys, epic marathons meant to renew cultural connections across North America. He dropped out of school and joined a group of Dené, Secwépemc, Gitxsan, Dakelh, Apache, Tohono O'odham, Seri, Purépecha, and Maya runners, all fleeing difficult beginnings. Telling their stories alongside his own, Álvarez writes about a four-month-long journey from Canada to Guatemala that pushed him to his limits. He writes not only of overcoming hunger, thirst, and fear — dangers included stone-throwing motorists and a mountain lion — but also of asserting Indigenous and working-class humanity in a capitalist society where oil extraction, deforestation, and substance abuse wreck communities.
Running through mountains, deserts, and cities, and through the Mexican territory his parents left behind, Álvarez forges a new relationship with the land, and with the act of running, carrying with him the knowledge of his parents' migration, and, against all odds in a society that exploits his body and rejects his spirit, the dream of a liberated future.
---
One Tough Out: Fighting Off Life's Curveballs by Rod Carew
book
book on CD
hoopla ebook
OverDrive audiobook
Freading ebook
For 19 seasons, Rod Carew was a maestro in the batter's box. Uncoiling from his crouched stance, he seemed to guide the ball wherever he wanted on the way to a whopping seven batting titles and a spot in the Baseball Hall of Fame. If only everything in life had been as easy as he made hitting look. In One Tough Out: Fighting Off Life's Curveballs, Carew reflects on the highlights, anecdotes, and friendships from his outstanding career, describing the abuse, poverty, and racism he overcame to even reach the majors. In conversational, confessional prose, he takes readers through the challenges he's conquered in the second half of his life, from burying his youngest daughter to surviving several near-fatal bouts with heart disease. He also details the remarkable reason he's alive today: the heart transplant he received from Konrad Reuland, a 29-year-old NFL player he'd met years before. Carew explains how that astonishing connection was revealed and the unique bond he and his wife, Rhonda, have since forged with his donor's family. An important thread running through this mosaic of Carew's life is his faith. He illustrates how his mother instilled those beliefs during their darkest days and how conversations with God helped him fight off every curveball life has thrown his way.
---
The Meaning of Mariah Carey by Mariah Carey
book
OverDrive ebook
The global icon, award-winning singer, songwriter, producer, actress, mother, daughter, sister, storyteller, and artist finally tells the unfiltered story of her life in The Meaning of Mariah Carey.
"It took me a lifetime to have the courage and the clarity to write my memoir. I want to tell the story of the moments – the ups and downs, the triumphs and traumas, the debacles and the dreams, that contributed to the person I am today. Though there have been countless stories about me throughout my career and very public personal life, it's been impossible to communicate the complexities and depths of my experience in any single magazine article or a ten-minute television interview. And even then, my words were filtered through someone else's lens, largely satisfying someone else's assignment to define me.
This book is composed of my memories, my mishaps, my struggles, my survival and my songs. Unfiltered. I went deep into my childhood and gave the scared little girl inside of me a big voice. I let the abandoned and ambitious adolescent have her say, and the betrayed and triumphant woman I became tell her side.
Writing this memoir was incredibly hard, humbling and healing. My sincere hope is that you are moved to a new understanding, not only about me, but also about the resilience of the human spirit."
---
The Beautiful Struggle by Ta-Nehisi Coates
book (adapted for young adults)
hoopla audiobook (original publication)
OverDrive ebook (original publication)
As a child, Ta-Nehisi Coates was seen by his father, Paul, as too sensitive and lacking focus. Paul Coates was a Vietnam vet who'd been part of the Black Panthers and was dedicated to reading and publishing the history of African civilization. When it came to his sons, he was committed to raising proud Black men equipped to deal with a racist society, during a turbulent period in the collapsing city of Baltimore where they lived.
Coates details with candor the challenges of dealing with his tough-love father, the influence of his mother, and the dynamics of his extended family, including his brother Big Bill, who was on a very different path than Ta-Nehisi. Coates also tells of his family struggles at school and with girls, making this a timely story to which many readers will relate.
---
In Pieces: A Memoir by Sally Field
book
OverDrive ebook
OverDrive audiobook
In this intimate, haunting literary memoir, an American icon tells her story for the first time, and in her own gorgeous words, about a challenging and lonely childhood, the craft that helped her find her voice, and a powerful emotional legacy that shaped her journey as a daughter and a mother. One of the most celebrated, beloved, and enduring actors of our time, Sally Field has an infectious charm that has captivated the nation for more than five decades, beginning with her first TV role at the age of seventeen. From Gidget's sweet-faced "girl next door" to the dazzling complexity of Sybil to the Academy Award-worthy ferocity and depth of Norma Rae and Mary Todd Lincoln, Field has stunned audiences time and time again with her artistic range and emotional acuity. Yet there is one character who always remained hidden: the shy and anxious little girl within.
With raw honesty and the fresh, pitch-perfect prose of a natural-born writer, and with all the humility and authenticity her fans have come to expect, Field brings readers behind the scenes for not only the highs and lows of her star-studded early career in Hollywood, but deep into the truth of her lifelong relationships, including her complicated love for her own mother. Powerful and unforgettable, In Pieces is an inspiring and important account of life as a woman in the second half of the twentieth century.
---
Let Love Rule by Lenny Kravitz
book
OverDrive ebook
Let Love Rule is a work of deep reflection. Lenny Kravitz looks back at his life with candor, self-scrutiny, and humor. It covers a vast canvas stretching from Manhattan's Upper East Side, Brooklyn's Bedford-Stuyvesant, Los Angeles's Baldwin Hills, Beverly Hills, and finally to France, England and Germany.
It's the story of a wildly creative kid who, despite tough struggles at school and extreme tension at home, finds salvation in music. We see him grow as a musician and ultimately a master songwriter, producer, and performer. We also see Lenny's spiritual growth and the powerful way in which spirit informs his music.
The cast of characters surrounding Lenny is extraordinary: his father, Sy, a high-powered news executive; his mother, Roxie Roker, a television star; and Lisa Bonet, the young actress who becomes his muse. The central character, of course, is Lenny, who, despite his great aspirational energy, turns down record deal after record deal until he finds his true voice. The creation of that voice, the same voice that is able to declare "Let Love Rule" to an international audience, is the very heart of this story.
---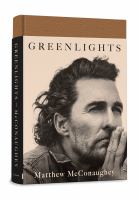 Greenlights by Matthew McConaughey
book
OverDrive ebook
OverDrive audiobook
"I've been in this life for fifty years, been trying to work out its riddle for forty-two, and been keeping diaries of clues to that riddle for the last thirty-five. Notes about successes and failures, joys and sorrows, things that made me marvel, and things that made me laugh out loud. How to be fair. How to have less stress. How to have fun. How to hurt people less. How to get hurt less. How to be a good man. How to have meaning in life. How to be more me.
Recently, I worked up the courage to sit down with those diaries. I found stories I experienced, lessons I learned and forgot, poems, prayers, prescriptions, beliefs about what matters, some great photographs, and a whole bunch of bumper stickers. I found a reliable theme, an approach to living that gave me more satisfaction, at the time, and still: If you know how, and when, to deal with life's challenges–how to get relative with the inevitable–you can enjoy a state of success I call "catching greenlights."
So I took a one-way ticket to the desert and wrote this book: an album, a record, a story of my life so far. This is fifty years of my sights and seens, felts and figured-outs, cools and shamefuls. Graces, truths, and beauties of brutality. Getting away withs, getting caughts, and getting wets while trying to dance between the raindrops.
Hopefully, it's medicine that tastes good, a couple of aspirin instead of the infirmary, a spaceship to Mars without needing your pilot's license, going to church without having to be born again, and laughing through the tears.
It's a love letter. To life.
It's also a guide to catching more greenlights–and to realizing that the yellows and reds eventually turn green too.
Good luck."
---
Mother of Peace: And God Shall Wipe Away All Tears From Their Eyes: A Memoir by Hak Ja Han Moon
book
Discover the untold story of Hak Ja Han Moon, the North Korean village girl who is now known to millions as the Mother of Peace. Her heart-wrenching story reveals details of a war-torn childhood and trials of faith as she and her late husband, Rev. Sun Myung Moon, built a vast and still-growing international movement capable of fulfilling God's will for peace in the 21st century.
A major milestone of her life, described in never-told-before detail, was her marriage in 1960, at age 17, to the charismatic Rev. Dr. Sun Myung Moon. For the next 52 years, she joined him in the daunting task of building a global interfaith movement to fulfill God's will for peace in the 21st century.
Mother Moon's journey as a religious woman leader is breathtaking: Born in Japanese-occupied Korea in 1943, she spent her early life in nature so she could commune with God. War forced her to flee south with her mother and grandmother; they crossed the Han River Bridge minutes before it was blown up. Later, she walked and worked side-by-side with Father Moon, one of history's most energetic and visionary men. They visited every corner of the earth and, despite relentless persecution, met with world leaders, including Mikhail Gorbachev and Kim Il Sung, to bring God's message for them.
During this time, she bore 14 children and buried four. She stood with Father Moon for hours as they officiated at Marriage Blessing Ceremonies for hundreds of thousands of couples. Together, they launched hundreds of organizations and businesses to serve youth, family and peacemaking.
Since Father Moon's passing in 2012, Mother Moon has shouldered the leadership of their still-growing movement. She has led "Peace Starts With Me" rallies in six continents and plans to bring Blessing Ceremonies to all people.
"As I complete this book, one person I dearly miss at this moment is my beloved husband, Father Sun Myung Moon. We spent our lives together to convey and accomplish God's will … If he were here to witness the publication of this book, his face would shine with a joy greater than that of anyone else. The sparkle in his eyes is dancing in my heart today. I hope that this book will reveal a taste of our life spent together for God's will." – Hak Ja Han Moon
---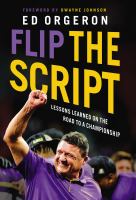 Flip the Script by Ed Orgeron
book
OverDrive ebook
OverDrive audiobook
Ed Orgeron, head coach of the record-breaking national champion LSU Tigers football team, tells the inspiring story of reversing the team's fortunes and culture, as well as his own remarkable leadership journey from disappointment and setback to the apex of college sports.
The storybook football season for the LSU Tigers in 2019 was the stuff of legend: a team with recently unmet expectations became the undefeated national champion with a Heisman trophy-winning transfer quarterback under the leadership of a coach whose previous coaching stops had been disappointments. Yet that coach, Ed Orgeron, had turned everything around. He flipped the script, transforming a program that lately had not reached its potential into a team of unprecedented dominance. Flip the Script is the story of how it happened, with lessons for anyone who wants to succeed. Telling the story of his own journey that culminated in the Cinderella season, Orgeron highlights the traits he learned are necessary for success: an ability and willingness to learn from mistakes, the necessity of perseverance, recognizing and focusing on what you're truly good at, building unity, and overcoming hardship.
The road to success is never easy, as Ed Orgeron's life reveals. But his life also shows that with determination and a willingness to learn from experience, your trajectory can change–your script can be flipped–and you can achieve more than you ever dreamed.
---
Dolly Parton, Songteller: My Life in Lyrics by Dolly Parton
book
book on CD
hoopla ebook
OverDrive ebook
Dolly Parton, Songteller: My Life in Lyrics is a landmark celebration of the remarkable life and career of a country music and pop culture legend. As told by Dolly Parton in her own inimitable words, explore the songs that have defined her journey. Illustrated throughout with previously unpublished images from Dolly Parton's personal and business archives.
Mining over 60 years of songwriting, Dolly Parton highlights 175 of her songs and brings readers behind the lyrics. Dolly Parton, Songteller: My Life in Lyrics reveals the stories and memories that have made Dolly a beloved icon across generations, genders, and social and international boundaries. Containing rare photos and memorabilia from Parton's archives, this book is a show-stopping must-have for every Dolly Parton fan.
---
Open Book by Jessica Simpson
book
hoopla audiobook
OverDrive ebook
Jessica reveals for the first time her inner monologue and most intimate struggles. Guided by the journals she's kept since age fifteen, and brimming with her unique humor and down-to-earth humanity, Open Book is as inspiring as it is entertaining.
This was supposed to be a very different book. Five years ago, Jessica Simpson was approached to write a motivational guide to living your best life. She walked away from the offer, and nobody understood why. The truth is that she didn't want to lie.
Jessica couldn't be authentic with her readers if she wasn't fully honest with herself first.
Now America's Sweetheart, preacher's daughter, pop phenomenon, reality tv pioneer, and the billion-dollar fashion mogul invites readers on a remarkable journey, examining a life that blessed her with the compassion to help others, but also burdened her with an almost crippling need to please. Open Book is Jessica Simpson using her voice, heart, soul, and humor to share things she's never shared before.
First celebrated for her voice, she became one of the most talked-about women in the world, whether for music and fashion, her relationship struggles, or as a walking blonde joke. But now, instead of being talked about, Jessica is doing the talking. Her book shares the wisdom and inspirations she's learned and shows the real woman behind all the pop-culture cliché's – "chicken or fish," "Daisy Duke," "football jinx," "mom jeans," "sexual napalm…" and more. Open Book is an opportunity to laugh and cry with a close friend, one that will inspire you to live your best, most authentic life, now that she is finally living hers.
---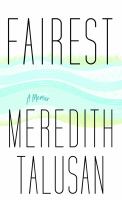 Fairest: A Memoir by Meredith Talusan
large print book
A singular, beautifully written coming-of-age memoir of a Filipino boy with albinism whose story travels from an immigrant childhood to Harvard to a gender transition and illuminates the illusions of race, disability, and gender.
Fairest is a memoir about a precocious boy with albinism, a "sun child" from a rural Philippine village, who would grow up to become a woman in America. Coping with the strain of parental neglect and the elusive promise of U.S. citizenship, Talusan found childhood comfort from her devoted grandmother, a grounding force as she was treated by others with special preference or public curiosity. As an immigrant to the United States, Talusan came to be perceived as white. An academic scholarship to Harvard provided access to elite circles of privilege but required Talusan to navigate through the complex spheres of race, class, sexuality, and her place within the gay community. She emerged as an artist and an activist questioning the boundaries of gender. Talusan realized she did not want to be confined to a prescribed role as a man, and transitioned to become a woman, despite the risk of losing a man she deeply loved. Throughout her journey, Talusan shares poignant and powerful episodes of desirability and love that will remind readers of works such as Call Me by Your Name and Giovanni's Room. Her evocative reflections will shift our own perceptions of love, identity, gender, and the fairness of life.
---
The Answer Is… Reflections on My Life by Alex Trebek
book
OverDrive ebook
Since debuting as the host of Jeopardy in 1984, Alex Trebek has been something like a family member to millions of television viewers, bringing entertainment and education into their homes five nights a week. Last year, he made the stunning announcement that he had been diagnosed with stage four pancreatic cancer. What followed was an incredible outpouring of love and kindness. Social media was flooded with messages of support, and the Jeopardy studio received boxes of cards and letters offering guidance, encouragement, and prayers.
For over three decades, Trebek had resisted countless appeals to write a book about his life. Yet he was moved so much by all the goodwill, he felt compelled to finally share his story. "I want people to know a little more about the person they have been cheering on for the past year," he writes in The Answer Is… Reflections on My Life.
The book combines illuminating personal anecdotes with Trebek's thoughts on a range of topics, including marriage, parenthood, education, success, spirituality, and philanthropy. Trebek also addresses the questions he gets asked most often by Jeopardy fans, such as what prompted him to shave his signature mustache, his insights on legendary players like Ken Jennings and James Holzhauer, and his opinion of Will Ferrell's Saturday Night Live impersonation. The book uses a novel structure inspired by Jeopardy, with each chapter title in the form of a question, and features dozens of never-before-seen photos that candidly capture Trebek over the years.
This wise, charming, and inspiring book is further evidence why Trebek has long been considered one of the most beloved and respected figures in entertainment.
---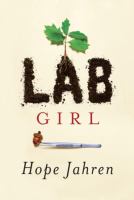 Lab Girl by Hope Jahren
book
Lab Girl is a book about work, love, and the mountains that can be moved when those two things come together. It is told through Jahren's remarkable stories: about her childhood in rural Minnesota with an uncompromising mother and a father who encouraged hours of play in his classroom's labs; about how she found a sanctuary in science and learned to perform lab work done "with both the heart and the hands"; and about the inevitable disappointments, but also the triumphs and exhilarating discoveries, of scientific work.
Yet at the core of this book is the story of a relationship Jahren forged with a brilliant, wounded man named Bill, who becomes her lab partner and best friend. Their sometimes rogue adventures in science take them from the Midwest across the United States and back again, over the Atlantic to the ever-light skies of the North Pole and to tropical Hawaii, where she and her lab currently make their home.
Teens
Courage to Soar: A Body in Motion, A Life in Balance by Simone Biles
book
hoopla ebook
hoopla audiobook
Freading ebook
In Courage to Soar, the official autobiography from US Olympic gymnast Simone Biles, Simone presents the story of how she overcame early childhood challenges to become the most decorated US female gymnast and the only female gymnast to ever win three consecutive World Championship titles.
In this official autobiography from four-time Olympic gold-winning and record-setting American gymnast Simone Biles, Simone shares how her faith, family, passion, and perseverance against tremendous odds helped make her one of the top athletes and record-breaking gymnasts in the world, now with 25 world championship medals.
---
Ten Days a Madwoman: The Daring Life and Turbulent Times of the Original "Girl" Reporter, Nellie Bly by Deborah Noyes
book
OverDrive ebook
Work for a New York newspaper.
Fall in love.
Marry a millionaire.
Change the world.
Young Nellie Bly had ambitious goals, especially for a woman at the end of the nineteenth century, when the few female journalists were relegated to writing columns about cleaning or fashion. But fresh off a train from Pittsburgh, Nellie knew she was destined for more and pulled a major journalistic stunt that skyrocketed her to fame: feigning insanity, being committed to the notorious asylum on Blackwell's Island, and writing a shocking expose of the clinic's horrific treatment of its patients.
Nellie Bly became a household name as the world followed her enthralling career in "stunt" journalism that raised awareness of political corruption, poverty, and abuses of human rights. Leading an uncommonly full life, Nellie circled the globe in a record seventy-two days and brought home a pet monkey before marrying an aged millionaire and running his company after his death. With its sensational (and true) plot, Ten Days a Madwoman dares its readers to live as boldly as its remarkable heroine.
---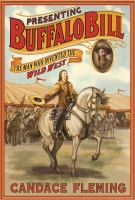 Presenting Buffalo Bill: The Man Who Invented the Wild West by Candace Fleming
book
Everyone knows the name Buffalo Bill, but few these days know what he did or, in some cases, didn't do. Was he a Pony Express rider? Did he serve Custer at the Battle of Little Big Horn? Did he scalp countless Native Americans, or did he defend their rights?
This, the first significant biography of Buffalo Bill Cody for younger readers in many years, explains it all. With copious archival illustrations and a handsome design, Presenting Buffalo Bill makes the great showman come alive for new generations. Extensive back matter, bibliography, and source notes complete the package.
---
Enchanted Air: Two Cultures, Two Wings: A Memoir by Margarita Engle
book
In this poetic memoir, which won the Pura Belpre Author Award, was a YALSA Nonfiction Finalist, and was named a Walter Dean Myers Award Honoree, acclaimed author Margarita Engle tells of growing up as a child of two cultures during the Cold War.
Margarita is a girl from two worlds. Her heart lies in Cuba, her mother's tropical island country, a place so lush with vibrant life that it seems like a fairy tale kingdom. But most of the time she lives in Los Angeles, lonely in the noisy city and dreaming of the summers when she can take a plane through the enchanted air to her beloved island. Words and images are her constant companions, friendly and comforting when the children at school are not.
Then a revolution breaks out in Cuba. Margarita fears for her far-away family. When the hostility between Cuba and the United States erupts at the Bay of Pigs Invasion, Margarita's worlds collide in the worst way possible. How can the two countries she loves hate each other so much? And will she ever get to visit her beautiful island again?
---
Chris Kyle: American Sniper by Alexis Burling
book
hoopla ebook
This biography examines the life of Chris Kyle using easy-to-read, compelling text. Through striking historical and contemporary images and photographs and informative sidebars, readers will learn about Kyle's family background, childhood, education, service in the US Navy SEALS, and his time as a sniper. Informative sidebars enhance and support the text.
---
All Boys Aren't Blue: A Memoir-Manifesto by George M. Johnson
book
hoopla audiobook
In a series of personal essays, prominent journalist and LGBTQIA+ activist George M. Johnson explores his childhood, adolescence, and college years in New Jersey and Virginia. From the memories of getting his teeth kicked out by bullies at age five, to flea marketing with his loving grandmother, to his first sexual relationships, this young-adult memoir weaves together the trials and triumphs faced by Black queer boys.
Both a primer for teens eager to be allies as well as a reassuring testimony for young queer men of color, All Boys Aren't Blue covers topics such as gender identity, toxic masculinity, brotherhood, family, structural marginalization, consent, and Black joy. Johnson's emotionally frank style of writing will appeal directly to young adults.
---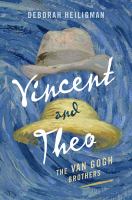 Vincent and Theo: The Van Gogh Brothers by Deborah Heiligman
book
hoopla audiobook
Beautifully told, this is the true story of the relationship between brothers Theo and Vincent van Gogh.
The deep and enduring friendship between Vincent and Theo Van Gogh shaped both brothers' lives. Confidant, champion, sympathizer, friend — Theo supported Vincent as he struggled to find his path in life. They shared everything, swapping stories of lovers and friends, successes and disappointments, dreams and ambitions. Meticulously researched, drawing on the 658 letters Vincent wrote to Theo during his lifetime, Deborah Heiligman weaves a tale of two lives intertwined and the extraordinary love of the Van Gogh brothers.
---
Strong Inside: The True Story of How Perry Wallace Broke College Basketball's Color Line by Andrew Maraniss
book
hoopla ebook
Perry Wallace was born at an historic crossroads in U.S. history. He entered kindergarten the year that the Brown v. Board of Education decision led to integrated schools, allowing blacks and whites to learn side by side. A week after Martin Luther King Jr.'s "I Have a Dream" speech, Wallace enrolled in high school and his sensational jumping, dunking, and rebounding abilities quickly earned him the attention of college basketball recruiters from top schools across the nation. In his senior year his Pearl High School basketball team won Tennessee's first racially integrated state tournament.
The world seemed to be opening up at just the right time, and when Vanderbilt University recruited Wallace to play basketball, he courageously accepted the assignment to desegregate the Southeastern Conference. The hateful experiences he would endure on campus and in the hostile gymnasiums of the Deep South turned out to be the stuff of nightmares. Yet Wallace persisted, endured, and met this unthinkable challenge head on. This insightful biography digs deep beneath the surface to reveal a complicated, profound, and inspiring story of an athlete turned civil rights trailblazer.
---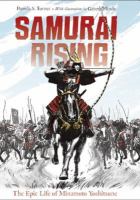 Samurai Rising: The Epic Life of Minamoto Yoshitsune by Pamela S. Turner
book
hoopla ebook
hoopla audiobook
Minamoto Yoshitsune should not have been a samurai. But his story is legend in this real-life saga. This epic warrior tale reads like a novel, but this is the true story of the greatest samurai in Japanese history.
When Yoshitsune was just a baby, his father went to war with a rival samurai family and lost. His father was killed, his mother captured, and his surviving half-brother banished. Yoshitsune was sent away to live in a monastery. Skinny, small, and unskilled in the warrior arts, he nevertheless escaped and learned the ways of the samurai. When the time came for the Minamoto clan to rise up against their enemies, Yoshitsune answered the call. His daring feats and impossible bravery earned him immortality.
---
The Maddie Diaries by Maddie Ziegler
book
Maddie Ziegler had hoped to become a star. She just didn't know how soon that day would come. At just eight years old, she was cast on hit reality show Dance Moms and quickly won the hearts of fans everywhere with her natural talent and determination. Soon, she was catching eyes all over, including those of pop superstar Sia, who handpicked her to star in the incredibly popular music video "Chandelier". The rest, as they say, was history.
In this inspirational memoir, Maddie explains the hard work she put into her rise to stardom and how she keeps her balance along the way. She also answers her fans' burning questions with wise advice she's learned on her journey.
With honesty, charm, and humor, Maddie offers her unique perspective on making her way in the world as a young teenager, reflecting on the lessons she's learned and preparing for the exciting road ahead.
---
Tweens
Who was P. T. Barnum? by Kirsten Anderson
book
Ladies and Gentlemen, children of all ages, step right up for Who HQ's entertaining biography of P. T. Barnum: politician, businessman, and The Greatest Showman on Earth!
After moving from Connecticut to New York City in 1834, twenty-four-year-old Phineas Taylor Barnum launched his now-legendary career as a showman. Even though spectators debated whether his exhibitions were authentic wonders, hoaxes, or a little bit of both, they were always astounded by what they saw. And readers are sure to be amazed by the story of how Barnum went from owning a museum filled with rare and unusual items to transforming the American circus into a popular and thrilling phenomenon.
---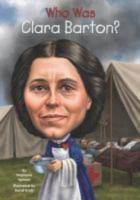 Who was Clara Barton? by Stephanie Spinner
book
OverDrive ebook
Clarissa "Clara" Barton was a shy girl who grew up to become a teacher, nurse, and humanitarian. At a time when few women worked outside the home, she became the first woman to hold a government job, as a patent clerk in Washington, DC. In 1864, she was appointed "lady in charge" of the hospitals at the front lines of the Union Army, where she became known as the "Angel of the Battlefield." Clara Barton built a career helping others. She went on to found the American Red Cross, one of her greatest accomplishments, and one of the most recognized organizations in the world.
---
Who was Leif Erikson? by Nico Medina
book
OverDrive ebook
Hold on to your Viking helmets as you learn about the first known European to set foot on North America in this exciting addition to the Who Was? Series! Leif Erikson was born to be an explorer. His father, Erik the Red, had established the first European settlement in present-day Greenland, and although he didn't yet know it, Leif was destined to embark on an adventure of his own. The wise and striking Viking landed in the area known as Vinland almost five centuries before Christopher Columbus even set sail! "Leif the Lucky" and the other fierce, sea-fearing pirates were accomplished navigators who raided foreign lands for resources, hunted for their food, and passed down Old Norse myths from one generation to the next. This book gives readers a detailed account of what life was like during the time of the Vikings.
---
Who was Aretha Franklin? by Nico Medina
book
OverDrive ebook
There is only one QUEEN OF SOUL! Discover why Aretha Franklin garners so much R-E-S-P-E-C-T.
Aretha Franklin was a musical and cultural icon whose legacy spanned six decades! Born in Memphis, Tennessee, in 1942, Aretha got her start singing in front of her father's Baptist congregation and found minor success as a gospel singer. She then set her sights on becoming a pop music artist and used her powerful voice and impressive skills on the piano to get a record deal. Aretha released her first of many celebrated albums at the age of 18. In 1987, she was inducted into the Rock and Roll Hall of Fame, making her the first female artist to grace the prestigious list. With iconic hits such as "Respect" and "Think," and countless awards to her name including eighteen Grammys, Aretha Franklin was one of the bestselling artists of all time.
---
Who was Bruce Lee? by Jim Gigliotti
book
OverDrive ebook
Bruce Lee was a Chinese American action film star, martial arts instructor, filmmaker, and philosopher. His Hong Kong and Hollywood-produced films elevated the traditional martial arts film to a new level of popularity and acclaim. Through such films as Way of the Dragon and Enter the Dragon, Lee helped to change the way Asians were presented in American films and, in the process, he became an iconic figure known throughout the world. Although he died at the young age of 32, Bruce Lee is widely considered to be the one of the most influential martial artists of all time.
---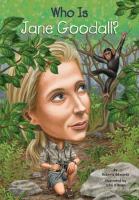 Who is Jane Goodall? by Roberta Edwards
book
OverDrive ebook
Jane Goodall, born in London, England, always loved animals and wanted to study them in their natural habitats. So at age twenty-six, off she went to Africa. Goodall's up-close observations of chimpanzees changed what we know about them and paved the way for many female scientists who came after her. Now her story comes to life in this biography with black-and-white illustrations throughout.
---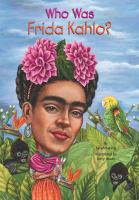 Who was Frida Kahlo? By Sarah Fabiny
book
OverDrive ebook
You can always recognize a painting by Kahlo because she is in nearly all–with her black braided hair and colorful Mexican outfits. A brave woman who was an invalid most of her life, she transformed herself into a living work of art. As famous for her self-portraits and haunting imagery as she was for her marriage to another famous artist, Diego Rivera, this strong and courageous painter was inspired by the ancient culture and history of her beloved homeland, Mexico. Her paintings continue to inform and inspire popular culture around the world.
---
Who is George Lucas? by Pam Pollack
book
OverDrive ebook
As a child his passions were comics and cars, but George Lucas grew up to be one of the most successful filmmakers of all time. He is a producer, screenwriter, director and entrepreneur whose company Lucasfilms pioneered the movie effects that changed the world of animation. He founded Industrial Light and Magic, which transformed special sound and visual effects throughout the Hollywood film industry. He is best known, of course, as the creator of the Star Wars movie, television, gaming, toy, and merchandise empire, as well as the archeologist-adventure series Indiana Jones. Discover the man behind the magic in Who Is George Lucas?
---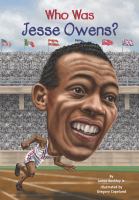 Who was Jesse Owens? by James Buckley
book
OverDrive ebook
At the 1936 Berlin Summer Olympics, track and field star Jesse Owens ran himself straight into international glory by winning four gold medals. But the life of Jesse Owens is much more than a sports story. Born in rural Alabama under the oppressive Jim Crow laws, Owens's family suffered many hardships. As a boy he worked several jobs like delivering groceries and working in a shoe repair shop to make ends meet. But Owens defied the odds to become a sensational student athlete, eventually running track for Ohio State. He was chosen to compete in the Summer Olympics in Nazi Germany where Adolf Hitler was promoting the idea of "Aryan superiority." Owens's winning streak at the games humiliated Hitler and crushed the myth of racial supremacy.
---
Who was Sitting Bull? by Stephanie Spinner
book
OverDrive ebook
No one knew the boy they called Jumping Badger would grow to become a great leader. Born on the banks of the Yellowstone River, Sitting Bull, as he was later called, was tribal chief and holy man of the Lakota Sioux tribe in a time of fierce conflict with the United States. As the government seized Native American lands, Sitting Bull relied on his military cunning and strong spirituality to drive forces out of his territory and ensure a future homeland for his people.
---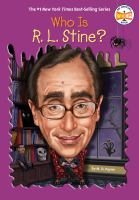 Who is R. L. Stine? by M. D. Payne
book
Reader, beware! The biography of R. L. Stine, author of the hugely popular Goosebumps series, is a scary-good time.
R. L. Stine began writing stories at the age of nine, after finding a typewriter in his family's attic. (Was it a haunted typewriter? Who can be sure?) Often referred to as the "Stephen King of children's literature," R.L. has created some of the scariest books to have ever been passed around a campfire, leaving readers wide awake at night. With over 400 million copies of his horror fiction novels sold across the world, R.L. Stine is one of the best-selling authors in history.
---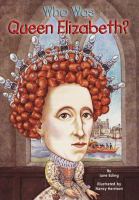 Who was Queen Elizabeth? by June Eding
book
OverDrive ebook
Our bestselling series is fit for a queen!
The life of Queen Elizabeth I was dramatic and dangerous: cast out of her father's court at the age of three and imprisoned at nineteen, Elizabeth was crowned queen in 1558, when she was only twenty-five. A tough, intelligent woman who spoke five languages, Elizabeth ruled for over forty years and led England through one of its most prosperous periods in history. Over 80 illustrations bring 'Gloriana' and her court to life.
---
Who is Maria Tallchief? by Catherine Gourley
book
OverDrive ebook
Black-and-white illustrations provide visual sidebars to the history of ballet while taking readers through the life of Native American ballet dancer Maria Tallchief.
Born in 1925, Maria Tallchief spent part of her childhood on an Osage reservation in Oklahoma. With the support of her family and world-renowned choreographer George Balanchine, she rose to the top of her art form to become America's first prima ballerina. Black-and-white illustrations provide visual sidebars to the history of ballet while taking readers through the life of this amazing dancer.
---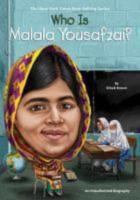 Who is Malala Yousafzai? by Dinah Brown
book
OverDrive ebook
Malala Yousafzai was a girl who loved to learn but was told that girls would no longer be allowed to go to school. She wrote a blog that called attention to what was happening in her beautiful corner of Pakistan and realized that words can bring about change. She has continued to speak out for the right of all children to have an education. In 2014 she won the Nobel Peace Prize.
Children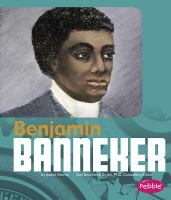 Benjamin Banneker by Isabel Martin
book
Explore the life and achievements of Benjamin Banneker, a free African-American astronomer, author, and inventor of the 1700s.
---
Rowan Blanchard: Star of Girl Meets World by Lucas Diver
book
Spanish book
hoopla ebook
Spanish hoopla ebook
Rowan Blanchard stars in the new hit show "Girl Meets World," a spin off of "Boy Meets World." Learn about this, where she was born, and how she got her big break with this introductory biography. Complete with current, full-bleed color photographs, table of contents, glossary, index, and timeline.
---
Drew Brees by Kevin Frederickson
book
hoopla ebook
This title introduces readers to Drew Brees, covering his early life, career, and life off the field. This title features informative sidebars, detailed infographics, vivid photos, and a glossary.
---
Mister Bones: Dinosaur Hunter by Jane Kurtz
book
This easy reader relates the true story of dinosaur hunter Barnum Brown, who discovered the first fossilized skeleton of a "Tyrannosaurus rex" in the United States in 1902.
Barnum Brown loves to dig in the dirt. He pokes, and he sifts, and he picks through the dirt. What is he looking for? Not gold, but something just as valuable: Bones! Dinosaur bones! And what he finds is an amazing thing.
---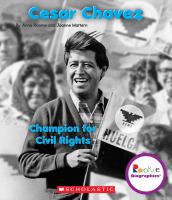 Cesar Chavez: Champion for Civil Rights by Anne Ross Roome
book
Meet Cesar Chavez a Mexican-American farmworker and civil rights activist. Cesar spent many years picking crops. He worked with his family and a lot of other farmworkers. Cesar never forgot how hard the work was-or how unfairly pickers were treated. As an adult, he fought to improve the lives of all farmworkers in America.
Fact-filled Rookie Read-About Biographies introduce the youngest readers to influential women and men, both past and present. Colorful photos and age appropriate text encourage children to read on their own-as they learn about people like Serena Williams, Neil Armstrong, Rosa Parks, Anne Frank and many more.
---
Albert Einstein by Emily James
book
hoopla ebook
Explore the life and achievements of Albert Einstein. Photographs, a timeline, and easy-to-read text tell the story of this famous scientist.
---
Ella Fitzgerald: American Jazz Singer by Grace Hansen
book
Spanish book
hoopla ebook
Spanish hoopla ebook
Ella Fitzgerald went from a poor girl living on the streets to the one of the greatest Jazz singers of her time and ours. This title will take readers through the grand life of Ella and show them that nothing can hold you back if you have a dream and determination. Complete with a timeline and wonderful historical photographs.
---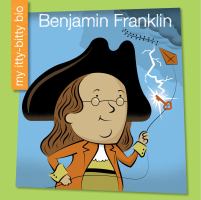 Benjamin Franklin by Emma E. Haldy
book
Spanish book
hoopla ebook
Spanish hoopla ebooks
The My Itty-Bitty Bio series are biographies for the earliest readers. This book examines the life of Benjamin Franklin in a simple, age-appropriate way that will help children develop word recognition and reading skills. Includes a timeline and other informative backmatter.
---
Ariana Grande: Pop Star by Rita Santos
book
Ariana Grande knew from a very young age that she wanted to be on the stage. She landed her first role in community theater as the lead in Annie, and by the age of thirteen she was performing on Broadway. Later, she became a fan favorite on the hit shows "Victorious" and "Sam and Cat." But music was her first love and soon her songs were hitting number one on the charts. Follow the amazing story of a young star who has seen great success as well as tragedy, showing the world that the only thing bigger than her voice is her heart.
---
I am Jim Henson by Brad Meltzer
book
This friendly, fun biography series focuses on the traits that made our heroes great, the traits that kids can aspire to in order to live heroically themselves. Jim Henson, for example, was always dreaming up something new, and always expressing his belief in the goodness of people. Henson was a born performer with a terrific sense of humor, and he used those talents to help create two of the most beloved programs in television history: The Muppet Show and Sesame Street. Through his Muppets, Jim showed the world that there's nothing more beautiful than imagination, especially when it's accompanied by laughter and kindness.
Each book in this series tells the story of one inspiring individual through lively text and art that works well for the youngest nonfiction readers. At the back are an excellent timeline and photos.
---
Mae Jemison by Jennifer Strand
book
hoopla ebook
An astronaut and the first African-American woman to go to space, Mae Jemison was a pioneering space explorer. Historic photos and easy-to-read text take readers into her life. Zoom in even deeper with quick stats, a timeline, and bolded glossary terms.
---
Osceola by Santana Hunt
book
hoopla ebook
Osceola may not be a name everyone knows, but his influence on the Seminole people was great. During the 1830s, the US government worked to move Native American tribes off their territory to reservations in the West. Osceola fought against the movement of his people from Florida to Oklahoma, resulting in his imprisonment. Readers learn about life as a Native American during a significant part of their history through both Osceola's biography and the historic context. Accessible text introduces an important social studies topic, and relevant images illustrate the time period in detail.
---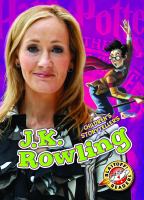 J. K. Rowling by Chris Bowman
book
Starting at the age of six, J.K. Rowling knew she wanted to be an author. Her eventual creation of Harry Potter and Hogwarts School of Witchcraft and Wizardry sent Rowling into immediate fame. Grab hold of your wand and enjoy this thrilling title for young readers. This title includes quotes, fun facts, sidebars, timelines, and maps!
---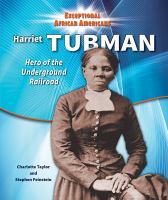 Harriet Tubman: Hero of the Underground Railroad by Charlotte Taylor
book
Harriet Tubman's brave journey from slave to free woman empowered her to help countless other slaves successfully travel the road to freedom. Readers will be inspired by her extraordinary deeds and life.
---
*All summaries courtesy of the publisher unless otherwise noted.