Read a book with a red cover.
The color red is one of the boldest colors in the spectrum and is often used to draw our attention. In April, we want to draw your attention to these bold books and challenge you to read a book with a red cover. Find recommendations for adults, teens, tweens, and children. Get more information about the Read 2021 Challenge here.
Adult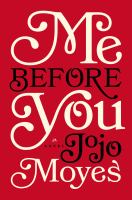 Me Before You by Jojo Moyes
book
OverDrive ebook
OverDrive audiobook
hoopla audiobook
Louisa Clark is an ordinary girl living an ordinary life who has never been farther afield than her family's tiny village. She takes a badly needed job working for ex-Master of the Universe Will Traynor, now wheelchair-bound after a motorcycle accident. Will has always lived a huge life — big deals, extreme sports, world travel — and he's pretty sure he cannot live this way. Refusing to treat him with kid gloves, Lou sets out to show Will that life is still worth living.
---
Beloved by Toni Morrison
book
book on CD
OverDrive ebook
Set in post-Civil War Ohio, it is the story of Sethe, an escaped slave who has lost a husband and buried a child; who has withstood savagery and not gone mad. Sethe, who now lives in a small house on the edge of town with her daughter, Denver, her mother-in-law, Baby Suggs, and a disturbing, mesmerizing apparition who calls herself Beloved.
Sethe works at "beating back the past," but it makes itself heard and felt incessantly: in her memory; in Denver's fear of the world outside the house; in the sadness that consumes Baby Suggs; in the arrival of Paul D, a fellow former slave; and, most powerfully, in Beloved, whose childhood belongs to the hideous logic of slavery and who has now come from the "place over there" to claim retribution for what she lost and for what was taken from her. Sethe's struggle to keep Beloved from gaining possession of the present, and to throw off the long-dark legacy of the past, is at the center of this spellbinding novel. But it also moves beyond its particulars, combining imagination and the vision of legend with the unassailable truths of history.
---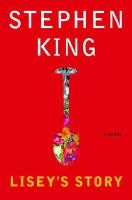 Lisey's Story by Stephen King
book
book on CD
Lisey lost her husband Scott two years ago, after a twenty-five year marriage of profound and sometimes frightening intimacy. Scott was an award-winning, bestselling novelist and a very complicated man. Early in their relationship, before they married, Lisey knew there was a place Scott went, a place that both terrified and healed him, could eat him alive or give him the ideas he needed in order to live. Now it's Lisey's turn to face Scott's demons, to go to that terrifying place known as Boo'ya Moon. What begins as a widow's effort to sort through the papers of her celebrated husband becomes a nearly fatal journey into the darkness he inhabited.
---
Wolf Hall by Hilary Mantel
book
book on CD
OverDrive audiobook
hoopla audiobook
England in the 1520s is a heartbeat from disaster. If the king dies without a male heir, the country could be destroyed by civil war. Henry VIII wants to annul his marriage of twenty years, and marry Anne Boleyn. The pope and most of Europe opposes him. The quest for the king's freedom destroys his adviser, the brilliant Cardinal Wolsey, and leaves a power vacuum.
Into this impasse steps Thomas Cromwell. Cromwell is a wholly original man, a charmer and a bully, both idealist and opportunist, astute in reading people and a demon of energy: he is also a consummate politician, hardened by his personal losses, implacable in his ambition. But Henry is volatile: one day tender, one day murderous. Cromwell helps him break the opposition, but what will be the price of his triumph?
---
Once a Crooked Man by David McCallum
book
Crime pays. And pays well.
Sal, Max and Enzo Bruschetti have proved this over a lifetime of nefarious activity that they have kept hidden from law enforcement. Nowhere in any file, on any computer is there a record of anything illegal from which they have profited. But Max has a problem. His body is getting old and his doctor has told him to take it easy. Max has decided that the time has come for the family to retire.
But when young actor Harry Murphy overhears the Bruschetti brothers planning changes to their organization, including the murder of a man in London who knows too much, the Bruschetti's plans begin to unravel.
After Harry makes the well-intentioned if egregious mistake of trying to warn the Bruchetti's intended victim, he finds himself alone in a foreign country, on the wrong side of the law, with a suitcase full of cash and a dangerous man on his trail. And while his good looks, charm and cheerful persistence may prove assets in the turbulent events that follow, none of Harry's past roles have prepared him for what happens next.
---
Da Vinci Code by Dan Brown
book
OverDrive ebook
While in Paris, Harvard symbologist Robert Langdon is awakened by a phone call in the dead of the night. The elderly curator of the Louvre has been murdered inside the museum, his body covered in baffling symbols. As Langdon and gifted French cryptologist Sophie Neveu sort through the bizarre riddles, they are stunned to discover a trail of clues hidden in the works of Leonardo da Vinci, clues visible for all to see and yet ingeniously disguised by the painter.
Even more startling, the late curator was involved in the Priory of Sion, a secret society whose members included Sir Isaac Newton, Victor Hugo, and Da Vinci, and he guarded a breathtaking historical secret. Unless Langdon and Neveu can decipher the labyrinthine puzzle while avoiding the faceless adversary who shadows their every move, the explosive, ancient truth will be lost forever.
---
Talulla Rising by Glen Duncan
book
book on CD
OverDrive ebook
The woman is Talulla Demetriou.
She's grieving for her werewolf lover, Jake, whose violent death has left her alone with her own sublime monstrousness. On the run, pursued by the hunters of WOCOP (World Organisation for the Control of Occult Phenomena), she must find a place to give birth to Jake's child in secret.
The birth, under a full moon at a remote Alaska lodge, leaves Talulla ravaged, but with her infant son in her arms she believes the worst is over — until the windows crash in, and she discovers that the worst has only just begun. What follows throws Talulla into a race against time to save both herself and her child as she faces down the new, psychotic leader of WOCOP, a cabal of blood-drinking religious fanatics, and (rumor has it) the oldest living vampire.
Harnessing the same audacious imagination and dark humor, the same depths of horror and sympathy, the same full-tilt narrative energy with which he crafted his acclaimed novel The Last Werewolf, Glen Duncan now gives us a heroine like no other, the definitive twenty-first-century female of the species.
---
No Country for Old Men by Cormac McCarthy 
book 
book on CD 
hoopla audiobook 
Cormac McCarthy returns to the Texas-Mexico border setting of his famed Border Trilogy. The time is our own, when rustlers have given way to drug-runners and small towns have become free-fire zones. One day, a good old boy named Llewellyn Moss finds a pickup truck surrounded by a bodyguard of dead men. A load of heroin and two million dollars in cash are still in the back. When Moss takes the money, he sets off a chain reaction of catastrophic violence that not even the law, in the person of aging, disillusioned Sheriff Bell, can contain. As Moss tries to evade his pursuers, in particular a mysterious mastermind who flips coins for human lives, McCarthy simultaneously strips down the American crime novel and broadens its concerns to encompass themes as ancient as the Bible and as bloodily contemporary as this morning's headlines. No Country for Old Men is a triumph. 
Teens
A Court of Thorns and Roses by Sarah J. Maas
book
book on CD
OverDrive ebook
OverDrive audiobook
When nineteen-year-old huntress Feyre kills a wolf in the woods, a terrifying creature arrives to demand retribution. Dragged to a treacherous magical land she knows about only from legends, Feyre discovers that her captor is not truly a beast, but one of the lethal, immortal faeries who once ruled her world. At least, he's not a beast all the time.
As she adapts to her new home, her feelings for the faerie, Tamlin, transform from icy hostility into a fiery passion that burns through every lie she's been told about the beautiful, dangerous world of the Fae. But something is not right in the faerie lands. An ancient, wicked shadow is growing, and Feyre must find a way to stop it, or doom Tamlin and his world forever.
---
Puddin' by Julie Murphy
book
OverDrive ebook
hoopla ebook
hoopla audiobook
Freading ebook
Millie Michalchuk has gone to fat camp every year since she was a little girl. Not this year. This year she has new plans to chase her secret dream and to kiss the boy she's crushing on.
Callie Reyes is the pretty girl who is next in line for dance-team captain and has the popular boyfriend. But when it comes to other girls, she's more frenemy than friend.
When circumstances bring the girls together over the course of a semester, they surprise everyone (especially themselves) by realizing that they might have more in common than they ever imagined.
A story about unexpected friendship, romance, and Texas-size girl power, this is another winner from Julie Murphy.
---
The Curious Incident of the Dog in the Night-time by Mark Haddon
book
book on CD
hoopla audiobook
Christopher John Francis Boone knows all the countries of the world and their capitals and every prime number up to 7,057. He relates well to animals, but has no understanding of human emotions. He cannot stand to be touched. And he detests the color yellow.

This improbable story of Christopher's quest to investigate the suspicious death of a neighborhood dog makes for one of the most captivating, unusual, and widely heralded novels in recent years.
---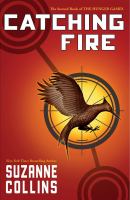 Catching Fire by Suzanne Collins
book
book on CD
OverDrive ebook
OverDrive audiobook
hoopla audiobook
Against all odds, Katniss Everdeen has won the annual Hunger Games with fellow district tribute Peeta Mellark. But it was a victory won by defiance of the Capitol and their harsh rules. Katniss and Peeta should be happy. After all, they have just won for themselves and their families a life of safety and plenty. But there are rumors of rebellion among the subjects, and Katniss and Peeta, to their horror, are the faces of that rebellion. The Capitol is angry. The Capitol wants revenge.
---
Ruby Red by Kerstin Gier
book
OverDrive ebook
OverDrive audiobook
hoopla audiobook
Gwyneth Shepherd's sophisticated, beautiful cousin Charlotte has been prepared her entire life for traveling through time. But unexpectedly, it is Gwyneth who in the middle of class takes a sudden spin to a different era.
Gwyneth must now unearth the mystery of why her mother would lie about her birth date to ward off suspicion about her ability, brush up on her history, and work with Gideon, the time traveler from a similarly gifted family that passes the gene through its male line, and whose presence becomes, in time, less insufferable and more essential. Together, Gwyneth and Gideon journey through time to discover who, in the 18th century and in contemporary London, they can trust.
---
I am Number Four by Pittacus Lore
book
OverDrive ebook
hoopla audiobook
hoopla ebook
Freading ebook
John Smith seems like an ordinary teenager, living a normal life with his guardian Henri in Paradise, Ohio. But for John, keeping a low profile is essential, because he is not an ordinary teenager. He's an alien from the planet Lorien, and he's on the run. A group of evil aliens from the planet Mogadore, who destroyed his world, are hunting anyone who escaped.
Nine Loric children were sent to Earth to live in hiding until they grew up and developed their Legacies, powers that would help them fight back—and help them save us. Three of them are now dead. John is Number Four, and he knows he's next….
---
Evernight by Claudia Gray
book
hoopla ebook
Freading ebook
Bianca wants to escape.
She's been uprooted from her small hometown and enrolled at Evernight Academy, an eerie Gothic boarding school where the students are somehow too perfect: smart, sleek, and almost predatory. Bianca knows she doesn't fit in.
Then she meets Lucas. He's not the "Evernight type" either, and he likes it that way. Lucas ignores the rules, stands up to the snobs, and warns Bianca to be careful, even when it comes to caring about him.
"I couldn't stand it if they took it out on you," he tells Bianca, "and eventually they would."
But the connection between Bianca and Lucas can't be denied. Bianca will risk anything to be with Lucas, but dark secrets are fated to tear them apart and to make Bianca question everything she's ever believed.
---
Odd One Out by Nic Stone
book
From the New York Times bestselling author of Dear Martin comes this illuminating exploration of old friendships, new crushes, and the path to self-discovery.
Courtney "Coop" Cooper: Dumped. Again. And normally I wouldn't mind. But right now, my best friend and source of solace, Jupiter Sanchez, is ignoring me to text some girl.
Rae Evelyn Chin: I assumed "new girl" would be synonymous with "pariah," but Jupiter and Courtney make me feel like I'm right where I belong. I also want to kiss him. And her. Which is . . . perplexing.
Jupiter Charity-Sanchez: The only thing worse than losing the girl you love to a boy is losing her to your boy. That means losing him, too. I have to make a move. . . .
One story. Three sides. No easy answers.
Tween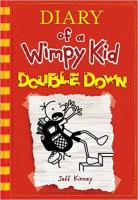 Diary of a Wimpy Kid: Double Down by Jeff Kinney
book
book on CD
OverDrive ebook
OverDrive audibook
hoopla audibook
hoopla ebook
The pressure's really piling up on Greg Heffley. His mom thinks video games are turning his brain to mush, so she wants her son to put down the controller and explore his "creative side."

As if that's not scary enough, Halloween's just around the corner and the frights are coming at Greg from every angle.

When Greg discovers a bag of gummy worms, it sparks an idea. Can he get his mom off his back by making a movie . . . and will he become rich and famous in the process? Or will doubling down on this plan just double Greg's troubles?
---
The Last Kids on Earth and the Zombie Parade by Max Brallier
book
OverDrive ebook
The zombies are disappearing. This might seem like a good thing, since zombies eat your brains, but normal human kid Jack Sullivan is suspicious. He keeps hearing an eerie shrieking noise that seems to be almost summoning the zombies — but to where, and for what (probably) foul purpose?

Jack, his three best friends (maybe the only people left on Earth), and their pet monster Rover need to get to the bottom of this. Along the way they encounter a lot more than they bargained for, including a giant Wormungulous, a pizza parlor monster hangout, an ancient evil who destroys worlds, and a stereo system that is totally the bomb. Can Jack figure out why the zombies are vanishing before he and his friends are next?
---
Becoming Muhammad Ali By James Patterson and Kwame Alexander
book
OverDrive ebook
OverDrive audiobook
Before he was a household name, Cassius Clay was a kid with struggles like any other. Kwame Alexander and James Patterson join forces to vividly depict his life up to age seventeen in both prose and verse, including his childhood friends, struggles in school, the racism he faced, and his discovery of boxing. Readers will learn about Cassius' family and neighbors in Louisville, Kentucky, and how, after a thief stole his bike, Cassius began training as an amateur boxer at age twelve. Before long, he won his first Golden Gloves bout and began his transformation into the unrivaled Muhammad Ali.
Fully authorized by and written in cooperation with the Muhammad Ali estate, and vividly brought to life by Dawud Anyabwile's dynamic artwork, Becoming Muhammad Ali captures the budding charisma and youthful personality of one of the greatest sports heroes of all time.
---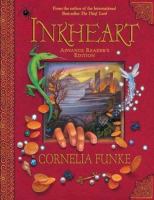 Inkheart by Cornelia Funke
book
OverDrive ebook
Meggie lives a quiet life alone with her father, a book-binder. But her father has a deep secret: he possesses an extraordinary magical power. One day a mysterious stranger arrives who seems linked to her father's past. Who is this sinister character and what does he want? Suddenly Meggie is involved in a breathless game of escape and intrigue as her father's life is put in danger. Will she be able to save him in time?
---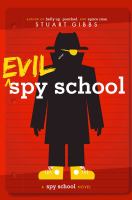 Evil Spy School by Stuart Gibbs
book
OverDrive ebook
OverDrive audiobook
hoopla audiobook
During a spy school game of Capture the Flag, twelve-year-old Ben Ripley somehow accidentally shoots a live mortar into the principal's office and immediately gets himself expelled. Not long after going back to the boring old real world, Ben gets recruited by evil crime organization SPYDER. And he accepts.

As a new student in SPYDER's evil spy school, which trains kids to become bad guys with classes like Counter Counterespionage and Laying Low 101, Ben does some secret spying of his own. He's acting as unofficial undercover agent, and it becomes quickly apparent that SPYDER is planning something very big and very evil.

Ben can tell he's a key part of the plan, but he's not quite sure what the plan is. Can Ben figure out what SPYDER is up to, and get word to the good guys without getting caught, before it's too late?
---
Brave Like That by Lindsey Stoddard
book
Cyrus Olson's dad is a hero — Northfield's former football star and now one of their finest firefighters. Everyone expects Cyrus to follow in his dad's record-breaking footsteps, and he wishes they were right, except he's never been brave like that. But this year, with the help of a stray dog, a few new friends, a little bit of rhythm, and a lot of nerve, he may just discover that actually…he is.
---
Ashes by Kathryn Lasky
book
Thirteen-year-old Gabriella Schramm's favorite pastime is reading. With Adolf Hitler slowly but unstoppably rising to power, Gaby turns to her books for comfort while the world around her changes dramatically: The streets become filled with soldiers, Gaby's sister's boyfriend raises his arm in a heil Hitler salute, and the Schramm's family friend Albert Einstein flees the country. When Gaby's beloved books come under attack, she fears she may have to leave behind the fiction and the life she has always cherished.
---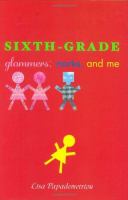 Sixth Grade Glommers, Norks and Me by Lisa Papademetriou
book
Allie Kimball is starting Grover Cleveland Middle School, and nothing is the same as it was in elementary school. Her friend Tamara is making her feel like a "nork" (someone beyond both nerd and dork, in Allie's hilarious vocabulary notes) for being overly unconcerned about her clothes and messy room. Worse yet, Tamara is turning into a "glommer" (a clingy friend) to stuck-up Renee, and making fun of Allie's soccer mates. Allie slowly begins to realize that she has changed too, even in how she feels about her longtime crush and other boys whom she formerly found dorky.
This story is a hoot, full of real kinds of middle school misadventures centered around a protagonist who has a kind heart and a tremendous gift for descriptive language. She's willing to look up meanings for words teachers give her, but sometimes she has a meaning and needs to make up a word to fit it, so each chapter includes her relevant gems. She could start a new trend with "stealth freakies" ("a feeling that comes before dread…"), and "road chicken" ("someone who can't decide which side to be on, and ends up standing in the middle of the road…which is, of course, where the cars are"). 
Children
The Story of Ferdinand by Munro Leaf
book
The Story of Ferdinand has enchanted readers since it was first published in 1936. All the other bulls would run and jump and butt their heads together. But Ferdinand would rather sit and smell the flowers. So what will happen when our pacifist hero is picked for the bullfights in Madrid?
---
Llama Llama and the Bully Goat by Anna Dewdney
book
Llama Llama likes to sing.
Gilroy laughs at everything.
Llama sings out just the same.
Gilroy says a not-nice name.
Teacher has some things to say: calling names is not OK.
Llama Llama is learning lots of new things at school and making many friends. But when Gilroy Goat starts teasing him and some of their classmates, Llama Llama isn't sure what to do. And then he remembers what his teacher told him: walk away and tell someone. It works. But then Llama Llama feels bad. Can he and Gilroy try to be friends again?
---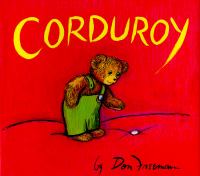 Corduroy by Don Freeman
book
Corduroy has been on the department store shelf for a long time. Yet as soon as Lisa sees him, she knows that he's the bear for her. Her mother, though, thinks he's a little shopworn. He's even missing a button. Still, Corduroy knows that with a bit of work he can tidy himself up and be just the bear for Lisa. And where better to start than with a nighttime adventure through the department store, searching for a new button
---
Get Red by Tony Porto
book
A boy's red crayon is very helpful at school, providing him with interesting facts about red things in the world, but, as it gets stubbier with use, it stops cooperating and starts hiding.
---
Big Bear Little Chair by Lizi Boyd
book
In this artful and deceptively simple book, master book creator Lizi Boyd is at it again. Using her inimitable style to expand upon a familiar concept, she has created a compendium of unexpected opposites that is also a charming and emotionally warm story about Big Bear, little bear, and the stories that bring them together.
---
We Love You, Mr. Panda by Steve Antony
book
Mr. Panda is wearing a t-shirt with the words "free hugs" on it, but it seems that none of his animal friends want his cuddles, they would rather hug each other. But he is in for a surprise.
---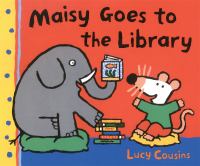 Maisy Goes to the Library by Lucy Cousins
book
Maisy goes to the library in search of a book about fish and a quiet place in which to read it.
---
The Look Book by Tana Hoban
book
Tana Hoban never ceases to mesmerize and stimulate her young admirers. Using her unmistakable full-color photographs and an intriguing die-cut format, she has created a striking concept book that will have young viewers scrutinizing and thinking about what they see — and don't see. In the tradition of Just Look and Take Another Look, here is yet another window of discovery to our everyday world.
*All summaries courtesy of the publisher unless otherwise noted.