Open your mind to the wonders of the natural world by walking with the polar bears, flying with the vespers, or swimming with the whale sharks. Curated by Carrie Goodall.
Ice Walker: A Polar Bear's Journey Through the Fragile Arctic by James Raffan
book
OverDrive ebook
From the top of the world, Hudson Bay looks like an enormous paw print on the torso of the continent, and through a vast network of lakes and rivers, the water in this bay connects to oceans across the globe. Here, at the heart of everything, walks Nanurjuk, or Nanu, one polar bear among the six thousand that traverse the 1.23 million square kilometers of ice and snow covering the bay. For millennia, Nanu's ancestors have roamed this great expanse, living, evolving, and surviving alongside humans in one of the most challenging and unforgiving habitats on earth. But that world is changing. In the Arctic's lands and waters, oil has been extracted and spilled. As global temperatures have risen, the sea ice that Nanu and her young need to hunt seal and fish has melted, forcing them to wait on land where the delicate balance between them and their two-legged neighbors has now shifted. This is the icescape that author and geographer James Raffan invites us to inhabit in Ice Walker.
In precise and provocative prose, he brings readers inside Nanu's world as she treks uncertainly around the heart of Hudson Bay, searching for nourishment for the children that grow inside her. She stops at nothing to protect her cubs from the dangers she can see–other bears, wolves, whales, humans–and those she cannot. By focusing his lens on this bear family, Raffan closes the gap between humans and bears, showing us how, like the water of the Hudson Bay, our existence and our future is tied to Nanu's, and asks us to consider what might be done about this fragile world before it is gone for good. Masterful, vivid, and haunting, Ice Walker is an utterly unique piece of creative nonfiction and a deeply affecting call to action.
---
A Life on Our Planet: My Witness Statement and Vision for the Future by David Attenborough
book
OverDrive ebook
OverDrive audiobook
In this scientifically informed account of the changes occurring in the world over the last century, award-winning broadcaster and natural historian David Attenborough shares a lifetime of wisdom and a hopeful vision for the future.
"See the world. Then make it better. I am 93. I've had an extraordinary life. It's only now that I appreciate how extraordinary. As a young man, I felt I was out there in the wild, experiencing the untouched natural world – but it was an illusion. The tragedy of our time has been happening all around us, barely noticeable from day to day — the loss of our planet's wild places, its biodiversity. I have been witness to this decline. A Life on Our Planet is my witness statement, and my vision for the future. It is the story of how we came to make this, our greatest mistake — and how, if we act now, we can yet put it right. We have one final chance to create the perfect home for ourselves and restore the wonderful world we inherited. All we need is the will to do so."
---
Vesper Flights: New and Collected Essays by Helen MacDonald
book
book on CD
hoopla ebook
In Vesper Flights, Helen Macdonald brings together a collection of her best loved essays with new pieces on topics ranging from nostalgia for a vanishing countryside to the tribulations of farming ostriches to her own private vespers while trying to fall asleep. Meditating on notions of captivity and freedom, immigration and flight, Helen invites us into her most intimate experiences: observing songbirds from the Empire State Building as they migrate through the Tribute of Light, watching tens of thousands of cranes in Hungary, and seeking the last golden orioles in Suffolk's poplar forests. She writes with heart-tugging clarity about wild boar, swifts, mushroom hunting, migraines, the strangeness of birds' nests, and the unexpected guidance and comfort we find when watching wildlife. By one of this century's most important and insightful nature writers, Vesper Flights is a captivating and foundational book about observation, fascination, time, memory, love and loss, and how we make sense of the world around us.
---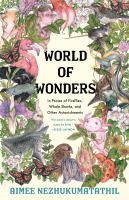 World of Wonders: In Praise of Fireflies, Whale Sharks, and Other Astonishments by Aimee Nezhukumatathil
book
hoopla ebook
From beloved, award-winning poet Aimee Nezhukumatathil comes a debut work of nonfiction: a collection of essays about the natural world, and the way its inhabitants can teach, support, and inspire us.
As a child, Nezhukumatathil called many places home: the grounds of a Kansas mental institution, where her Filipina mother was a doctor; the open skies and tall mountains of Arizona, where she hiked with her Indian father; and the chillier climes of western New York and Ohio. But no matter where she was transplanted, no matter how awkward the fit or forbidding the landscape, she was able to turn to our world's fierce and funny creatures for guidance.
"What the peacock can do," she tells us, "is remind you of a home you will run away from and run back to all your life." The axolotl teaches us to smile, even in the face of unkindness; the touch-me-not plant shows us how to shake off unwanted advances; the narwhal demonstrates how to survive in hostile environments. Even in the strange and the unlovely, Nezhukumatathil finds beauty and kinship. For it is this way with wonder: it requires that we are curious enough to look past the distractions in order to fully appreciate the world's gifts. Warm, lyrical, and gorgeously illustrated by Fumi Nakamura, World of Wonders is a book of sustenance and joy.
---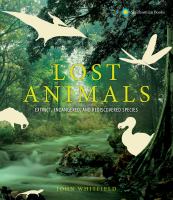 Lost Animals: Extinct, Endangered, and Rediscovered Species by John Whitfield
book
Lost Animals brings back to life some of the most charismatic creatures to inhabit the planet. It captures the imagination with more than 200 incredible photographs, artworks of fossils, and scientific drawings of charming creatures like dodos, paraceratherium (the largest land mammal), spinosaurus (the biggest carnivorous dinosaur), placeoderm fishes (the sharks of their day), and more. Lost Animals is a captivating documentation of evolution and extinction. Each chapter focuses on a specific time in Earth's history, from the Cambrian explosion (the most intense surge of evolution the world has ever experienced) to present times, with profiles of the key species that lived then. From long extinct animals to Lazarus species (animals that were thought to be extinct before being rediscovered) this book takes readers on a journey through Earth's natural history, highlighting the world's biggest animal losses and its moments of conservational hope.
---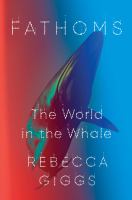 Fathoms: The World in the Whale by Rebecca Giggs
book
OverDrive ebook
OverDrive audiobook
When writer Rebecca Giggs encountered a humpback whale stranded on her local beachfront in Australia, she began to wonder how the lives of whales reflect the condition of our oceans. Fathoms: The World in the Whale is "a work of bright and careful genius" (Robert Moor, New York Times bestselling author of On Trails), one that blends natural history, philosophy, and science to explore: How do whales experience ecological change? How has whale culture been both understood and changed by human technology? What can observing whales teach us about the complexity, splendor, and fragility of life on earth?
In Fathoms, we learn about whales so rare they have never been named, whale songs that sweep across hemispheres in annual waves of popularity, and whales that have modified the chemical composition of our planet's atmosphere. We travel to Japan to board the ships that hunt whales and delve into the deepest seas to discover how plastic pollution pervades our earth's undersea environment.
With the immediacy of Rachel Carson and the lush prose of Annie Dillard, Giggs gives us a "masterly" (The New Yorker) exploration of the natural world even as she addresses what it means to write about nature at a time of environmental crisis. With depth and clarity, she outlines the challenges we face as we attempt to understand the perspectives of other living beings, and our own place on an evolving planet. Evocative and inspiring, Fathoms "immediately earns its place in the pantheon of classics of the new golden age of environmental writing" (Literary Hub).
---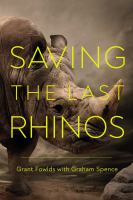 Saving the Last Rhinos: The Life of a Frontline Conservationist by Grant Fowlds
book
hoopla ebook
The remarkable story of Grant Fowlds, who has dedicated his life to saving the imperiled rhinos, vividly told with Graham Spence, co- author of the bestselling The Elephant Whisperer. Growing up on a farm in the eastern Cape of South Africa, Grant developed a deep love of nature, turning his back on the hunting to focus on saving wildlife of all kinds and the environment that sustains both them and us. He is a passionate conservationist who puts himself on the front line protecting rhinos in the wild right now, against armed poachers and in the long term, through his work with schoolchildren, communities, and policymakers, where the natural world and the lives of these incredible creatures need to be valued as priceless and irreplaceable wonders to ensure their protection.
---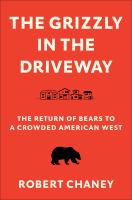 The Grizzly in the Driveway: The Return of Bears to a Crowded American West by Robert Chaney
book
Four decades ago, the areas around Yellowstone and Glacier National Parks sheltered the last few hundred surviving grizzlies in the Lower 48 states. Protected by the Endangered Species Act, their population has surged to more than 1,500, and this burgeoning number of grizzlies now collides with the increasingly populated landscape of the twenty-first-century American West. While humans and bears have long shared space, today's grizzlies navigate a shrinking amount of wilderness: cars whiz like bullets through their habitats, tourists check Facebook to pinpoint locations for a quick selfie with a grizzly, and hunters seek trophy prey. People, too, must learn to live and work within a potential predator's territory they have chosen to call home.
Mixing fast-paced storytelling with rich details about the hidden lives of grizzly bears, Montana journalist Robert Chaney chronicles the resurgence of this charismatic species against the backdrop of the country's long history with the bear. Chaney captures the clash between groups with radically different visions: ranchers frustrated at losing livestock, environmental advocates, hunters, and conservation and historic preservation officers of tribal nations. Underneath, he probes the balance between our demands on nature and our tolerance for risk.
---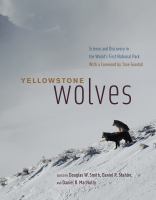 Yellowstone Wolves: Science and Discovery in America's First National Park edited by Douglas W. Smith, Daniel R. Stahler, and Daniel R. MacNulty ; with a foreword by Jane Goodall
book
In 2020, it will have been twenty-five years since one of the greatest wildlife conservation and restoration achievements of the twentieth century took place: the reintroduction of wolves to the world's first national park, Yellowstone. Eradicated after the park was established, then absent for seventy years, these iconic carnivores returned to Yellowstone in 1995 when the US government reversed its century-old policy of extermination and, despite some political and cultural opposition, began the reintroduction of forty-one wild wolves from Canada and northwest Montana. In the intervening decades, scientists have studied their myriad behaviors, from predation to mating to wolf pup play, building a one-of-a-kind field study that has both allowed us to witness how the arrival of top predators can change an entire ecosystem and provided a critical window into impacts on prey, pack composition, and much else.
Here, for the first time in a single book, is the incredible story of the wolves' return to Yellowstone National Park as told by the very people responsible for their reintroduction, study, and management. Anchored in what we have learned from Yellowstone, highlighting the unique blend of research techniques that have given us this knowledge, and addressing the major issues that wolves still face today, this book is as wide-ranging and awe-inspiring as the Yellowstone restoration effort itself. We learn about individual wolves, population dynamics, wolf-prey relationships, genetics, disease, management and policy, newly studied behaviors and interactions with other species, and the rippling ecosystem effects wolves have had on Yellowstone's wild and rare landscape. Perhaps most importantly of all, the book also offers solutions to ongoing controversies and debates. Featuring a foreword by Jane Goodall, beautiful images, a companion online documentary by celebrated filmmaker Bob Landis, and contributions from more than seventy wolf and wildlife conservation luminaries from Yellowstone and around the world, Yellowstone Wolves is a gripping, accessible celebration of the extraordinary Yellowstone Wolf Project and of the park through which these majestic and important creatures once again roam.
---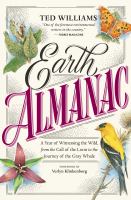 Earth Almanac: A Year of Witnessing the Wild, from the Call of the Loon to the Journey of the Gray Whale by Ted Williams
book
hoopla ebook
hoopla audiobook
Freading ebook
Renowned nature writer Ted Williams captures the wonders of the natural world in this series of short observational essays that describe the fleeting beauty of each season, from the deliberate flight of a bumblebee to the lush fragrance of wild grapes.
*All summaries courtesy of the publisher unless otherwise noted.