"In 1978, a joint congressional resolution established Asian/Pacific American Heritage Week. The first 10 days of May were chosen to coincide with two important milestones in Asian/Pacific American history: the arrival in the United States of the first Japanese immigrants (May 7, 1843) and contributions of Chinese workers to the building of the transcontinental railroad, completed May 10, 1869.
In 1992, Congress expanded the observance to a month-long celebration that is now known as Asian American and Pacific Islander Heritage Month." (US Census Bureau)
This list celebrates new books by Asian American and Pacific Islander authors. Curated by Ashley Lee.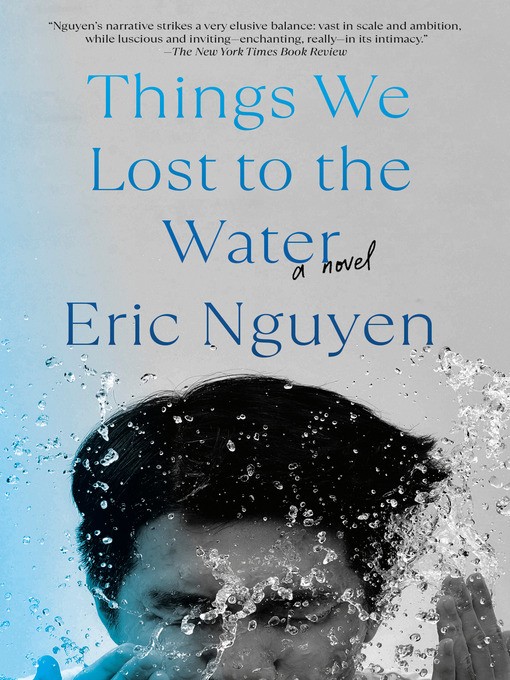 Things We Lost to the Water by Eric Nguyen
OverDrive ebook
When Huong arrives in New Orleans with her two young sons, she is jobless, homeless, and worried about her husband, Cong, who remains in Vietnam. As she and her boys begin to settle in to life in America, she continues to send letters and tapes back to Cong, hopeful that they will be reunited and her children will grow up with a father.

But with time, Huong realizes she will never see her husband again. While she copes with this loss, her sons, Tuan and Binh grow up in their absent father's shadow, haunted by a man and a country trapped in their memory and imagination. As they push forward, the three adapt to life in America in different ways: Huong takes up with a Vietnamese car salesman who is also new in town; Tuan tries to connect with his heritage by joining a local Vietnamese gang; and Binh, now going by Ben, embraces his adopted homeland and his burgeoning sexuality. Their search for identity—as individuals and as a family—threatens to tear them apart. But then disaster strikes the city they now call home, and they must find a new way to come together and honor the ties that bind them.
---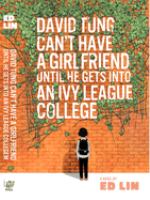 David Tung Can't Have a Girlfriend Until He Gets Into an Ivy League College by Ed Lin
book
"You're not allowed to have a girlfriend until college," my mother warned. "And you'd better get into an Ivy League school."
In David Tung Can't Have a Girlfriend Until He Gets Into an Ivy League College, novelist Ed Lin conjures up "a fast-paced, acid-tongued, hilarious teen drama for our age," says Marie Myung-Ok Lee, acclaimed author of Somebody's Daughter and Finding My Voice. Both playful and wryly observant, Ed Lin's YA debut explores coming-of-age in the Asian diaspora while navigating relationships through race, class, and young love. David Tung, our nerd-hero, is a Chinese American high school student who works in his family's restaurant, competes for top grades at his regular high school located in an upscale, Asian-majority New Jersey suburb, and attends weekend Chinese school in NYC's working-class Chinatown. While David faces parental pressures to get As and conform to cultural norms and expectations, he's caught up in the complicated world of high school love triangles. And amid these external pressures is the fear he will die alone, whether he gets into Harvard or not.
---
The Last Story of Mina Lee by Nancy Jooyoun Kim
book
large print book
OverDrive ebook
hoopla audiobook
Margot Lee's mother, Mina, isn't returning her calls. It's a mystery to twenty-six-year-old Margot, until she visits her childhood apartment in Koreatown, LA, and finds that her mother has suspiciously died. The discovery sends Margot digging through the past, unraveling the tenuous invisible strings that held together her single mother's life as a Korean War orphan and an undocumented immigrant, only to realize how little she truly knew about her mother. Interwoven with Margot's present-day search is Mina's story of her first year in Los Angeles as she navigates the promises and perils of the American myth of reinvention. While she's barely earning a living by stocking shelves at a Korean grocery store, the last thing Mina ever expects is to fall in love. But that love story sets in motion a series of events that have consequences for years to come, leading up to the truth of what happened the night of her death.
Told through the intimate lens of a mother and daughter who have struggled all their lives to understand each other, The Last Story of Mina Lee is a powerful and exquisitely woven debut novel that explores identity, family, secrets, and what it truly means to belong.
---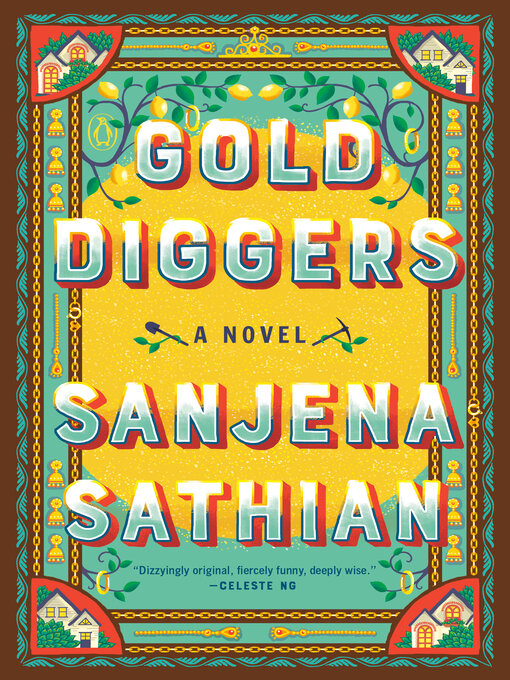 Gold Diggers by Sanjena Sathian
OverDrive ebook
A floundering second-generation teenager growing up in the Bush-era Atlanta suburbs, Neil Narayan is authentic, funny, and smart. He just doesn't share the same drive as everyone around him. His perfect older sister is headed to Duke. His parents' expectations for him are just as high. He tries to want this version of success, but mostly, Neil just wants his neighbor across the cul-de-sac, Anita Dayal.

But Anita has a secret: she and her mother Anjali have been brewing an ancient alchemical potion from stolen gold that harnesses the ambition of the jewelry's original owner. Anjali's own mother in Bombay didn't waste the precious potion on her daughter, favoring her sons instead. Anita, on the other hand, just needs a little boost to get into Harvard. But when Neil—who needs a whole lot more—joins in the plot, events spiral into a tragedy that rips their community apart.
Ten years later, Neil is an oft-stoned Berkeley history grad student studying the California gold rush. His high school cohort has migrated to Silicon Valley, where he reunites with Anita and resurrects their old habit of gold theft—only now, the stakes are higher. Anita's mother is in trouble, and only gold can save her. Anita and Neil must pull off one last heist.

Gold Diggers is a fine-grained, profoundly intelligent, and bitingly funny investigation into questions of identity and coming of age that tears down American shibboleths.
---
I Love You So Mochi by Sarah Kuhn
book
hoopla audiobook
Kimi Nakamura loves fashion and designing clothes, jewelry, and accessories for her friends, but her mother, a professional graphic designer with a long list of clients, wants her to be a serious artist and is furious when she discovers Kimi has dropped her fine arts class. So Kimi is relieved to be able to visit her normally estranged grandparents in Kyoto during spring break; but what begins as an escape becomes a way to learn about her mother and her Japanese heritage, and to figure out how to move forward with her own life.
---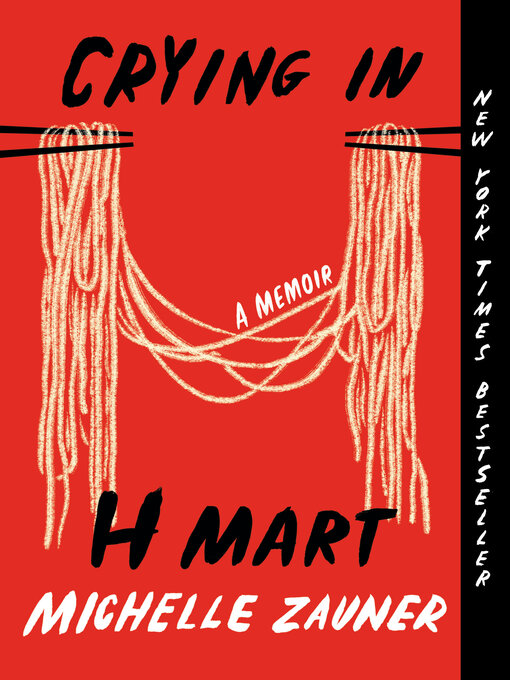 Crying in H Mart: A Memoir by Michelle Zauner
OverDrive ebook
In this exquisite story of family, food, grief, and endurance, Michelle Zauner proves herself far more than a dazzling singer, songwriter, and guitarist. With humor and heart, she tells of growing up one of the few Asian American kids at her school in Eugene, Oregon; of struggling with her mother's particular, high expectations of her; of a painful adolescence; of treasured months spent in her grandmother's tiny apartment in Seoul, where she and her mother would bond, late at night, over heaping plates of food. As she grew up, moving to the East Coast for college, finding work in the restaurant industry, and performing gigs with her fledgling band—and meeting the man who would become her husband—her Koreanness began to feel ever more distant, even as she found the life she wanted to live. It was her mother's diagnosis of terminal cancer when Michelle was twenty-five that forced a reckoning with her identity and brought her to reclaim the gifts of taste, language, and history her mother had given her.

Vivacious and plainspoken, lyrical and honest, Zauner's voice is as radiantly alive on the page as it is onstage. Rich with intimate anecdotes that will resonate widely, and complete with family photos, Crying in H Mart is a book to cherish, share, and reread.
---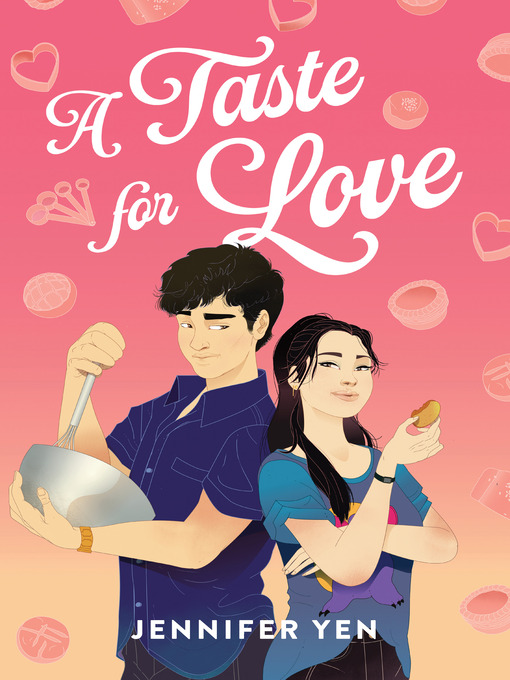 A Taste for Love by Jennifer Yen
OverDrive ebook
For fans of Jenny Han, Jane Austen, and The Great British Baking Show, A Taste for Love, is a delicious rom com about first love, familial expectations, and making the perfect bao.

To her friends, high school senior Liza Yang is nearly perfect. Smart, kind, and pretty, she dreams big and never shies away from a challenge. But to her mom, Liza is anything but. Compared to her older sister Jeannie, Liza is stubborn, rebellious, and worst of all, determined to push back against all of Mrs. Yang's traditional values, especially when it comes to dating.

The one thing mother and daughter do agree on is their love of baking. Mrs. Yang is the owner of Houston's popular Yin & Yang Bakery. With college just around the corner, Liza agrees to help out at the bakery's annual junior competition to prove to her mom that she's more than her rebellious tendencies once and for all. But when Liza arrives on the first day of the bake-off, she realizes there's a catch: all of the contestants are young Asian American men her mother has handpicked for Liza to date.

The bachelorette situation Liza has found herself in is made even worse when she happens to be grudgingly attracted to one of the contestants; the stoic, impenetrable, annoyingly hot James Wong. As she battles against her feelings for James, and for her mother's approval, Liza begins to realize there's no tried and true recipe for love.
---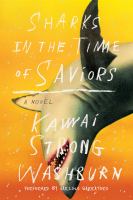 Sharks In the Time of Saviors by Kawai Strong Washburn
book on CD
OverDrive audiobook
hoopla audiobook
Sharks in the Time of Saviors is a groundbreaking debut novel that folds the legends of Hawaiian gods into an engrossing family saga; a story of exile and the pursuit of salvation from Kawai Strong Washburn.
In 1995 Kailua-Kona, Hawaii, on a rare family vacation, seven-year-old Nainoa Flores falls overboard a cruise ship into the Pacific Ocean. When a shiver of sharks appears in the water, everyone fears for the worst. But instead, Noa is gingerly delivered to his mother in the jaws of a shark, marking his story as the stuff of legends. Nainoa's family, struggling amidst the collapse of the sugarcane industry, hails his rescue as a sign of favor from ancient Hawaiian gods, a belief that appears validated after he exhibits puzzling new abilities. But as time passes, this supposed divine favor begins to drive the family apart: Nainoa, working now as a paramedic on the streets of Portland, struggles to fathom the full measure of his expanding abilities; further north in Washington, his older brother Dean hurtles into the world of elite college athletics, obsessed with wealth and fame; while in California, risk-obsessed younger sister Kaui navigates an unforgiving academic workload in an attempt to forge her independence from the family's legacy. When supernatural events revisit the Flores family in Hawaii, with tragic consequences, they are all forced to reckon with the bonds of family, the meaning of heritage, and the cost of survival.
---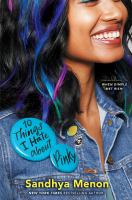 10 things I Hate about Pinky by Sandhya Menon (book 3 of the Dimple and Rishi series)
book
Pinky Kumar wears the social justice warrior badge with pride. From raccoon hospitals to persecuted rock stars, no cause is too esoteric for her to champion. But a teeny tiny part of her also really enjoys making her conservative, buttoned-up corporate lawyer parents cringe. Samir Jha might have a few…quirks remaining from the time he had to take care of his sick mother, like the endless lists he makes in his planner and the way he schedules every minute of every day, but those are good things. They make life predictable and steady. Pinky loves lazy summers at her parents' Cape Cod lake house, but after listening to them harangue her about the poor decisions she's made (a.k.a. boyfriends she's had), she hatches a plan. Get her sorta-friend-sorta-enemy–who is a total Harvard-bound Mama's boy–to pose as her perfect boyfriend for the summer.
When Samir's internship falls through, leaving him with an unplanned summer, he gets a text from Pinky asking if he'll be her fake boyfriend in exchange for a new internship. He jumps at the opportunity; Pinky's a weirdo, but he can survive a summer with her if there's light at the end of the tunnel. As they bicker their way through lighthouses and butterfly habitats, sparks fly, and they both realize this will be a summer they'll never forget.

---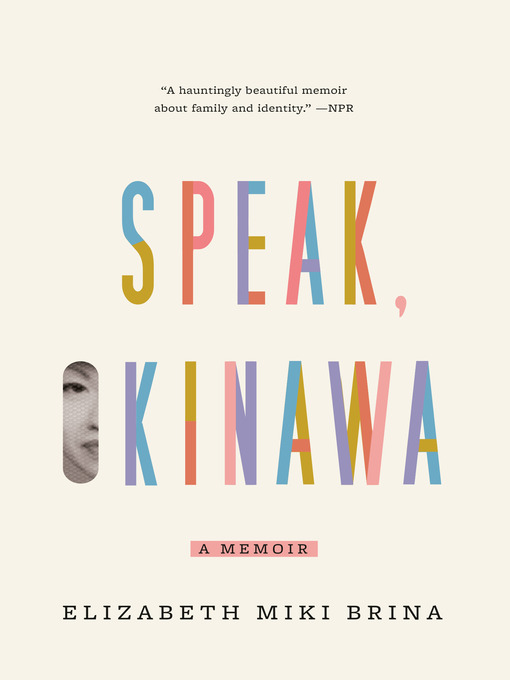 Speak, Okinawa: A Memoir by Elizabeth Miki Brina
OverDrive ebook
A searing, deeply candid memoir about a young woman's journey to understanding her complicated parents—her father a Vietnam veteran, her mother an Okinawan war bride—and her own, fraught cultural heritage.

Elizabeth's mother was working as a nightclub hostess on U.S.-occupied Okinawa when she met the American soldier who would become her husband. The language barrier and power imbalance that defined their early relationship followed them to the predominantly white, upstate New York suburb where they moved to raise their only daughter. There, Elizabeth grew up with the trappings of a typical American childhood and adolescence. Yet, even though she felt almost no connection to her mother's distant home, she also felt out of place among her peers.
Decades later, Elizabeth comes to recognize the shame and self-loathing that haunt both her and her mother, and attempts a form of reconciliation, not only to come to terms with the embattled dynamics of her family but also to reckon with the injustices that reverberate throughout the history of Okinawa and its people. Clear-eyed and profoundly humane, Speak, Okinawa is a startling accomplishment—a heartfelt exploration of identity, inheritance, forgiveness, and what it means to be an American.
---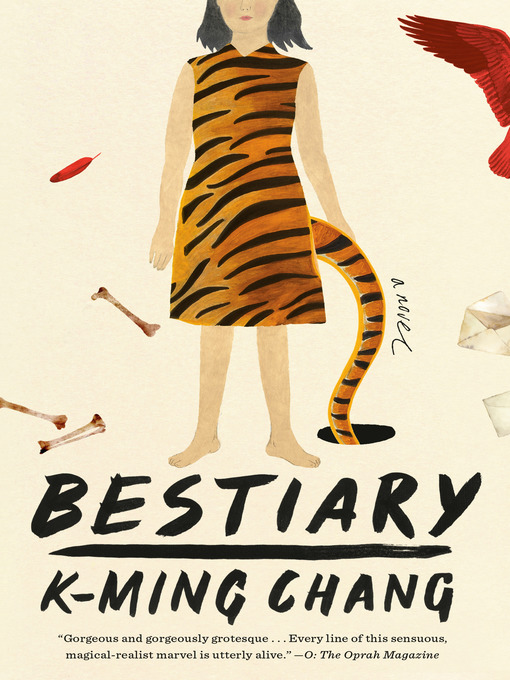 Bestiary: A Novel by K-Ming Chang
OverDrive ebook
Three generations of Taiwanese American women are haunted by the myths of their homeland in this spellbinding, visceral debut about one family's queer desires, violent impulses, and buried secrets.

One evening, Mother tells Daughter a story about a tiger spirit who lived in a woman's body. She was called Hu Gu Po, and she hungered to eat children, especially their toes. Soon afterward, Daughter awakes with a tiger tail. And more mysterious events follow: holes in the backyard spit up letters penned by her grandmother; a visiting aunt arrives with snakes in her belly; a brother tests the possibility of flight. All the while, Daughter is falling for Ben, a neighborhood girl with strange powers of her own. As the two young lovers translate the grandmother's letters, Daughter begins to understand that each woman in her family embodies a myth—and that she will have to bring her family's secrets to light in order to change their destiny.

With a poetic voice of crackling electricity, K-Ming Chang is an explosive young writer who combines the wit and fabulism of Helen Oyeyemi with the subversive storytelling of Maxine Hong Kingston. Tracing one family's history from Taiwan to America, from Arkansas to California, Bestiary is a novel of migration, queer lineages, and girlhood.