Journaling is a great way to self-reflect and stay organized. The practice has gained popularity in recent years with new methods being used such as bullet or dot journaling and incorporating mixed media art in journals. These books about journaling contain writing prompts and motivation, method guides, art journaling inspiration, instructions for creating your own handcrafted journal, and more. Curated by Samantha Matherne.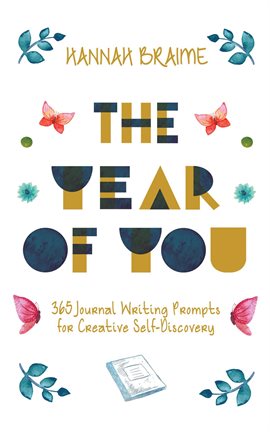 The Year of You:  365 Journal Writing Prompts for Creative Self-Discovery by Hannah Braime
hoopla ebook
Are you ready to go on a journey? The Year of You is an invitation to discover more about yourself, become more conscious about what you want, and create a rich and fulfilling life through one journaling prompt a day. This book provides you with 365 structured journaling prompts to explore the most important areas of your life, from identity, health, and relationships, to money, career, and the future. Whether you're new to journaling or have enjoyed a reflective writing practice for some time, this book provides a wealth of inspiration that will deepen your understanding and awareness of what makes you who you are.
---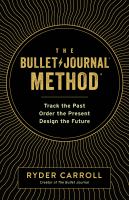 The Bullet Journal Method:  Track the Past, Order the Present, Design the Future by Ryder Carroll
book
There's a reason this system for time management, goal setting, and intentional living has been adopted by millions around the globe:  it works. Not only will you get more done, but you'll get the right things done. All you need is a pen, paper, and five spare minutes a day.
In The Bullet Journal Method, Ryder Carroll, the system's founder, provides an essential guide to avoiding all-too-common beginner mistakes and building a core discipline from which you can personalize your practice. You'll not only learn to organize your tasks, but to focus your time and energy in pursuit of what's truly meaningful to you by following three simple steps:
* Track the past. Create a clear and comprehensive record of your thoughts.
* Order the present. Find daily calm and clarity by tackling your to-do list in a more mindful, systematic, and productive way.
* Design the future. Transform your vague curiosities into meaningful goals, and then break those goals into manageable action steps that lead to big change.
Whether you're a frustrated list maker, an overwhelmed multitasker, or a creative who needs some structure, The Bullet Journal Method will help you go from passenger to pilot of your own life.
---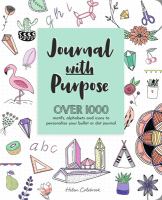 Journal with Purpose by Helen Colebrook
book
hoopla ebook
The ultimate reference for journaling, packed with over 1,000 motifs to decorate your dot journal pages. Trace direct from the page or follow one of the exercises to improve your skills. This book will be a constant source of inspiration for journaling and an 'instant fix' for people who find the more artistic side of journaling a challenge.
---
Embrace Your Weird: Face Your Fears and Unleash Creativity by Felicia Day
book
Face your fears and fuel your creative passions with New York Times bestselling author Felicia Day's workbook for getting motivated, getting inspired, and getting weird. What do I have to offer the world? What if my work doesn't meet others' standards — or my own? How do I combat that nagging fear of failure and just put myself out there? It's time to confront those negative thoughts once and for all and let your creativity blossom! Actress and bestselling author of You're Never Weird on the Internet (Almost) Felicia Day is here to empower you to overcome what holds you back, be brave enough to be vulnerable, and allow yourself to let loose. Part guided journal, part imaginative workbook, Embrace Your Weird offers a series of exciting exercises to get your creative juices flowing, fun prompts designed to get your imagination unblocked, and plenty of space throughout to just play in the margins and get your neurons firing. Like Wreck This Journal meets You Are a Badass, Embrace Your Weird will help you get back in touch with the joy of creating, and feel confident about what you have to offer to the world!
---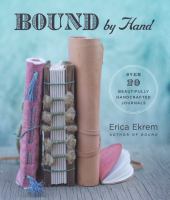 Bound by Hand: Over 20 Beautifully Handcrafted Journals by Erica Ekram
book
Freading ebook
Create a lovely handmade journal that's entirely yours, from the cover to the last word, with this how-to from a talented bookbinding author.
Following the successful Bound comes this stunning collection of journals from designer and artist Erica Ekrem. Ekrem demonstrates how to craft 21 lovely Old-World-style journals, some using repurposed materials and found objects, and provides instructions for making accessories like tassels and adding decorative inking, stamping, and stitching. Each journal is designed for a specific purpose or hobby and includes inspiring journaling prompts. Create a water-resistant book bound between two river stones, a refillable booklet perfect for a prolific writer, and a nature journal with a strap to throw over your shoulder.
---
Cute Hand Lettering:  For Journals, Planners, and More by Cindy Guentert-Baldo
book
Make your journal pages shine. With this book, readers can learn to hand letter as beautifully as the experts in the planner and journaling communities. Inspirational teacher and sticker designer Cindy Guentert-Baldo shows you how. Tutorials and example pages will have you creating amazing journal pages and art projects in no time. The book includes plenty of practice space and prompts to inspire daily drills and experimentation. Decorate letters, learn different styles, and add to your toolbox of journal-lettering ideas.
---
Hack Your Journal: Stay Organized & Record Everything that Matters with One Notebook.
book
DIY planners have become a super-popular way to stay organized, and Hack Your Journal helps readers create eye-catching customized pages! Every section showcases a set of layout concepts — for weekly planning, habit trackers, daily reflections, and more — but with unique variations and artistic styles. Some require only a pen and paper; others feature elaborate ideas for adding color and embellishments. Step-by-step instructions make it easy to recreate these pages, while sidebars provide quick tutorials on decorative techniques.
---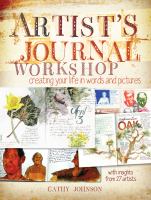 Artist's Journal Workshop by Cathy Johnson
book
An artist's journal is a powerful creative tool, offering you a safe place to experiment, explore, consider and improve. Artist's Journal Workshop provides all the guidance, structure and inspiration you need to create a meaningful art-journaling practice. Starting with the question, "What do you want from your journal?" you'll build a sound journaling concept that will serve your unique creative needs and give you the freedom to practice, play, and develop as an artist. Featuring rich visual examples on every page, you'll receive continual guidance and inspiration from:

– 27 international artists who share pages and advice from their own art journals
– More than 25 hands-on exercises to help you personalize your journal while developing new ideas and techniques
– Journal pages featuring travel sketching, nature studies and celebrations of daily life
– Prompts for visually commemorating life events and milestones
– Support for working through creative doubts and blocks
– A range of artistic styles and perspectives to study and admire
– Instruction for trying your hand at new methods and materials
---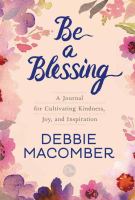 Be a Blessing:  A Journal for Cultivating Kindness, Joy, and Inspiration by Debbie Macomber
book
Debbie Macomber has inspired readers for years with stories of love and resilience, creating characters who overcome all obstacles to become their best selves. Now Debbie shares the gifts and opportunities she has experienced as a lifelong journaler, guiding you through the process of cultivating your own creativity and well-being through journaling.
Inside, you will find the perfect tools to jump-start your journey to a more mindful life:
– intuitive prompts to spark self-reflection
– insightful quotes and beautiful illustrations to inspire your creative side
– step-by-step guidance and encouragement from Debbie herself
---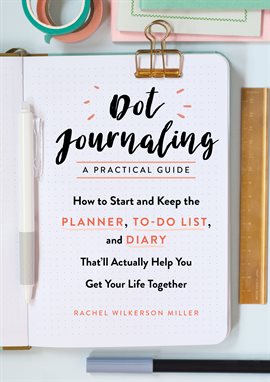 Dot Journaling — A Practical Guide by Rachel Wilkerson Miller
hoopla ebook
Freading ebook
How to Start and Keep the Planner, To-Do List, and Diary That'll Actually Help You Get Your Life Together
Organize your life, record what matters, and get stuff done! What the heck is a dot journal? It's a planner, to-do list, and diary for every aspect of your life: work, home, relationships, hobbies, everything. Early adopter Rachel Wilkerson Miller explains how to make a dot journal work for you-whether you find the picture-perfect examples on Pinterest inspiring or, well, intimidating. You decide how simple or elaborate your journal will be, and what goes in there: Lists of your to-do's, to-don'ts, and more. Symbols that will make those lists efficient and effective. Spreads to plan your day, week, month, or year. Trackers for your habits and goals (think health, money, travel). Accoutrements such as washi tape, book darts, and more!
---
Drawing from Life: The Journal as Art by Jennifer New
book
Who hasn't, at one time or other, kept a journal? The impulse to record our daily lives on paper is nothing if not universal. Still, only a few of us have the discipline to make it past the first few entries, and fewer still manage to create diaries whose insight and visual beauty can inspire anyone but their authors. Drawing from Life: The Journal as Art is an exploration of these exceptions — books of obsessive wonder filled to their borders with drawings, sketches, watercolors, graphs, charts, lists, collages, portraits, and photographs.
Jennifer New takes readers on a spirited tour into the private worlds of journal keepers — an architect, a traveler, a film director, an archeologist, a cancer patient, a songwriter, a quiltmaker, a gardener, an artist, a cyclist, and a scientist, to name just a few — illustrating a broad range of journaling styles and techniques that in the end show how each of us can go about documenting our everyday lives. Excerpts from journals by such artists as Maira Kalman, Steven Holl, David Byrne, and Mike Figgis give us a peek at how creative souls observe, reflect, and explore.
For those who already keep a journal, Drawing from Life will be an inspiration. For those who have always wanted to or tried and failed it might just be the motivation needed to get past that first week.
---
100 Days of Bible Promises: A Devotional Journal by Shanna Noel
book
Exquisitely and thoughtfully designed, we've taken the top 100 life topics and provided a brief devotional with Scripture to address each life need. For each day, there is a featured Scripture, devotion, prayer, and space for doodling, journaling, writing notes, or any other forms of creative expression. This deluxe book is extremely practical bringing God's word to our lives today!
---
Journal Fodder 365:  Daily Doses of Inspiration for the Art Addict by Eric M. Scott and David R. Modler
book
Provides readers with a year-long workshop filled with exercises, prompts, artwork and inspiration to cultivate a visual journaling habit.
Learn how to journal your exceptional story. Life is not always extraordinary in all its details, but it is the sum of those ordinary events that add up to extraordinary lives. The journal is no different.
With Journal Fodder 365, the Journal Fodder Junkies will lead you on a year-long adventure in drawing and writing, in painting and collage, and in the flotsam and jetsam of your daily experiences. You will uncover simple strategies to make the visual journal a part of your life and you'll discover new techniques for refining your personal narrative in an authentic and unique voice.
Inside You'll Find:
-12 themed chapters, ranging from Personal Mythologies and Histories to Connections and Relationships to Symbolically Speaking and beyond
-Dozens of step-by-step demonstrations for painting, drawing, writing, and collage techniques
-12 suggested excursions for you and your journal
-12 exploded views showing real-life applications of the lessons and prompts
---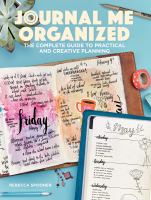 Journal Me Organized: The Complete Guide to Practical and Creative Planning by Rebecca Spooner
book
Need to get organized? Blogging star Rebecca Spooner shows you how to create a great journal that will put your life in order. Whether you're rearranging your laundry room, planning the week's menus, outlining your dream vacation, or training for your first 5K, Journal Me Organized provides all the information you need to eliminate mental clutter, focus on goals, and enjoy a creative outlet. Author Rebecca Spooner covers everything, from choosing a notebook and the basics of cross-referencing to the intricacies of different types of journaling, planning, goal setting, and time management. The fun truly begins with Spooner's inspirational pages, clever ideas, and easy-to-follow instructions. She provides tutorials, sample lettering to trace, and templates that range from minimalist daily spreads to exuberant designs that capture the joy of holidays, birthdays, and personal milestones.
---
Fabric Art Journals:  Making, Sewing, and Embellishing Journals from Cloth and Fibers by Pam Sussman
book
This is the first comprehensive book that offers complete step-by-step instruction and patterns for creating unique book structures from cloth. Fabric Art Journals offers vital information on getting started, from choosing fabrics and creating patterns to basic sewing techniques. In addition to learning how to make various styles of fabric books, readers will learn embellishment techniques that include painting, writing, decorative stitching, print and transfer styles, machine and hand embroidery, and quilting. An inspirational gallery provides a brilliant collection of artists' work in this medium. Fabric Art Journals not only teaches, but also inspires. It's a must-have for anyone interested in book making and fabric art.
*All summaries courtesy of the publisher unless otherwise noted.