The books that make up this list all have unconventional formats, combining great story-telling with eye-catching visuals or mind-engaging tactics, such as pictures formed by the text, explosions of font to draw your eye, sections of text you need to re-orient the book in order to read, pages styled as different types of documents, or a narrative you can read through multiple different ways. Although some of these books are available in electronic forms, we suggest reading the hard copies for the full formatting effect! Curated by Tabor Millien.
Adults
House of Leaves by Mark Z. Danielewski
book
This haunting is chronicled through footnotes, long asides, words in the margin, whole pages with a single word or maybe a sentence written sideways, and then pages with ink filling all the available space.
A young family moves into a small home on Ash Tree Lane where they discover something is terribly wrong: their house is bigger on the inside than it is on the outside. Of course, neither Pulitzer Prize-winning photojournalist Will Navidson nor his companion Karen Green was prepared to face the consequences of that impossibility, until the day their two little children wandered off and their voices eerily began to return another story — of creature darkness, of an ever-growing abyss behind a closet door, and of that unholy growl which soon enough would tear through their walls and consume all their dreams.
---
theMystery.doc by Matthew McIntosh
book
hoopla ebook
Freading ebook
Rooted in the western United States in the decade post-9/11, theMystery.doc follows a young writer and his wife as he attempts to write his second book, a national epic he hopes will last forever, and as he searches for a form that will express the world as it has become, revealing the interconnectedness of all our lives. Pop-up ads, internet search results, spam, lines of code, frames of film and television mix with canonical works of literature, alchemical manuscripts, transcripts of personal conversations, and the story of a man who wakes up one morning not knowing who he is, a blank document called themystery.doc newly appeared on his computer. Part love story, part prose poem, part documentary, part existential whodunit, part future-fiction, part Bildungsroman, part memoir, theMystery.doc is about the quest to find something lasting in a world where everything is in danger of slipping away. Love, loss, birth, death, technology, terrorism and the American Dream come together to form a great symphonic work that dazzles in both its structure and in its deep emotional resonance.
---
The Raw Shark Texts by Steven Hall
book
hoopla ebook
Freading ebook
On some pages, the text forms pictures – such as a shark stalking closer and closer to you.
Eric Sanderson wakes up one day with no idea who or where he is. A note instructs him to call a Dr. Randle, who informs him that he is undergoing yet another episode of memory loss and that for the last two years—since the tragic death of his great love, Clio, while vacationing in Greece—he's been suffering from an acute dissociative disorder. But there may be more to the story, or it may be a different story altogether. As Eric Sanderson begins to examine letters and papers left behind by "the first Eric Sanderson" and the staggering tale they seem to contain, he and the reader embark on a quest to recover the truth and to escape the predatory forces that threaten to devour him. Moving with the pace and momentum of a superb thriller, exploring ideas about language and information as well as identity, The Raw Shark Texts is ultimately a novel about the magnitude of love and the devastating effect of losing that love.
---
Crossings by Alex Landragin
book
hoopla audiobook
On the brink of the Nazi occupation of Paris, a German-Jewish bookbinder stumbles across a manuscript called Crossings. It has three narratives, each as unlikely as the next. And the narratives can be read one of two ways: either straight through or according to an alternate chapter sequence.
The first story in Crossings is a never-before-seen ghost story by the poet Charles Baudelaire, penned for an illiterate girl. Next is a noir romance about an exiled man, modeled on Walter Benjamin, whose recurring nightmares are cured when he falls in love with a storyteller who draws him into a dangerous intrigue of rare manuscripts, police corruption, and literary societies. Finally, there are the fantastical memoirs of a woman-turned-monarch whose singular life has spanned seven generations.
With each new chapter, the stunning connections between these seemingly disparate people grow clearer and more extraordinary. Crossings is an unforgettable adventure full of love, longing and empathy.
---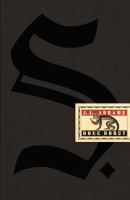 S. by J.J. Abrams
book
There's Straka's novel…and then there's Jen and Eric's notes scribbled in the margins, postcards, newspaper clippings, and letters hidden between the pages.
A young woman picks up a book left behind by a stranger. Inside it are his margin notes, which reveal a reader entranced by the story and by its mysterious author. She responds with notes of her own, leaving the book for the stranger, and so begins an unlikely conversation that plunges them both into the unknown. The book: Ship of Theseus, the final novel by a prolific but enigmatic writer named V.M. Straka, in which a man with no past is shanghaied onto a strange ship with a monstrous crew and launched onto a disorienting and perilous journey. The writer: Straka, the incendiary and secretive subject of one of the world's greatest mysteries, a revolutionary about whom the world knows nothing apart from the words he wrote and the rumors that swirl around him. The readers: Jennifer and Eric, a college senior and a disgraced grad student, both facing crucial decisions about who they are, who they might become, and how much they're willing to trust another person with their passions, hurts, and fears.
---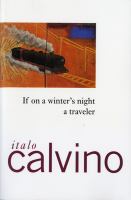 If On a Winter's Night a Traveler by Italo Calvino
book
hoopla audiobook
If On a Winter's Night a Traveler turns out to be not one novel but ten, each with a different plot, style, ambience, and author, and each interrupted at a moment of suspense. Together they form a labyrinth of literatures, known and unknown, alive and extinct, through which two readers, a male and a female, pursue both the story lines that intrigue them and one another.
---
Miss Peregrine's Home for Peculiar Children by Ransom Riggs
book
book in Spanish
book on CD
OverDrive ebook
OverDrive audiobook
The author builds his story around old polaroid pictures he found at flea markets and yard sales.
In an unforgettable novel that mixes spine-tingling fiction with haunting photography' a horrific tragedy sets sixteen-year-old Jacob on a remote island off the coast of Wales' where he discovers the crumbling ruins of Miss Peregrine's Home for Peculiar Children. As Jacob explores its abandoned rooms' it becomes clear that Miss Peregrine's children were more than just peculiar. They may have been dangerous. And somehow – they may still be alive. 
Teens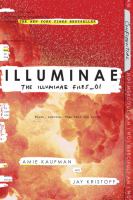 Illuminae by Amie Kaufman
book
This morning, Kady thought breaking up with Ezra was the hardest thing she'd have to do. This afternoon, her planet was invaded.
The year is 2575, and two rival mega-corporations are at war over a planet that's little more than a speck at the edge of the universe. Now with enemy fire raining down on them, Kady and Ezra–who are barely even talking to each other–are forced to evacuate with a hostile warship in hot pursuit.
But their problems are just getting started. A plague has broken out and is mutating with terrifying results; the fleet's AI may actually be their enemy; and nobody in charge will say what's really going on. As Kady hacks into a web of data to find the truth, it's clear the only person who can help her is the ex-boyfriend she swore she'd never speak to again.
Told through a fascinating dossier of hacked documents–including emails, maps, files, IMs, medical reports, interviews, and more—Illuminae is the first book in a heart-stopping trilogy about lives interrupted, the price of truth, and the courage of everyday heroes.
---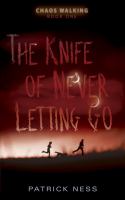 The Knife of Never Letting Go by Patrick Ness
book
OverDrive ebook
Explosions of font in this book are used to express what it's like to live in a town where everyone can hear your thoughts.
Todd Hewitt is the only boy in a town of men. Ever since the settlers were infected with the Noise germ, Todd can hear everything the men think, and they hear everything he thinks. Todd is just a month away from becoming a man, but in the midst of the cacophony, he knows that the town is hiding something from him — something so awful Todd is forced to flee with only his dog, whose simple, loyal voice he hears too. With hostile men from the town in pursuit, the two stumble upon a strange and eerily silent creature: a girl. Who is she? Why wasn't she killed by the germ like all the females on New World? Propelled by Todd's gritty narration, readers are in for a white-knuckle journey in which a boy on the cusp of manhood must unlearn everything he knows in order to figure out who he truly is.
---
Challenger Deep by Neal Shusterman
book
hoopla ebook
hoopla audiobook
Freading ebook
Written by the author based on his own son's experience with schizophrenia, this book mashes together reality and delusions. Absent-minded, scribbled art is sprinkled throughout its pages.
Caden Bosch is on a ship that's headed for the deepest point on Earth: Challenger Deep, the southern part of the Marianas Trench.
Caden Bosch is a brilliant high school student whose friends are starting to notice his odd behavior.
Caden Bosch is designated the ship's artist in residence, to document the journey with images.
Caden Bosch pretends to join the school track team but spends his days walking for miles, absorbed by the thoughts in his head.
Caden Bosch is split between his allegiance to the captain and the allure of mutiny.
Caden Bosch is torn.
---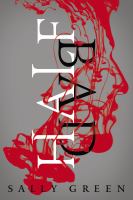 Half Bad by Sally Green
book
large print book
book on CD
hoopla audiobook
OverDrive audiobook
This novel plays with font size to reflect emotional turmoil.
In modern-day England, witches live alongside humans: White witches, who are good; Black witches, who are evil; and Nathan, who is both. Nathan's father is the world's most powerful Black witch. His mother is dead. He is trapped in a cage. Nathan must escape before his seventeenth birthday to receive three gifts from his father and come into his own as a witch – or he will die. But how can Nathan find his father when there is no one safe to trust?
---
The Leaving by Tara Altebrando
book
hoopla audiobook 
Six kindergartners were taken. Eleven years later, five come back–with no idea of where they've been. No one remembers the sixth victim, Max. Avery, Max's sister, needs to find her brother–dead or alive–and isn't buying this whole memory-loss story. At times, to reflect the emotions and capture the feelings behind the words, the text moves around the page fluidly like a wave or maybe a rollercoaster. Or for emphasis, there will be large blocks of black ink with the words in white over them. 
*All summaries courtesy of the publisher unless otherwise noted.