Locked-room mysteries are ones in which the victim, suspects, and criminal are all physically trapped together. How can someone commit a crime when they couldn't have been at the scene? How can someone get away with a crime when they can't leave the scene? How can the innocent escape when they are trapped with the killer? Read these stories to see who survives! Curated by Alyssa Devall
And Then There Were None by Agatha Christie 
book
large print book
book on CD
DVD
OverDrive eBook
OverDrive eAudiobook
hoopla eBook
hoopla eAudiobooks
hoopla mini series
Freading eBook
One of the most famous and beloved mysteries from the queen of suspense, Agatha Christie.
Ten people, each with something to hide and something to fear, are invited to an isolated mansion on Indian Island by a host who, surprisingly, fails to appear. On the island they are cut off from everything but each other and the inescapable shadows of their own past lives. One by one, the guests share the darkest secrets of their wicked pasts. And one by one, they die…
Which among them is the killer, and will any of them survive? 
---
One by One by Ruth Ware 
book
book on CD
OverDrive eBook
OverDrive eAudiobook
Getting snowed in at a luxurious, rustic ski chalet high in the French Alps doesn't sound like the worst problem in the world. Especially when there's a breathtaking vista, a full-service chef and housekeeper, a cozy fire to keep you warm, and others to keep you company. Unless that company happens to be eight coworkers, each with something to gain, something to lose, and something to hide.
When the cofounder of Snoop, a trendy London-based tech startup, organizes a weeklong trip for the team in the French Alps, it starts out as a corporate retreat like any other: PowerPoint presentations and strategy sessions broken up by mandatory bonding on the slopes. But as soon as one shareholder upends the agenda by pushing a lucrative but contentious buyout offer, tensions simmer and loyalties are tested. The storm brewing inside the chalet is no match for the one outside, however, and a devastating avalanche leaves the group cut off from all access to the outside world. Even worse, one Snooper hadn't made it back from the slopes when the avalanche hit. As each hour passes without any sign of rescue, panic mounts, the chalet grows colder, and the group dwindles further, one by one. 
---
The 7½ Deaths of Evelyn Hardcastle by Stuart Turton
book
OverDrive eBook
OverDrive eAudiobook
hoopla eBook
hoopla eAudiobook
Freading eBook
Aiden Bishop knows the rules. Evelyn Hardcastle will die every day until he can identify her killer and break the cycle. But every time the day begins again, Aiden wakes up in the body of a different guest at Blackheath Manor. And some of his hosts are more helpful than others. With a locked room mystery that Agatha Christie would envy, Stuart Turton unfurls a breakneck novel of intrigue and suspense. 
---
The Guest List by Lucy Foley 
book
large print book
OverDrive eBook
OverDrive eAudiobook
On an island off the windswept Irish coast, guests gather for the wedding of the year — the marriage of Jules Keegan and Will Slater. 
 
Old friends. Past grudges. Happy families. Hidden jealousies. Thirteen guests. One body. 
 
The wedding cake has barely been cut when one of the guests is found dead. And as a storm unleashes its fury on the island, everyone is trapped. 
 
All have a secret. All have a motive. 
One guest won't leave this wedding alive . . . 
---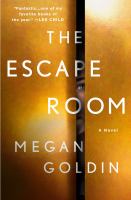 The Escape Room by Megan Goldin 
book
large print book
OverDrive eBook
hoopla eAudiobook
In the lucrative world of Wall Street finance, Vincent, Jules, Sylvie and Sam are the ultimate high-flyers. Ruthlessly ambitious, they make billion-dollar deals and live lives of outrageous luxury. Getting rich is all that matters, and they'll do anything to get ahead. When the four of them are ordered to participate in a corporate team-building exercise that requires them to escape from a locked elevator, things start to go horribly wrong. They have to put aside their fierce office rivalries and work together to solve the clues that will release them. But in the confines of the elevator, the dark secrets of their team are laid bare. They are made to answer for profiting from a workplace where deception and intimidation thrive. Tempers fray and the escape room's clues turn more and more ominous, leaving the four of them dangling on the precipice of disaster. If they want to survive, they'll have to solve one final puzzle: which one of them is a killer? 
---
An Unwanted Guest by Shari Lapeña 
book
large print book
book on CD
OverDrive eBook
A weekend retreat at a cozy mountain lodge is supposed to be the perfect getaway. But when the storm hits, no one is getting away. 
It's winter in the Catskills and Mitchell's Inn, nestled deep in the woods, is the perfect setting for a relaxing — maybe even romantic — weekend away. It boasts spacious old rooms with huge wood-burning fireplaces, a well-stocked wine cellar, and opportunities for cross-country skiing, snowshoeing, or just curling up with a good murder mystery.
So when the weather takes a turn for the worse, and a blizzard cuts off the electricity and all contact with the outside world, the guests settle in for the long haul. 
Soon, though, one of the guests turns up dead. It looks like an accident. But when a second guest dies, they start to panic. 
Within the snowed-in paradise, something — or someone — is picking off the guests one by one. And there's nothing they can do but hunker down and hope they can survive the storm.
---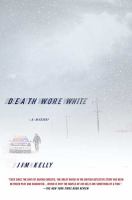 Death Wore White by Jim Kelly
book
Rookie detective Peter Shaw, along with his chain-smoking, hard-as-nails, veteran partner, is confronted with a baffling crime that stretches him to the breaking point.
On a frigid winter night, Harvey Ellis is trapped on a coastal road — stranded by a blizzard in a line of eight cars. Within a few hours, he is dead, viciously stabbed at the wheel of his truck.
The crime seems impossible: How could the killer have struck without being seen, and without leaving a single footprint in the snow? To make matters worse for Peter Shaw — the youngest Detective Inspector on the force — and George Valentine, his veteran, hard-as-nails partner, the crime scene is melting, and the body count is rising as suspects are targeted one by one.
The case would be tense enough for the new partners even if Valentine hadn't previously worked with another Detective Shaw, Peter's father, on the botched case of a child murder that ended his career. Had the old partners, as the judge implied, really faked evidence against the suspect, Bobby Mosse? And was Mosse, as Valentine still insists, so clearly guilty that the case is worth reopening twelve years later?
---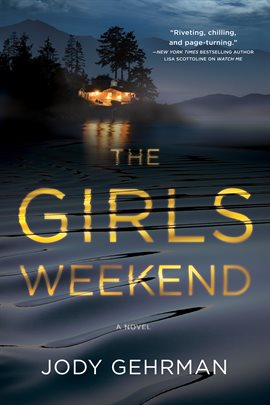 The Girls Weekend by Jody Gehrman 
book on CD
hoopla eBook
June Moody, a thirty-something English professor, just wants to get away from her recent breakup and reunite with girlfriends over summer break. Her old friend and longtime nemesis, Sadie MacTavish, a mega-successful author, invites June and her college friends to a baby shower at her sprawling estate in the San Juan Islands. June is less than thrilled to spend time with Sadie — and her husband, June's former crush–but agrees to go. The party gets off to a shaky start when old grudges resurface, but when they wake the next morning, they find something worse — Sadie is missing, the house is in shambles, and bloodstains mar the staircase. None of them has any memory of the night before; they wonder if they were drugged. Everyone's a suspect. Since June had a secret rendezvous with Sadie's husband, she has plenty of reason to suspect herself. Apparently, so do the cops. A Celtic knot of suspense and surprise, this brooding, atmospheric novel will keep you guessing as each twist reveals a new possibility. It will remind you of friendships hidden in the depths of your own past, and make you wonder how well you really know the people you've loved the longest. 
*All summaries courtesy of the publisher unless otherwise noted.