Read a book set on another planet or anywhere in space.
Most of us will never have the chance to explore Mars or fly to the farthest reaches of space, but we can all go there through the magic of stories. This month we challenge you to explore other worlds. Find recommendations for adults, teens, tweens, and kids. Get more information about the Read 2021 Challenge here.
Adults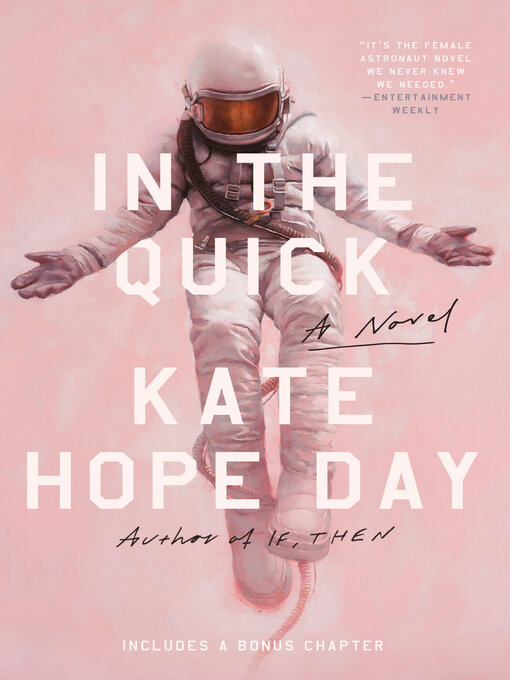 In the Quick by Kate Hope Day
OverDrive ebook
June is a brilliant but difficult girl with a gift for mechanical invention who leaves home to begin grueling astronaut training at the National Space Program. Younger by two years than her classmates at Peter Reed, the school on campus named for her uncle, she flourishes in her classes but struggles to make friends and find true intellectual peers. Six years later, she has gained a coveted post as an engineer on a space station—and a hard-won sense of belonging—but is haunted by the mystery of Inquiry, a revolutionary spacecraft powered by her beloved late uncle's fuel cells. The spacecraft went missing when June was twelve years old, and while the rest of the world seems to have forgotten the crew, June alone has evidence that makes her believe they are still alive.
She seeks out James, her uncle's former protégé, also brilliant, also difficult, who has been trying to discover why Inquiry's fuel cells failed. James and June forge an intense intellectual bond that becomes an electric attraction. But the relationship that develops between them as they work to solve the fuel cell's fatal flaw threatens to destroy everything they've worked so hard to create—and any chance of bringing the Inquiry crew home alive.
A propulsive narrative of one woman's persistence and journey to self-discovery, In the Quick is an exploration of the strengths and limits of human ability in the face of hardship, and the costs of human ingenuity.
---
The First Sister: A novel by Linden Lewis
book
OverDrive ebook
First Sister has no name and no voice. As a priestess of the Sisterhood, she travels the stars alongside the soldiers of Earth and Mars–the same ones who own the rights to her body and soul. When her former captain abandons her, First Sister's hopes for freedom are dashed when she is forced to stay on her ship with no friends, no power, and a new captain–Saito Ren–whom she knows nothing about. She is commanded to spy on Captain Ren by the Sisterhood, but soon discovers that working for the war effort is much harder when you're falling in love.
Lito val Lucius climbed his way out of the slums to become an elite soldier of Venus but was defeated in combat by none other than Saito Ren, resulting in the disappearance of his partner, Hiro. When Lito learns that Hiro is both alive and a traitor to the cause, he now has a shot at redemption: track down and kill his former partner. But when he discovers recordings that Hiro secretly made, Lito's own allegiances are put to the test. Ultimately, he must decide between following orders and following his heart.
With "a layered, action-filled plot and diverse characters" (Library Journal), The First Sister explores the power of technology, colonization, race, and gender and is perfect for fans of James S.A. Corey, Chuck Wendig, and Jay Posey.
---
Last Shot by Daniel Jose Older
book
THEN:It's one of the galaxy's most dangerous secrets: a mysterious transmitter with unknown power and a reward for its discovery that most could only dream of claiming. But those who fly the Millennium Falcon throughout its infamous history aren't your average scoundrels. Not once, but twice, the crew of the Falcon tries to claim the elusive prize–first, Lando Calrissian and the droid L3-37 at the dawn of an ambitious career, and later, a young and hungry Han Solo with the help of his copilot, Chewbacca. But the device's creator, the volatile criminal Fyzen Gor, isn't interested in sharing. And Gor knows how to hold a grudge. . . .
NOW:It's been ten years since the rebel hero Han Solo last encountered Fyzen Gor. After mounting a successful rebellion against the Empire and starting a family with an Alderaanian princess, Han hasn't given much thought to the mad inventor. But when Lando turns up at Han's doorstep in the middle of the night, it's Fyzen's assassins that he's running from. And without Han's help, Lando–and all life on Cloud City–will be annihilated.With the assistance of a young hotshot pilot, an Ewok slicer prodigy, the woman who might be the love of Lando's life, and Han's best and furriest friend, the two most notorious scoundrels in the New Republic are working together once more. They'll have to journey across the stars–and into the past–before Gor uses the device's power to reshape the galaxy.
---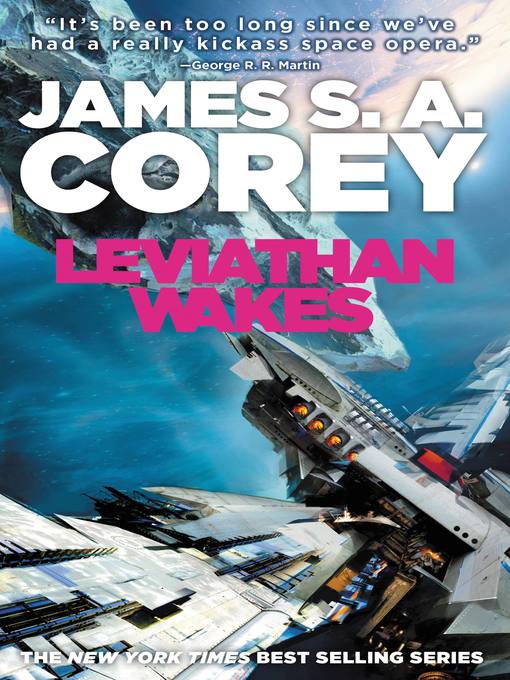 Leviathan Wakes by James S.A. Corey
book
book on CD
OverDrive ebook
OverDrive audiobook
Humanity has colonized the solar system—Mars, the Moon, the Asteroid Belt and beyond—but the stars are still out of our reach.
Jim Holden is XO of an ice miner making runs from the rings of Saturn to the mining stations of the Belt. When he and his crew stumble upon a derelict ship, the Scopuli, they find themselves in possession of a secret they never wanted. A secret that someone is willing to kill for—and kill on a scale unfathomable to Jim and his crew. War is brewing in the system unless he can find out who left the ship and why.
Detective Miller is looking for a girl. One girl in a system of billions, but her parents have money and money talks. When the trail leads him to the Scopuli and rebel sympathizer Holden, he realizes that this girl may be the key to everything.
Holden and Miller must thread the needle between the Earth government, the Outer Planet revolutionaries, and secretive corporations—and the odds are against them. But out in the Belt, the rules are different, and one small ship can change the fate of the universe.
---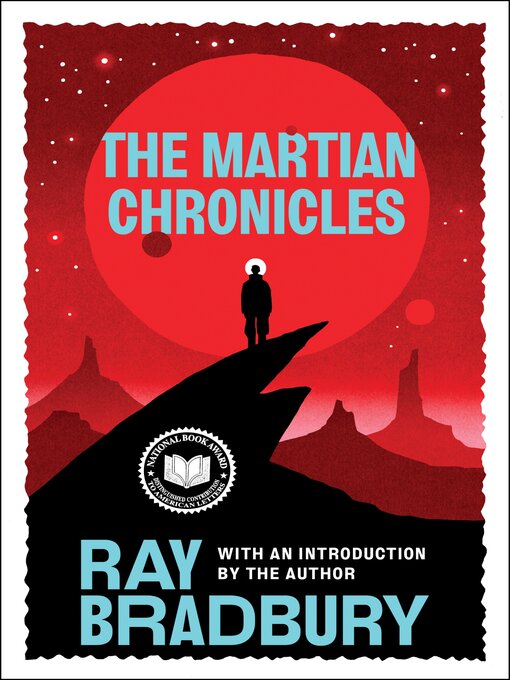 The Martian Chronicles by Ray Bradbury
OverDrive ebook
hoopla ebook
hoopla audiobook
Freading ebook
Ray Bradbury is a storyteller without peer, a poet of the possible, and, indisputably, one of America's most beloved authors. In a much celebrated literary career that has spanned six decades, he has produced an astonishing body of work: unforgettable novels, including Fahrenheit 451 and Something Wicked This Way Comes; essays, theatrical works, screenplays and teleplays; The Illustrated Mein, Dandelion Wine, The October Country, and numerous other superb short story collections. But of all the dazzling stars in the vast Bradbury universe, none shines more luminous than these masterful chronicles of Earth's settlement of the fourth world from the sun.
Bradbury's Mars is a place of hope, dreams and metaphor-of crystal pillars and fossil seas-where a fine dust settles on the great, empty cities of a silently destroyed civilization. It is here the invaders have come to despoil and commercialize, to grow and to learn -first a trickle, then a torrent, rushing from a world with no future toward a promise of tomorrow. The Earthman conquers Mars … and then is conquered by it, lulled by dangerous lies of comfort and familiarity, and enchanted by the lingering glamour of an ancient, mysterious native race.
Ray Bradbury's The Martian Chronicles is a classic work of twentieth-century literature whose extraordinary power and imagination remain undimmed by time's passage. In connected, chronological stories, a true grandmaster once again enthralls, delights and challenges us with his vision and his heart-starkly and stunningly exposing in brilliant spacelight our strength, our weakness, our folly, and our poignant humanity on a strange and breathtaking world where humanity does not belong.
---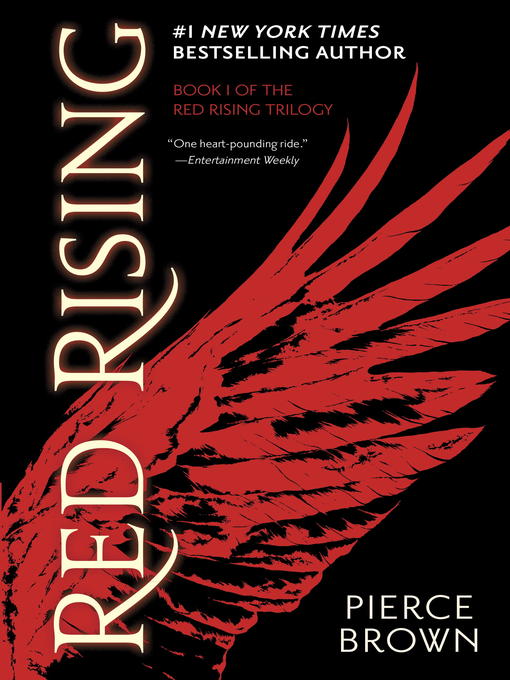 Red Rising by Pierce Brown
book
book on CD
OverDrive ebook
OverDrive audiobook
hoopla audiobook
Darrow is a Red, a member of the lowest caste in the color-coded society of the future. Like his fellow Reds, he works all day, believing that he and his people are making the surface of Mars livable for future generations. Yet he toils willingly, trusting that his blood and sweat will one day result in a better world for his children.
But Darrow and his kind have been betrayed. Soon he discovers that humanity reached the surface generations ago. Vast cities and lush wilds spread across the planet. Darrow—and Reds like him—are nothing more than slaves to a decadent ruling class.
Inspired by a longing for justice, and driven by the memory of lost love, Darrow sacrifices everything to infiltrate the legendary Institute, a proving ground for the dominant Gold caste, where the next generation of humanity's overlords struggle for power. He will be forced to compete for his life and the very future of civilization against the best and most brutal of Society's ruling class. There, he will stop at nothing to bring down his enemies . . . even if it means he has to become one of them to do so.
---
After Dark by Jayne Castle
book
Welcome to Harmony–where the rules are a little different.
Life is tough these days for Lydia Smith, licensed para-archaeologist. Seriously stressed-out from a nasty incident in an alien tomb, she is obliged to work part-time in Shrimpton's House of Ancient Horrors, a very low-budget museum. She has a plan to get her career back on track, but it isn't going well. Stuff keeps happening. Take the dead body that she discovered in one of the sarcophagus exhibits. Who needed that? Finding out that her new client, Emmett London, is one of the most dangerous men in the city isn't helping matters either. And that's just today's list of setbacks. Here in the shadows of the Dead City of Old Cadence, things don't really heat up until After Dark.
---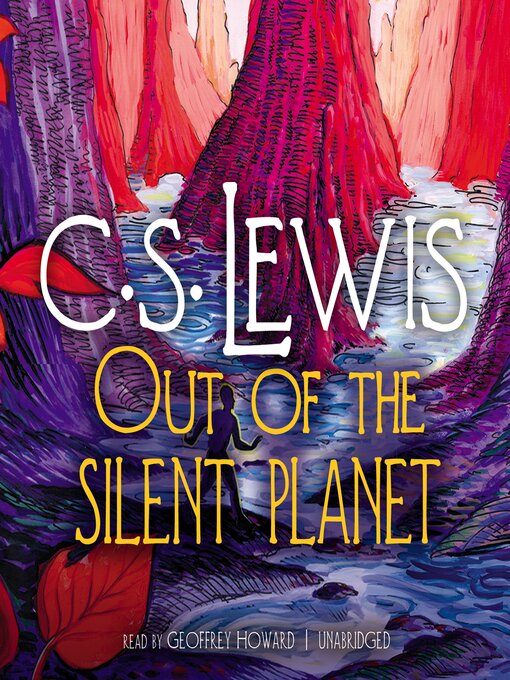 Out of the Silent Planet by C.S. Lewis
book
OverDrive audiobook
hoopla ebook
hoopla audiobook
Out of the Silent Planet is the first novel of Lewis' Ransom Trilogy (also known as the Cosmic or Space Trilogy), which is considered his chief contribution to science fiction. A planetary romance with elements of medieval mythology, the trilogy concerns Dr. Elwin Ransom, a professor of philology who, like Christ, is offered as a ransom for mankind. On a walking tour of the English countryside, Ransom falls in with some slightly shady characters from his old university and wakes up to find himself naked in a metal ball in the middle of the light-filled heavens. He learns that he is on his way to a world called Malacandra by its natives, who call our world Thulcandra, the silent planet. The Malacandrans see planets as having tutelary spirits; those of the other planets are good and accessible, but Earth's is fallen and twisted.
---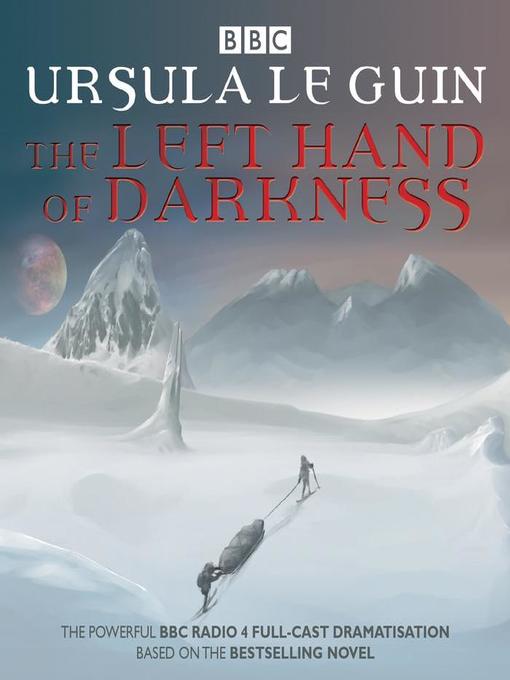 The Left Hand of Darkness by Ursula K. Le Guin
book
OverDrive audiobook
hoopla audiobook
On an alien world in the middle of an Ice Age, one man prepares for the biggest mission of his life. Alone and unarmed, Genly Ai has been sent from Earth to persuade the people of Gethen to join the Ekumen, a union of planets. But it's a task fraught with danger.
Genly is shocking to the natives, for Gethen is a world in which humans are ambigendered – everyone can be a mother, and everyone can be a father. First Minister Estraven is the only person who champions Genly's cause, but their relationship is deeply incomprehensible and troubling.
As the duo embark on a journey that will take them to the edge of their physical and emotional endurance, the stakes are high – to save a world from war, and save their own lives.
Ursula Le Guin's award-winning masterpiece was one of the first feminist SF novels, and this compelling dramatisation is both a subtle exploration of gender and a thrilling tale of love, betrayal and survival in a landscape of endless snow and ice.
---
Teens
Carve the Mark by Veronica Roth
book
book in large print
OverDrive ebook
OverDrive audiobook
hoopla ebook
hoopla audiobook
Freading ebook
Cyra Noavek and Akos Kereseth have grown up in enemy countries locked in a long-standing fight for dominance over their shared planet. When Akos and his brother are kidnapped by the ruling Noavek family, Akos is forced to serve Cyra, the sister of a dictator who governs with violence and fear. Cyra is known for her deadly power of transferring extraordinary pain unto others with simple touch, and her tyrant brother uses her as a weapon against those who challenge him. But as Akos fights for his own survival, he recognizes that Cyra is also fighting for hers, and that her true gift—resilience—might be what saves them both.
When Akos and Cyra are caught in the middle of a raging rebellion, everything they've been led to believe about their world and themselves must be called into question. But fighting for what's right might mean betraying their countries, their families, and each other.
When the time comes, will they choose loyalty or love?
---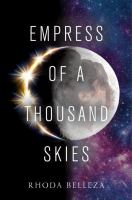 Empress of Thousand Skies by Rhoda Belleza
book
Empress
Rhee, also known as Crown Princess Rhiannon Ta'an, is the sole surviving heir to a powerful dynasty. She'll stop at nothing to avenge her family and claim her throne.

Fugitive
Aly has risen above his war refugee origins to find fame as the dashing star of a DroneVision show. But when he's falsely accused of killing Rhee, he's forced to prove his innocence to save his reputation – and his life.

Madman
With planets on the brink of war, Rhee and Aly must confront a ruthless evil that threatens the fate of the entire galaxy.Rhoda Belleza crafts a powerful saga of vengeance, warfare, and the true meaning of legacy in this exhilarating debut, perfect for readers of Marissa Meyer's Lunar Chronicles and Jay Kristoff and Amie Kaufman's Illuminae Files.
---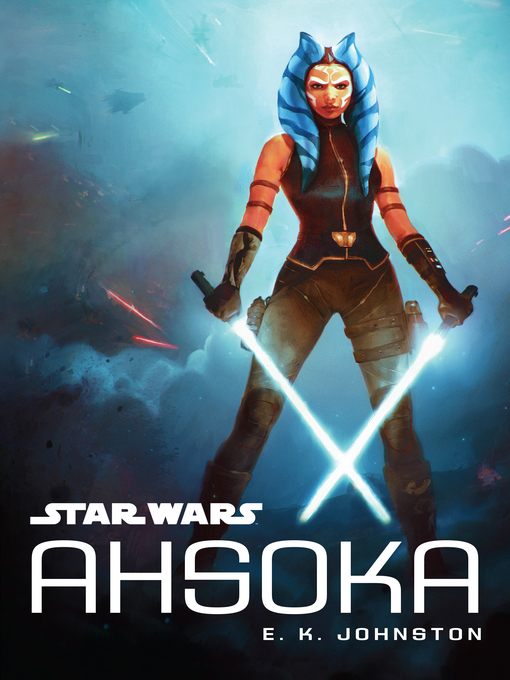 Ahsoka by E.K. Johnston
book
OverDrive ebook
hoopla ebook
Fans have long wondered what happened to Ahsoka after she left the Jedi Order near the end of the Clone Wars, and before she re-appeared as the mysterious Rebel operative Fulcrum in Rebels. Finally, her story will begin to be told. Following her experiences with the Jedi and the devastation of Order 66, Ahsoka is unsure she can be part of a larger whole ever again. But her desire to fight the evils of the Empire and protect those who need it will lead her right to Bail Organa, and the Rebel Alliance….
---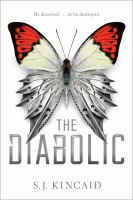 The Diabolic by S.J. Kincaid
book
Nemesis is a Diabolic, a humanoid teenager created to protect a galactic senator's daughter, Sidonia. The two have grown up side by side, but are in no way sisters. Nemesis is expected to give her life for Sidonia, and she would do so gladly. She would also take as many lives as necessary to keep Sidonia safe.
When the power-mad Emperor learns Sidonia's father is participating in a rebellion, he summons Sidonia to the Galactic court. She is to serve as a hostage. Now, there is only one way for Nemesis to protect Sidonia. She must become her. Nemesis travels to the court disguised as Sidonia—a killing machine masquerading in a world of corrupt politicians and two-faced senators' children. It's a nest of vipers with threats on every side, but Nemesis must keep her true abilities a secret or risk everything.
As the Empire begins to fracture and rebellion looms closer, Nemesis learns there is something more to her than just deadly force. She finds a humanity truer than what she encounters from most humans. Amidst all the danger, action, and intrigue, her humanity just might be the thing that saves her life—and the empire.
---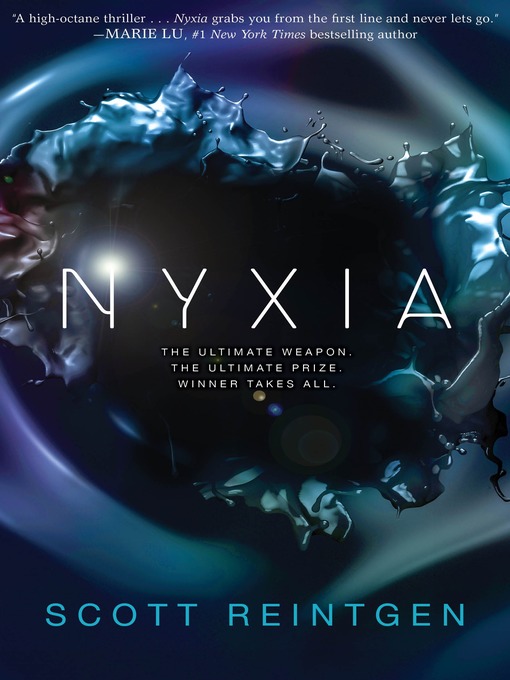 Nyxia by Scott Reintgen
book
OverDrive ebook
OverDrive audiobook
What would you be willing to risk for a lifetime of fortune?

Emmett Atwater isn't just leaving Detroit; he's leaving Earth. Why the Babel Corporation recruited him is a mystery, but the number of zeroes on their contract has him boarding their lightship and hoping to return to Earth with enough money to take care of his family.
Forever.
Before long, Emmett discovers that he is one of ten recruits, all of whom have troubled pasts and are a long way from home. Now each recruit must earn the right to travel down to the planet of Eden—a planet that Babel has kept hidden—where they will mine a substance called Nyxia that has quietly become the most valuable material in the universe.
But Babel's ship is full of secrets. And Emmett will face the ultimate choice: win the fortune at any cost, or find a way to fight that won't forever compromise what it means to be human.
---
Defy the Stars by Claudia Gray
book
She's a soldier–Noemi Vidal is willing to risk anything to protect her planet, Genesis, including her own life. To their enemies on Earth, she's a rebel.
He's a machine–Abandoned in space for years, utterly alone, Abel's advanced programming has begun to evolve. He wants only to protect his creator, and to be free. To the people of Genesis, he's an abomination.
Noemi and Abel are enemies in an interstellar war, forced by chance to work together as they embark on a daring journey through the stars. Their efforts would end the fighting for good, but they're not without sacrifice. The stakes are even higher than either of them first realized, and the more time they spend together, the more they're forced to question everything they'd been taught was true.
An epic and romantic adventure, perfect for fans of The Lunar Chronicles and Illuminae.
---
Heart of Iron by Ashley Poston
book
hoopla ebook
hoopla audiobook
Freading ebook
Seventeen-year-old Ana is a scoundrel by nurture and an outlaw by nature. Found as a child drifting through space with a sentient android called D09, Ana was saved by a fearsome space captain and the grizzled crew she now calls family. But D09—one of the last remaining illegal Metals—has been glitching, and Ana will stop at nothing to find a way to fix him.
Ana's desperate effort to save D09 leads her on a quest to steal the coordinates to a lost ship that could offer all the answers. But at the last moment, a spoiled Ironblood boy beats Ana to her prize. He has his own reasons for taking the coordinates, and he doesn't care what he'll sacrifice to keep them.
When everything goes wrong, she and the Ironblood end up as fugitives on the run. Now their entire kingdom is after them—and the coordinates—and not everyone wants them captured alive.
What they find in a lost corner of the universe will change all their lives—and unearth dangerous secrets. But when a darkness from Ana's past returns, she must face an impossible choice: does she protect a kingdom that wants her dead or save the Metal boy she loves?
---
Last of Her Name by Jessica Khoury
book
Sixteen years ago, rebellion swept the galaxy known as the Belt of Jewels.
Every member of the Leonov royal family was murdered–down to their youngest child, Princess Anya–making way for the Union government to seize power.
But Stacia doesn't think much about politics. She spends her days half-wild, rambling her father's vineyard with her friends, Clio and Pol. That all changes when a Union ship appears burning through the sky, bearing the leader of the Union, the Direktor Eminent himself, who declares that Stacia's sleepy village is a den of empire loyalists. Even more shocking, the Direktor claims that Princess Anya Leonova is alive–and Stacia is the lost princess.
As their home explodes into chaos, Pol smuggles Stacia to a hidden escape ship, leaving Clio in the hands of the Union. With everything she knows threading away into the stars, Stacia sets her heart on a single mission:
She will find and rescue Clio, even with the whole galaxy on her trail.
---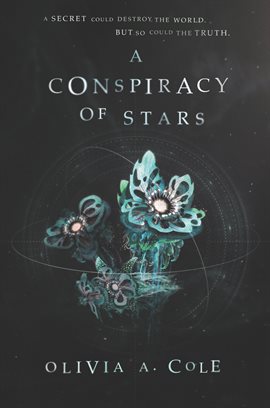 A Conspiracy Of Stars by Olivia Cole
hoopla ebook
Freading ebook
Enter the vivid and cinematic world of Faloiv in the first book of this dazzling YA sci-fi/fantasy series, perfect for fans of Carve the Mark, Red Rising, and These Broken Stars. Octavia has always dreamed of becoming a whitecoat, one of the prestigious N'Terra scientists who study the natural wonders of Faloiv. So when the once-secretive labs are suddenly opened to students, she leaps at the chance to see what happens behind their closed doors.
However, she quickly discovers that all is not what it seems on Faloiv, and the experiments the whitecoats have been doing run the risk of upsetting the humans' fragile peace with the Faloii, Faloiv's indigenous people. As secret after disturbing secret comes to light, Octavia finds herself on a collision course with the charismatic and extremist new leader of N'Terra's ruling council. But by uncovering the mysteries behind the history she's been taught, the science she's lived by, and the truth about her family, she threatens to be the catalyst for an all-out war.
---
Life on Mars: tales from the new frontier: an original science fiction anthology
book
Mars! The Red Planet! For generations, people have wondered what it would be like to travel to and live there. That curiosity has inspired some of the most durable science fiction, including Ray Bradbury's The Martian Chronicles and the work of Isaac Asimov. Now the award-winning anthologist Jonathan Strahan has brought together thirteen original stories to explore the possibilities. After reading Life on Mars, readers will never look at the fourth planet from the sun the same way again.
---
Tweens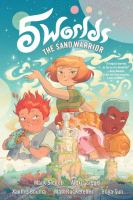 The Sand Warrior by Mark Siegel
book (graphic novel)
The Five Worlds are on the brink of extinction unless five ancient and mysterious beacons are lit. When war erupts, three unlikely heroes will discover there's more to themselves–and more to their worlds–than meets the eye. . . .
– Oona Lee, the clumsiest student at the Sand Dancer Academy, is a fighter with a destiny bigger than she could ever imagine.
– An Tzu, a boy from the poorest slums, has a surprising gift and a knack for getting out of sticky situations.
– Jax Amboy is the star athlete who is beloved by an entire galaxy, but what good is that when he has no real friends?
When these three kids are forced to team up on an epic quest, it will take not one, not two, but 5 WORLDS to contain all the magic and adventure.
---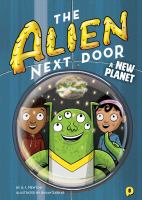 A New Planet by A.I. Newton
book
Harris and Roxy have hidden away on Zeke's family's spaceship and are headed to Tragas Zeke's parents freak out when they discover the kids aboard, but they've come too far to turn back. So that gives Harris and Roxy two whole days to explore the alien planet with Zeke while the ship refuels before they all have to fly back to Earth. But, much like Zeke had to on Earth, they have to blend in. Will they be able to hide the fact that they're the aliens on this new planet?
---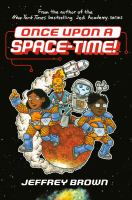 Once Upon a Space-Time! By Jeffery Brown
book (graphic novel)
Jide and Petra are just two normal kids until they are selected to leave Earth and join their new alien classmates on an intergalactic research mission to Mars. Too bad Petra has no idea how she ended up in the program, seeing as the closest she wants to get to space is being a sci-fi writer. Jide, on the other hand, is the brains of the mission, but his helicopter parents make it clear he hasn't left their gravitational pull behind quite yet. What is meant to be an intra-species bonding experience soon turns to hijinks as the kids discover The Potato orbiting around their new space classroom and accidentally launch a mission of their own without any adult commanders around to supervise–or help From New York Times bestselling author Jeffery Brown comes an out-of-this-world adventure perfect for the astronaut-in-training in your life.
---
Attack of the Furball: A Christina Starspeeder Story by Jarrett Krosoczka
book
The Christina Starspeeder saga continues in this laugh-out-loud epic froom author Amy Ignatow and illustrator Jarrett Krosoczka in the New York Times bestselling series, Star Wars: Jedi Academy! As told through a mix of comics, doodles, and journal entries, it's a new year at Jedi Academy! Christina Starspeeder made it through her first year at the advanced Jedi Academy . . . Barely . . . And year two isn't looking any easier! Christina still apprentices under Jedi Master Skia Ro while enduring the non-stop sass from droid Q-13. But this year, she has to balance her studies with constant travel, accompanying Skia Ro on non-stop trips to new worlds full of cool creatures. And those cool creatures are the start of all Christina's problems this year. When working on the planet Cholganna, Christina falls in love with a baby nexu – a cat-like creature who's fluffiness is impossible to resist. But when she sneaks the nexu – named "Fluffernut" – back into the dorms, Christina slowly begins to realize why it's never a good idea to take wild animals for pets. Fluffernut begins growing and growing – she'll eventually grow to be 14 feet long and 3 feet tall! Plus, she's chewing up EVERYTHING in sight. And if that weren't bad enough, a mysterious bounty hunter seems to be on her trail, trying to steal Fluffernut back. Can Christina escape this jam without getting thrown out of Jedi Academy? Or will this be the end of her Jedi Academy career?
---
Field trip by Molly Brooks
book (graphic novel)
Sanity and Tallulah are going on a field trip-to a real live planet Some of their classmates are nervous (none of them have been on a planet before, and they've heard terrible things), but Tallulah is beside herself with excitement. Sanity would be more excited if her grumpy older sister, Prudence, wasn't coming along to supervise the trip. Things get off to a rocky start (asteroid-y start, to be specific) and Sanity and Tallulah find themselves separated from their school group, pursued by a pirate, and stranded on a planet that's about to explode, with nothing but the wreckage of a crashed space shuttle and the contents of Tallulah's overloaded backpack to work with. These best friends will have to stretch their problem-solving skills to the limit in order to get everyone home safe, and it's going to take their whole class-plus an accountant, a math hermit, a group of mysterious beekeepers, and even the murderous pirate-to make it happen.
---
Arrival by Tracy Wolff
book
hoopla ebook
Braden Green, Gabriel Lopez, and Misty Everest think that their problems are over when they finally get to Mars. But it turns out the problems are only beginning when the wants to refuse them entrance. With little fuel and food, the three teens must figure out how to convince the colony to let them in. Aligned to Common Core standards and correlated to state standards. Spellbound is an imprint of Magic Wagon, a division of ABDO.
---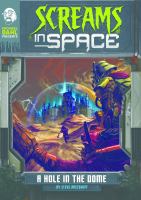 A Hole in the Dome by Steven Brezenoff
book
The dome keeps the colony safe. Life on the planet isn't possible outside of the dome. Or at least, that's what thirteen-year-old Flossy has always been told. But one day, within the raging storms on the other side of the clear wall, she notices lights glimmering in the distance. Figures seem to move through the dusty red landscape. Now Flossy has to ask-what really lies beyond the dome?
---
A Test of Courage by Justina Ireland
book
hoopla ebook
Long before the Clone Wars, the Empire, or the First Order, the Jedi lit the way for the galaxy in a golden age known as the High Republic.
Vernestra Rwoh is a new Jedi Knight at age sixteen, but her first real assignment feels an awful lot like babysitting. She's been charged with supervising twelve-year old aspiring inventor Avon Starros on a cruiser headed to the dedication of a wondrous new space station called Starlight Beacon.But soon into their journey, bombs go off aboard the cruiser. While the adult Jedi try to save the ship, Vernestra, Avon, Avon's droid J-6, a Jedi Padawan, and an ambassador's son make it to an escape shuttle, but communications are out and supplies are low. They decide to land on a nearby moon, which offers shelter but not much more. And unbeknownst to them, danger lurks in the forest….
---
Red's Planet by Eddie Pittman
book
hoopla ebook
Freading ebook
Meet Red, a quirky, headstrong 10-year-old who longs to live in her own perfect paradise far away from her annoying foster family. But when a UFO mistakenly kidnaps her, Red finds herself farther away than she could have possibly imagined–across the galaxy and aboard an enormous spaceship owned by the Aquilari, an ancient creature with a taste for rare and unusual treasures. Before Red can be discovered as a stowaway, the great ship crashes on a small deserted planet, leaving her marooned with a menagerie of misfit aliens. With her newfound friend, a small gray alien named Tawee, Red must find a way to survive the hostile castaways, evade the ravenous wildlife, and contend with Goose, the planet's grumpy, felinoid custodian. Surely this can't be the paradise she's been hoping for.
Fans of Mike Maihack's Cleopatra in Space and Ben Hatke's Zita the Spacegirl will embrace Red's Planet, a boldly illustrated and imaginative new series for readers of all ages.
---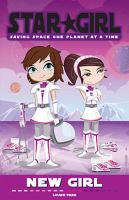 New Girl by Louise Park
book
Planet Polare's ice is melting, and now the alien life forms are in danger. When Star Girl is sent to investigate with her roommate, she discovers that not all dangers come from hairy aliens or strange planets. Can the two space cadets put aside their differences and work together to save the planet and its inhabitants?
---
Kids
The Secret Space Station by Russ Bolts
book
Joe and Rob discover a hidden space station inhabited by aliens in this sixth adventure in the hilarious Bots chapter book series.
Many years ago, scientists on Earth sent video satellites out to the end of the universe to see what was hiding in deep space. Now, years later, these satellites have begun sending their first videos back to Earth…and the stars of the show are two goofy robots. When Joe and Rob discover a hidden space station filled with aliens, will they be able to help the aliens get home…or are the aliens looking for a new place to crash? With easy-to-read language and graphic novel art on almost every page, the Bots chapter books are perfect for emerging readers.
---
Life on Mars by Jon Agee
book
If you keep an open mind then you will discover all sorts of wonders, so never give up exploring!
A daring young astronaut arrives on Mars, certain he will find life there. He has even brought a gift of chocolate cupcakes. But soon he realizes he's made a mistake. He won't find life on Mars — and what's worse, now he can't find his spaceship! But as only the audience can see, if only he would turn around he might just meet the friendly Martian who is always lurking shyly one step behind. Our astronaut's only mistake is to give up too soon and go home leaving the poor Martian all alone.
---
Baloney, Henry P. by Jon Scieszka
book
The twisted team that gave the world Squids Will Be Squids and The Stinky Cheese Man now delivers a whole lot of "Baloney". Henry is an alien school kid who needs to come up with one very good excuse to explain why he is late for "szkola" again. Received from deep space by Scieszka, Henry's tall tale is graphically recreated in Smith's out-of-this-world full-color illustrations.
---
The Way Back Home by Oliver Jeffers
book
When a boy discovers a single-propeller airplane in his closet, he does what any young adventurer would do: He flies it into outer space! Millions of miles from Earth, the plane begins to sputter and quake, its fuel tank on empty. The boy executes a daring landing on the moon . . . but there's no telling what kind of slimy, slithering, tentacled, fangtoothed monsters lurk in the darkness! (Plus, it's dark and lonely out there.) Coincidentally, engine trouble has stranded a young Martian on the other side of the moon, and he's just as frightened and alone. Martian, Earthling—it's all the same when you're in need of a friend.
---
Goodnight Spaceman by Michelle Robinson
book
Blast off to dreamland with this charming book that's destined to be your child's favorite. Rocket across the stars and through the universe with these joyful illustrations and fun rhymes. It's the perfect book for parents and toddlers to read together at bedtime, nap time, or any time at all.
---
Moon's First Friends: One Giant Leap for Friendship by Susanna Leonard Hill
book
hoopla ebook
hoopla audiobook
A heartwarming story of a friendship-seeking moon that also commemorates the extraordinary 50th anniversary of the Apollo 11 mission!
From high up in the sky, the Moon has spent her whole life with the watchful eye of a parent focusing on the happenings of Earth below. Dinosaurs roam, pyramids are built, boats are made, and planes take flight, but she remains a lonely little orb floating out in space alone. Until one day a spaceship soars from Earth…and so does her heart.
---
A Place for Pluto by Stef Wade
book
hoopla ebook
Pluto got the shock of his life when he was kicked out of the famous nine. His planet status was stripped away, leaving him lost and confused. Poor Pluto! On his quest to find a place where he belongs, he talks to comets, asteroids, and meteoroids. He doesn't fit it anywhere! But when Pluto is about to give up, he runs into a dwarf planet and finally finds his place in the solar system.
---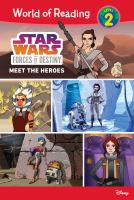 Meet the Heroes by Ella Patrick
book
hoopla ebook
Get to know some of the Star Wars universe heroes: Padmâe, Leia, Sabine, Ahsoka, Hera, Jyn, and Rey.
---
Baby Astronaut by Laura Gehl
book
Baby Scientist is an adorable board book series that brings fun, accessible science concepts to baby's world using simple language, recognizable settings, and vibrant art. Read them all with your baby scientist!
Baby Astronaut explores the stars and planets in space. She wears her space suit and helmet and rides in a space craft. Can ants live in space? Can plants grow in space? Find out with Baby Astronaut!
---
First graders from Mars episode 3: Nergal and the Great Space Race by Shana Corey
book
The first graders of Pod 1 are buzzing: It's Martian Health Week! They are learning about the 450 food groups. They are practicing for the space race. Only poor Nergal is so nervous he ties himself into knots (literally!). With help from his teacher, parents, and podmates he learns that nobo-one is good at everything, and what matters is that he try his martian best. Shana Corey and Mark Teague add another warmhearted, funny installment to their martian chronicles, with a reminder that being nervous is normal–even on Mars.