From murders and missing people to spies and secrets, these faith-based mysteries will keep you on the edge of your seat. Curated by Samantha Matherne.
The Crow's Call by Wanda E. Brunstetter
large print book
hoopla eAudiobook
freading eBook
Mysterious events plague a greenhouse in Pennsylvania's Amish country. When Vernon King, his son, and son-in-law are involved in a terrible accident, three women are left to cope with their deaths, as they become the sole providers of the family they have left. The women's only income must come from the family greenhouse, but someone seems to be trying to force them out of business.
---
Crisis Shot by Janice Cantore
book
large print book
hoopla eBook
hoopla eAudiobook
Tess O'Rourke dreams of becoming the first female chief of police in Long Beach, California. As commander of the East Division, she is well on her way . . . until the night she responds to an officer-needs-assistance call and fatally shoots an unarmed teenager. Despite being cleared of wrongdoing by a grand jury, Tess is so hounded by the public that she takes a job in Oregon to escape the bad press.
Winning over the residents of Rogue's Hollow might be more difficult than adjusting to her new role as police chief in the small, backwater town. Especially when her closest friend, the pastor's wife, goes missing and the woman's cousin is found shot. Tess finds an ally in sheriff's deputy Steve Logan, but as they track down Rogue's Hollow's first murderer, she worries that she's breaking one of her rules and getting too close to him.
---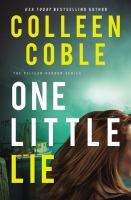 One Little Lie by Colleen Coble
book
large print book
OverDrive eBook
hoopla eBook
hoopla eAudiobook
freading eBook
It started with one little lie. But Jane Hardy will do everything in her power to uncover the truth in this gripping new romantic suspense.
Jane Hardy is appointed interim sheriff in Pelican Harbor, Alabama, after her father retires, but there's no time for an adjustment period. When her father is arrested for theft and then implicated in a recent murder, Jane quickly realizes she's facing someone out to destroy the only family she has.
After escaping with her father from a cult fifteen years ago, Jane has searched relentlessly for her mother—who refused to leave—ever since. Could someone from that horrible past have found them?
Reid Bechtol is well-known for his documentaries, and his latest project involves covering Jane's career. Jane has little interest in the attention, but the committee who appointed her loves the idea of the publicity.
Jane finds herself depending on Reid's calm manner as he follows her around filming, and they begin working together to clear her father. But Reid has his own secrets from the past, and the gulf between them may be impossible to cross—especially once her father's lie catches up with him.
---
Collateral Damage by Lynette Eason
large print book
hoopla eBook
hoopla eAudiobook
A former military psychologist spends her days helping vets overcome PTSD — and her nights fighting her own nightmares. Now, on the run with a client who has already saved her life twice, she must uncover powerful secrets before they both end up dead.
Honorably discharged from the Army after an explosion nearly killed her, former military psychiatrist Brooke Adams has set up shop to help others, but her days of helping military personnel are over. She's got her own battles to fight from her time overseas, and she's not equipped to take on more. Former Army Special Ops Sergeant First Class Asher James could handle anything that war sent his way–terrorists, bombs, bullets. The only thing that scares him now is sleep. As the shadows close in, the nightmares begin.
Finally convinced that he needs help, Asher makes an appointment with a counselor, and Brooke is pressed by her boss to take him on. When he arrives at her office she isn't there — but a dead body is. Brooke is devastated when she walks in, and Asher is a conveniently strong shoulder to cry on. But she can't take him on as a client after sharing such an intimate and unprofessional moment, can she? And he's not sure he can handle sharing his deepest fears with such a beautiful woman.
When it becomes clear that Brooke was the real target of the attack–and that her secrets go even deeper than his own–Asher vows to protect her no matter what.
---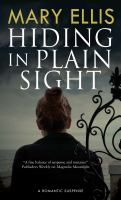 Hiding in Plain Sight by Mary Elli
large print
hoopla eBook
Hiding a troubled past, new PI Kate changes her name and takes a case in North Carolina, where a client wants to contact a lost sister. Meanwhile, her new landlord, Eric, struggles with a competitor bent on ruining his restaurant. But when petty crime turns lethal, Eric's father is arrested for murder and Kate is determined to prove his innocence.
---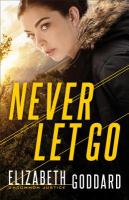 Never Let Go by Elizabeth Goddard
book
large print book
hoopla eBook
hoopla eAudiobook
As a forensic genealogist, Willow Anderson is following in her late grandfather's footsteps in her quest for answers about a baby abducted from the hospital more than twenty years ago. The case may be cold, but things are about to heat up when someone makes an attempt on her life to keep her from discovering the truth.
Ex-FBI agent — and Willow's ex-flame — Austin McKade readily offers his help to protect the woman he never should have let get away. Together they'll follow where the clues lead them, even if it means Austin must face the past he's spent much of his life trying to forget. And even if it puts Willow's tender heart at risk.
In this fast-paced and emotional page-turner, USA Today bestselling author Elizabeth Goddard keeps the stakes high, the romantic tension sparking, and the outcome uncertain until the very end.
---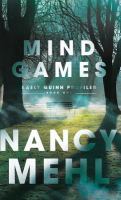 Mind Games by Nancy Mehl
book
large print book
OverDrive eBook
hoopla eBook
hoopla eAudiobook
When an anonymous poem predicts a string of murders, ending with her own, FBI Behavioral Analyst Kaely Quinn is paired up with Special Agent Noah Hunter, who resents his assignment. But this brazen serial killer breaks all the normal patterns, and soon Noah and Kaely must race against time to catch the murderer before anyone else — including Kaely — is killed.
---
Dark Lake by Clare Revell
large print book
hoopla eBook
hoopla eAudiobook
freading eBook
Archaeologist Dr. Lou Fitzgerald is used to unexpected happenings. After surviving a childhood disability and dealing with an unfair boss, Lou has learned the art of rolling with the punches. But when she arrives at Dark Lake, what was supposed to be a simple archaeological dig is beyond even her wildest imagination. Landowner Evan Close has his reasons for keeping the secrets of Dark Lake, and this attractive interloper is a menace. Her dig threatens to bring his house of cards tumbling down and he feels helpless to stop it. Dark forces are at work, turning Lou's simple assignment turns into a mystery whose solution comes with a steep price.
---
Bringing Maggie Home by Kim Vogel Sawyer
large print book
book on CD
hoopla eAudiobook
Hazel DeFord is a woman haunted by her past. While berry picking in a blackberry thicket in 1943, ten-year old Hazel momentarily turns her back on her three-year old sister Maggie, and the young girl disappears.
Almost seventy years later, the mystery remains unsolved and the secret guilt Hazel carries has alienated her from her daughter Diane, who can't understand her mother's overprotectiveness and near paranoia. While Diane resents her mother's inexplicable eccentricities, her daughter Meghan—a cold case agent—cherishes her grandmother's lavish attention and affection.
When a traffic accident forces Meghan to take a six-week leave-of-absence to recover, all three generations of DeFord women find themselves unexpectedly under the same roof. Meghan knows she will have to act as a mediator between the two headstrong and contentious women. But when they uncover Hazel's painful secret, will Meghan also be able to use her investigative prowess to solve the family mystery and help both women recover all that's been lost?
---
Living Lies by Natalie Walters
book
large print book
hoopla eBook
hoopla eAudiobook
When Lane Kent stumbles across a body in the Georgia woods, she must team up with the town's newest deputy and decide if revealing her darkest secret is worth saving the life of another.
In the little town of Walton, Georgia, everybody knows your name–but no one knows your secret. At least that's what Lane Kent is counting on when she returns to her hometown with her five-year-old son. Dangerously depressed after the death of her husband, Lane is looking for hope. What she finds instead is a dead body.

Lane must work with Walton's newest deputy, Charlie Lynch, to uncover the truth behind the murder. But when that truth hits too close to home, she'll have to decide if saving the life of another is worth the cost of revealing her darkest secret.
---
In the Shadow of Croft Towers by Abigail Wilson
large print book
book
hoopla eBook
hoopla eAudiobook
Freading eBook
When Sybil Delafield's coach to Croft Towers was robbed by highwaymen, she should have realized that her new position as companion to old Mrs. Chalcroft would be no ordinary job. Upon Sybil's arrival, Mrs. Chalcroft sneaks into her room in the dark of night, imploring her to relay messages to town that are to stay hidden from the rest of the family. Who exactly is she working for and what do the messages contain? When fellow passengers of the robbed coach are later murdered, Sybil's hunt for the truth takes on a new urgency. The only person she can rely on is Mr. Sinclair, Mrs. Chalcroft's godson, but under all his charms he too leads a double life. Sybil must decide if he is the one honest voice she can trust, or if he is simply using her for his own advances. With murderers, smugglers, and spies on the loose, nothing — and no one — in Regency England is what they claim. Can Sybil even trust what she knows about herself?
---
The Haunting at Bonaventure Circus by Jaime Jo Wright
large print book
hoopla eBook
1928: The Bonaventure Circus is a refuge for many, but Pippa Ripley was rejected from its inner circle as a baby. When she receives mysterious messages from someone called the "Watchman," she is determined to find him and the connection to her birth. As Pippa's search leads her to a man seeking justice for his murdered sister and evidence that a serial killer has been haunting the circus train, she must decide if uncovering her roots is worth putting herself directly in the path of the killer.
Present Day: The old circus train depot will either be torn down or preserved for historical importance, and its future rests on real estate project manager Chandler Faulk's shoulders. As she dives deep into the depot's history, she's also balancing a newly diagnosed autoimmune disease and the pressures of single motherhood. When she discovers clues to the unsolved murders of the past, Chandler is pulled into a story far darker and more haunting than even an abandoned train depot could portend.