Ashley has worked for Ascension Parish Library for over five years, first at the information desk at our Dutchtown location and now for the Youth Services department planning teen and tween programs. She also curates lists for the Shelf Analysis blog. Ashley loves pretty much all genres of books, but the two she reads from most often are historical fiction and mystery. She is a firm believer in rereading favorites, so all books on this list have been read, or listened to, more than once.
Rising Man by Abir Mukherjee
book
large print
OverDrive eBook
hoopla eBook
Calcutta, 1919. Captain Sam Wyndham, former Scotland Yard detective, is a new arrival to Calcutta. Desperately seeking a fresh start after his experiences during the Great War, Wyndham has been recruited to head up a new post in the police force. He is immediately overwhelmed by the heady vibrancy of the tropical city, but with barely a moment to acclimatize or to deal with the ghosts that still haunt him, Wyndham is caught up in a murder investigation that threatens to destabilize a city already teetering on the brink of political insurgency.

The body of a senior official has been found in a filthy sewer, and a note left in his mouth warns the British to quit India, or else. Under tremendous pressure to solve the case before it erupts into increased violence on the streets, Wyndham and his two new colleagues—arrogant Inspector Digby and Sergeant Banerjee, one of the few Indians to be recruited into the new CID—embark on an investigation that will take them from the opulent mansions of wealthy British traders to the seedy opium dens of the city.

Masterfully evincing the sights, sounds, and smells of colonial Calcutta, A Rising Man is the start of an enticing new historical crime series.
---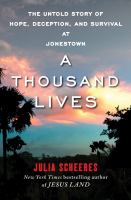 Thousand Lives: The Untold Story of Hope, Deception, and Survival at Jonestown by Julia Scheeres
book
In 1954, a pastor named Jim Jones opened a church in Indianapolis called Peoples Temple Full Gospel Church. He was a charismatic preacher with idealistic beliefs, and he quickly filled his pews with an audience eager to hear his sermons on social justice. As Jones's behavior became erratic and his message more ominous, his followers leaned on each other to recapture the sense of equality that had drawn them to his church. But even as the congregation thrived, Jones made it increasingly difficult for members to leave. By the time Jones moved his congregation to a remote jungle in Guyana and the US government began to investigate allegations of abuse and false imprisonment in Jonestown, it was too late.
A Thousand Lives is the story of Jonestown as it has never been told. New York Times bestselling author Julia Scheeres drew from tens of thousands of recently declassified FBI documents and audiotapes, as well as rare videos and interviews, to piece together an unprecedented and compelling history of the doomed camp, focusing on the people who lived there.
The people who built Jonestown wanted to forge a better life for themselves and their children. In South America, however, they found themselves trapped in Jonestown and cut off from the outside world as their leader goaded them toward committing "revolutionary suicide" and deprived them of food, sleep, and hope. Vividly written and impossible to forget, A Thousand Lives is a story of blind loyalty and daring escapes, of corrupted ideals and senseless, haunting loss.
---
The Book Thief by Markus Zusak
book
book on CD
Playaway
OverDrive eBook
OverDrive eAudiobook
When Death has a story to tell, you listen.
It is 1939. Nazi Germany. The country is holding its breath. Death has never been busier, and will become busier still.
Liesel Meminger is a foster girl living outside of Munich, who scratches out a meager existence for herself by stealing when she encounters something she can't resist – books. With the help of her accordion-playing foster father, she learns to read and shares her stolen books with her neighbors during bombing raids as well as with the Jewish man hidden in her basement.
In superbly crafted writing that burns with intensity, award-winning author Markus Zusak, author of I Am the Messenger, has given us one of the most enduring stories of our time.
---
Fan Girl by Rainbow Rowell
book
large print book
OverDrive eAudiobook
In Rainbow Rowell's Fangirl, Cath is a Simon Snow fan. Okay, the whole world is a Simon Snow fan, but for Cath, being a fan is her life—and she's really good at it. She and her twin sister, Wren, ensconced themselves in the Simon Snow series when they were just kids; it's what got them through their mother leaving. Reading. Rereading. Hanging out in Simon Snow forums, writing Simon Snow fan fiction, dressing up like the characters for every movie premiere.
Cath's sister has mostly grown away from fandom, but Cath can't let go. She doesn't want to.
Now that they're going to college, Wren has told Cath she doesn't want to be roommates. Cath is on her own, completely outside of her comfort zone. She's got a surly roommate with a charming, always-around boyfriend, a fiction-writing professor who thinks fan fiction is the end of the civilized world, a handsome classmate who only wants to talk about words . . . And she can't stop worrying about her dad, who's loving and fragile and has never really been alone.
For Cath, the question is: Can she do this? Can she make it without Wren holding her hand? Is she ready to start living her own life? Writing her own stories? Open her heart to someone? Or will she just go on living inside somebody else's fiction?
---
Get a Life, Chloe Brown by Talia Hibbert
book
OverDrive eBook
hoopla eBook
hoopla eAudiobook
Freading eBook
Chloe Brown is a chronically ill computer geek with a goal, a plan, and a list. After almost–but not quite–dying, she's come up with seven directives to help her "Get a Life," and she's already completed the first: finally moving out of her glamorous family's mansion. The next items?
Enjoy a drunken night out.
Ride a motorcycle.
Go camping.
Have meaningless but thoroughly enjoyable sex.
Travel the world with nothing but hand luggage.
And… do something bad.
But it's not easy being bad, even when you've written step-by-step guidelines on how to do it correctly. What Chloe needs is a teacher, and she knows just the man for the job.
Redford 'Red' Morgan is a handyman with tattoos, a motorcycle, and more sex appeal than ten-thousand Hollywood heartthrobs. He's also an artist who paints at night and hides his work in the light of day, which Chloe knows because she spies on him occasionally. Just the teeniest, tiniest bit.
But when she enlists Red in her mission to rebel, she learns things about him that no spy session could teach her. Like why he clearly resents Chloe's wealthy background. And why he never shows his art to anyone. And what really lies beneath his rough exterior…
---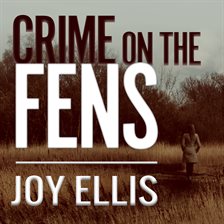 Crime on the Fens by Joy Ellis
hoopla audiobook
Part 1 of the Di Nikki Galena series
DI Nikki Galena: A police detective with nothing left to lose, she's seen a girl die in her arms, and her daughter will never leave the hospital again. She's got tough on the criminals she believes did this to her. Too tough. And now she's been given one final warning: make it work with her new sergeant, DS Joseph Easter, or she's out. Her partner, DS Joseph Easter, is the handsome squeaky-clean new member of the team. But his nickname "Holy Joe" belies his former life as a soldier. He has an estranged daughter who blames him for everything that went wrong with their family. Their adversary is a ruthless man who holds DI Galena responsible for his terrible disfigurement.
---
The Giver: Graphic Novel Adaptation of the Newbery Medal Winner by Lois Lowery; adapted by P. Craig Russell
book
Placed on countless reading lists, translated into more than forty languages, and made into a feature film, The Giver is the first book in the Giver Quartet, which also includes Gathering Blue, Messenger, and Son.

In this new graphic novel edition, readers experience the haunting story of twelve-year-old Jonas and his seemingly ideal, if colorless, world of conformity and contentment through the brilliant art of P. Craig Russell that truly brings The Giver to life.

Witness Jonas's assignment as the Receiver of Memory, watch as he begins to understand the dark secrets behind his fragile community, and follow the explosion of color into his world like never before.
---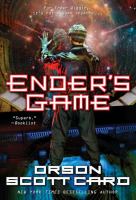 Ender's Game by Orson Scott Card
book
OverDrive eAudiobook
In order to develop a secure defense against a hostile alien race's next attack, government agencies breed child geniuses and train them as soldiers. A brilliant young boy, Andrew "Ender" Wiggin lives with his kind but distant parents, his sadistic brother Peter, and the person he loves more than anyone else, his sister Valentine. Peter and Valentine were candidates for the soldier-training program but didn't make the cut—young Ender is the Wiggin drafted to the orbiting Battle School for rigorous military training.
Ender's skills make him a leader in school and respected in the Battle Room, where children play at mock battles in zero gravity. Yet growing up in an artificial community of young soldiers, Ender suffers greatly from isolation, rivalry from his peers, pressure from the adult teachers, and an unsettling fear of the alien invaders. His psychological battles include loneliness, fear that he is becoming like the cruel brother he remembers, and fanning the flames of devotion to his beloved sister.
Is Ender the general Earth needs? But Ender is not the only result of the genetic experiments. The war with the Buggers has been raging for a hundred years, and the quest for the perfect general has been underway for almost as long. Ender's two older siblings are every bit as unusual as he is, but in very different ways. Between the three of them lie the abilities to remake a world. If, that is, the world survives.
---
Cuckoo's Calling by Robert Galbraith
book
book on CD
OverDrive eBook
OverDrive eAudiobook
A brilliant mystery in a classic vein: Detective Cormoran Strike investigates a supermodel's suicide.
After losing his leg to a land mine in Afghanistan, Cormoran Strike is barely scraping by as a private investigator. Strike is down to one client, and creditors are calling. He has also just broken up with his longtime girlfriend and is now living in his office.
Then John Bristow walks through his door with an amazing story: his sister, the legendary supermodel Lula Landry, known to her friends as the Cuckoo, famously fell to her death a few months earlier. The police ruled it a suicide, but John refuses to believe that. The case plunges Strike into the world of multimillionaire beauties, rock-star boyfriends, and desperate designers, and it introduces him to every variety of pleasure, enticement, seduction, and delusion known to man.
You may think you know detectives, but you've never met one quite like Strike. You may think you know about the wealthy and famous, but you've never seen them under an investigation like this.
---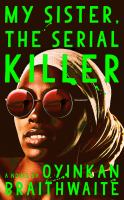 My Sister, the Serial Killer by Oyinkan Braithwaite
book
large print book
OverDrive eBook
"Femi makes three, you know. Three and they label you a serial killer."
Korede is bitter. How could she not be? Her sister, Ayoola, is many things: the favorite child, the beautiful one, possibly sociopathic. And now Ayoola's third boyfriend in a row is dead.
Korede's practicality is the sisters' saving grace. She knows the best solutions for cleaning blood, the trunk of her car is big enough for a body, and she keeps Ayoola from posting pictures of her dinner to Instagram when she should be mourning her "missing" boyfriend. Not that she gets any credit.
Korede has long been in love with a kind, handsome doctor at the hospital where she works. She dreams of the day when he will realize that she's exactly what he needs. But when he asks Korede for Ayoola's phone number, she must reckon with what her sister has become and how far she's willing to go to protect her.
Sharp as nails and full of deadpan wit, Oyinkan Braithwaite's deliciously deadly debut is as fun as it is frightening.
---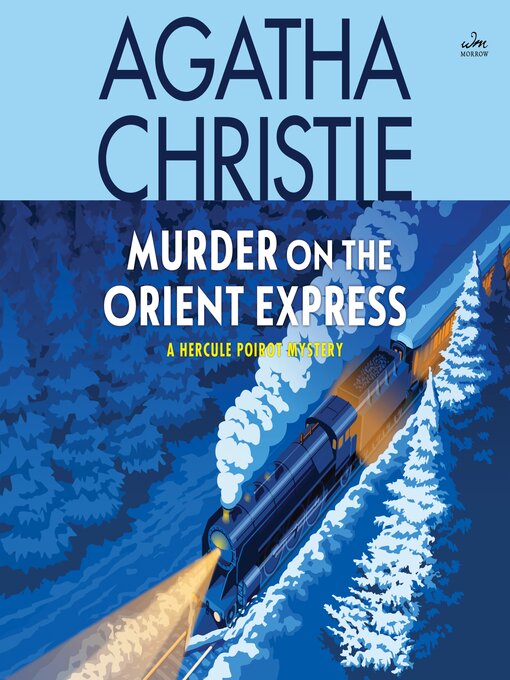 Murder on the Orient Express audiobook by Agatha Christie; read by Dan Stevens
OverDrive eAudiobook
hoopla eAudiobook
"The murderer is with us-on the train now . . ." Just after midnight, the famous Orient Express is stopped in its tracks by a snowdrift. By morning, the millionaire Samuel Edward Ratchett lies dead in his compartment, stabbed a dozen times, his door locked from the inside. One of his fellow passengers must be the murderer. Isolated by the storm, detective Hercule Poirot must find the killer among a dozen of the dead man's enemies, before the murderer decides to strike again . . .
---