Read a book with a map in it (fiction or nonfiction).
Whether set in our world or in an imaginary realm, books that include maps place a story within its physical geography. Maps can show schools, cities, countries, fantastical worlds, or outer space, but they always offer a visual representation of the story's setting. This month we challenge you to read a nonfiction or fiction book that features a map somewhere in the pages or end cover of the book. Find recommendations for adults, teens, tweens, and kids. Get more information about the Read 2021 Challenge here.
Adult Fiction
The City We Became by N. K. Jemisin
book
OverDrive eBook
OverDrive eAudiobook
Three-time Hugo Award-winning and New York Times bestselling author N.K. Jemisin crafts her most incredible novel yet, a "glorious" story of culture, identity, magic, and myths in contemporary New York City.
Five New Yorkers must come together in order to defend their city.

Every city has a soul. Some are as ancient as myths, and others are as new and destructive as children. New York City? She's got five.

But every city also has a dark side. A roiling, ancient evil stirs beneath the earth, threatening to destroy the city and her five protectors unless they can come together and stop it once and for all.
---
Nevernight by Jay Kristoff
book
OverDrive eBook
In a land where three suns almost never set, a fledgling killer joins a school of assassins, seeking vengeance against the powers who destroyed her family.
Daughter of an executed traitor, Mia Corvere is barely able to escape her father's failed rebellion with her life. Alone and friendless, she hides in a city built from the bones of a dead god, hunted by the Senate and her father's former comrades. But her gift for speaking with the shadows leads her to the door of a retired killer, and a future she never imagined.
Now, Mia is apprenticed to the deadliest flock of assassins in the entire Republic—the Red Church. If she bests her fellow students in contests of steel, poison and the subtle arts, she'll be inducted among the Blades of the Lady of Blessed Murder, and one step closer to the vengeance she desires. But a killer is loose within the Church's halls, the bloody secrets of Mia's past return to haunt her, and a plot to bring down the entire congregation is unfolding in the shadows she so loves.
Will she even survive to initiation, let alone have her revenge?
---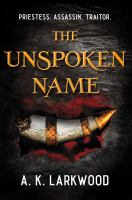 The Unspoken Name by A. K. Larkwood
book
hoopla eAudiobook
What if you knew how and when you will die?
Csorwe does — she will climb the mountain, enter the Shrine of the Unspoken, and gain the most honored title: sacrifice.
But on the day of her foretold death, a powerful mage offers her a new fate. Leave with him, and live. Turn away from her destiny and her god to become a thief, a spy, an assassin–the wizard's loyal sword. Topple an empire and help him reclaim his seat of power.
But Csorwe will soon learn — gods remember, and if you live long enough, all debts come due.
---
A Deadly Education by Naomi Novik
book
OverDrive eBook
I decided that Orion Lake needed to die after the second time he saved my life.
Everyone loves Orion Lake. Everyone else, that is. Far as I'm concerned, he can keep his flashy combat magic to himself. I'm not joining his pack of adoring fans.
I don't need help surviving the Scholomance, even if they do. Forget the hordes of monsters and cursed artifacts, I'm probably the most dangerous thing in the place. Just give me a chance and I'll level mountains and kill untold millions, make myself the dark queen of the world.
At least, that's what the world expects. Most of the other students in here would be delighted if Orion killed me like one more evil thing that's crawled out of the drains. Sometimes I think they want me to turn into the evil witch they assume I am. The school certainly does.
But the Scholomance isn't getting what it wants from me. And neither is Orion Lake. I may not be anyone's idea of the shining hero, but I'm going to make it out of this place alive, and I'm not going to slaughter thousands to do it, either.
Although I'm giving serious consideration to just one.
---
The Year of Yellow Jack: A Novel about Fever, Félicité, and the Early Years on the Bayou Teche by Anne L. Simon
book
At the start of 1839, the small, south Louisiana town of New Iberia appears poised for prosperity. Acadian, French, English, and American immigrants have joined Spanish settlers in the area. Steamboats move up and down the Bayou Teche, carrying the products of the fertile land to market in New Orleans. Across the bayou, Hortense Duperier enjoys a privileged life in a grand brick house with her husband, Fréderick, and their three children. Suddenly, Fréderick's untimely death and financial reverses force her to manage the estate on her own. When signs of the dreaded yellow fever threaten an epidemic, Hortense turns to Félicité, an enslaved woman from Haiti. Together, the two women dispense Félicité's traditional remedies, defying the medical practices and social constraints of their time to save the young town.
---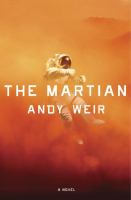 The Martian by Andy Weir
book
book on CD
OverDrive eBook
OverDrive eBook – classroom edition
Six days ago, astronaut Mark Watney became one of the first people to walk on Mars. Now, he's sure he'll be the first person to die there.
After a dust storm nearly kills him and forces his crew to evacuate while thinking him dead, Mark finds himself stranded and completely alone with no way to even signal Earth that he's alive. And even if he could get word out, his supplies would be gone long before a rescue could arrive.
Chances are, though, he won't have time to starve to death. The damaged machinery, unforgiving environment, or plain-old "human error" are much more likely to kill him first.
But Mark isn't ready to give up yet. Drawing on his ingenuity, his engineering skills–and a relentless, dogged refusal to quit–he steadfastly confronts one seemingly insurmountable obstacle after the next. Will his resourcefulness be enough to overcome the impossible odds against him?
Adult Nonfiction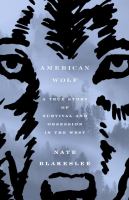 American Wolf: A True Story of Survival and Obsession in the West by Nate Blakeslee
book
Winner of the J. Anthony Lukas Book Prize, Blakeslee's Tulia dealt with wrongful conviction in a small Texas town. His new work also deals with the wrongfully maligned, telling the story of the majestic wolf by focusing on O-Six, a legendary female wolf at Yellowstone beloved by rangers there. But ranchers and hunters are not on her side.
---
Sam Houston and the Alamo Avengers: The Texas Victory that Changed American History by Brian Kilmeade
book
OverDrive eBook
In March 1836, the Mexican army led by General Santa Anna massacred more than two hundred Texians who had been trapped in the Alamo. After thirteen days of fighting, American legends Jim Bowie and Davey Crockett died there, along with other Americans who had moved to Texas looking for a fresh start. It was a crushing blow to Texas's fight for freedom.
But the story doesn't end there. The defeat galvanized the Texian settlers, and under General Sam Houston's leadership they rallied. Six weeks after the Alamo, Houston and his band of settlers defeated Santa Anna's army in a shocking victory, winning the independence for which so many had died.
Sam Houston and the Alamo Avengers recaptures this pivotal war that changed America forever, and sheds light on the tightrope all war heroes walk between courage and calculation. Thanks to Kilmeade's storytelling, a new generation of readers will remember the Alamo–and recognize the lesser-known heroes who snatched victory from the jaws of defeat.
---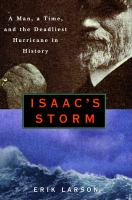 Isaac's Storm: A Man, a Time, and the Deadliest Hurricane in History by Erik Larson
book
Galveston, Texas. 8 September 1900. It's another fine day in the Gulf according to Isaac Cline, chief observer of the new US Weather Bureau, but one day later, 10,000 people were dead, wiped out by the biggest storm the coast of America had ever witnessed.
---
The Book Collectors: A Band of Syrian Rebels and the Stories that Carried Them Through a War by Delphine Minoui
book
Award-winning journalist Delphine Minoui recounts the true story of a band of young rebels, a besieged Syrian town, and an underground library built from the rubble of war.
Reading is an act of resistance.
Daraya is a town outside Damascus, the very spot where the Syrian Civil War began. Long a site of peaceful resistance to the Assad regimes, Daraya fell under siege in 2012. For four years, no one entered or left, and aid was blocked. Every single day, bombs fell on this place–a place of homes and families, schools and children, now emptied and broken into bits.
And then a group searching for survivors stumbled upon a cache of books in the rubble. In a week, they had six thousand volumes; in a month, fifteen thousand. A sanctuary was born: a library where people could escape the blockade, a paper fortress to protect their humanity.
The library offered a marvelous range of books–from Arabic poetry to American self-help, Shakespearean plays to stories of war in other times and places. The visitors shared photos and tales of their lives before the war, planned how to build a democracy, and tended the roots of their community despite shell-shocked soil.
In the midst of the siege, the journalist Delphine Minoui tracked down one of the library's founders, twenty-three-year-old Ahmad. Over text messages, WhatsApp, and Facebook, Minoui came to know the young men who gathered in the library, exchanged ideas, learned English, and imagined how to shape the future, even as bombs kept falling from above. By telling their stories, Minoui makes a far-off, complicated war immediate and reveals these young men to be everyday heroes as inspiring as the books they read. The Book Collectors is a testament to their bravery and a celebration of the power of words.
---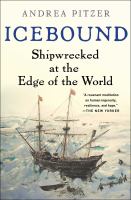 Icebound: Shipwrecked at the Edge of the World by Andrea Pitzer
book
The human story has always been one of perseverance — often against remarkable odds. The most astonishing survival tale of all might be that of 16th-century Dutch explorer William Barents and his crew of sixteen, who ventured farther north than any Europeans before and, on their third polar exploration, lost their ship off the frozen coast of Nova Zembla to unforgiving ice. The men would spend the next year fighting off ravenous polar bears, gnawing hunger, and endless winter.
In Icebound, Andrea Pitzer masterfully combines a gripping tale of survival with a sweeping history of the great Age of Exploration — a time of hope, adventure, and seemingly unlimited geographic frontiers. At the story's center is William Barents, one of the 16th century's greatest navigators whose larger-than-life ambitions and obsessive quest to chart a path through the deepest, most remote regions of the Arctic ended in both tragedy and glory. Journalist Pitzer did extensive research, learning how to use four-hundred-year-old navigation equipment, setting out on three Arctic expeditions to retrace Barents's steps, and visiting replicas of Barents's ship and cabin.
---
The Accidental City by Lawrence N. Powell
book
America's most beguiling metropolis started out as a snake-infested, hurricane-battered swamp. Through intense imperial rivalries and ambitious settlers who risked their lives to succeed in colonial America, the site became a crossroads for the Atlantic world. Powell gives us the full sweep of the city's history from its founding through statehood.
Teens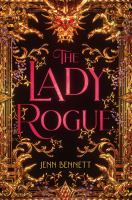 The Lady Rogue by Jenn Bennett
book
Some legends never die..
Traveling with her treasure-hunting father has always been a dream for Theodora. She's read every book in his library, has an impressive knowledge of the world's most sought-after relics, and has all the ambition in the world. What she doesn't have is her father's permission. That honor goes to her father's nineteen-year-old protégé — and once-upon-a-time love of Theodora's life — Huck Gallagher, while Theodora is left to sit alone in her hotel in Istanbul.
Until Huck returns from an expedition without her father and enlists Theodora's help in rescuing him. Armed with her father's travel journal, the reluctant duo learns that her father had been digging up information on a legendary and magical ring that once belonged to Vlad the Impaler–more widely known as Dracula — and that it just might be the key to finding him.
Journeying into Romania, Theodora and Huck embark on a captivating adventure through Gothic villages and dark castles in the misty Carpathian Mountains to recover the notorious ring. But they aren't the only ones who are searching for it. A secretive and dangerous occult society with a powerful link to Vlad the Impaler himself is hunting for it, too. And they will go to any lengths–including murder–to possess it.
---
Truly Devious by Maureen Johnson
book
hoopla eBook
hoopla eAudiobook
freading eBook
Ellingham Academy is a famous private school in Vermont. It was founded by Albert Ellingham, an early twentieth century tycoon, who wanted to make a wonderful place full of riddles, twisting pathways, and gardens. "A place," he said, "where learning is a game."
In 1936, shortly after the school opened, Ellingham's wife and daughter, Iris and Alice, were kidnapped. The only real clue was a mocking riddle listing methods of murder, signed with the frightening pseudonym "Truly, Devious." It became one of the great crimes of American history. Something like that could never happen again, of course. . .
Years later, true-crime aficionado Stevie Bell is set to begin her first year at Ellingham Academy, and she has an ambitious plan: She will solve this cold case. That is, she will solve the case when she gets a grip on her demanding new school life and her housemates: the inventor, the novelist, the actor, the artist, and the jokester. But something strange is happening. Truly Devious makes a surprise return, and death revisits Ellingham Academy. The past has crawled out of its grave. Someone has gotten away with murder.
---
The Kingdom of Back by Marie Lu
book
large print book
Playaway audiobook
Two siblings. Two brilliant talents. But only one Mozart.
Born with a gift for music, Nannerl Mozart has just one wish — to be remembered forever. But even as she delights audiences with her masterful playing, she has little hope she'll ever become the acclaimed composer she longs to be. She is a young woman in 18th century Europe, and that means composing is forbidden to her. She will perform only until she reaches a marriageable age–her tyrannical father has made that much clear.
And as Nannerl's hope grows dimmer with each passing year, the talents of her beloved younger brother, Wolfgang, only seem to shine brighter. His brilliance begins to eclipse her own, until one day a mysterious stranger from a magical land appears with an irresistible offer. He has the power to make her wish come true–but his help may cost her everything.
---
Isle of Blood and Stone by Makiia Lucier
book
Eighteen years ago, two princes vanished. Now a riddle hidden on a mysterious map could chart a course towards the truth . . . and the missing royals in this historical fantasy that's perfect for fans of And I Darken and Grave Mercy.
When two maps surface, each bearing the same hidden riddle, nineteen-year-old Elias, a royal mapmaker, sets sail with King Ulises to uncover long-held secrets behind the mysterious disappearance of the king's two young brothers eighteen years earlier.
---
The Merciful Crow by Margaret Owen
book
hoopla eAudiobook
Debut author Margaret Owen crafts a powerful saga of vengeance, survival, and sacrifice — perfect for fans of Leigh Bardugo and Kendare Blake — in The Merciful Crow.
One way or another, we always feed the crows. A future chieftain Fie abides by one rule: look after your own. Her Crow caste of undertakers and mercy-killers takes more abuse than coin, but when they're called to collect royal dead, she's hoping they'll find the payout of a lifetime.
When Crown Prince Jasimir turns out to have faked his death, Fie's ready to cut her losses-and perhaps his throat. But he offers a wager that she can't refuse: protect him from a ruthless queen, and he'll protect the Crows when he reigns. A too-cunning bodyguard Hawk warrior Tavin has always put Jas's life before his, magically assuming the prince's appearance and shadowing his every step. But what happens when Tavin begins to want something to call his own?
---
We Are Not from Here by Jenny Torres Sanchez
book
hoopla eAudiobook
Pulga has his dreams.
Chico has his grief.
Pequena has her pride.
And these three teens have one another. But none of them have illusions about the town they've grown up in and the dangers that surround them. Even with the love of family, threats lurk around every corner. And when those threats become all too real, the trio knows they have no choice but to run: from their country, from their families, from their beloved home. Crossing from Guatemala through Mexico, they follow the route of La Bestia, the perilous train system that might deliver them to a better life–if they are lucky enough to survive the journey. With nothing but the bags on their backs and desperation drumming through their hearts, Pulga, Chico, and Pequena know there is no turning back, despite the unknown that awaits them. And the darkness that seems to follow wherever they go.
In this striking portrait of lives torn apart, the plight of migrants at the U.S. southern border is brought to light through poignant, vivid storytelling. An epic journey of danger, resilience, heartache, and hope.
---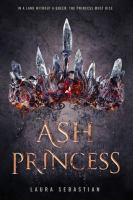 Ash Princess by Laura Sebastian
book
Theodosia was six when her country was invaded and her mother, the Fire Queen, was murdered before her eyes. On that day, the Kaiser took Theodosia's family, her land, and her name. Theo was crowned Ash Princess–a title of shame to bear in her new life as a prisoner.
For ten years Theo has been a captive in her own palace. She's endured the relentless abuse and ridicule of the Kaiser and his court. She is powerless, surviving in her new world only by burying the girl she was deep inside.
Then, one night, the Kaiser forces her to do the unthinkable. With blood on her hands and all hope of reclaiming her throne lost, she realizes that surviving is no longer enough. But she does have a weapon: her mind is sharper than any sword. And power isn't always won on the battlefield.
For ten years, the Ash Princess has seen her land pillaged and her people enslaved. That all ends here.
---
Enchantée / All That Glitters by Gita Trelease
book
hoopla eAudiobook
Paris is a labyrinth of twisted streets filled with beggars and thieves, revolutionaries and magicians. Camille Durbonne is one of them. She wishes she weren't…
When smallpox kills her parents, Camille must find a way to provide for her younger sister while managing her volatile brother. Relying on magic, Camille painstakingly transforms scraps of metal into money to buy food and medicine they need. But when the coins won't hold their shape and her brother disappears with the family's savings, Camille pursues a richer, more dangerous mark: the glittering court of Louis XVI and Marie Antoinette.
Using dark magic forbidden by her mother, Camille transforms herself into a baroness and is swept up into life at the Palace of Versailles, where aristocrats both fear and hunger for magic. As she struggles to reconcile her resentment of the rich with the allure of glamour and excess, Camille meets a handsome young inventor, and begins to believe that love and liberty may both be possible.
But magic has its costs, and soon Camille loses control of her secrets. And when revolution erupts, Camille must choose–love or loyalty, democracy or aristocracy, reality or magic–before Paris burns.
---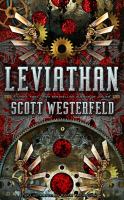 Leviathan by Scott Westerfield
book
OverDrive eBook – trilogy
OverDrive eAudiobook
hoopla eAudiobook
It is the cusp of World War I, and all the European powers are arming up. The Austro-Hungarians and Germans have their Clankers, steam-driven iron machines loaded with guns and ammunition. The British Darwinists employ fabricated animals as their weaponry. Their Leviathan is a whale airship, and the most masterful beast in the British fleet.
Aleksandar Ferdinand, prince of the Austro-Hungarian Empire, is on the run. His own people have turned on him. His title is worthless. All he has is a battle-torn Stormwalker and a loyal crew of men.
Deryn Sharp is a commoner, a girl disguised as a boy in the British Air Service. She's a brilliant airman. But her secret is in constant danger of being discovered.
With the Great War brewing, Alek's and Deryn's paths cross in the most unexpected way, taking them both aboard the Leviathan on a fantastical, around-the-world adventure. One that will change both their lives forever.
---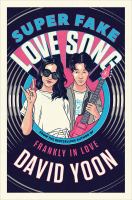 Super Fake Love Song by David Yoon
book
Playaway audiobook
When Sunny meets Cirrus, he can't believe how cool and confident she is. So when Cirrus mistakenly thinks Sunny plays guitar, he accidentally winds up telling her he's the front man of a rock band.
Before he knows it, Sunny is knee-deep in the lie: He gets his best friends to form a fake band with him and starts dressing like a rock star. But no way can he trick this amazing girl into thinking he's cool, right?
Just when Sunny is about to come clean, Cirrus asks to see them play sometime. Gulp.
Now there's only one thing to do: Fake it till you make it.
Tweens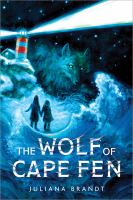 The Wolf of Cape Fen by Juliana Brandt
book
OverDrive eBook
hoopla eBook
Freading eBook
First Frost has touched Cape Fen, and that means Baron Dire has returned. For as long as anyone can remember, the baron has haunted the town, striking magical bargains and demanding unjust payment in return. Sisters Eliza and Winnie Serling know better than to bargain with Dire, lest they find themselves hunted by the Baron's companion, the Wolf.
Then, without warning, the Wolf attacks Winnie. The Serling sisters manage to escape, but they know the Wolf will be back — the Wolf only hunts those who owe Baron Dire payment.
Eliza refuses to lose her sister. If she can learn the truth, she might be able to save Winnie. But learning the truth will put her own life in danger…
---
Cogheart by Peter Bunzl
book
hoopla eBook
hoopla eAudiobook
When her father goes missing, thirteen-year-old Lily Hartman must team up with a clockmaker's son, Robert, and her mechanimal fox, Malkin, to solve the mystery of her father's disappearance and his world-changing invention, a perpetual motion machine called the Cogheart.
---
Broken Pride by Erin Hunter
book
hoopla eBook
hoopla eAudiobook
Freading eBook
A lion cast out from his tribe.

An elephant who can read the bones of the dead.

A baboon rebelling against his destiny.

For generations, the animals of the African plains have followed a single rule: only kill to survive. But when an unthinkable act of betrayal shatters the peace, the fragile balance between predators and prey will rest in the paws of three unlikely heroes.
---
The Phantom Tollbooth by Norton Juster
books
DVD
OverDrive eBook
For Milo, everything's a bore. When a tollbooth mysteriously appears in his room, he drives through only because he's got nothing better to do. But on the other side, things seem different. Milo visits the Island of Conclusions (you get there by jumping), learns about time from a ticking watchdog named Tock, and even embarks on a quest to rescue Rhyme and Reason. Somewhere along the way, Milo realizes something astonishing. Life is far from dull. In fact, it's exciting beyond his wildest dreams.
---
The Boy Who Harnessed the Wind (Young Readers Edition) by William Kamkwamba
book
OverDrive eBook
When a terrible drought struck William Kamkwamba's tiny village in Malawi, his family lost all of the season's crops, leaving them with nothing to eat and nothing to sell. William began to explore science books in his village library, looking for a solution. There, he came up with the idea that would change his family's life forever: he could build a windmill. Made out of scrap metal and old bicycle parts, William's windmill brought electricity to his home and helped his family pump the water they needed to farm the land.
Retold for a younger audience, this exciting memoir shows how, even in a desperate situation, one boy's brilliant idea can light up the world. Complete with photographs, illustrations, and an epilogue that will bring readers up to date on William's story, this is the perfect edition to read and share with the whole family.
---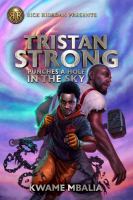 Tristan Strong Punches a Hole in the Sky by Kwame Mbalia
book
OverDrive eBook
OverDrive eAudiobook
hoopla eBook
Seventh grader Tristan Strong feels anything but strong ever since he failed to save his best friend when they were in a bus accident together. All he has left of Eddie is the journal his friend wrote stories in. Tristan is dreading the month he's going to spend on his grandparents' farm in Alabama, where he's being sent to heal from the tragedy.
But on his first night there, a sticky creature shows up in his bedroom and steals Eddie's notebook. Tristan chases after it — is that a doll? — and a tug-of-war ensues between them underneath a Bottle Tree. In a last attempt to wrestle the journal out of the creature's hands, Tristan punches the tree, accidentally ripping open a chasm into the MidPass, a volatile place with a burning sea, haunted bone ships, and iron monsters that are hunting the inhabitants of this world.
Tristan finds himself in the middle of a battle that has left Black American folk heroes John Henry and Brer Rabbit exhausted. In order to get back home, Tristan and these new allies will need to entice the god Anansi, the Weaver, to come out of hiding and seal the hole in the sky. But bartering with the trickster Anansi always comes at a price.
Can Tristan save this world before he loses more of the things he loves?
---
The Book of Boy by Catherine Gilbert Murdock
book
hoopla eBook
hoopla eAudiobook
Freading eBook
Boy has always been relegated to the outskirts of his small village. With a large hump on his back, a mysterious past, and a tendency to talk to animals, he is often mocked and abused by the other kids in his town. Until the arrival of a shadowy pilgrim named Secondus. Impressed with Boy's climbing and jumping abilities, Secondus engages Boy as his servant, pulling him into an expedition across Europe to gather the seven precious relics of Saint Peter. Boy quickly realizes this journey is not an innocent one. They are stealing the relics, and gaining dangerous enemies in the process. But Boy is determined to see this pilgrimage through until the end—for what if St. Peter can make Boy's hump go away?
---
Have Sword, Will Travel by Garth Nix
book
It is strange enough that Odo and Eleanor have stumbled upon a sword in a dried-up river outside their village. It is even stranger that Odo is able to remove it from where it's buried. And it's REMARKABLY strange when the sword starts to talk.

Odo and Eleanor have unearthed Biter, a famous fighter from earlier times. By finding Biter, Odo instantly becomes a knight – a role he is exquisitely unsuited for. Eleanor, however, would make a PERFECT knight – but she's not the one with the sword.

Finding Biter is only the start – boy, girl, and sword must soon go on a quest to save their kingdom from threats in both human and dragon form, in this new fantasy triumph from Garth Nix and Sean Williams.
---
Fuzzy Mud by Louis Sachar
book
OverDrive eBook
Be careful. Your next step may be your last.
Fifth grader Tamaya Dhilwaddi and seventh grader Marshall Walsh have been walking to and from Woodridge Academy together since elementary school. But their routine is disrupted when bully Chad Hilligas challenges Marshall to a fight. To avoid the conflict, Marshall takes a shortcut home through the off-limits woods. Tamaya, unaware of the reason for the detour, reluctantly follows. They soon get lost. And then they find trouble. Bigger trouble than anyone could ever have imagined.
In the days and weeks that follow, the authorities and the U.S. Senate become involved, and what they uncover might affect the future of the world.
---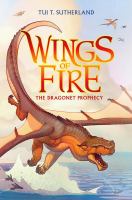 The Dragonet Prophecy by Tui Sutherland
book
graphic novel
OverDrive eBook
OverDrive graphic novel
hoopla eAudiobook
Seven dragon tribes have been at war for generations. A secret movement called the Talons of Peace is determined to bring an end to the fighting, with the help of a prophecy. Five dragonets are enlisted, against their will, to end the terrible war. But when they escape their prison, the result may be more than intended.
Kids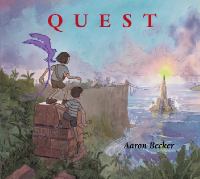 Quest by Aaron Becker
book
Aaron Becker, creator of Journey, a Caldecott Honor book, presents the next chapter in his stunning wordless fantasy.
A king emerges from a hidden door in a city park, startling two children sheltering from the rain. No sooner does he push a map and some strange objects into their hands than he is captured by hostile forces that whisk him back through the enchanted door. Just like that, the children are caught up in a quest to rescue the king and his kingdom from darkness, while illuminating the farthest reaches of their imagination. Colored markers in hand, they make their own way through the portal, under the sea, through a tropical paradise, over a perilous bridge, and high in the air with the help of a winged friend. Journey lovers will be thrilled to follow its characters on a new adventure threaded with familiar elements, while new fans will be swept into a visually captivating story that is even richer and more exhilarating than the first.
---
The Great Kapok Tree by Lynne Cherry
book
A modern fable with an urgent message for young environmentalists.
Lynne Cherry journeyed deep into the rain forests of Brazil to write and illustrate this gorgeous picture book about a man who exhausts himself trying to chop down a giant kapok tree. While he sleeps, the forest's residents, including a child from the Yanomamo tribe, whisper in his ear about the importance of trees and how "all living things depend on one another" . . . and it works.
Cherry's lovingly rendered colored pencil and watercolor drawings of all the "wondrous and rare animals" evoke the lush rain forests. Features stunning world maps bordered by detailed illustrations of fascinating rainforest creatures. An IRA Teacher's Choice (1991), ABA's Pick of the Lists, Reading Rainbow Review Book, NSTA-CBC Outstanding Trade Book for Children.
---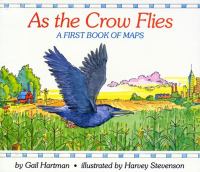 As the Crow Flies: A First Book of Maps by Gail Hartman
book
Maps — they help you get where you want to go. People use road maps to find their way. These maps show miles of highways that point out the right direction. But what about the crow? What kind of map does he use? Or the eagle, the rabbit, the horse, and the sea gull? What's on their maps?
---
Mapping Sam by Joyce Hesselberth
book
Maps can show us streets and subways and cities and countries. But they can also show us what we can't see, what we can only imagine, or how to build something. In Joyce Hesselberth's Mapping Sam, Sam the cat puts her family to bed, and then-when all is quiet-heads out to explore her neighborhood.
As Sam follows her customary path, wandering farther and farther away from home, readers encounter different kinds of maps illuminating different points of view and the various spots Sam visits. Finally, when Sam reaches her favorite place and confirms that all is well, she heads back home, climbs onto a cozy bed, and falls asleep.
---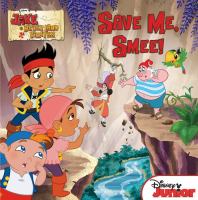 Save Me, Smee! by Melinda La Rose
book
Disney Junior Storybook Collection
hoopla eBook
Arrr! Captain Hook finds a treasure map that leads him into the most perilous places in all of Never Land! Now it's up to Jake and his crew to help Mr. Smee save the Captain from himself.
---
Mapping Penny's World by Loreen Leedy
book
Lisa's class is learning how to make maps. The teacher says they can make maps of anyplace, so Lisa starts with her bedroom. She includes all the things that people will need to read the map, such as a scale and a key to the symbols she has used. Her dog, Penny, helps with the map. This gives Lisa an idea. Why not map Penny's world? Making maps is so much fun that Lisa and Penny decide to visit some of the exotic places that they've drawn – but they won't forget to take a map along.
---
There's a Map on My Lap! by Tish Rabe
book
The Cat in the Hat introduces beginning readers to maps: the different kinds (city, state, world, topographic, temperature, terrain, etc.); their formats (flat, globe, atlas, puzzle); the tools we use to read them (symbols, scales, grids, compasses); and funny facts about the places they show us (Michigan looks like a scarf and a mitten/ Louisiana looks like a chair you can sit in).
---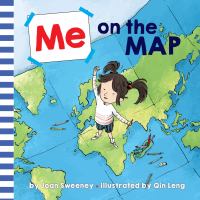 Me on the Map by Joan Sweeney
book
This playful introduction to maps shows children how easy it is to find where they live and how they fit in to the larger world. Filled with fun and adorable new illustrations by Qin Leng, Me on the Map will show readers how easy it is to find the places they know and love with help from a map.