Read a book that has been adapted to the screen.
Since the early days of cinema, Hollywood has used literature as inspiration. Sometimes the adaptation does the book justice, while other times it's disappointing to fans of the original work. This month, we challenge you to read a book that has been adapted to the screen so you can see for yourself that the book was better. Find recommendations for adults, teens, tweens, and kids. Get more information about the Read 2021 Challenge here.
Adults
The Queen's Gambit by Walter Tevis
book
OverDrive eBook
hoopla eBook
hoopla eAudiobook
Freading eBook
Eight year-old orphan Beth Harmon is quiet, sullen, and by all appearances unremarkable. That is, until she plays her first game of chess. Her senses grow sharper, her thinking clearer, and for the first time in her life she feels herself fully in control. By the age of sixteen, she's competing for the U.S. Open championship. But as Beth hones her skills on the professional circuit, the stakes get higher, her isolation grows more frightening, and the thought of escape becomes all the more tempting.
---
Big Little Lies by Liane Moriarty
book
large print book
book on CD
OverDrive eBook
OverDrive eAudiobook
Pirriwee Public's annual school Trivia Night has ended in a shocking riot. One parent is dead. The school principal is horrified. As police investigate what appears to have been a tragic accident' signs begin to indicate that this devastating death might have been cold-blooded murder. Bestselling author Liane Moriarty deftly explores the reality of parenting and playground politics' ex-husbands and ex-wives' and fractured families.
---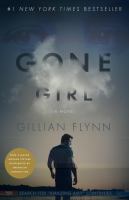 Gone Girl by Gillian Flynn
book
book on CD
large print book
OverDrive eBook
OverDrive eBook 3 book collection
OverDrive eAudiobook
On a warm summer morning in North Carthage, Missouri, it is Nick and Amy Dunne's fifth wedding anniversary. Presents are being wrapped and reservations are being made when Nick's clever and beautiful wife disappears. Husband-of-the-Year Nick isn't doing himself any favors with cringe-worthy daydreams about the slope and shape of his wife's head, but passages from Amy's diary reveal the alpha-girl perfectionist could have put anyone dangerously on edge. Under mounting pressure from the police and the media—as well as Amy's fiercely doting parents—the town golden boy parades an endless series of lies, deceits, and inappropriate behavior. Nick is oddly evasive, and he's definitely bitter—but is he really a killer?
---
The Color Purple by Alice Walker
book / book
OverDrive eBook
hoopla eBook
hoopla eBook 3 book collection
Freading eBook
This is the story of two sisters–one a missionary in Africa and the other a child wife living in the South–who sustain their loyalty to and trust in each other across time, distance, and silence. Beautifully imagined and deeply compassionate, this classic novel of American literature is rich with passion, pain, inspiration, and an indomitable love of life.
---
To Kill a Mockingbird by Harper Lee
book / book / book / book
book on CD
large print book / large print book
OverDrive eBook
OverDrive eAudiobook
OverDrive graphic novel
hoopla eBook
hoopla eAudiobook
freading eBook
"Shoot all the bluejays you want, if you can hit 'em, but remember it's a sin to kill a mockingbird." A lawyers advice to his children as he defends the real mockingbird of Harper Lee's classic novels – a black man charged with the rape of a white girl. Through the young eyes of Scout and Jem Finch, Harper Lee explores with rich humor and unswerving honesty the irrationality of adult attitudes toward race and class in the Deep South of the 1930s. The conscience of a town steeped in prejudice, violence, and hypocrisy is pricked by the stamina and quiet heroism of one man's struggle for justice – but the weight of history will only tolerate so much
---
The Goldfinch by Donna Tartt
book
OverDrive eBook
OverDrive eAudiobook
Theo Decker, a 13-year-old New Yorker, miraculously survives an accident that kills his mother. Abandoned by his father, Theo is taken in by the family of a wealthy friend. Bewildered by his strange new home on Park Avenue, disturbed by schoolmates who don't know how to talk to him, and tormented above all by a longing for his mother, he clings to the one thing that reminds him of her: a small, mysteriously captivating painting that ultimately draws Theo into a wealthy and insular art community.
As an adult, Theo moves silkily between the drawing rooms of the rich and the dusty labyrinth of an antiques store where he works. He is alienated and in love — and at the center of a narrowing, ever more dangerous circle.
---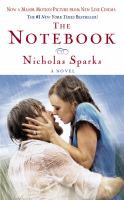 The Notebook by Nicholas Sparks
book
OverDrive eBook
hoopla eAudiobook
Every so often a love story so captures our hearts that it becomes more than a story. It becomes an experience to remember forever. The Notebook is such a book. It is a celebration of how passion can be ageless and timeless, a tale that moves us to laughter and tears and makes us believe in true love all over again.
At thirty-one, Noah Calhoun, back in coastal North Carolina after World War II, is haunted by images of the girl he lost more than a decade earlier. At twenty-nine, socialite Allie Nelson is about to marry a wealthy lawyer, but she cannot stop thinking about the boy who long ago stole her heart. Thus begins the story of a love so enduring and deep it can turn tragedy into triumph, and may even have the power to create a miracle…
---
The Duke and I by Julia Quinn
book
large print book
book on CD
OverDrive eAudiobook
OverDrive eBook
OverDrive eBook Bridgerton Collection (1st, 2nd, and 3rd books in the series)
hoopla eBook
hoopla eAudiobook
Can there be any greater challenge to London's Ambitious Mamas than an unmarried duke? –Lady Whistledown's Society Papers, April 1813
In the ballrooms and drawing rooms of Regency London, rules abound. From their earliest days, children of aristocrats learn how to address an earl and curtsey before a prince—while other dictates of the ton are unspoken yet universally understood. A proper duke should be imperious and aloof. A young, marriageable lady should be amiable… but not too amiable.

Daphne Bridgerton has always failed at the latter. The fourth of eight siblings in her close-knit family, she has formed friendships with the most eligible young men in London. Everyone likes Daphne for her kindness and wit. But no one truly desires her. She is simply too deuced honest for that, too unwilling to play the romantic games that captivate gentlemen.

Amiability is not a characteristic shared by Simon Basset, Duke of Hastings. Recently returned to England from abroad, he intends to shun both marriage and society—just as his callous father shunned Simon throughout his painful childhood. Yet an encounter with his best friend's sister offers another option. If Daphne agrees to a fake courtship, Simon can deter the mamas who parade their daughters before him. Daphne, meanwhile, will see her prospects and her reputation soar.

The plan works like a charm—at first. But amid the glittering, gossipy, cut-throat world of London's elite, there is only one certainty: love ignores every rule.
Teens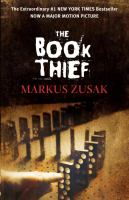 The Book Thief by Markus Zusak
book
book in Spanish
book on CD
audiobook on Playaway
OverDrive eBook
OverDrive eAudiobook
It is 1939. Nazi Germany. The country is holding its breath. Death has never been busier, and will become busier still.
Liesel Meminger is a foster girl living outside of Munich, who scratches out a meager existence for herself by stealing when she encounters something she can't resist – books. With the help of her accordion-playing foster father, she learns to read and shares her stolen books with her neighbors during bombing raids as well as with the Jewish man hidden in her basement.
---
Hunger Games by Suzanne Collins
book
book in Spanish
book on CD
OverDrive eBook
OverDrive eBook Complete series
OverDrive eAudiobook / eAudiobook
hoopla eAudiobook
Katniss is a 16-year-old girl living with her mother and younger sister in the poorest district of Panem, the remains of what used to be the United States. Long ago the districts waged war on the Capitol and were defeated. As part of the surrender terms, each district agreed to send one boy and one girl to appear in an annual televised event called The Hunger Games. The terrain, rules, and level of audience participation may change, but one thing is constant: kill or be killed. When Katniss' sister is chosen by lottery, Katniss steps up to go in her place.
---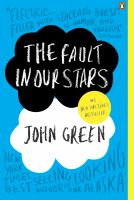 The Fault in Our Stars by John Green
book
book in Spanish
OverDrive eBook
Despite the tumor-shrinking medical miracle that has bought her a few years, Hazel has never been anything but terminal, her final chapter inscribed upon diagnosis. But when a gorgeous plot twist named Augustus Waters suddenly appears at Cancer Kid Support Group, Hazel's story is about to be completely rewritten.
From John Green, the #1 bestselling author of Turtles All the Way Down, The Fault in Our Stars is insightful, bold, irreverent, and raw. It brilliantly explores the funny, thrilling, and tragic business of being alive and in love.
---
To All the Boys I've Loved Before by Jenny Han
book
book on CD / book on CD
audiobook on Playaway
OverDrive eBook
OverDrive eAudiobook / eAudiobook
hoopla eAudiobook
Lara Jean keeps her love letters in a hatbox her mother gave her. One for every boy she's ever loved. The letters are for her eyes only. Until the day they are mailed, and suddenly Lara Jean's love life goes from imaginary to out of control.
---
Thirteen Reasons Why by Jay Asher
book
book on CD
OverDrive eBook / eBook
OverDrive eAudiobook
When high school student Clay Jenkins receives a box in the mail containing thirteen cassette tapes recorded by his classmate Hannah, who committed suicide, he spends a bewildering and heartbreaking night crisscrossing their town, listening to Hannah's voice recounting the events leading up to her death.
---
The Letter for the King by Tonke Dragt
book
It is the dead of night. Sixteen-year-old Tiuri must spend hours locked in a chapel in silent contemplation if he is to be knighted the next day. But, as he waits by the light of a flickering candle, he hears a knock at the door and a voice desperately asking for help. A secret letter must be delivered to King Unauwen across the Great Mountains – a letter upon which the fate of the entire kingdom depends. Tiuri has a vital role to play, one that might cost him his knighthood.
Tiuri's journey will take him through dark, menacing forests, across treacherous rivers, to sinister castles and strange cities. He will encounter evil enemies who would kill to get the letter, but also the best of friends in the most unexpected places. He must trust no one. He must keep his true identity secret. Above all, he must never reveal what is in the letter….
The Letter for the King is the thrilling story of one boy's battle against evil, set in an enchanted world of chivalry, courage, and true friendship.
---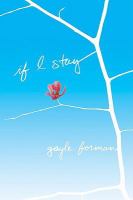 If I Stay by Gayle Forman
book / book
book on CD
OverDrive eBook
In the blink of an eye everything changes. Seventeen ­year-old Mia has no memory of the accident; she can only recall what happened afterwards, watching her own damaged body being taken from the wreck. Little by little she struggles to put together the pieces- to figure out what she has lost, what she has left, and the very difficult choice she must make. Heart-wrenchingly beautiful, this will change the way you look at life, love, and family.
---
Artemis Fowl by Erin Colfer
book / book
large print book
graphic novel / graphic novel
book on CD
OverDrive eBook
OverDrive eAudiobook
OverDrive graphic novel
hoopla eBook / eBook / eBook
hoopla graphic novel
No human being had ever gotten the better of a fairy, but twelve-year old Artemis Fowl, a criminal genius, is determined to get hold of the famous fairy gold and put his brilliant master plan into action. But these are no ordinary fairies.
Tweens
Charlie and the Chocolate Factory by Roald Dahl
book / book / book / book
book on CD
OverDrive eBook
Willy Wonka's famous chocolate factory is opening at last!
But only five lucky children will be allowed inside. And the winners are: Augustus Gloop, an enormously fat boy whose hobby is eating; Veruca Salt, a spoiled-rotten brat whose parents are wrapped around her little finger; Violet Beauregarde, a dim-witted gum-chewer with the fastest jaws around; Mike Teavee, a toy pistol-toting gangster-in-training who is obsessed with television; and Charlie Bucket, Our Hero, a boy who is honest and kind, brave and true, and good and ready for the wildest time of his life!
---
The Invention of Hugo Cabret by Brian Selznick
book
book in Spanish
OverDrive eBook
OverDrive eAudiobook
hoopla eAudiobook
Orphan, clock keeper, and thief, Hugo lives in the walls of a busy Paris train station, where his survival depends on secrets and anonymity. But when his world suddenly interlocks with an eccentric, bookish girl and a bitter old man who runs a toy booth in the station, Hugo's undercover life, and his most precious secret, are put in jeopardy. A cryptic drawing, a treasured notebook, a stolen key, a mechanical man, and a hidden message from Hugo's dead father form the backbone of this intricate, tender, and spellbinding mystery.
---
Mr. Popper's Penguins by Richard and Florence Atwater
book / book
book on CD
hoopla eBook
Freading eBook
How many penguins in the house is too many? Mr. Popper is a humble house painter living in Stillwater who dreams of faraway places like the South Pole. When an explorer responds to his letter by sending him a penguin named Captain Cook, Mr. Popper and his family's lives change forever. Soon one penguin becomes twelve, and the Poppers must set out on their own adventure to preserve their home.
---
Wrinkle in Time by Madeline L'Engle
book / book / book
book on CD
graphic novel
graphic novel in Spanish
OverDrive eBook / ebook / ebook
OverDrive graphic novel
OverDrive eAudiobook
Meg Murray, her little brother Charles Wallace, and their mother are having a midnight snack on a dark and stormy night when an unearthly stranger appears at their door. He claims to have been blown off course, and goes on to tell them that there is such a thing as a "tesseract," which, if you didn't know, is a wrinkle in time. Meg's father had been experimenting with time-travel when he suddenly disappeared. Will Meg, Charles Wallace, and their friend Calvin outwit the forces of evil as they search through space for their father?
---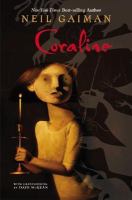 Coraline by Neil Gaiman
book / book
OverDrive eBook
hoopla eBook
hoopla eAudiobook
Freading eBook
When Coraline steps through a door to find another house strangely similar to her own (only better), things seem marvelous.
But there's another mother there, and another father, and they want her to stay and be their little girl. They want to change her and never let her go. Coraline will have to fight with all her wit and courage if she is to save herself and return to her ordinary life.
Neil Gaiman's Coraline is a can't-miss classic that enthralls readers age 8 to 12 but also adults who enjoy a perfect, smart, spooky read.
---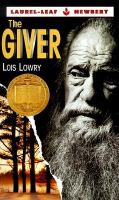 The Giver by Lois Lowery
book
book in Spanish
book on CD
graphic novel
OverDrive eBook / eBook
OverDrive eAudiobook
hoopla eBook
In Lois Lowry's Newbery Medal–winning classic, twelve-year-old Jonas lives in a seemingly ideal world. Not until he is given his life assignment as the Receiver does he begin to understand the dark secrets behind his fragile community.
---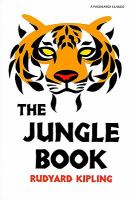 The Jungle Book by Rudyard Kipling
book / book / book / book / book
OverDrive eAudiobook
hoopla eBook / ebook
hoopla eAudiobook / eAudiobook
freading eBook
In the jungles of India, a pack of wolves discover a young boy. They name the boy Mowgli and protect him against dangers, including Shere Kan, the most savage tiger in the jungle. As Mowgli grows up, he learns the ways of the jungle from Bagheera the panther, the wise bear, Baloo, and other animals. Soon, he must decide whether to remain among beasts or embrace his own kind.
Kids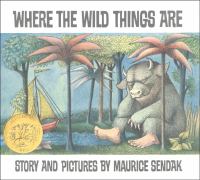 Where the Wild Things Are by Maurice Sendak
book / book / book
book in Spanish
OverDrive eAudibook
hoopla eAudiobook
Max is the hero of this beloved children's classic in which he makes mischief, sails away, tames the wild things and returns home for supper.
---
Alexander and the Terrible, Horrible, No Good, Very Bad Day by Judith Viorst
book
hoopla eAudiobook
Poor Alexander! He woke up with gum in his hair; his mom forgot to put dessert in his lunch bag; there were lima beans for dinner, and kissing on TV – even the cat refuses to sleep in his bed. Some days are just like that.
---
Cloudy with a Chance of Meatballs by Judi Barrett
book
The tiny town of Chewandswallow was very much like any other tiny town except for its weather, which came three times a day, at breakfast, lunch and dinner. But it never rained rain and it never snowed snow and it never blew just wind. It rained things like soup and juice. It snowed things like mashed potatoes. And sometimes the wind blew in storms of hamburgers. Life for the townspeople was delicious until the weather took a turn for the worse. The food got larger and larger and so did the portions. Something has to be done in Chewandswallow…and in a hurry.
---
Jumanji by Chris Van Allsburg
book
hoopla eBook
hoopla eAudiobook
The game under the tree looked like a hundred others Peter and Judy had at home. But they were bored and restless and, looking for something interesting to do, thought they'd give Jumanji a try. Little did they know when they unfolded its ordinary-looking playing board that they were about to be plunged into the most exciting and bizarre adventure of their lives.
In his second book for children, Chris Van Allsburg again explores the ever-shifting line between fantasy and reality with this story about a game that comes startingly to life.
His marvelous drawings beautifully convey a mix of the everyday and the extraordinary, as a quiet house is taken over by an exotic jungle.
---
Shrek by William Steig
book
hoopla eAudiobook
Shrek, a horrid little ogre, goes out into the world to find adventure and along the way encounters a witch, a knight in armor, a dragon, and, finally, a hideous princess, who's even uglier than he is!
---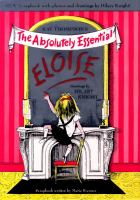 Eloise by Kay Thompson
book / book
Eloise is a little girl who lives at The Plaza Hotel in New York. She is not yet pretty but she is already a Person.

She is interested in people when they are not boring.

If you take her home with you, you will always be glad you did.
---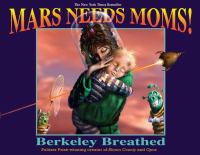 Mars Needs Moms by Berkeley Breathed
book
Milo doesn't get it: What's the big deal about moms? They're just slave-driving broccoli bullies. Yet they are worshipped the world over. Perhaps even the galaxy over because here come Martians and they're after one thing only: moms. Milo's mom in particular. That's quite a long way to come for a mom. Could it be that Milo has been overlooking something special?
---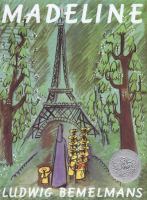 Madeline by Ludwig Bemelmans
book
Nothing frightens Madeline—not tigers, not even mice. With its endearing, courageous heroine, cheerful humor, and wonderful, whimsical drawings of Paris, the Madeline stories are true classics that continue to charm readers, even after 75 years!