Explore the Wild West with these tales of adventure and romance. Curated by Samantha Matherne.
Blood Meridian or the Evening Redness in the West by Cormac McCarthy
book
OverDrive eBook
hoopla eAudiobook
Blood Meridian is an epic novel of the violence and depravity that attended America's westward expansion, brilliantly subverting the conventions of the Western novel and the mythology of the Wild West. Based on historical events that took place on the Texas-Mexico border in the 1850s, it traces the fortunes of the Kid, a fourteen-year-old Tennesseean who stumbles into a nightmarish world where Indians are being murdered and the market for their scalps is thriving.
---
The Accidental Guardian by Mary Connealy
book
large print book
book on CD
hoopla eBook
hoopla eAudiobook
When Trace Riley finds the smoldering ruins of a small wagon train, he recognizes the hand behind the attack as the same group who left him as sole survivor years ago. Living off the wilderness since then, he'd finally carved out a home and started a herd–while serving as a self-appointed guardian of the trail, driving off dangerous men. He'd hoped those days were over, but the latest attack shows he was wrong.
Deborah Harkness saved her younger sister and two toddlers during the attack, and now finds herself at the mercy of her rescuer. Trace offers the only shelter for miles around and agrees to take them in until she can safely continue. His simple bachelor existence never anticipated kids and women in the picture and their arrival is unsettling–yet enticing.
Working to survive the winter and finally bring justice to the trail, Trace and Deborah find themselves drawn together–yet every day approaches the moment she'll leave forever.
---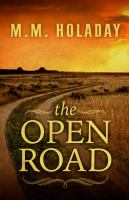 The Open Road by M. M. Holaday
book
After four years of adventure in the frontier, Win Avery returns to his hometown on the edge of the prairie and tracks down his childhood friend, Jeb Dawson. Jeb has just lost his parents, and, in his efforts to console him, Win convinces his friend to travel west with him to see the frontier before it is settled, while it is still unspoiled wilderness. They embark on a free-spirited adventure, but their journey sidetracks when they befriend Meg Jameson, an accomplished horsewoman, lost on the Nebraska prairie. Traveling together through the Rocky Mountain foothills, they run into Gray Wolf, an Arapaho determined to live on his own terms off the reservation. As their paths and purposes converge, the course of each of their lives changes forever. Although the open road continues to call to Win, and Meg moves forward with her plans to ranch with the aged liveryman who raised her, the bonds between the four friends tie their fates together through the decades that follow, as they fight the forces striving to close the frontier and as they witness a way of life disappear.
---
Montana Territory by Charles G. West
large print book
book on CD
hoopla eBook
hoopla eAudiobook
Raised among the Blackfoot, John Hawk is a valuable asset to the US Army. As a military scout at Fort Ellis, he is able to cross the line between two worlds – and help keep the peace. But when his loyalty to the Army is questioned, Hawk is immediately dismissed from his post. But then a small mule train disappears en route to Helena and Hawk's former lieutenant requests his help. Hawk leaves his cabin on the Boulder River to help find the missing party. The mule train, it appears, was ambushed by a savage gang of outlaws. Most of the travelers were murdered. Only a few survived to tell the tale. And now it's up to Hawk to stalk the killers across the lawless Montana territory–alone. No backup. No cavalry. No mercy …
---
Gypsy Rock by Robert D. McKee
book
In 1892 Central Wyoming is booming. It has vast prairies ideal for grazing and precious minerals, both above the ground and below. It also has a greedy few who will do whatever they must to acquire these riches for themselves. What they will not do is allow Billy Young and Deputy Hugo Dorling to stand in their way.
Gypsy Rock is a story of one evil act that sets off a chain of events that spirals downward toward dozens of brutal deaths. It is a story of hate and prejudice, acceptance and courage. Ultimately, Gypsy Rock is the story of Billy Young, a twenty-year-old Wyoming rancher, and his effort to find his place in what appears to be a dark, treacherous, and violent world.
---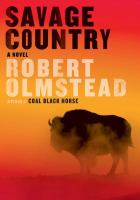 Savage Country by Robert Olmstead
book
hoopla eBook
hoopla eAudiobook
Freading eBook
Heartland Prize winner for Coal Black Horse, Olmstead tells the 1873-set story of Elizabeth Coughlin, left bankrupt when her husband dies, who takes over the buffalo hunt he had planned. The Comanche are quiet, but floods, fires, rattlesnakes, rabies, and blue northers make the going tough. Then there's the heart-destroying task of slaughtering noble animals.
Onto this broken Western stage rides Michael Coughlin, a Civil War veteran with an enigmatic past, come to town to settle his dead brother's debt. Together with his widowed sister-in-law, Elizabeth, bankrupted by her husband's folly and death, they embark on a massive, and hugely dangerous, buffalo hunt. Elizabeth hopes to salvage something of her former life and the lives of the hired men and their families who now depend on her; the buffalo hunt that her husband had planned, she now realizes, was his last hope for saving the land.
Elizabeth and Michael plunge south across the aptly named "dead line" demarcating Indian Territory from their home state of Kansas. Nothing could have prepared them for the dangers: rattlesnakes, rabies, wildfire, lightning strikes, blue northers, flash floods–and human treachery. With the Comanche in winter quarters, Elizabeth and Michael are on borrowed time, and the cruel work of harvesting the buffalo is unraveling their souls.
Bracing, direct, and quintessentially American, Olmstead's gripping narrative follows that infamous hunt, which drove the buffalo to near extinction. Savage Country is the story of a moment in our history in which mass destruction of an animal population was seen as a road to economic salvation. But it's also the intimate story of how that hunt changed Michael and Elizabeth forever.
---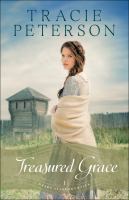 Treasured Grace by Tracie Peterson
book
large print book
book on CD
OverDrive eBook
hoopla eBook
hoopla eAudiobook
Grace Martindale has known more than her share of hardship. After her parents died, raising her two younger sisters became her responsibility. A hasty marriage to a minister who is heading to the untamed West seemed like an opportunity for a fresh start, but a cholera outbreak along the wagon trail has left Grace a widow in a very precarious position.
Having learned natural remedies and midwifery from her mother, Grace seeks an opportunity to use her skills for the benefit of others. So when she and her sisters arrive at the Whitman mission in "Oregon Country," she decides to stay rather than push on.
With the help of Alex Armistead, a French-American fur trapper, Grace begins to provide care for her neighbors, including some of the native populace. But not everyone welcomes her skills — or her presence — and soon Grace finds herself and those she loves in more danger than she imagined possible.
---
The Seeds of Change by Lauraine Snelling
book
hoopla eBook
After turning the tables on a crooked gambler, Larkspur Nielsen flees her home with her sisters on a wagon train bound for Oregon. Knowing four women will draw unwanted attention, she dons a disguise as a man. But maintaining the ruse is harder than she imagined, as is protecting her sisters from difficult circumstances and eligible young men.
Larkspur Nielsen is ready for a change. Her parents have passed on, and her older brother is successfully running the family business. She bristles at the small-mindedness that permeates life in her small Ohio community, and she sees little chance of a satisfying future there. She has a little money saved, and after turning the tables on a crooked gambler who had fleeced several locals, including her younger brother, she can stake a new start for herself and her three sisters.
As the gambler's threats of revenge echo in her ears, she and her sisters head to Independence, Missouri, to join a wagon train bound for Oregon. Knowing that four women traveling together will draw unwanted attention, Larkspur dons a disguise, passing herself off as "Clark" Nielsen, accompanying his three sisters. But maintaining the ruse is more difficult than Larkspur imagined, as is protecting her headstrong, starry-eyed sisters from difficult circumstances and eligible young men. Will reaching their goal prove too much for them?
---
The Removes by Tatjana Soli
large print book
hoopla eAudiobook
Spanning the years of the first great settlement of the West, The Removes tells the intertwining stories of fifteen-year-old Anne Cummins, frontierswoman Libbie Custer, and Libbie's husband, the Civil War hero George Armstrong Custer. When Anne survives a surprise attack on her family's homestead, she is thrust into a difficult life she never anticipated ― living among the Cheyenne as both a captive and, eventually, a member of the tribe. Libbie, too, is thrown into a brutal, unexpected life when she marries Custer.
---
The Not So Quiet Life of Calamity Jane by K. Lyn Wurth
book
large print book
Martha Jane Cannary ran through names like whiskey, but one moniker stuck – Calamity Jane. Stranded in a Virginia City mining camp, this orphan blasted through the 1860s West determined to be noticed and tell her own story. The Not So Quiet Life of Calamity Jane shatters the veneer of legends to reveal her tenacious heart. Rowdy and seemingly hell-bent on her own destruction, this devoted friend, jilted lover, sometime wife, and heartbroken mother wandered the West she loved. She shot up saloons, performed in bordellos and Wild West shows, worked when she had to, cared for the sick, and lied about what she couldn't change. This well-researched historical novel vividly revives an original woman of the American West.