You've seen them on your screens. Now see them on your shelves. These familiar faces from television, movies, music, and sports have expanded their horizons to literature. Curated by Tabor Millien.
Adult Fiction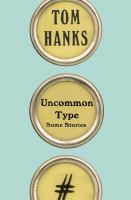 Uncommon Type: Some Stories by Tom Hanks
book
book on CD
OverDrive eBook
OverDrive eAudiobook
Two-time Academy Award winner Hanks apparently has some other tricks up his sleeve. This story collection ranges from a man who worries that his sudden ESPN fame for bowling perfect games will ruin his life to an Eastern European immigrant struggling to adjust to New York after tragedy.
(Thomas Jeffrey Hanks is an American actor and filmmaker. Known for both his comedic and dramatic roles, Hanks is one of the most popular and recognizable film stars worldwide and is regarded as an American cultural icon. – from Wikipedia)
---
Palo Alto: Stories by James Franco
book
hoopla eAudiobook
Palo Alto is the debut of a surprising and powerful new literary voice. Written with an immediate sense of place–claustrophobic and ominous–James Franco's collection traces the lives of an extended group of teenagers as they experiment with vices of all kinds, struggle with their families and one another, and succumb to self-destructive, often heartless nihilism. In Lockheed, a young woman's summer–spent working a dull internship–is suddenly upended by a spectacular incident of violence at a house party. In American History, a high school freshman attempts to impress a girl during a classroom skit with a realistic portrayal of a slave owner–only to have his feigned bigotry avenged. In I Could Kill Someone, a lonely teenager buys a gun with the aim of killing his high school tormentor, but begins to wonder about his bully's own inner life.
These linked stories, stark, vivid, and disturbing, are a compelling portrait of lives on the rough fringes of youth.
(James Edward Franco is an American actor, filmmaker, painter, and writer. For his role in 127 Hours, he was nominated for an Academy Award for Best Actor. – from Wikipedia)
---
Supermarket by Bobby Hall (AKA Logic)
book
A stunning debut novel from one of the most creative voices of our generation, Bobby Hall (a.k.a. Logic. Flynn) is stuck–depressed, recently dumped, and living at his mom's house. The supermarket was supposed to change all that. An ordinary job, routine hours, a steady check. Work isn't work when it's saving you from yourself. But things aren't quite as they seem in these aisles. Arriving to work one day to a crime scene, Flynn's world begins to crumble as the secrets of his tortured mind are revealed. And Flynn doesn't want to go looking for answers at the supermarket, because something there seems to be looking for him. A darkly funny psychological thriller, Supermarket is a gripping exploration into madness and creativity. Who knew you could find sex, drugs, and murder all in aisle nine?
(Robert Bryson Hall II, known professionally as Logic, is an American YouTuber, streamer, author, retired rapper, songwriter, and record producer. As a musician, Logic released six studio albums and received two Grammy Award nominations. – from Wikipedia)
---
Bonfire by Krysten Ritter
book
OverDrive eAudiobook
It has been ten years since Abby Williams left home and scrubbed away all visible evidence of her small-town roots. Now working as an environmental lawyer in Chicago, she has a thriving career, a modern apartment, and her pick of meaningless one-night stands.
But when a new case takes her back home to Barrens, Indiana, the life Abby painstakingly created begins to crack. Tasked with investigating Optimal Plastics, the town's most high-profile company and economic heart, Abby begins to find strange connections to Barrens's biggest scandal from more than a decade ago, involving the popular Kaycee Mitchell and her closest friends–just before Kaycee disappeared for good.
Abby knows the key to solving any case lies in the weak spots, the unanswered questions. But as she tries desperately to find out what really happened to Kaycee, troubling memories begin to resurface, and she begins to doubt her own observations. And when she unearths an even more disturbing secret–a ritual called "The Game"–it will threaten reputations, and lives, in the community and risk exposing a darkness that may consume her.
With tantalizing twists, slow-burning suspense, and a remote rural town of just five claustrophobic square miles, Bonfire is a dark exploration of what happens when your past and present collide.
(Krysten Alyce Ritter is an American actress, musician, author, and model. She first came to prominence when she appeared as Jane Margolis in the AMC drama series Breaking Bad from 2009 to 2010. She was also the prominent lead role in the Netflix original Marvel show Jessica Jones. – from Wikipedia)
---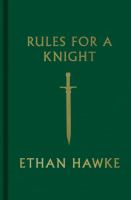 Rules for a Knight by Ethan Hawke
book
It is 1483, and Sir Thomas Lemuel Hawke, a Cornish knight, is about to ride into battle. On the eve of his departure, he composes a letter to his four young children, consisting of twenty virtues that provide instruction on how to live a noble life, and on all the lessons, large and small, that he might have imparted to them himself were he not expecting to die on the battlefield. "Why am I alive? Where was I before I was born? What will happen to me when I die? Whatever well our lives are drawn from, it is deep, wild, mysterious, and unknowable…"
Rules for a Knight is many things: a code of ethics; an intimate record of a lifelong quest; a careful recounting of a knight's hardest won lessons, deepest aspirations, and most richly instructive failures; and an artifact, a relic of a father's exquisite love. Drawing on the ancient teachings of Eastern and Western philosophy and religion, on literature, and poetry, and on the great spiritual and political writings of our time, Ethan Hawke has written a parable that–in the story of a young man's journey toward a life of authenticity and meaning–captures the instinctive movement of the heart toward truth and beauty. Rules for a Knight has the appeal of Arthurian legend; the economy of Aesop; and the vitality, intelligence, and risk-taking that could only emanate from Ethan Hawke.
(Ethan Green Hawke is an American actor, writer, and director. He has been nominated for four Academy Awards and a Tony Award. Hawke has directed three feature films, three off-Broadway plays, and a documentary. He has also written three novels and one graphic novel. – from Wikipedia)
---
Holding by Graham Norton
book
The remote Irish village of Duneen has known little drama, and yet its inhabitants are troubled: Sergeant P.J. Collins hasn't always been this overweight; Brid Riordan, a mother of two, hasn't always been an alcoholic; and elegant Evelyn Ross hasn't always felt that her life was a total waste.
So when human remains–suspected to be those of Tommy Burke, a former lover of both Brid and Evelyn–are discovered on an old farm, the village's dark past begins to unravel. As a frustrated P.J. struggles to solve a genuine case for the first time in his professional life, he unearths a community's worth of anger and resentments, secrets, and regrets.
Darkly comic, at times profoundly sad, and "especially inviting because of its tongue-in-cheek wit" (Kirkus Reviews), Holding is a masterful debut. Graham Norton employs his acerbic humor to breathe life into a host of lovable characters and explore–with searing honesty–the complexities and contradictions that make us human.
(Graham William Walker, better known by his stage name Graham Norton, is an Irish television and radio presenter, comedian, actor, author, and commentator. Well known for his work in the UK, he is a five-time BAFTA TV Award winner for his comedy chat show The Graham Norton Show and an eight-time award winner overall. – from Wikipedia)
---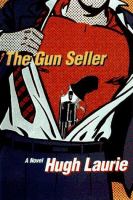 The Gun Seller by Hugh Laurie
book
hoopla eBook
hoopla eAudiobook
Freading eBook
Cold-blooded murder just isn't Thomas Lang's cup of tea. Offered a bundle to assassinate an American industrialist, he opts to warn the intended victim instead. A good deed that soon takes a bad turn. Quicker than he can down a shot of his favorite whiskey, Lang is bashing heads with a Buddha statue, matching wits with evil billionaires, and putting his life (among other things) in the hands of a bevy of femme fatales. Up against rogue CIA agents, wannabe terrorists, and an arms dealer looking to make a high-tech killing, Lang's out to save the leggy lady he has come to love . . . and prevent an international bloodbath to boot.
(James Hugh Calum Laurie CBE is an English actor, director, singer, musician, comedian and author, who is known for portraying the title character on the medical drama television series House, for which he received two Golden Globe Awards and nominations for numerous other awards. – from Wikipedia)
---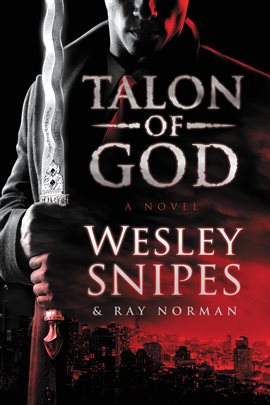 Talon of God by Wesley Snipes
hoopla eBook
hoopla eAudiobook
Freading eBook
Imagine that everyone you have ever known or loved was forced against their will into a state of demonic possession and spiritual slavery. Imagine an unholy cabal of the world's richest and most powerful men directing this sinister plan in order to cement their unbridled control of the planet. Imagine two heroes emerging from that darkness to do battle with the forces of evil. Set in the mean streets of Chicago, Talon of God is the action-packed adventure centered around Lauryn Jefferson, a beautiful young doctor who is dragged into a seemingly impossible battle against the invisible forces of Satan's army and their human agents that are bent on enslaving humanity in a mission to establish the kingdom of hell on Earth. But Lauryn is a skeptic, and it's only as she sees a diabolical drug sweep her city and begins to train in the ways of a spirit warrior by the legendary man of God, Talon Hunter, that she discovers her true nature and inner strength. Facing dangerous trials and tests, it's a true baptism by fire. And if they fail, millions could die. And rivers of blood would flow throughout the land. Imagine such horror. Such pain. And imagine what it would take to fight against it. For only the strongest and most faithful will survive. Get ready. Armageddon approaches quickly.
(Wesley Trent Snipes is an American actor, film producer, martial artist, and author. His prominent film roles include the Marvel Comics character Blade in the Blade film trilogy, Expendables 3, and his role in the movie One Night Stand – which won him the Volpi Cup for Best Actor. – from Wikipedia)
---
Teen Fiction 
Playground by 50 Cent
book
Thirteen-year-old Butterball doesn't have much going for him. He's teased mercilessly about his weight. He hates the Long Island suburb his mom moved them to and wishes he still lived with his dad in the city. And now he's stuck talking to a totally out-of-touch therapist named Liz.
Liz tries to uncover what happened that day on the playground – a day that landed one kid in the hospital and Butterball in detention. Butterball refuses to let her in on the truth, and while he evades her questions, he takes readers on a journey through the moments that made him into the playground bully he is today.
This devastating yet ultimately redemptive story is told in voice-driven prose and accented with drawings and photographs, making it a natural successor to The Absolutely True Diary of a Part-Time Indian.
Loosely inspired by 50 Cent's own adolescence, and written with his fourteen-year-old son in mind, Playground is sure to captivate wide attention – and spark intense discussion.
(Curtis James Jackson III, known professionally as 50 Cent, is an American rapper, songwriter, television producer, actor, and entrepreneur. Known for his impact in the hip hop industry, he has been described as a "master of the nuanced art of lyrical brevity." – from Wikipedia)
---
Beacon Hills High by Mo'Nique
book
hoopla eBook
Freading eBook
Getting into Millwood High, the "tightest" high school in Baltimore, is all that's been consuming thirteen-year-old F.A.T. (Fabulous And Thick, that is) Eboni Michelle Imes. When she's accepted, all that she can think about are four years of fun with her best friends, Michelle, Yolanda, and Charisse-the TTC (the Too Tight Crew).
But life has other plans for Eboni. When her father finally lands his dream job, everyone is excited-except Eboni. While Dad's new business venture means moving the family to glamorous Los Angeles, for Eboni it means moving away from her friends, her crush Vincent, and everything she has ever known.
A charming coming-of-age story that deals with common adolescent issues such as body image, being the "new girl" in school, and adjusting to a new neighborhood, Beacon Hills High is sure to resonate with not only Mo'Nique's young fans, but also teenage girls everywhere.
(Monique Angela Hicks, known professionally as Mo'Nique, is an American comedian and actress. She first gained recognition for her work in stand-up comedy, debuting as a member of The Queens of Comedy. In 2009 she she won the Academy Award for Best Supporting Actress for her role in the film Precious. – from Wikipedia)
---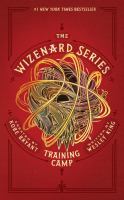 Training Camp Created by Kobe Bryant; Written by Wesley King
book
hoopla eBook
hoopla eAudiobook
Magic doesn't seem possible for the West Bottom Badgers. They're the lowest-ranked basketball team in their league, and they live in the poorest neighborhood in Dren. Nobody expects them to succeed at anything. Plus, every kid on the team has secret struggles of his own. When a new coach named Professor Wizenard arrives on the first day of training camp, the Badgers can't explain the magical-seeming things they see and hear. Every player experiences unique and strange visions — visions that challenge everything they thought they knew about basketball, and about their lives and their secrets off the court. To survive the increasingly intense ordeals of training, the Badgers will need to take unimaginable risks, learn to trust their teammates, and confront the darkness within themselves.
(Kobe Bean Bryant was an American professional basketball player. A shooting guard, he spent his entire 20-year career with the Los Angeles Lakers in the National Basketball Association. –from Wikipedia)
---
A Tale of Magic by Chris Colfer
book
Playaway audiobook
OverDrive eBook
When Brystal Evergreen stumbles across a secret section of the library, she discovers a book that introduces her to a world beyond her imagination and learns the impossible: She is a fairy capable of magic. But in the oppressive Southern Kingdom, women are forbidden from reading and magic is outlawed, so Brystal is swiftly convicted of her crimes and sent to the miserable Bootstrap Correctional Facility.
But with the help of the mysterious Madame Weatherberry, Brystal is whisked away and enrolled in an academy of magic. Adventure comes with a price, however, and when Madame Weatherberry is called away to attend to an important problem she doesn't return.
Do Brystal and her classmates have what it takes to stop a sinister plot that risks the fate of the world, and magic, forever?
(Chris Colfer is an American actor, singer, and author. He gained international recognition for his portrayal of Kurt Hummel on the television musical Glee. – from Wikipedia)
---
Poetry
Swimming Lessons by Lili Reinhart
book
The debut collection of poetry from Lili Reinhart, the actress and outspoken advocate for mental health awareness and body positivity. Swimming Lessons explores the euphoric beginnings of young love, battling anxiety and depression in the face of fame, and the inevitable heartbreak that stems from passion. Relatable yet deeply intimate, provocative yet comforting, bite-sized yet profound, Lili's poems reflect her trademark honesty and unique perspective. Accompanied by striking and evocative illustrations, Swimming Lessons reveals the depths of female experience, and is the work of a storyteller who is coming into her own.
(Lili Pauline Reinhart is an American actress and author. She is known for portraying Betty Cooper on The CW teen drama series Riverdale. – from Wikipedia)
---
I Would Leave Me If I Could by Halsey
book
In this debut collection, Halsey bares her soul. Bringing the same artistry found in her lyrics, Halsey's poems delve into the highs and lows of doomed relationships, family ties, sexuality, and mental illness. More hand grenades than confessions, these autobiographical poems explore and dismantle conventional notions of what it means to be a feminist in search of power.
(Ashley Nicolette Frangipane, known professionally as Halsey, is an American singer and songwriter. Gaining attention from self-released music on social media platforms, she was signed by Astralwerks in 2014. – from Wikipedia)