Explore the possibilities of the galaxy with these alien novels. Whether it's alien invasions, peaceful contact, or explorations of the universe, stories about what could be out there will always engage our imaginations. Curated by Tabor Millien.
Adult Fiction
Axiom's End by Lindsay Ellis
book
hoopla audiobook
OverDrive eBook
OverDrive eAudiobook
It's fall 2007. A well-timed leak has revealed that the US government might have engaged in first contact. Cora Sabino is doing everything she can to avoid the whole mess, since the force driving the controversy is her whistleblower father. Even though Cora hasn't spoken to him in years, his celebrity has caught the attention of the press, the Internet, the paparazzi, and the government–and with him in hiding, that attention is on her. She neither knows nor cares whether her father's leaks are a hoax, and wants nothing to do with him–until she learns just how deeply entrenched her family is in the cover-up, and that an extraterrestrial presence has been on Earth for decades.
Realizing the extent to which both she and the public have been lied to, she sets out to gather as much information as she can, and finds that the best way for her to uncover the truth is not as a whistleblower, but as an intermediary. The alien presence has been completely uncommunicative until she convinces one of them that she can act as their interpreter, becoming the first and only human vessel of communication. Their otherworldly connection will change everything she thought she knew about being human–and could unleash a force more sinister than she ever imagined.
---
Project Hail Mary by Andy Weir
book
OverDrive eBook
Ryland Grace is the sole survivor on a desperate, last-chance mission–and if he fails, humanity and the earth itself will perish.
Except that right now, he doesn't know that. He can't even remember his own name, let alone the nature of his assignment or how to complete it.
All he knows is that he's been asleep for a very, very long time. And he's just been awakened to find himself millions of miles from home, with nothing but two corpses for company.
His crewmates dead, his memories fuzzily returning, Ryland realizes that an impossible task now confronts him. Hurtling through space on this tiny ship, it's up to him to puzzle out an impossible scientific mystery–and conquer an extinction-level threat to our species.
And with the clock ticking down and the nearest human being light-years away, he's got to do it all alone.
Or does he?
---
To Sleep in a Sea of Stars by Christopher Paolini
book
OverDrive eBook
OverDrive eAudiobook
During a routine survey mission on an uncolonized planet, Kira finds an alien relic. At first she's delighted, but elation turns to terror when the ancient dust around her begins to move.
As war erupts among the stars, Kira is launched into a galaxy-spanning odyssey of discovery and transformation. First contact isn't at all what she imagined, and events push her to the very limits of what it means to be human.
While Kira faces her own horrors, Earth and its colonies stand upon the brink of annihilation. Now, Kira might be humanity's greatest and final hope.
---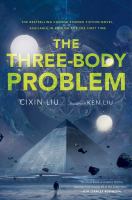 The Three-Body Problem by Cixin Liu
book
OverDrive eBook
hoopla eAudiobook
With the scope of Dune and the commercial action of Independence Day, this near-future trilogy is the first chance for English-speaking readers to experience this multiple-award-winning phenomenon from China's most beloved science fiction author. Set against the backdrop of China's Cultural Revolution, a secret military project sends signals into space to establish contact with aliens. An alien civilization on the brink of destruction captures the signal and plans to invade Earth. Meanwhile, on Earth, different camps start forming, planning to either welcome the superior beings and help them take over a world seen as corrupt, or to fight against the invasion. The result is a science fiction masterpiece of enormous scope and vision.
---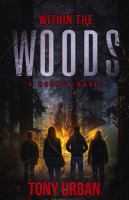 Within the Woods by Tony Urban
book
Something is lurking within the woods…
For 12-year-old Garrett and his four best friends, this summer is supposed to be unforgettable. Games at the carnival, riding bikes on back roads, renting movies to watch in their clubhouse. It's as close to perfect as a boy's life could be… until Garrett's older brother vanishes.
And then things get really weird. Something is wrong in Sallow Creek, Pennsylvania. Something is changing their neighbors, infecting their families. Something is coming for them.
For fans of books and movies like Stranger Things, Stephen King, Stand By Me, The Goonies, etc. comes a thrilling new novel from #1 best-selling horror author Tony Urban. Growing up has never been so scary.
---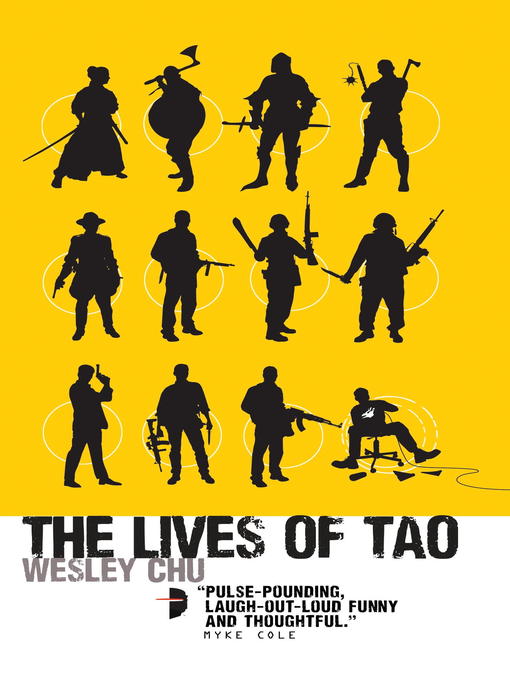 The Lives of Tao by Wesley Chu
OverDrive eBook
When out-of-shape IT technician Roen woke up and started hearing voices in his head, he naturally assumed he was losing it. He wasn't. He now has a passenger in his brain – an ancient alien life-form called Tao, whose race crash-landed on Earth before the first fish crawled out of the oceans. Now split into two opposing factions – the peace-loving, but under-represented Prophus, and the savage, powerful Genjix – the aliens have been in a state of civil war for centuries. Both sides are searching for a way off-planet, and the Genjix will sacrifice the entire human race, if that's what it takes.
---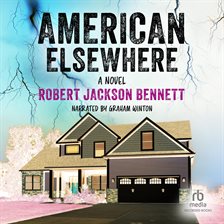 American Elsewhere by Robert Jackson Bennett
hoopla eAudiobook
Some places are too good to be true. Under a pink moon, there is a perfect little town not found on any map. In that town, there are quiet streets lined with pretty houses, houses that conceal the strangest things. After a couple years of hard traveling, ex-cop Mona Bright inherits her long-dead mother's home in Wink, New Mexico. And the closer Mona gets to her mother's past, the more she understands that the people of Wink are very, very different …
From one of our most talented and original new literary voices comes the next great American supernatural novel: a work that explores the dark dimensions of the hometowns and the neighbors we thought we knew.
---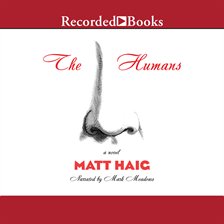 The Humans by Matt Haig
hoopla eAudiobook
The critically acclaimed author of The Radleys shares a clever, heartwarming, and darkly insightful novel about an alien who comes to Earth to save humans from themselves.
When an extraterrestrial visitor arrives on Earth, his first impressions of the human species are less than positive. Taking the form of Professor Andrew Martin, a leading mathematician at Cambridge University, the visitor wants to complete his task and go back home to the planet he comes from and a utopian society of immortality and infinite knowledge. He is disgusted by the way humans look, what they eat, the wars they witness on the news, and totally baffled by such concepts of love and family. But as time goes on, he starts to realize there may be more to this weird species than he has been led to believe. He drinks wine, reads Emily Dickinson, listens to Talking Heads, and begins to bond with the family he lives with, in disguise. In picking up the pieces of the professor's shattered personal life, the narrator sees hope and redemption in the humans' imperfections and begins to question the very mission that brought him there. A mission that involves not only thwarting human progress… but murder.
Praised by The New York Times as "a novelist of great seriousness and talent" author Matt Haig delivers an unlikely story about human nature and the joy found in the very messiness of life on Earth. The Humans is a funny, compulsively readable tale that playfully and movingly explores the ultimate subject – ourselves.
Teen Fiction 
Victories Greater Than Death by Charlie Jane Anders
book
Tina never worries about being 'ordinary.' She doesn't have to, since she's known practically forever that she's not just Tina Mains, average teenager and beloved daughter.
Tina's legacy, after all, is intergalactic. She is the hidden clone of a famed alien hero, left on Earth disguised as a human to give the universe another chance to defeat a terrible evil. But when the beacon activates, it turns out that Tina's destiny isn't quite what she expected.
She's also the keeper of an interplanetary rescue beacon, and one day soon, it's going to activate, and then her dreams of saving all the worlds and adventuring among the stars will finally be possible.
Things are far more dangerous than she ever assumed — and everyone in the galaxy is expecting her to actually be the brilliant tactician and legendary savior Captain Thaoh Argentian, but Tina….is just Tina. And the Royal Fleet is losing the war, badly — the starship that found her is on the run and they barely manage to escape Earth with the planet still intact. Luckily, Tina is surrounded by a crew she can trust, and her best friend Rachel, and she is still determined to save all the worlds. But first she'll have to save herself.
---
The Sound of Stars by Alechia Dow
book
hoopla eBook
hoopla eAudiobook
freading eBook
Two years ago, a misunderstanding between the leaders of Earth and the invading Ilori resulted in the deaths of one-third of the world's population.
Today, seventeen-year-old Ellie Baker survives in an Ilori-controlled center in New York City. With humans deemed dangerously volatile because of their initial reaction to the invasion, emotional expression can be grounds for execution. Music, art, and books are illegal, but Ellie still keeps a secret library.
When young Ilori commander M0Rr1S finds Ellie's library, he's duty-bound to deliver her for execution. The trouble is, he finds himself drawn to human music and in desperate need of more.
Humanity's fate rests in the hands of an alien Ellie should fear, but M0Rr1S has a potential solution–thousands of miles away. The two embark on a wild and dangerous journey with a bag of books and their favorite albums, all the while creating a story and a song of their own that just might save them both.
---
Bent Heavens by Daniel Kraus
book
hoopla eAudiobook
Liv Fleming's father went missing more than two years ago, not long after he claimed to have been abducted by aliens. Liv has long accepted that he's dead, though that doesn't mean she has given up their traditions. Every Sunday, she and her lifelong friend Doug Monk trudge through the woods to check the traps Lee left behind, traps he set to catch the aliens he so desperately believed were after him.
But Liv is done with childhood fantasies. Done pretending she believes her father's absurd theories. Done going through the motions for Doug's sake. However, on the very day she chooses to destroy the traps, she discovers in one of them a creature so inhuman it can only be one thing. In that moment, she's faced with a painful realization: her dad was telling the truth. And no one believed him.
Now, she and Doug have a choice to make. They can turn the alien over to the authorities…or they can take matters into their own hands.
---
We are the Ants by Shaun David Hutchinson
book
Henry Denton has spent years being periodically abducted by aliens. Then the aliens give him an ultimatum: The world will end in 144 days, and all Henry has to do to stop it is push a big red button.
Only he isn't sure he wants to.
After all, life hasn't been great for Henry. His mom is a struggling waitress held together by a thin layer of cigarette smoke. His brother is a jobless dropout who just knocked someone up. His grandmother is slowly losing herself to Alzheimer's. And Henry is still dealing with the grief of his boyfriend's suicide last year.
Wiping the slate clean sounds like a pretty good choice to him.
But Henry is a scientist first, and facing the question thoroughly and logically, he begins to look for pros and cons: in the bully who is his perpetual one-night stand, in the best friend who betrayed him, in the brilliant and mysterious boy who walked into the wrong class. Weighing the pain and the joy that surrounds him, Henry is left with the ultimate choice: push the button and save the planet and everyone on it…or let the world–and his pain–be destroyed forever.
*All summaries courtesy of the publisher unless otherwise noted.