Explore your emotions. Learn to acknowledge and work through the hard ones and celebrate the positive ones. Test your boundaries, and find out just how unique and important you are! Curated by Tabor Millien. 
The Mixed-Up Chameleon by Eric Carle
book
There once was a small green chameleon that wished to be handsome like a flamingo, smart like a fox, and funny like a seal. But with each transformation in size, shape, and color, the chameleon learns that maybe being yourself is best of all!
---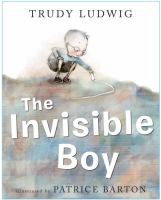 The Invisible Boy by Trudy Ludwig
book
A simple act of kindness can transform an invisible boy into a friend…
Meet Brian, the invisible boy. Nobody in class ever seems to notice him or thinks to include him in their group, game, or birthday party . . . until, that is, a new kid comes to class. 
When Justin, the new boy, arrives, Brian is the first to make him feel welcome. And when Brian and Justin team up to work on a class project together, Brian finds a way to shine.
---
Grumpy Monkey by Suzanne Lang
book
Jim the chimpanzee is in a terrible mood for no good reason. His friends can't understand it–how can he be in a bad mood when it's SUCH a beautiful day? They have lots of suggestions for how to make him feel better. But Jim can't take all the advice…and has a BIT of a meltdown. Could it be that he just needs a day to feel grumpy?
---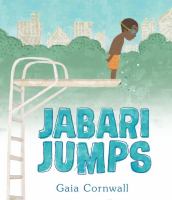 Jabari Jumps by Gaia Cornwall
book
Jabari is definitely ready to jump off the diving board. He's finished his swimming lessons and passed his swim test, and he's a great jumper, so he's not scared at all. "Looks easy," says Jabari, watching the other kids take their turns. But when his dad squeezes his hand, Jabari squeezes back. He needs to figure out what kind of special jump to do anyway, and he should probably do some stretches before climbing up onto the diving board. In a sweetly appealing tale of overcoming your fears, newcomer Gaia Cornwall captures a moment between a patient and encouraging father and a determined little boy you can't help but root for.
---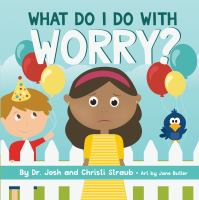 What Do I Do With Worry? by Josh and Christi Straub
book
When little Willow is overwhelmed by big worries, her friends and family step in to offer biblical wisdom and practical steps to help her face down her worry and keep it from winning.
---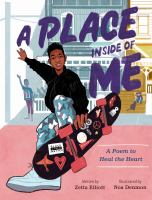 A Place Inside of Me by Zetta Elliott
book
Summertime is filled with joy–skateboarding and playing basketball–until his community is deeply wounded by a police shooting. As fall turns to winter and then spring, fear grows into anger, then pride and peace.
In her stunning debut, illustrator Noa Denmon articulates the depth and nuances of a child's experiences following a police shooting–through grief and protests, healing and community–with washes of color as vibrant as his words.
Here is a groundbreaking narrative that can help all readers–children and adults alike–talk about the feelings hiding deep inside each of us.
---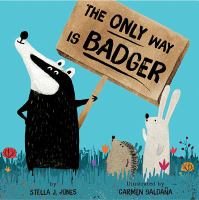 The Only Way Is Badger by Stella J. Jones
book
One morning, the animals wake up to find that someone has built a huge wall and put up posters on the trees that read "Badgers are best!" Badger wants everyone to be more like him, and when they can't do things as well as he does, he sends them away to the other side of the wall. But is being the best really the most important thing?
---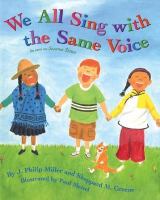 We All Sing with the Same Voice by Philip J. Miller
book
This joyful Sesame Street song embraces the notion that no matter where children live, what they look like, or what they do, they're all the same where it counts – at heart.
Paul Meisel's colorful illustrations lovingly illuminate this vital message, and the enclosed CD lets kids sing along.
---
You Matter by Christian Robinson
book
For fans of Jon Klassen, this sensitive and impactful picture book from award-winning author-illustrator Christian Robinson is all about seeing the world from different points of view, and the perfect entry point for parents to help teach their little people about empathy and community.
---
I Am Enough by Grace Byers
book
hoopla audiobook
This is a gorgeous, lyrical ode to loving who you are, respecting others, and being kind to one another-from Empire actor and activist Grace Byers and talented newcomer artist Keturah A. Bobo.
We are all here for a purpose. We are more than enough. We just need to believe it.
---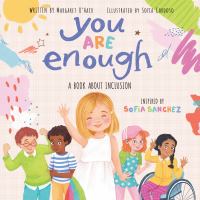 You Are Enough 
book
It can be hard to be different–whether because of how you look, where you live, or what you can or can't do. But wouldn't it be boring if we were all the same? Being different is great. Being different is what makes you YOU. 
This inclusive and empowering picture book from Sofia Sanchez–an 11-year-old model and actress with Down syndrome–reminds readers how important it is to embrace your differences, be confident, and be proud of who you are. Imagine all of the wonderful things you can do if you don't let anyone stop you. You are enough just how you are. 
Sofia is unique, but her message is universal: We all belong. So each spread features beautiful, full-color illustrations of a full cast of kid characters with all kinds of backgrounds, experiences, and abilities.
---
Consent (For Kids!) by Rachel Brian
book
Consent is like being ruler of your own country…population: YOU.
This is a smart, playful guide to consent and bodily autonomy, packed with bright and energetic illustrations. Readers will learn about boundaries and how to set them; ways to respect themselves and others; what to do if someone makes them feel uncomfortable or unsafe; and much more. Along the way, they'll be encouraged to reflect on (and improve ) their own behavior and to practice consent in their daily lives.
Whether you're looking for a consent primer to share with a friend or searching for a way to talk to your child about what it means to be in control of their own body and respect others', look no further. This humorous and insightful book from the co-creator of the viral Tea Consent video is the perfect teaching tool, conversation starter, and insightful, empowering resource for educators, kids, and families everywhere.