These kids have skills, moxie, and, sometimes, superpowers. Check out these stories of outstanding young people doing their thing. Curated by Willie Nettles.
All New X Men by Brian Michael Bendis
book
hoopla eBook
It's a blast from the past as the original five students of Professor X – Cyclops, Marvel Girl, Iceman, Angel and Beast – are plucked from the past and brought to the present. But what they find, the state that their future selves are in and the state of Xavier's dream, is far from the future they dreamed of. And how will the X-Men of the present deal with their past coming crashing forward?

---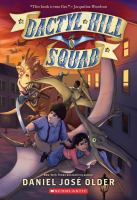 Dactyl Hill Squad by Daniel Jose Older
book
book on CD
OverDrive eAudiobook
hoopla eAudiobook
It is the summer of 1863, and as the Civil War rages between dinosaur-mounted armies down south, and a tense New York City seems on the brink of exploding into riots, Magdalys Roca and the other children at the Colored Orphan Asylum are trying to survive; but when she receives a letter telling her that her brother Montez was wounded, Magdalys knows that somehow she must reach him–and just possibly her ability to communicate telepathically with dinosaurs may come in handy.
---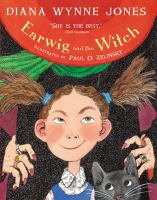 Earwig and the Witch by Diana Wynne Jones
book
hoopla eBook
hoopla eAudiobook
Freading eBook
Although an orphan, Earwig has always enjoyed living at St. Morwald's, where she manages to make everyone do her bidding, but when she is taken in by foster parents who are actually a witch and a demon, she has a hard time trying to turn the situation to her advantage.
---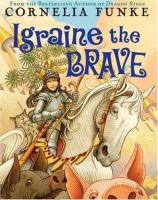 Igraine the Brave by Cornelia Funke
book
Princess Igraine dreams of becoming a famous knight just like her great grandfather, but the truth is, life at the family castle is rather boring. Until the nephew of the baroness next door shows up. He's got a dastardly plan to capture the castle and claim as his own the wonderful singing spell books that belong to Igraine's magician parents. To make matters worse, at the very moment of the siege, her mom and dad botch a spell, turning themselves into pigs! Aided by a Gentle Giant and a Sorrowful Knight, it's up to Igraine to be brave and save the day–and the books!
---
Larklight or the Revenge of the White Spiders! Or to Saturn's Rings and Back!: A Rousing Tale of Dauntless Pluck in the Farthest Reaches of Space by Phillip Reeve
book
book on CD
In an alternate Victorian England, young Arthur and his sister Myrtle, residents of Larklight, a floating house in one of Her Majesty's outer space territories, uncover a spidery plot to destroy the solar system.
---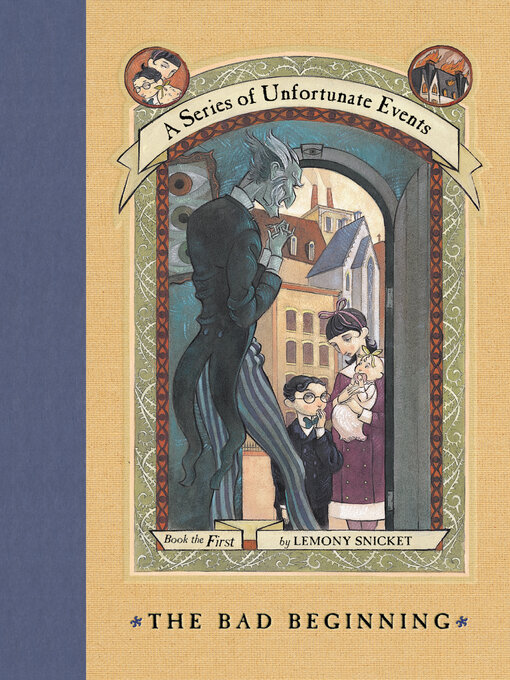 Lemony Snickett's Series of Unfortunate Events by Lemony Snickett
book
OverDrive eAudiobook
OverDrive eBook
hoopla eAudiobook
Are you made fainthearted by death? Does fire unnerve you? Is a villain something that might crop up in future nightmares of yours? Are you thrilled by nefarious plots? Is cold porridge upsetting to you? Vicious threats? Hooks? Uncomfortable clothing?
It is likely that your answers will reveal A Series of Unfortunate Events to be ill-suited for your personal use. A librarian, bookseller, or acquaintance should be able to suggest books more appropriate for your fragile temperament. But to the rarest of readers we say, "Proceed, but cautiously."
---
Miss Peregrine's Home for Peculiar Children: The Graphic Novel by Ransom Riggs
book
When Jacob Portman was a boy, his grandfather regaled him with stories of his fantastic life at Miss Peregrine's home during the Second World War, even sharing photos of the remarkable children with whom he resided. As Jacob grew up, though, he decided that these photos were obvious fakes, simple forgeries designed to stir up his youthful imagination. Or were they?
---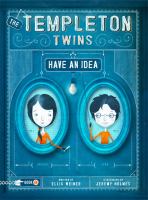 The Templeton Twins Have an Idea by Ellis Weiner
book
book in Spanish
OverDrive eBook
hoopla eBook
Suppose there were 12-year-old twins, a boy and girl named John and Abigail Templeton. Let's say John was pragmatic and played the drums, and Abigail was theoretical and solved cryptic crosswords. Now suppose their father was a brilliant, if sometimes confused, inventor. And suppose that another set of twins–adults–named Dean D. Dean and Dan D. Dean, kidnapped the Templeton twins and their ridiculous dog in order to get their father to turn over one of his genius (sort of) inventions. Yes, I said kidnapped. Wouldn't it be fun to read about that? Oh please. It would so. Luckily for you, this is just the first in a series perfect for boys and girls who are smart, clever, and funny (just like the twins), and enjoy reading adventurous stories (who doesn't? ).
---
Yasmin the Superhero by Saadia Faruqi
book
OverDrive eBook
hoopla eBook
Superhero Yasmin She's got the cape. She's got the mask. Now she just needs a villain to defeat While she's looking for one, she meets lots of friends and neighbors who need her help, but no villains. Then Yasmin discovers that she might not need a villain to wield her super powers.
*All summaries courtesy of the publisher unless otherwise noted.