Resistance Women by  Jennifer Chiaverini 
book
large print book
hoopla ebook
From the New York Times bestselling author of Mrs. Lincoln's Dressmaker, an enthralling historical saga that recreates the danger, romance, and sacrifice of an era and brings to life one courageous, passionate American – Mildred Fish Harnack – and her circle of women friends who waged a clandestine battle against Hitler in Nazi Berlin.  After Wisconsin graduate student Mildred Fish marries brilliant German economist Arvid Harnack, she accompanies him to his German homeland, where a promising future awaits. In the thriving intellectual culture of 1930s Berlin, the newlyweds create a rich new life filled with love, friendships, and rewarding work, but the rise of a malevolent new political faction inexorably changes their fate.  As Adolf Hitler and his Nazi Party wield violence and lies to seize power, Mildred, Arvid, and their friends resolve to resist. Mildred gathers intelligence for her American contacts, including Martha Dodd, the vivacious and very modern daughter of the US ambassador. Her German friends, aspiring author Greta Kuckoff and literature student Sara Weitz, risk their lives to collect information from journalists, military officers, and officials within the highest levels of the Nazi regime.  For years, Mildred's network stealthily fights to bring down the Third Reich from within. But when Nazi radio operatives detect an errant Russian signal, the Harnack resistance cell is exposed, with fatal consequences. 

Inspired by actual events, Resistance Women is an enthralling, unforgettable story of ordinary people determined to resist the rise of evil, sacrificing their own lives and liberty to fight injustice and defend the oppressed.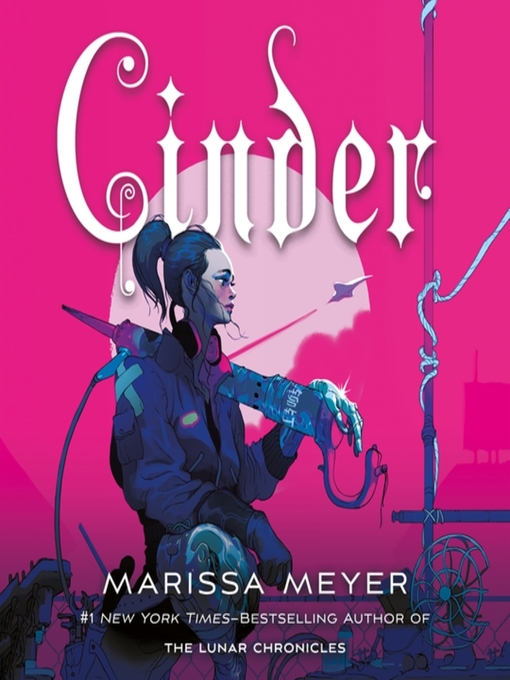 Cinder by  Marissa Meyer
book
audiobook on CD
Lunar Chronicles series
hoopla audiobook
hoopla series
OverDrive audiobook
OverDrive series
A wicked mash-up of fairy tale and Terminator set in a Star Wars kind of world, Marissa Meyer's Cinder is a fresh and fiercely ingenious futuristic retelling of Cinderella. Humans and androids crowd the raucous streets of New Beijing. A deadly plague ravages the population. From space, a ruthless lunar people watch, waiting to make their move. No one knows that Earth's fate hinges on one girl. Cinder, a gifted mechanic, is a cyborg. She's a second-class citizen with a mysterious past, reviled by her stepmother and blamed for her stepsister's illness. But when her life becomes intertwined with the handsome Prince Kai's, she suddenly finds herself at the center of an intergalactic struggle, and a forbidden attraction. Caught between duty and freedom, loyalty and betrayal, she must uncover secrets about her past in order to protect her world's future.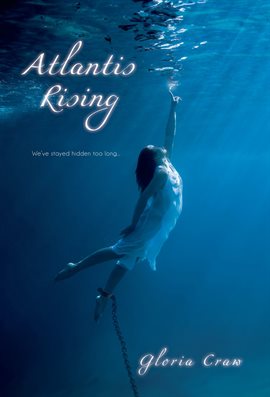 Atlantis Rising by  Gloria Craw
book
hoopla ebook
hoopla series ebooks
When a strange man told me I'm in danger because I'm a descendant of Atlantis, I thought he was crazy. Now I know he wasn't. But he left me with a warning. I'm being hunted by someone who will hurt, maybe even kill, those I love in order to control me.

So I've been hiding in plain sight, walking the halls of Fillmore High like a ghost. Now, two new students, Ian and Brandy, have discovered my secret. They've offered to teach me how to defend myself, but they want something in return…something I'm not sure I can give. And though I'm drawn to Ian, I can't act on my feelings. I might lose focus if I do. The only thing I'm certain of is that I'm tired of hiding. It's time for the hunted to become the hunter.
Tears of the Moon by Nora Roberts
book
A talented songwriter, Shawn Gallagher spends his days lost in reverie and wonder, oblivious to the wiles of women and the ways of the world. He claims that he's content with his life, but his music tells a different story – one of loneliness and desperate longing. No one understands why Shawn doesn't put his musical gift to profitable use – least of all Brenna O'Toole, a fiercely independent tomboy who has been secretly in love with him for years. But it is only when Shawn gives in to the mysteries of magic that he gets the chance to fulfill his destiny as a man and a musician – as the song in his head keeps time with the beating of a woman's heart.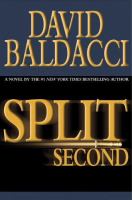 Split second by David Baldacci
book
large print book
OverDrive ebook
OverDrive audiobook
Michelle Maxwell has just wrecked her promising career at the Secret Service. Against her instincts, she let a presidential candidate out of her sight for the briefest moment and the man whose safety was her responsibility vanished into thin air. Sean King knows how the younger agent feels. Eight years earlier, the hard-charging Secret Service agent allowed his attention to be diverted for a split second. And the candidate he was protecting was gunned down before his eyes. Now Michelle and Sean are about to see their destinies converge.

Drawn into a maze of lies, secrets, and deadly coincidences, the two discredited agents uncover a shocking truth: that the separate acts of violence that shattered their lives were really a long time in the making—and are a long way from over.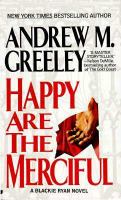 Happy are the Merciful : a Blackie Ryan Mystery by Andrew M. Greeley
book
large print book
The prosecutor who sent Clare Turner to jail for murdering her adoptive parents begins to doubt the conviction and confesses to Bishop "Blackie" Ryan, who must find the real killer before he becomes the next victim.