Take a break from the seriousness of life with these quick witted comedians. Recommended by Ashley Lee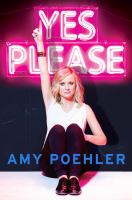 Yes Please by Amy Poehler
book
hoopla audiobook
OverDrive audiobook
Do you want to get to know the woman we first came to love on Comedy Central's Upright Citizens Brigade? Do you want to spend some time with the lady who made you howl with laughter on Saturday Night Live, and in movies like Baby Mama, Blades of Glory, and They Came Together? Do you find yourself daydreaming about hanging out with the actor behind the brilliant Leslie Knope on Parks and Recreation? Did you wish you were in the audience at the last two Golden Globes ceremonies, so you could bask in the hilarity of Amy's one-liners?
If your answer to these questions is "Yes Please!" then you are in luck. In her first book, one of our most beloved funny folk delivers a smart, pointed, and ultimately inspirational read. Full of the comedic skill that makes us all love Amy, Yes Please is a rich and varied collection of stories, lists, poetry (Plastic Surgery Haiku, to be specific), photographs, mantras and advice. With chapters like "Treat Your Career Like a Bad Boyfriend," "Plain Girl Versus the Demon" and "The Robots Will Kill Us All," Yes Please will make you think as much as it will make you laugh. Honest, personal, real, and righteous, Yes Please is full of words to live by.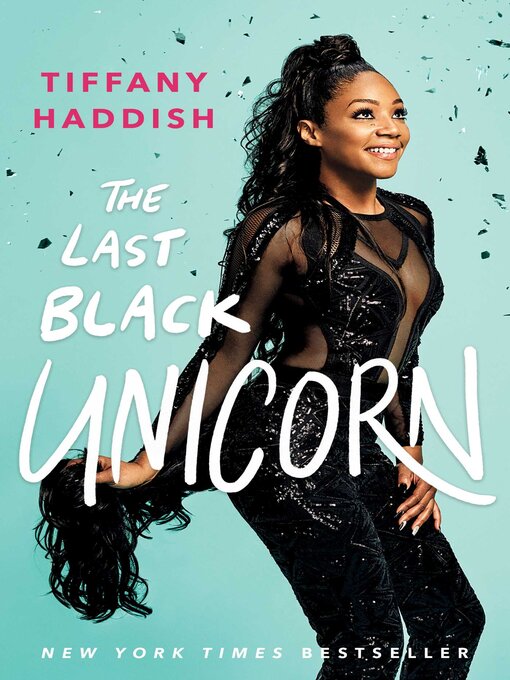 The Last Black Unicorn by Tiffiany Haddish
audiobook on CD
OverDrive audiobook
OverDrive ebook
Growing up in one of the poorest neighborhoods of South Central Los Angeles, Tiffany learned to survive by making people laugh. If she could do that, then her classmates would let her copy their homework, the other foster kids she lived with wouldn't beat her up, and she might even get a boyfriend. Or at least she could make enough money—as the paid school mascot and in-demand Bar Mitzvah hype woman—to get her hair and nails done, so then she might get a boyfriend.

None of that worked (and she's still single), but it allowed Tiffany to imagine a place for herself where she could do something she loved for a living: comedy.

Tiffany can't avoid being funny—it's just who she is, whether she's plotting shocking, jaw-dropping revenge on an ex-boyfriend or learning how to handle her newfound fame despite still having a broke person's mind-set. Finally poised to become a household name, she recounts with heart and humor how she came from nothing and nowhere to achieve her dreams by owning, sharing, and using her pain to heal others.

By turns hilarious, filthy, and brutally honest, The Last Black Unicorn shows the world who Tiffany Haddish really is—humble, grateful, down-to-earth, and funny as hell. And now, she's ready to inspire others through the power of laughter.
The Princess Diarist by Carrie Fisher
book
large print book
When Carrie Fisher discovered the journals she kept during the filming of the first Star Wars movie, she was astonished to see what they had preserved–plaintive love poems, unbridled musings with youthful naivete, and a vulnerability that she barely recognized. Before her passing, her fame as an author, actress, and pop-culture icon was indisputable, but in 1977, Carrie Fisher was just a teenager with an all-consuming crush on her costar, Harrison Ford.
With these excerpts from her handwritten notebooks, The Princess Diarist is Fisher's intimate and revealing recollection of what happened on one of the most famous film sets of all time–and what developed behind the scenes. Fisher also ponders the joys and insanity of celebrity, and the absurdity of a life spawned by Hollywood royalty, only to be surpassed by her own outer-space royalty. Laugh-out-loud hilarious and endlessly quotable, The Princess Diarist brims with the candor and introspection of a diary while offering shrewd insight into one of Hollywood's most beloved stars.
Dear Girls by Ali Wong
book
In her hit Netflix comedy special Baby Cobra, an eight-month pregnant Ali Wong resonated so heavily that she became a popular Halloween costume. Wong told the world her remarkably unfiltered thoughts on marriage, sex, Asian culture, working women, and why you never see new mom comics on stage, but you sure see plenty of new dads. The sharp insights and humor are even more personal in this completely original collection. She shares the wisdom she's learned from a life in comedy and reveals stories from her life off stage, including the brutal singles life in New York (i.e. the inevitable confrontation with erectile dysfunction), reconnecting with her roots (and drinking snake blood) in Vietnam, tales of being a wild child growing up in San Francisco, and parenting war stories. Though addressed to her daughters, Ali Wong's letters are absurdly funny, surprisingly moving, and enlightening (and disgusting) for all.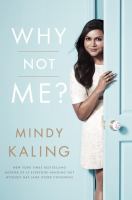 Why not me? by Mindy Kaling
book
audiobook on CD
OverDrive ebook
OverDrive audiobook
In Why Not Me?, Kaling shares her ongoing journey to find contentment and excitement in her adult life, whether it's falling in love at work, seeking new friendships in lonely places, attempting to be the first person in history to lose weight without any behavior modification whatsoever, or most important, believing that you have a place in Hollywood when you're constantly reminded that no one looks like you.
In "How to Look Spectacular: A Starlet's Confessions," Kaling gives her tongue-in-cheek secrets for surefire on-camera beauty, ("Your natural hair color may be appropriate for your skin tone, but this isn't the land of appropriate–this is Hollywood, baby. Out here, a dark-skinned woman's traditional hair color is honey blonde.") "Player" tells the story of Kaling being seduced and dumped by a female friend in L.A. ("I had been replaced by a younger model. And now they had matching bangs.") In "Unlikely Leading Lady," she muses on America's fixation with the weight of actresses, ("Most women we see onscreen are either so thin that they're walking clavicles or so huge that their only scenes involve them breaking furniture.") And in "Soup Snakes," Kaling spills some secrets on her relationship with her ex-boyfriend and close friend, B.J. Novak ("I will freely admit: my relationship with B.J. Novak is weird as hell.")
Mindy turns the anxieties, the glamour, and the celebrations of her second coming-of-age into a laugh-out-loud funny collection of essays that anyone who's ever been at a turning point in their life or career can relate to. And those who've never been at a turning point can skip to the parts where she talks about meeting Bradley Cooper.
Talking as Fast as I Can by Lauren Graham
book
OverDrive ebook
In Talking as Fast as I Can, Lauren Graham hits pause for a moment and looks back on her life, sharing laugh-out-loud stories about growing up, starting out as an actress, and, years later, sitting in her trailer on the Parenthood set and asking herself, "Did you, um, make it?" She opens up about the challenges of being single in Hollywood ("Strangers were worried about me; that's how long I was single!"), the time she was asked to audition her butt for a role, and her experience being a judge on Project Runway ("It's like I had a fashion-induced blackout").

In "What It Was Like, Part One," Graham sits down for an epic Gilmore Girls marathon and reflects on being cast as the fast-talking Lorelai Gilmore. The essay "What It Was Like, Part Two" reveals how it felt to pick up the role again nine years later, and what doing so has meant to her.

Some more things you will learn about Lauren: She once tried to go vegan just to bond with Ellen DeGeneres, she's aware that meeting guys at awards shows has its pitfalls ("If you're meeting someone for the first time after three hours of hair, makeup, and styling, you've already set the bar too high"), and she's a card-carrying REI shopper ("My bungee cords now earn points!").

Bossypants by Tina Fey
book
audiobook on CD
OverDrive audiobook
Before Liz Lemon, before "Weekend Update," before "Sarah Palin," Tina Fey was just a young girl with a dream: a recurring stress dream that she was being chased through a local airport by her middle-school gym teacher. She also had a dream that one day she would be a comedian on television.
She has seen both of those dreams come true.
At last, Tina Fey's story can be told. From her youthful days as a vicious nerd to her tour of duty on Saturday Night Live; from her passionately halfhearted pursuit of physical beauty to her life as a mother eating things off the floor; from her one-sided college romance to her nearly fatal honeymoon—from the beginning of this paragraph to this final sentence.
Tina Fey reveals all, and proves what we've all suspected: you're no one until someone calls you bossy.
Includes special, never-before-solicited opinions on breastfeeding, princesses, Photoshop, the electoral process, and Italian rum cake!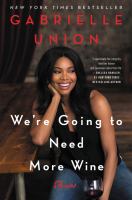 We're Going to Need More Wine by Gabrielle Union
book
hoopla audiobook
hoopla ebook
OverDrive audiobook
OverDrive ebook
One month before the release of the highly anticipated film The Birth of a Nation, actress Gabrielle Union shook the world with a vulnerable and impassioned editorial in which she urged our society to have compassion for victims of sexual violence. In the wake of rape allegations made against director and actor Nate Parker, Union—a forty-four-year-old actress who launched her career with roles in iconic '90s movies—instantly became the insightful, outspoken actress that Hollywood has been desperately awaiting. With honesty and heartbreaking wisdom, she revealed her own trauma as a victim of sexual assault: "It is for you that I am speaking. This is real. We are real."
In this moving collection of thought provoking essays infused with her unique wisdom and deep humor, Union uses that same fearlessness to tell astonishingly personal and true stories about power, color, gender, feminism, and fame. Union tackles a range of experiences, including bullying, beauty standards, and competition between women in Hollywood, growing up in white California suburbia and then spending summers with her black relatives in Nebraska, coping with crushes, puberty, and the divorce of her parents. Genuine and perceptive, Union bravely lays herself bare, uncovering a complex and courageous life of self-doubt and self-discovery with incredible poise and brutal honesty. Throughout, she compels us to be ethical and empathetic, and reminds us of the importance of confidence, self-awareness, and the power of sharing truth, laughter, and support.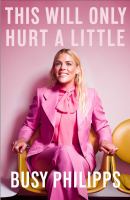 This Will Only Hurt a Little by Busy Phillips
book
OverDrive ebook
There's no stopping Busy Philipps. From the time she was two and "aced out in her nudes" to explore the neighborhood (as her mom famously described her toddler jailbreak), Busy has always been headstrong, defiant, and determined not to miss out on all the fun. These qualities led her to leave Scottsdale, Arizona, at the age of nineteen to pursue her passion for acting in Hollywood. But much like her painful and painfully funny teenage years, chasing her dreams wasn't always easy and sometimes hurt more than a little.

In a memoir, Busy opens up about chafing against a sexist system rife with on-set bullying and body shaming, being there when friends face shattering loss, enduring devastating personal and professional betrayals from those she loved best, and struggling with postpartum anxiety and the challenges of motherhood.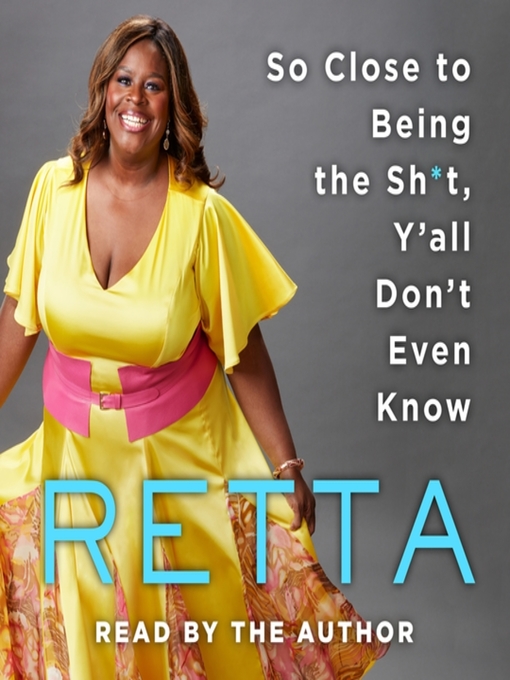 So Close to Being the Sh*t, Y'all Don't Even Know by Retta
OverDrive audiobook
hoopla audiobook
In So Close to Being the Sh*t, Y'all Don't Even Know, Parks and Recreation star Retta takes us on her not-so-meteoric rise from roaches to riches (well, rich enough that she can buy $15,000 designer handbags yet scared enough to know she's always a heartbeat away from ramen with American cheese).
Throwing her hard-working Liberian parents through a loop, Retta abandons her plan to attend med school after graduating Duke University to move to Hollywood to star in her own sitcom—like her comedy heroes Lucille Ball and Roseanne.
Say what? Word. Turns out Retta might actually be on to something. After winning Comedy Central's stand-up competition, she should be ready for prime time—but a fear of success derails her biggest dream.
Whether reminiscing about her days as a contract chemist at GlaxoSmithKline, telling "dirty" jokes to Mormons, feeling like the odd man out on Parks, fending off racist trolls on Twitter, flirting with Michael Fassbender, or expertly stalking the cast of "Hamilton," Retta's unique voice and refreshing honesty will make you laugh, cry, and laugh so hard you'll cry.
Her eponymous sitcom might not have happened yet, but by the end of So Close to Being the Sh*t, listeners will be rooting for Retta to be the next one-named wonder to take over your television. And she just might inspire you to reach for the stars, too.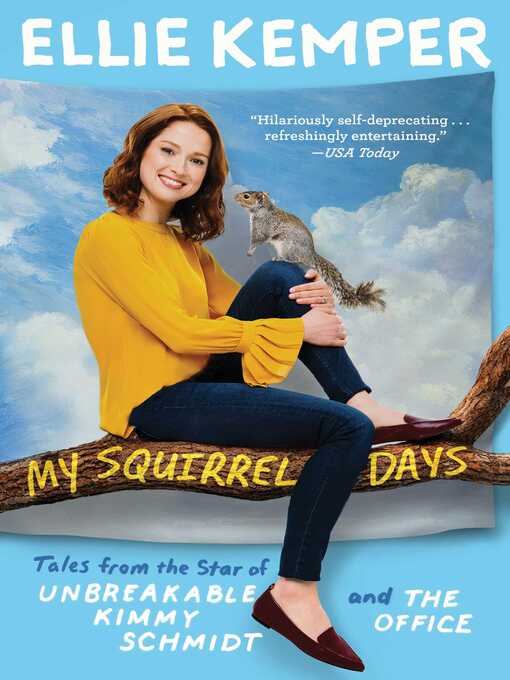 My Squirrel Days by Ellie Kemper
OverDrive ebook
OverDrive audiobook
Meet Ellie, the best-intentioned redhead next door. You'll laugh right alongside her as she shares tales of her childhood in St. Louis, whether directing and also starring in her family holiday pageant, washing her dad's car with a Brillo pad, failing to become friends with a plump squirrel in her backyard, eating her feelings while watching PG-13 movies, or becoming a "sports monster" who ends up warming the bench of her Division 1 field hockey team in college.

You'll learn how she found her comedic calling in the world of improv, became a wife, mother and New Yorker, and landed the role of a bridesmaid (while simultaneously being a bridesmaid) in Bridesmaids. You'll get to know and love the comic, upbeat, perpetually polite actress playing Erin Hannon on The Office, and the exuberant, pink-pants-wearing star of Unbreakable Kimmy Schmidt.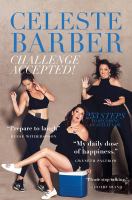 Challenge Accepted!: 253 Steps to Becoming an Anti-it Girl by Celeste Barber
book
audiobook on CD
From funny woman, Instagram star, and international comedy sensation, Celeste Barber's Challenge Accepted! is a raucous, hilarious, and outspoken guide to life, unwanted gas, and how to rock a sexy scar.
Part memoir, part comedy routine, part advice manual, Challenge Accepted! is Celeste at her best, revealing her secrets to love, friendship, family, and marriage (oh hai, #hothusband), and how to deal with life's many challenges—why she checks the bath for sharks, how Nutella quite literally shaped who she is as a woman, and why being famous on Instagram is like being rich in Monopoly. It's real, like totally, really real.