Steampunk is a sub-genre of science fiction set during the 19th-century in societies dominated by real or imaginary steam-powered technology. It is almost always speculative and can be dark and gritty, fun and romantic, or dystopian and fantastical. Find your favorite steampunk world with this list of recommendations from Samantha Matherne.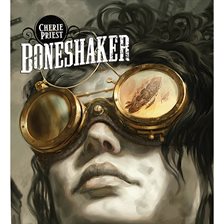 Boneshaker by Cherie Priest
book
hoopla audiobook
hoopla audiobook dramatized adaptation
Bonehsaker is Cherie Priest's "west coast steampunk Victoriana book with zombies, air ships, toxic gas clouds, mad scientists, dead folk heroes, secret criminal societies, and Bonus! extended deleted scenes from the Civil War."
In the early days of the Civil War, rumors of gold in the frozen Klondike brought hordes of newcomers to the Pacific Northwest. Anxious to compete, Russian prospectors commissioned inventor Leviticus Blue to create a great machine that could mine through Alaska's ice. Thus was Dr. Blue's Incredible Bone-Shaking Drill Engine born.
But, on its first test run, the Boneshaker went terribly awry, destroying several blocks of downtown Seattle and unearthing a subterranean vein of blight gas that turned anyone who breathed it into the living dead.
Now it is sixteen years later, and a wall has been built to enclose the devastated and toxic city. Just beyond it lives Blue's widow, Briar Wilkes. Life is hard with a ruined reputation and a teenage boy to support, but she and Ezekiel are managing. Until Ezekiel undertakes a secret crusade to rewrite history.
His quest will take him under the wall and into a city teeming with ravenous undead, air pirates, criminal overlords, and heavily armed refugees. And only Briar can bring him out alive.
---
---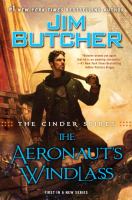 The Aeronaut's Windlass by Jim Butcher
book
OverDrive audiobook
Since time immemorial, the Spires have sheltered humanity, towering for miles over the mist-shrouded surface of the world. Within their halls, aristocratic houses have ruled for generations, developing scientific marvels, fostering trade alliances, and building fleets of airships to keep the peace.
Captain Grimm commands the merchant ship, "Predator." Fiercely loyal to Spire Albion, he has taken their side in the cold war with Spire Aurora, disrupting the enemy's shipping lines by attacking their cargo vessels. But when the "Predator" is severely damaged in combat, leaving captain and crew grounded, Grimm is offered a proposition from the Spirearch of Albion–to join a team of agents on a vital mission in exchange for fully restoring "Predator" to its fighting glory.
And even as Grimm undertakes this dangerous task, he will learn that the conflict between the Spires is merely a premonition of things to come. Humanity's ancient enemy, silent for more than ten thousand years, has begun to stir once more. And death will follow in its wake.
---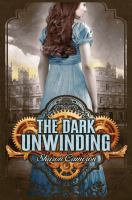 The Dark Unwinding by Sharon Cameron
book
hoopla audiobook
A spine-tingling tale of steampunk and spies, intrigue and heart-racing romance! When Katharine Tulman's inheritance is called into question by the rumor that her eccentric uncle is squandering away the family fortune, she is sent to his estate to have him committed to an asylum. But instead of a lunatic, Katharine discovers a genius inventor with his own set of rules, who employs a village of nine hundred people rescued from the workhouses of London. Katharine is now torn between protecting her own inheritance and preserving the peculiar community she grows to care for deeply. And her choices are made even more complicated by a handsome apprentice, a secretive student, and fears for her own sanity. As the mysteries of the estate begin to unravel, it is clear that not only is her uncle's world at stake, but also the state of England as Katharine knows it. With twists and turns at every corner, this heart-racing adventure will captivate readers with its intrigue, thrills, and romance.
---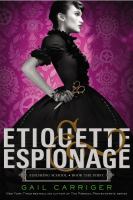 Etiquette & Espionage by Gail Carriger
Book
OverDrive ebook
This young adult steampunk series debut set in the same world as the New York Times bestselling Parasol Protectorate is filled with all the saucy adventure and droll humor Gail Carriger's legions of fans have come to adore.
Fourteen-year-old Sophronia is a great trial to her poor mother. Sophronia is more interested in dismantling clocks and climbing trees than proper manners–and the family can only hope that company never sees her atrocious curtsy. Mrs. Temminnick is desperate for her daughter to become a proper lady. So she enrolls Sophronia in Mademoiselle Geraldine's Finishing Academy for Young Ladies of Quality.
But Sophronia soon realizes the school is not quite what her mother might have hoped. At Mademoiselle Geraldine's, young ladies learn to finish…everything. Certainly, they learn the fine arts of dance, dress, and etiquette, but they also learn to deal out death, diversion, and espionage–in the politest possible ways, of course. Sophronia and her friends are in for a rousing first year's education.
---
The Looking Glass Wars by Frank Beddor
book
Freading ebook
Frank Beddor takes readers back to Wonderland to set the record straight. The first book in an action-packed, darkly imaginative fantasy trilogy, The Looking Glass Wars, takes the original Alice in Wonderland story and turns it on its head. Join Alyss Heart as she attempts to lead Wonderland into its next golden age of imagination.
You know the myth: A little girl named Alice tumbled down a rabbit hole and proceeded to have a charming adventure in the delightful, made-up world of Wonderland.
Now discover the truth: Wonderland exists.
Alyss Heart, heir to the Wonderland throne, was forced to flee through the Pool of Tears after a bloody palace coup staged by the murderous Redd. Lost and alone in Victorian London, Alyss is befriended by an aspiring author to whom she tells the violent, heartbreaking story of her young life only to see it published as the nonsensical Alice's Adventures in Wonderland. Alyss had trusted Lewis Carroll to tell the truth so that someone, somewhere would find her and bring her home. But Carroll had gotten it all wrong. He even misspelled her name If not for royal bodyguard Hatter Madigan's nonstop search to locate the lost princess, Alyss may have become just another society woman sipping tea in a too-tight corset instead of returning to Wonderland to fight Redd for her rightful place as the Queen of Hearts.
Meet the heroic, passionate, monstrous, vengeful denizens of this parallel world as they battle each other with AD-52s and orb generators, navigate the Crystal Continuum, bet on jabberwocky fights and travel across the Chessboard Desert.
---
Clockwork Angel by Cassandra Clare
book
OverDrive ebook
OverDrive audiobook
Magic is dangerous, but love is more dangerous still. Discover the riveting first book in the #1 New York Times bestselling Infernal Devices Trilogy, prequel to the internationally bestselling Mortal Instruments series.
The year is 1878. Tessa Gray descends into London's dark supernatural underworld in search of her missing brother. She soon discovers that her only allies are the demon-slaying Shadowhunters, including Will and Jem, the mysterious boys she is attracted to. Soon they find themselves up against the Pandemonium Club, a secret organization of vampires, demons, warlocks, and humans. Equipped with a magical army of unstoppable clockwork creatures, the Club is out to rule the British Empire, and only Tessa and her allies can stop them.
---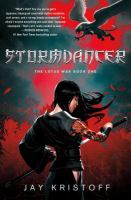 Stormdancer by Jay Kristoff
book
A debut dystopian steampunk fantasy set against the backdrop of feudal Japan.
A DYING LAND
The Shima Imperium verges on the brink of environmental collapse; an island nation once rich in tradition and myth, now decimated by clockwork industrialization and the machine-worshipers of the Lotus Guild. The skies are red as blood, the land is choked with toxic pollution, and the great spirit animals that once roamed its wilds have departed forever.
AN IMPOSSIBLE QUEST
The hunters of Shima's imperial court are charged by their Shogun to capture a thunder tiger – a legendary creature, half-eagle, half-tiger. But any fool knows the beasts have been extinct for more than a century, and the price of failing the Shogun is death.
A HIDDEN GIFT
Yukiko is a child of the Fox clan, possessed of a talent that if discovered, would see her executed by the Lotus Guild. Accompanying her father on the Shogun's hunt, she finds herself stranded: a young woman alone in Shima's last wilderness, with only a furious, crippled thunder tiger for company. Even though she can hear his thoughts, even though she saved his life, all she knows for certain is he'd rather see her dead than help her.
But together, the pair will form an indomitable friendship, and rise to challenge the might of an empire.
---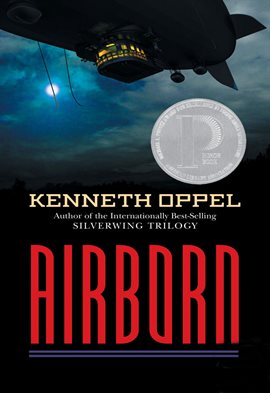 Airborn by Kenneth Oppel
book
hoopla ebook
hoopla audiobook
Freading ebook
Matt Cruse is a cabin boy on the Aurora, a huge airship that sails hundreds of feet above the ocean, ferrying wealthy passengers from city to city. It is the life Matt's always wanted; convinced he's lighter than air, he imagines himself as buoyant as the hydrium gas that powers his ship. One night he meets a dying balloonist who speaks of beautiful creatures drifting through the skies. It is only after Matt meets the balloonist's granddaughter that he realizes that the man's ravings may, in fact, have been true, and that the creatures are completely real and utterly mysterious.
In a swashbuckling adventure reminiscent of Jules Verne and Robert Louis Stevenson, Kenneth Oppel, author of the best-selling Silverwing trilogy, creates an imagined world in which the air is populated by transcontinental voyagers, pirates, and beings never before dreamed of by the humans who sail the skies. 
---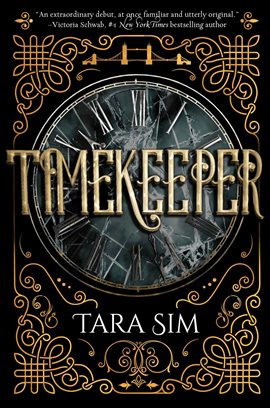 Timekeeper by Tara Sim
hoopla ebook
"I was in an accident. I got out. I'm safe now." An alternate Victorian world controlled by clock towers, where a damaged clock can fracture time-and a destroyed one can stop it completely. A prodigy mechanic who can repair not only clockwork, but time itself, determined to rescue his father from a Stopped town. A series of mysterious bombings that could jeopardize all of England. A boy who would give anything to relive his past, and one who would give anything to live at all. A romance that will shake the very foundations of time. The first book in a dazzling new steampunk-fantasy trilogy, Timekeeper introduces a magical world of mythology and innovation that readers will never want to leave.
---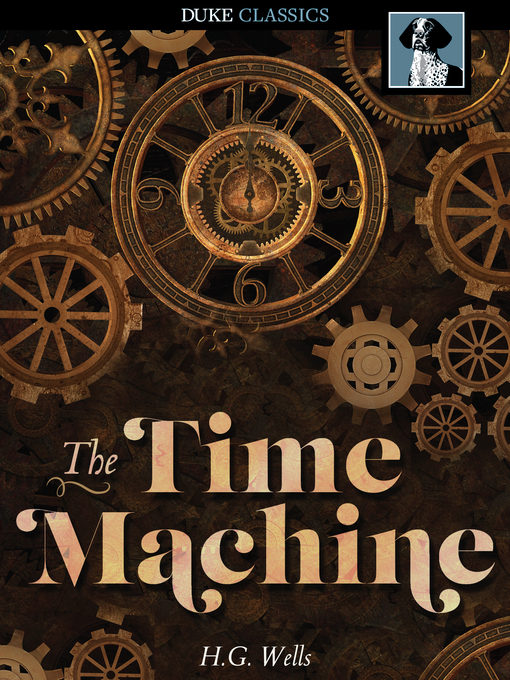 The Time Machine by H. G. Wells
book
book on CD
OverDrive ebook
OverDrive audiobook
hoopla illustrated ebook
hoopla audiobook
hoopla comic
other editions available on hoopla
In this unabridged classic, the time-traveling protagonist is propelled by his machine to the distant year of 802,701 AD. To his horror, he finds only a decaying Earth that is being gradually swallowed by the Sun, and where two strange species,the delicate Eloi and the fierce, subterranean Morlocks, inhabit an eerie dystopia. The Time Machine is a must-read for any science fiction fan.
---
Leviathan by Scott Westerfield
book
hoopla audiobook
OverDrive ebook – Leviathan trilogy – Leviathan; Behemoth; Goliath
OverDrive audiobook
It is the cusp of World War I, and all the European powers are arming up. The Austro-Hungarians and Germans have their Clankers, steam-driven iron machines loaded with guns and ammunition. The British Darwinists employ fabricated animals as their weaponry. Their Leviathan is a whale airship, and the most masterful beast in the British fleet.
Aleksandar Ferdinand, prince of the Austro-Hungarian Empire, is on the run. His own people have turned on him. His title is worthless. All he has is a battle-torn Stormwalker and a loyal crew of men.
Deryn Sharp is a commoner, a girl disguised as a boy in the British Air Service. She's a brilliant airman. But her secret is in constant danger of being discovered.
With the Great War brewing, Alek's and Deryn's paths cross in the most unexpected way, taking them both aboard the Leviathan on a fantastical, around-the-world adventure. One that will change both their lives forever.