Join us for a virtual visit with Alys Arden, author of the young adult book series The Casquette Girls. The gritty urban legends of the French Quarter come alive in this gripping supernatural saga. According to School Library Journal, The Casquette Girls is recommended for readers in grade 9 and up. If you would like to learn more about the author, please visit www.thecasquettegirls.com. This author visit will be held through Zoom on Saturday, November 21, 2020 at 11 AM. To register, call 225-673-8699. If you love these books, check out the read-alikes below. Recommended by Isabel Naquin.
The Casquette Girls by Alys Arden
book
full series
After the storm of the century rips apart New Orleans, sixteen-year-old Adele Le Moyne and her father are among the first to return. Adele wants nothing more than to resume her normal life, but with the silent city resembling a war zone, a parish-wide curfew, and mysterious new faces lurking in the abandoned French Quarter, normal needs a new definition.
Strange events, even for New Orleans, lead Adele to an attic that has been sealed for three hundred years. The chaos she accidentally unleashes threatens not only her, but everyone she knows. 
Caught in a hurricane of myths and monsters, Adele must untangle a web of magic that weaves the climbing murder rate back to her own ancestors. But who can you trust in a city where everyone has secrets and keeping them can mean life or death? Unless you're immortal. 
If You Like Casquette Girls…
Crave by Tracy Wolff 
book 
OverDrive audiobook 
hoopla audiobook 
My whole world changed when I stepped inside the academy. Nothing is right about this place or the other students in it. Here I am, a mere mortal among gods…or monsters. I still can't decide which of these warring factions I belong to, if I belong at all. I only know the one thing that unites them is their hatred of me. 
 
Then there's Jaxon Vega. A vampire with deadly secrets who hasn't felt anything for a hundred years. But there's something about him that calls to me, something broken in him that somehow fits with what's broken in me. Which could spell death for us all. Because Jaxon walled himself off for a reason. And now someone wants to wake a sleeping monster, and I'm wondering if I was brought here intentionally–as the bait. 
---
How to Hang a Witch by Adriana Mather 
OverDrive audiobook 
Salem, Massachusetts is the site of the infamous witch trials and the new home of Samantha Mather. Recently transplanted from New York City, Sam and her stepmother are not exactly welcomed with open arms. Sam is the descendant of Cotton Mather, one of the men responsible for those trials—and almost immediately, she becomes the enemy of a group of girls who call themselves the Descendants. And guess who their ancestors were? 
If dealing with that weren't enough, Sam also comes face to face with a real, live (well, technically dead) ghost. A handsome, angry ghost who wants Sam to stop touching his stuff. But soon Sam discovers she is at the center of a centuries-old curse affecting anyone with ties to the trials. Sam must come to terms with the ghost and find a way to work with the Descendants to stop a deadly cycle that has been going on since the first accused witch was hanged. If any town should have learned its lesson, it's Salem. But history may be about to repeat itself. 
---
Ruined by Paula Morris 
book  
Rebecca couldn't feel more out of place in New Orleans, where she comes to spend the year while her dad is traveling. She's staying in a creepy old house with her aunt. And at the snooty prep school, the filthy-rich girls treat Rebecca like she's invisible. Only gorgeous, unavailable Anton Grey seems to give Rebecca the time of day, but she wonders if he's got a hidden agenda. Then one night, in Lafayette Cemetery, Rebecca makes a friend. Sweet, mysterious Lisette is eager to talk to Rebecca, and to show her the nooks and crannies of the city. There's just one catch: Lisette is a ghost. A ghost with a deep, dark secret, and a serious score to settle. 
---
Locked in Time by Lois Duncan 
OverDrive ebook 
OverDrive audiobook 
Playaway audio 
Nore Roberts didn't ask for a new life, but now that her mom is gone and her dad is newly married, she has to settle in at Shadow Grove, the old Civil War mansion her step-family calls home. When she meets her stepmother, Lisette, Nore is shocked by her youth and beauty that gives her chills- and a hint of something sinister. There's hope of becoming friends with her stepbrother and sister, until Nore realizes they're hiding something. When she begins to feel like the target of a deadly plan, Nore starts digging into her step-family's past. The skeletons in their closet are more real than she ever imagined. Can Nore expose her stepmother's dark secret before an old and evil magic swallows her up? 
---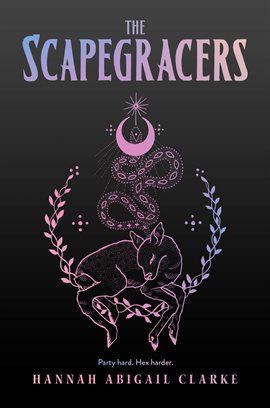 The Scapegracers by Hannah Abigail Clarke 
hoopla ebook 
An outcast teenage lesbian witch finds her coven hidden amongst the popular girls in her school, and performs some seriously badass magic in the process. 
 
Skulking near the bottom of West High's social pyramid, Sideways Pike lurks under the bleachers doing magic tricks for Coke bottles. As a witch, lesbian, and lifelong outsider, she's had a hard time making friends. But when the three most popular girls pay her $40 to cast a spell at their Halloween party, Sideways gets swept into a new clique. The unholy trinity are dangerous angels, sugar-coated rattlesnakes, and now, unbelievably, Sideways' best friends. 
 
Together, the four bond to form a ferocious and powerful coven. They plan parties, cast curses on dudebros, try to find Sideways a girlfriend, and elude the fundamentalist witch hunters hellbent on stealing their magic. But for Sideways, the hardest part is the whole 'having friends' thing. Who knew that balancing human interaction with supernatural peril could be so complicated? 
---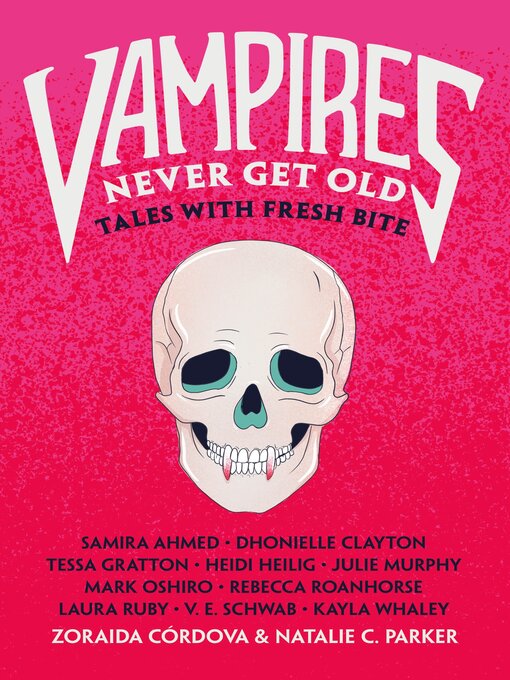 Vampires Never Get Old by Zoraida Cordova and Natalie C. Parker 
OverDrive ebook 
In this delicious new collection, you'll find stories about lurking vampires of social media, rebellious vampires hungry for more than just blood, eager vampires coming out—and going out for their first kill—and other bold, breathtaking, dangerous, dreamy, eerie, iconic, powerful creatures of the night. 
 Welcome to the evolution of the vampire—and a revolution on the page. 
Vampires Never Get Old includes stories by authors both bestselling and acclaimed, including Samira Ahmed, Dhonielle Clayton, Zoraida Córdova and Natalie C. Parker, Tessa Gratton, Heidi Heilig, Julie Murphy, Mark Oshiro, Rebecca Roanhorse, Laura Ruby, Victoria "V. E." Schwab, and Kayla Whaley.