Immerse yourself in the varied and diverse cultures of Asia as you try to figure out whodunnit. This list features both historical and contemporary mysteries set in various countries throughout Asia. Recommended by Ashley Lee.
Murder in Old Bombay by Nev March (India, Historical)
book
OverDrive ebook
*November Library Reads Pick*
In 19th century Bombay, Captain Jim Agnihotri channels his idol, Sherlock Holmes, in Nev March's Minotaur Books/Mystery Writers of America First Crime Novel Award-winning debut.
In 1892, Bombay is the center of British India. Nearby, Captain Jim Agnihotri lies in Poona military hospital recovering from a skirmish on the wild northern frontier, with little to do but re-read the tales of his idol, Sherlock Holmes, and browse the daily papers. The case that catches Captain Jim's attention is being called the crime of the century: Two women fell from the busy university's clock tower in broad daylight. Moved by the widower of one of the victims — his certainty that his wife and sister did not commit suicide — Captain Jim approaches the Parsee family and is hired to investigate what happened that terrible afternoon.
But in a land of divided loyalties, asking questions is dangerous. Captain Jim's investigation disturbs the shadows that seem to follow the Framji family and triggers an ominous chain of events. And when lively Lady Diana Framji joins the hunt for her sisters' attackers, Captain Jim's heart isn't safe, either.
---
A Rising Man by Abir Mukherjee (India, Historical)
book
large print book
OverDrive ebook
hoopla ebook
Calcutta, 1919. Captain Sam Wyndham, former Scotland Yard detective, is a new arrival to Calcutta. Desperately seeking a fresh start after his experiences during the Great War, Wyndham has been recruited to head up a new post in the police force. He is immediately overwhelmed by the heady vibrancy of the tropical city, but with barely a moment to acclimatize or to deal with the ghosts that still haunt him, Wyndham is caught up in a murder investigation that threatens to destabilize a city already teetering on the brink of political insurgency.

The body of a senior official has been found in a filthy sewer, and a note left in his mouth warns the British to quit India, or else. Under tremendous pressure to solve the case before it erupts into increased violence on the streets, Wyndham and his two new colleagues—arrogant Inspector Digby and Sergeant Banerjee, one of the few Indians to be recruited into the new CID—embark on an investigation that will take them from the opulent mansions of wealthy British traders to the seedy opium dens of the city.

Masterfully evincing the sights, sounds, and smells of colonial Calcutta, A Rising Man is the start of an enticing new historical crime series.
---
The Widows of Malabar Hill by Sujata Massey (India, Historical)
book
large print book
OverDrive ebook
OverDrive audiobook
hoopla audiobook
Bombay, 1921: Perveen Mistry, the daughter of a respected Zoroastrian family, has just joined her father's law firm, becoming one of the first female lawyers in India. Armed with a law degree from Oxford, Perveen also has a tragic personal history that makes her especially devoted to championing and protecting women's legal rights. Mistry Law has been appointed to execute the will of Mr. Omar Farid, a wealthy Muslim mill owner who has left three widows behind. But as Perveen is going through the paperwork, she notices something strange: all three of the wives have signed over their full inheritance to a charity. What will they live on if they forfeit what their husband left them? Perveen is suspicious, especially since one of the widows has signed her form with an X, meaning she probably couldn't even read the document. The Farid widows live in full purdah, in strict seclusion, never leaving the women's quarters or speaking to any men. Are they being taken advantage of by an unscrupulous guardian? Perveen tries to investigate, and realizes her instincts about the will were correct when tensions escalate to murder. Now it is her responsibility to figure out what really happened on Malabar Hill, and to ensure that no innocent women or children are in further danger. Inspired in part by a real woman who made history by becoming India's first female lawyer, The Widows of Malabar Hill is a richly wrought story of multicultural 1920s Bombay as well as the debut of a sharp and promising new sleuth, Perveen Mistry.
---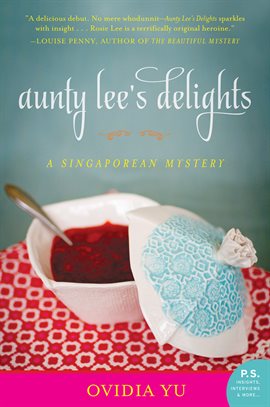 Aunty Lee's Delight by Ovidia Yu (Singapore, Contemporary)
hoopla ebook
hoopla audiobook
Freading ebook
This delectable and witty mystery introduces Rosie "Aunty" Lee, feisty widow, amateur sleuth, and proprietor of Singapore's best-loved home-cooking restaurant.

After losing her husband, Rosie Lee could have become one of Singapore's "tai," an idle rich lady. Instead she is building a culinary empire from her restaurant, Aunty Lee's Delights, where spicy Singaporean meals are graciously served to locals and tourists alike. But when a body is found in one of Singapore's tourist havens and one of her guests fails to show at a dinner party, Aunty Lee knows that the two events are likely connected.

The murder and disappearance throws together Aunty Lee's henpecked stepson, Mark, his social-climbing wife, Selina, a gay couple whose love is still illegal in Singapore, and an elderly Australian tourist couple whose visit may mask a deeper purpose. Investigating the murder are Police Commissioner Raja and Senior Staff Sergeant Salim, who quickly discover that Aunty Lee's sharp nose for intrigue can sniff out clues that elude law enforcers.
---
Singapore Sapphire by A.M. Stuart (Singapore, Historical)
book
OverDrive ebook
Singapore, 1910: Desperate for a fresh start, Harriet Gordon finds herself living with her brother, a reverend and headmaster of a school for boys, in Singapore at the height of colonial rule. Hoping to gain some financial independence, she advertises her services as a personal secretary. It is unfortunate that she should discover her first client, Sir Oswald Newbold–explorer, mine magnate and president of the exclusive Explorers and Geographers Club–dead with a knife in his throat.

When Inspector Robert Curran is put on the case, he realizes that he has an unusual witness in Harriet. Harriet's keen eye for detail and strong sense of duty interests him, as does her distrust of the police and her traumatic past, which she is at pains to keep secret from the gossips of Singapore society.

When another body is dragged from the canal, Harriet feels compelled to help with the case. She and Curran are soon drawn into a murderous web of treachery and deceit and find themselves face-to-face with a ruthless cabal that has no qualms about killing again to protect its secrets.
---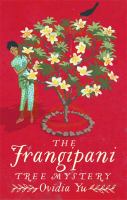 Frangipani Tree Mystery by Ovidia Yu (Singapore, Historical)
book
First in a delightfully charming crime series set in 1930s Singapore, introducing amateur sleuth Su Lin, a local girl stepping in as governess for the Acting Governor of Singapore.
It's 1936 in the Crown Colony of Singapore, and the British abdication crisis and rising Japanese threat seem very far away. When the Irish nanny looking after Acting Governor Palin's daughter dies suddenly and in mysterious circumstances, mission school-educated local girl Su Lin, an aspiring journalist trying to escape an arranged marriage, is invited to take her place.
But then another murder at the residence occurs and it seems very likely that a killer is stalking the corridors of Government House. It now takes all Su Lin's traditional skills and intelligence to help British-born Chief Inspector Thomas LeFroy solve the murders and escape with her own life.
---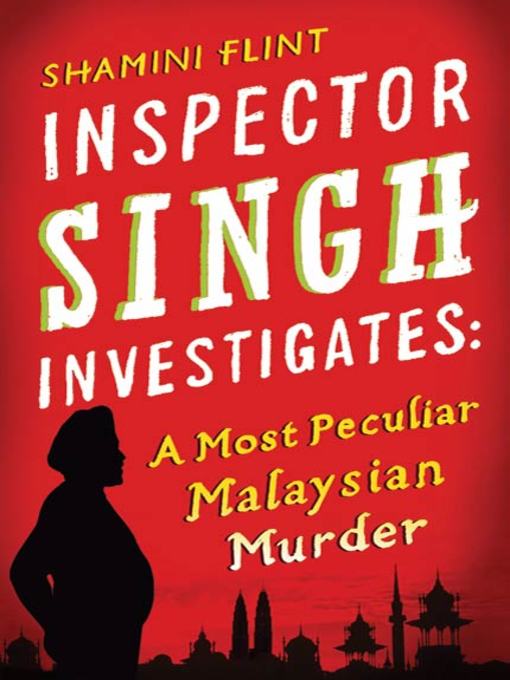 Inspector Singh Investigates by Shamini Flint (Singapore, Contemporary)
OverDrive ebook
Meet Inspector Singh: a fat, slightly bumbling, but truly lovable detective sure to charm readers of The No.1 Ladies Detective Agency.
Inspector Singh is in a bad mood. He's been sent from his home in Singapore to Kuala Lumpur to solve a murder that has him stumped. Chelsea Liew, the famous Singaporean model, is on death row for the murder of her ex-husband. She swears she didn't do it, he thinks she didn't do it, but no matter how hard he tries to get to the bottom of things, he still arrives back at the same place—that Chelsea's husband was shot at point blank range, and that Chelsea had the best motivation to pull the trigger: he was taking her kids away from her. Now Inspector Singh must pull out all the stops to crack a crime that could potentially free a beautiful and innocent woman and reunite a mother with her children. There's just one problem: the Malaysian police refuse to play ball.
---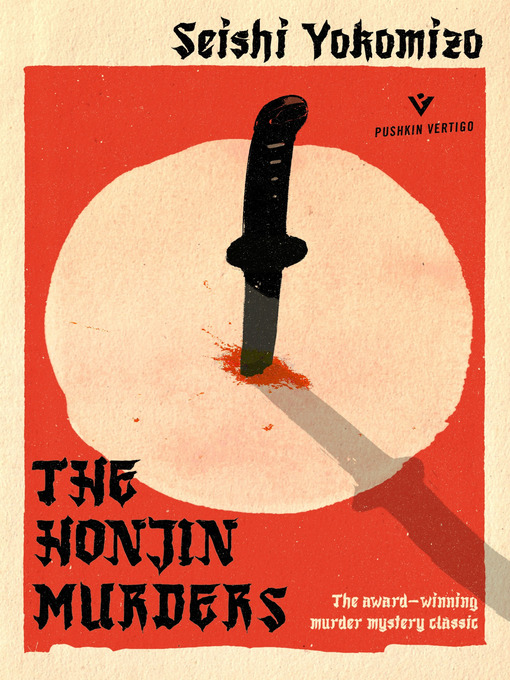 The Honjin Murders by Seishi Yokomizo (Japan, Historical)
book
OverDrive ebook
One of Japan's greatest classic murder mysteries, introducing their best loved detective, translated into English for the first time.
In the winter of 1937, the village of Okamura is abuzz with excitement over the forthcoming wedding of a son of the grand Ichiyanagi family. But amid the gossip over the approaching festivities, there is also a worrying rumour. It seems a sinister masked man has been asking questions around the village.
Then, on the night of the wedding, the Ichiyanagi household are woken by a terrible scream, followed by the sound of eerie music. Death has come to Okamura, leaving no trace but a bloody samurai sword, thrust into the pristine snow outside the house. Soon, amateur detective Kosuke Kindaichi is on the scene to investigate what will become a legendary murder case, but can this scruffy sleuth solve a seemingly impossible crime?
---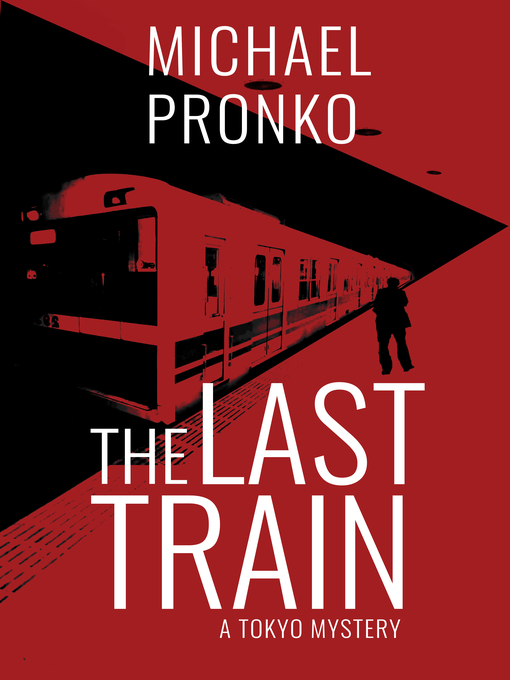 The Last Train by Michael Pronko (Japan, Contemporary)
book
OverDrive ebook
Detective Hiroshi Shimizu investigates white collar crime in Tokyo. When an American businessman turns up dead, his mentor Takamatsu calls him out to the site of a grisly murder. A glimpse from a security camera video suggests the killer might be a woman. Hiroshi quickly learns how close homicide and suicide can appear in a city full of high-speed trains just a step—or a push—away.
Takamatsu drags Hiroshi out to the hostess clubs and skyscraper offices of Tokyo in search of the killer. Hiroshi goes deeper and deeper into Tokyo's intricate, perilous market for buying and selling the most expensive land in the world. He teams up with ex-sumo wrestler Sakaguchi to scour Tokyo's sacred temples, corporate offices and industrial wastelands to find out why one woman was driven to murder.
---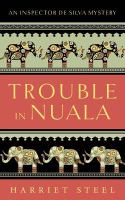 Trouble in Nuala by Harriet Steel (Ceylon/Sri Lanka, Historical)
book
hoopla audiobook
When Inspector Shanti de Silva moves with his English wife, Jane, to his new post in the sleepy hill town of Nuala, he anticipates a more restful life than police work in the big city entails. However an arrogant plantation owner with a lonely wife, a crusading lawyer, and a death in suspicious circumstances present him with a riddle that he will need all his experience to solve. Set on the exotic island of Ceylon (modern Sri Lanka) in the 1930s, Trouble in Nuala is an entertaining and absorbing mystery spiced with humor and a colorful cast of characters.
---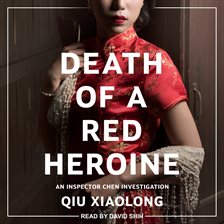 Death of a Red Heroine by Qui Xiaolong (China, Contemporary)
OverDrive ebook
hoopla audiobook
Qiu Xiaolong's Anthony Award-winning debut introduces Inspector Chen of the Shanghai Police. A young "national model worker," renowned for her adherence to the principles of the Communist Party, turns up dead in a Shanghai canal. As Inspector Chen Cao of the Shanghai Special Cases Bureau struggles to trace the hidden threads of her past, he finds himself challenging the very political forces that have guided his life since birth. Chen must tiptoe around his superiors if he wants to get to the bottom of this crime, and risk his career, perhaps even his life, to see justice done.
---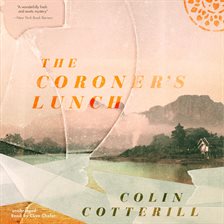 The Coroner's Lunch by Colin Cotterill (Laos, Historical)
OverDrive ebook
hoopla audiobook
Laos, 1975: The Communist Pathet Lao has taken over this former French colony. Dr. Siri Paiboun, a seventy-two-year-old Paris-trained doctor, is appointed national coroner. Although he has no training for the job, there is no one else: the rest of the educated class have fled. He is expected to come up with the answers the party wants, but crafty and charming Dr. Siri is immune to bureaucratic pressure. At his age, he reasons, what can they do to him? And he knows he cannot fail the dead who come into his care without risk of incurring their boundless displeasure. Eternity could be a long time to have the spirits mad at you.
---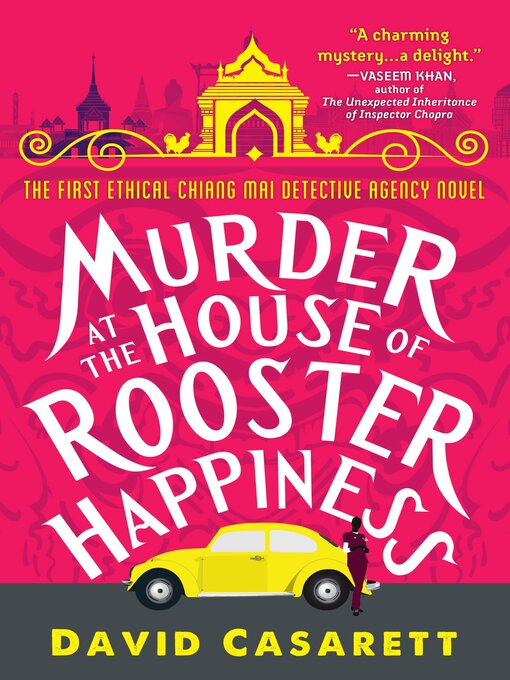 Murder at the House of Rooster Happiness by David Casarett (Thailand, Contemporary)
book
OverDrive ebook
OverDrive audiobook
Meet Ladarat Patalung – the first and only nurse detective in Thailand.

Two nights ago, a young woman brought her husband into the emergency room of the Sriphat Hospital in Thailand, where he passed away. A guard thinks she remembers her coming in before, but with a different husband – one who also died.

Ladarat Patalung, for one, would have been happier without a serial murderer, if there is one, loose in her hospital. Then again, she never expected to be a detective in the first place. And now, Ladarat has no choice but to investigate.