Western science fiction is a cross-genre that blends the lawlessness of the great American west with the futuristic fun of science fiction. Recommended by Samantha Matherne.
Frontier Earth: Searcher by Bruce Boxleitner
book
The year is 1882. The enigmatic gunman known as Macklin has made a home for himself in Tombstone, Arizona, with the Earp brothers among his closest friends. Yet he is troubled. Gradually, as his memory returns, he has come to realize that he is not human, that he is a being from another planet sent to protect Earth from a coming invasion by another alien species. Still, he has many questions – about his enemies, about himself – and he thinks he can find some answers in Tucson, where another of his kind lives. But as he searches for the man, he is drawn into the conflict that rages in the mountains outside of Tucson, between the men who mine for silver and the Apaches who hold the mountains sacred. Caught in the middle of a human war, Macklin must not forget that while he has been hunting for the truth, something is still hunting him. Something not of this Earth.
---
Gunslinger Girl by Lyndsay Ely
book
OverDrive ebook
The West is once again wild after a Second Civil War fractures the U.S. into a broken, dangerous land. Seventeen-year-old sharpshooter Serendipity "Pity" Jones stars in, and lives at, the Theater Vespertine, but there is a dark cost to her freedom that Pity may not be willing to pay.
---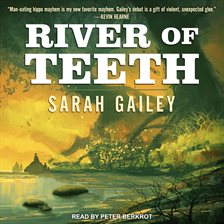 River of Teeth by Sarah Gailey
hoopla audiobook
Part 1 of the River of Teeth series
In the early twentieth century, the United States government concocted a plan to import hippopotamuses into the marshlands of Louisiana to be bred and slaughtered as an alternative meat source. This is true. Other true things about hippos: they are savage, they are fast, and their jaws can snap a man in two. This was a terrible plan. Contained within this volume is an 1890s America that might have been: a bayou overrun by feral hippos and mercenary hippo wranglers from around the globe. It is the story of Winslow Houndstooth and his crew. It is the story of their fortunes. It is the story of his revenge.
---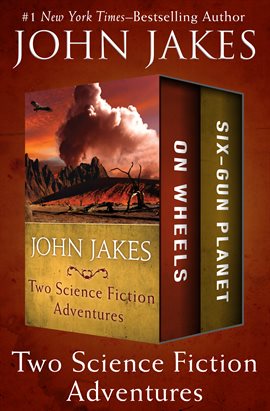 On Wheels and Six-Gun Planet by John Jakes
hoopla ebook
Freading ebook
Two Novels of the Future
Two visions of the world gone mad, from master storyteller John Jakes. In On Wheels, the United States has become so overpopulated that a tenth of its people have no home. Instead, they spend their lives on the highway. With all of the dangers of the road, dropping below forty miles per hour would mean certain death, even for men like Billy Spoiler. The clans of the open road spend their lives battling each other for control of the freeway, and the Spoilers are no exception. They never give up, never pull over, and never take their hand off the throttle.
On the colony world of Six-Gun Planet, cowboys ride robot horses. In an effort to escape the corrupting influence of technology, the people of this strange, isolated world they call Missouri have reset the clock to 1880, building a civilization of main streets, saloons, and bordellos, where it is always high noon. Reluctant gunslinger Zak Randolf thinks the whole set-up is ridiculous, but he goes along with it because there's good money in playing the part of a western hero. When notorious gunslinger Buffalo Yung challenges him to a duel, though, Zak gets serious. Missouri's horses may be fake, but its bullets are definitely real. This ebook bundle features an illustrated biography of John Jakes including rare images from the author's personal collection.
---
Firefly: the complete series
DVD
Five hundred years in the future, a renegade crew aboard a small spacecraft tries to survive as they travel the unknown parts of the galaxy and evade warring factions as well as authority agents out to get them. Created by Joss Whedon. Also see the movie wrap-up to the series: Serenity on blu-ray.
---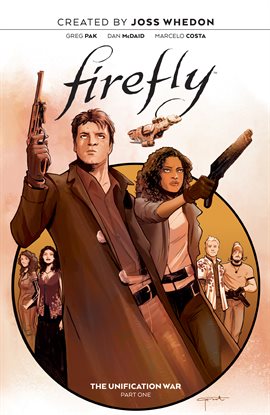 Firefly by Greg Pak; illustrated by Dan McDaid
hoopla comic book
hoopla comic series
BOOM! Studios, along with visionary writer and director Joss Whedon (Buffy the Vampire Slayer, The Avengers), presents an all-new era of the pop culture television phenomenon Firefly, as one of the most demanded stories in the franchise's history is revealed for the first time. Focusing on family, loyalty, identity, and the price of redemption, writer Greg Pak (Mech Cadet Yu, Totally Awesome Hulk) and artist Dan McDaid (Judge Dredd: Mega City Zero) take you back to the battleground where Mal's journey began: the War of Unification.
---
The Gunslinger by Stephen King
book 2017 edition
book 2003 edition
book on CD
The Dark Tower DVD
Binge Box: Masters of Horror: Stephen King DVDs
OverDrive ebook
OverDrive audiobook
A #1 national bestseller, The Gunslinger introduces readers to one of Stephen King's most powerful creations, Roland of Gilead: The Last Gunslinger. He is a haunting figure, a loner on a spellbinding journey into good and evil. In his desolate world, which mirrors our own in frightening ways, Roland tracks The Man in Black, encounters an enticing woman named Alice, and begins a friendship with the boy from New York named Jake.
---
The Haunted Mesa by Louis L'Amour
book
L'Amour's latest and greatest #1 hardcover bestseller unravels an enigma that has baffled historians and anthropologists for ages: the disappearance of the Anasazi, the race of cliff-dwellers who vanished centuries ago. A contemporary novel full of Indian lore, mysticism, and excitement.
When a prominent scientist disappears, his friend must travel into another dimension to find him in this novel that combines science fiction and the western.
The Navajo called them the Anasazi, the "ancient enemy," and their abandoned cities haunt the canyons and plateaus of the Southwest. For centuries the sudden disappearance of these people baffled historians. Summoned to a dark desert plateau by a desperate letter from an old friend, renowned investigator Mike Raglan is drawn into a world of mystery, violence, and explosive revelations. Crossing a border beyond the laws of man and nature, he will learn of the astonishing world of the Anasazi and discover the most extraordinary frontier ever encountered.
---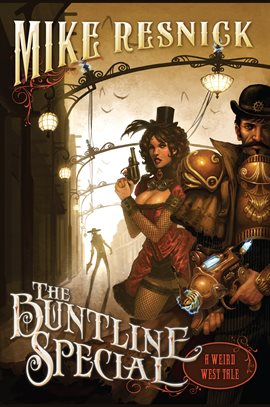 The Buntline Special by Mike Resnick
hoopla ebook
Part 1 of the Weird West Tale series
Welcome to a West like you've never seen before, where electric lights shine down on the streets of Tombstone, while horseless stagecoaches carry passengers to and fro, and where death is no obstacle to The Thing That Was Once Johnny Ringo. Think you know the story of the O.K. Corral? Think again, as five-time Hugo winner Mike Resnick takes on his first steampunk western tale, and the West will never be the same.
---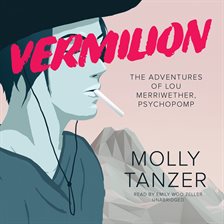 Vermillion by Molly Tanzer
hoopla audiobook
From British Fantasy Award nominee Molly Tanzer comes her debut novel, Vermilion, a spirited weird Western adventure that puts the punk back into steampunk. Gunslinging, chain-smoking, and Stetson-wearing Taoist psychopomp, Elouise 'Lou' Merriwether might not be a normal nineteen-year-old, but she's too busy keeping San Francisco safe from ghosts, shades, and geung si to care much about that. It's an important job, though most folks consider it downright spooky. Some have even accused Lou of being more comfortable with the dead than the living, and, well … they're not wrong. When Lou hears that a bunch of Chinatown boys have gone missing somewhere deep in the Colorado Rockies, she decides to saddle up and head into the wilderness to investigate. Lou fears her particular talents make her better suited to help placate their spirits than ensure they get home alive, but it's the right thing to do, and she's the only one willing to do it. On the road to a mysterious sanatorium known as the Fountain of Youth, Lou will encounter bears, desperate men, a very undead villain, and even stranger challenges. She will need every one of her talents and a whole lot of luck to make it home alive.
---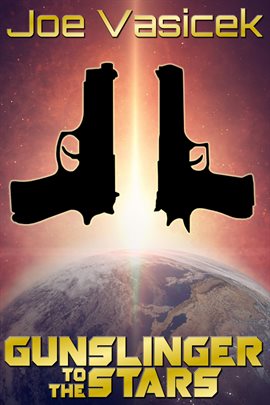 Gunslinger to the Stars by Joe Vasicek
hoopla ebook
Part 1 of the Gunslinger Trilogy series
The name's Sam Kletchka. Perhaps you've heard of me: captain of the Star Runner, military contractor for Earthfleet, and interstellar privateer. But before all that, I was a hired gun, freelancing across the galaxy one gunslinging job at a time.
This, my friends, is how I went from being stranded in the armpit of the galaxy to becoming the luckiest human being in the universe. Not that it was easy, of course. I've looked death in the face so often, he's practically an old buddy of mine. But when all your worst enemies are immortal, that's a buddy you want on your side.
Stay frosty, my friends. You never know what you'll find at the next star.
*All summaries are from the publishers.