Decipher the clues along with these kid detectives to solve mysteries and save the day. Recommended by Samantha Matherne.
Chasing Vermeer by Blue Balliett
book
When a book of unexplainable occurrences brings Petra Andalee & Calder Pillay together, strange things start to happen: seemingly unrelated events connect, an eccentric old woman seeks their company, and an invaluable Vermeer painting disappears. Before they know it, the two find themselves at the center of an international art scandal. As Petra and Calder are drawn clue by clue into a mysterious labyrinth they must draw on their powers of intuition, their skills at problem solving, and their knowledge of Vermeer. Can they decipher a crime that has left even the FBI baffled?
---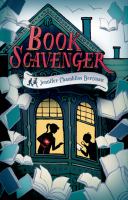 Book Scavenger by Jennifer Chambliss Bertman
book
book on CD
hoopla audiobook
OverDrive audiobook
Emily's love of solving puzzles turns into a real-life mystery featuring a secret book, an intricate game, and bad guys out to get her.
For twelve-year-old Emily, the best thing about moving to San Francisco is that it's the home city of her literary idol: Garrison Griswold, book publisher and creator of the online sensation Book Scavenger (a game where books are hidden in cities all over the country and clues to find them are revealed through puzzles). Upon her arrival, however, Emily learns that Griswold has been attacked and is now in a coma, and no one knows anything about the epic new game he had been poised to launch. Then Emily and her new friend James discover an odd book, which they come to believe is from Griswold himself, and might contain the only copy of his mysterious new game.
Racing against time, Emily and James rush from clue to clue, desperate to figure out the secret at the heart of Griswold's new game–before those who attacked Griswold come after them too.
---
Me, Frida, and the Secret of the Peacock Ring by Angela Cervantes
book
A room locked for fifty years. A valuable peacock ring. A mysterious brother-sister duo.
Paloma Marquez is traveling to Mexico City, birthplace of her deceased father, for the very first time. She's hoping that spending time in Mexico will help her unlock memories of the too-brief time they spent together.
While in Mexico, Paloma meets Lizzie and Gael, who present her with an irresistible challenge: The siblings want her to help them find a valuable ring that once belonged to beloved Mexican artist Frida Kahlo. Finding the ring means a big reward — and the thanks of all Mexico. What better way to honor her father than returning a priceless piece of jewelry that once belonged to his favorite artist?
But the brother and sister have a secret. Do they really want to return the ring, or are they after something else entirely?
---
The Amelia Six by Kristin L. Gray
book
Amelia Earhart's famous aviator goggles go missing and eleven-year-old Millie has to find them before the night is over in this girl-powered, middle grade whodunit.
Eleven-year-old Amelia Ashford — Millie to her friends (if she had any, that is) — doesn't realize just how much adventure awaits her when she's given the opportunity of a lifetime: to spend the night in Amelia Earhart's childhood home with five other girls. Make that five strangers. But Millie's mom is a pilot like the famous Amelia, and Millie would love to have something to write to her about…if only she had her address.
Once at Amelia's house in Atchison, Kansas, Millie stumbles upon a display of Amelia's famous flight goggles. She can't believe her good luck, since they're about to be relocated to a fancy museum in Washington, DC. But her luck changes quickly when the goggles disappear, and Millie was the last to see them. Soon, fingers are pointing in all directions, and someone falls strangely ill. Suddenly, a fun night of scavenger hunts and sweets takes a nosedive and the girls aren't sure who to trust. With a blizzard raging outside and a house full of suspects, the girls have no choice but to band together. It's up to the Amelia Six to find the culprit and return the goggles to their rightful place. Or the next body to collapse could be one of theirs.
---
Theodore Boone, Kid Lawyer by John Grisham
book
book on CD
OverDrive ebook
OverDrive audiobook
A perfect murder. A faceless witness. A lone courtroom champion knows the whole truth . . . and he's only thirteen years old. Meet Theodore Boone.
In the small city of Strattenburg, there are many lawyers, and though he's only thirteen years old, Theo Boone thinks he's one of them. Theo knows every judge, policeman, court clerk–and a lot about the law. He dreams of being a great trial lawyer, of a life in the courtroom.
But Theo finds himself in court much sooner than expected. Because he knows so much–maybe too much–he is suddenly dragged into the middle of a sensational murder trial. A cold-blooded killer is about to go free, and only Theo knows the truth.
The stakes are high, but Theo won't stop until justice is served.
Brimming with the intrigue and suspense that made John Grisham a #1 international bestseller and the undisputed master of the legal thriller, Theodore Boone: Kid Lawyer will keep readers guessing and pages turning.
---
Aggie Morton, Mystery Queen: The Body under the Piano by Marthe Jocelyn
book
OverDrive audiobook
A new detective is on the middle-grade scene, inspired by Agatha Christie and her famous creation Hercule Poirot!
A smart and charming middle-grade mystery series starring young detective Aggie Morton and her friend Hector, inspired by the imagined life of Agatha Christie as a child and her most popular creation, Hercule Poirot. For fans of Lemony Snicket and Enola Holmes.
Aggie Morton lives in a small town on the coast of England in 1902. Adventurous and imaginative but deeply shy, Aggie hasn't got much to do since the death of her beloved father . . . until the fateful day when she crosses paths with twelve-year-old Belgian immigrant Hector Perot and discovers a dead body on the floor of the Mermaid Dance Room. As the number of suspects grows and the murder threatens to tear the town apart, Aggie and her new friend will need every tool at their disposal — including their insatiable curiosity, deductive skills, and not a little help from their friends — to solve the case before Aggie's beloved dance instructor is charged with a crime Aggie is sure she didn't commit.
Filled with mystery, adventure, an unforgettable heroine, and several helpings of tea and sweets, The Body under the Piano is the clever debut of a new series for middle-grade readers and Christie and Poirot fans everywhere, from a Governor General's Award–nominated author of historical fiction for children.
---
The Parker Inheritance by Varian Johnson
book
hoopla audiobook
When Candice finds a letter in an old attic in Lambert, South Carolina, she isn't sure she should read it. It's addressed to her grandmother, who left the town in shame. But the letter describes a young woman. An injustice that happened decades ago. A mystery enfolding its writer. And the fortune that awaits the person who solves the puzzle.
So with the help of Brandon, the quiet boy across the street, she begins to decipher the clues. The challenge will lead them deep into Lambert's history, full of ugly deeds, forgotten heroes, and one great love; and deeper into their own families, with their own unspoken secrets. Can they find the fortune and fulfill the letter's promise before the answers slip into the past yet again?
---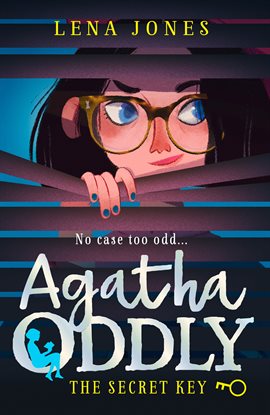 The Secret Key by Lena Jones
hoopla ebook
Meet thirteen-year-old Agatha Oddly – a bold, determined heroine, and the star of a stylish new detective series.
Agatha Oddlow has been a detective for as long as she can remember – she's just been waiting for her first big case. And nothing gets bigger than saving the City of London from some strange goings-on.
With a scholarship to the prestigious St Regis School, a cottage in the middle of Hyde Park, a room full of beloved sleuthing novels, and a secret key that gives her access to a whole hidden side of London, Agatha is perfectly poised to solve the mystery of what's going on. But just who can she trust when no one is quite who they seem?
---
From the Desk of Zoe Washington by Janae Marks
hoopla ebook
hoopla audiobook
Freading ebook
From debut author Janae Marks comes a captivating mystery full of heart, as one courageous girl questions assumptions, searches for the truth, and does what she believes is right, even in the face of great opposition.
Zoe Washington isn't sure what to write. What does a girl say to the father she's never met, hadn't heard from until his letter arrived on her twelfth birthday, and who's been in prison for a terrible crime? A crime he says he never committed.
Could Marcus really be innocent? Zoe is determined to uncover the truth. Even if it means hiding his letters and her investigation from the rest of her family. Everyone else thinks Zoe's worrying about doing a good job at her bakery internship and proving to her parents that she's worthy of auditioning for Food Network's Kids Bake Challenge.
But with bakery confections on one part of her mind, and Marcus's conviction weighing heavily on the other, this is one recipe Zoe doesn't know how to balance. The only thing she knows to be true: Everyone lies.
---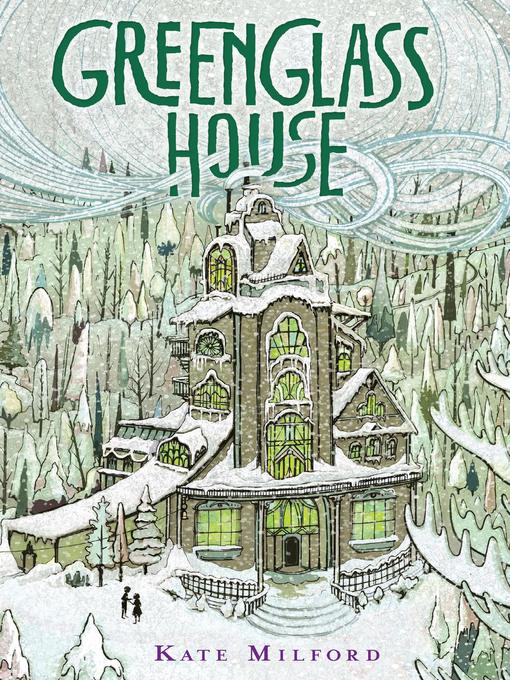 Greenglass House by Kate Milford 
book on CD 
hoopla audiobook 
OverDrive ebook 
OverDrive audiobook 
It's wintertime at Greenglass House. The creaky smuggler's inn is always quiet during this season, and twelve-year-old Milo, the innkeepers' adopted son, plans to spend his holidays relaxing. But on the first icy night of vacation, out of nowhere, the guest bell rings. Then rings again. And again. Soon Milo's home is bursting with odd, secretive guests, each one bearing a strange story that is somehow connected to the rambling old house. As objects go missing and tempers flare, Milo and Meddy, the cook's daughter, must decipher clues and untangle the web of deepening mysteries to discover the truth about Greenglass House and themselves.
---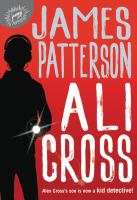 Ali Cross by James Patterson
book
OverDrive ebook
OverDrive audiobook
James Patterson's blockbuster Alex Cross series has sold over 100 million copies–and now he's bringing those thrills to a new generation! Alex's son Ali is eager to follow in his father's footsteps as a detective, but when his best friend goes missing, what price will he have to pay to solve the mystery?
Ali Cross has always looked up to his father, former detective and FBI agent Alex Cross. While solving some of the nation's most challenging crimes, his father always kept his head and did the right thing. Can Ali have the same strength and resolve? When Ali's best friend Abraham is reported missing, Ali is desperate to find him. At the same time, a string of burglaries targets his neighborhood and even his own house. With his father on trial for a crime he didn't commit, it's up to Ali to search for clues and find his friend. But being a kid sleuth isn't easy, especially when your father warns you not to get involved! Ali soon learns that clues aren't always what they seem. Will his detective work lead to a break in Abraham's case or cause even more trouble for the Cross family?
---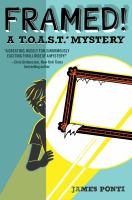 Framed!: A T.O.A.S.T. Mystery by James Ponti
book
hoopla audiobook
Get to know the only kid on the FBI Director's speed dial and several international criminals' most wanted lists all because of his Theory of All Small Things in this hilarious start to a brand-new middle grade mystery series.
So you're only halfway through your homework and the Director of the FBI keeps texting you for help. What do you do? Save your grade? Or save the country? If you're Florian Bates, you figure out a way to do both.
Florian is twelve years old and has just moved to Washington. He's learning his way around using TOAST, which stands for the Theory of All Small Things. It's a technique he invented to solve life's little mysteries such as: where to sit on the on the first day of school, or which Chinese restaurant has the best eggrolls.
But when he teaches it to his new friend Margaret, they uncover a mystery that isn't little. In fact, it's HUGE, and it involves the National Gallery, the FBI, and a notorious crime syndicate known as EEL.
Can Florian decipher the clues and finish his homework in time to help the FBI solve the case?
---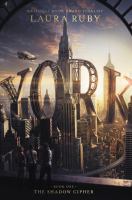 The Shadow Cipher by Laura Ruby
book
hoopla ebook
hoopla audiobook
Freading ebook
It was 1798 when the Morningstarr twins arrived in New York with a vision for a magnificent city: towering skyscrapers, dazzling machines, and winding train lines, all running on technology no one had ever seen before. Fifty-seven years later, the enigmatic architects disappeared, leaving behind for the people of New York the Old York Cipher, a puzzle laid into the shining city they constructed, at the end of which was promised a treasure beyond all imagining. By the present day, however, the puzzle has never been solved, and the greatest mystery of the modern world is little more than a tourist attraction.
Tess and Theo Biedermann and their friend Jaime Cruz live in a Morningstarr apartment, until a real estate developer announces that the city has agreed to sell him the five remaining Morningstarr buildings. Their likely destruction means the end of a dream long held by the people of New York. And if Tess, Theo, and Jaime want to save their home, they have to prove that the Old York Cipher is real. Which means they have to solve it.
---
Three Times Lucky by Sheila Turnage
book
OverDrive ebook
Meet Miss Moses LoBeau — rising sixth grader, natural born detective, borderline straight-A student, and goddess of free enterprise. Mo washed ashore in Tupelo Landing, North Carolina, eleven years ago during one of the meanest hurricanes in history, and she's been making waves ever since.
Mo's summer is looking good. She'll take karate with her best friend, Dale Earnhardt Johnson III (whose daddy believes in naming for the famous), and plot against her sworn enemy, Anna Celeste (aka Attila). She'll help out at the cafe run by the Colonel and Miss Lana, and continue her lifelong search for her Upstream Mother.
But when the cafe's crankiest customer turns up dead and a city-slick lawman shows up asking questions, Mo's summer takes an unexpected turn. With another hurricane bearing down on Tupelo Landing, Mo and Dale set out to save those they love and solve a mystery of epic proportion.