Jessica has more than two decades of experience at the Ascension Parish Library in Gonzales. You can find Jessica at the reference desk, or in the tech room, or in book club. Her list of faves reflects her eclectic sense of wonder about the world and what the library has to offer. Bookmark it. 
Bel Canto by Ann Patchett
book
OverDrive ebook
hoopla ebook
hoopla audiobook
Freading ebook
Somewhere in South America, at the home of the country's vice president, a lavish birthday party is being held in honor of the powerful businessman Mr. Hosokawa. Roxanne Coss, opera's most revered soprano, has mesmerized the international guests with her singing.
It is a perfect evening—until a band of gun-wielding terrorists takes the entire party hostage. But what begins as a panicked, life-threatening scenario slowly evolves into something quite different, a moment of great beauty, as terrorists and hostages forge unexpected bonds and people from different continents become compatriots, intimate friends, and lovers.
---
Into Thin Air by Jon Krakauer
book / book
OverDrive ebook
hoopla audiobook
A bank of clouds was assembling on the not-so-distant horizon, but journalist-mountaineer Jon Krakauer, standing on the summit of Mt. Everest, saw nothing that "suggested that a murderous storm was bearing down." He was wrong. The storm, which claimed five lives and left countless more–including Krakauer's–in guilt-ridden disarray, would also provide the impetus for Into Thin Air, Krakauer's epic account of the May 1996 disaster.
---
Killers of the Flower Moon by David Grann 
book 
book on CD 
OverDrive ebook 
OverDrive audiobook 
In the 1920s, the richest people per capita in the world were members of the Osage Nation in Oklahoma. After oil was discovered beneath their land, the Osage rode in chauffeured automobiles, built mansions, and sent their children to study in Europe. 
Then, one by one, the Osage began to be killed off. The family of an Osage woman, Mollie Burkhart, became a prime target. One of her relatives was shot. Another was poisoned. And it was just the beginning, as more and more Osage were dying under mysterious circumstances, and many of those who dared to investigate the killings were themselves murdered. 
As the death toll rose, the newly created FBI took up the case, and the young director, J. Edgar Hoover, turned to a former Texas Ranger named Tom White to try to unravel the mystery. White put together an undercover team, including a Native American agent who infiltrated the region, and together with the Osage began to expose one of the most chilling conspiracies in American history. 
---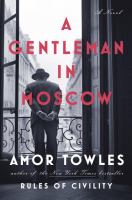 A Gentleman in Moscow by Amor Towles 
book 
book on CD 
OverDrive ebook 
OverDrive audibook 
 In 1922, Count Alexander Rostov is deemed an unrepentant aristocrat by a Bolshevik tribunal, and is sentenced to house arrest in the Metropol, a grand hotel across the street from the Kremlin. Rostov, an indomitable man of erudition and wit, has never worked a day in his life, and must now live in an attic room while some of the most tumultuous decades in Russian history are unfolding outside the hotel's doors. Unexpectedly, his reduced circumstances provide him entry into a much larger world of emotional discovery. 
Brimming with humor, a glittering cast of characters, and one beautifully rendered scene after another, this singular novel casts a spell as it relates the count's endeavor to gain a deeper understanding of what it means to be a man of purpose.
---
Lost City of Z by David Grann
book
OverDrive ebook
OverDrive audibook
After stumbling upon a hidden trove of diaries, acclaimed New Yorker writer David Grann set out to solve "the greatest exploration mystery of the twentieth century": What happened to the British explorer Percy Fawcett and his quest for the Lost City of Z?

In 1925 Fawcett ventured into the Amazon to find an ancient civilization, hoping to make one of the most important discoveries in history. For centuries Europeans believed the world's largest jungle concealed the glittering kingdom of El Dorado. Thousands had died looking for it, leaving many scientists convinced that the Amazon was truly inimical to humankind. But Fawcett, whose daring expeditions helped inspire Conan Doyle's The Lost World, had spent years building his scientific case. Captivating the imagination of millions around the globe, Fawcett embarked with his twenty-one-year-old son, determined to prove that this ancient civilization—which he dubbed "Z"—existed. Then he and his expedition vanished.

Fawcett's fate—and the tantalizing clues he left behind about "Z"—became an obsession for hundreds who followed him into the uncharted wilderness. For decades scientists and adventurers have searched for evidence of Fawcett's party and the lost City of Z. Countless have perished, been captured by tribes, or gone mad. As David Grann delved ever deeper into the mystery surrounding Fawcett's quest, and the greater mystery of what lies within the Amazon, he found himself, like the generations who preceded him, being irresistibly drawn into the jungle's "green hell." His quest for the truth and his stunning discoveries about Fawcett's fate and "Z" form the heart of this complex, enthralling narrative.
---
The No. 1 Ladies Detective Agency by Alexander McCall Smith
book
large print book
book on CD
hoopla audiobook
Precious Ramotswe, a cheerful woman of traditional build, is the founder of Botswana's first and only ladies' detective agency. Here is a gentle interpretation of the detective role: solving her cases through her innate wisdom and understanding of human nature, she 'helps people with problems in their lives'.
---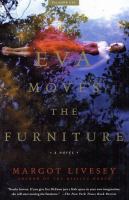 Eva Moves the Furniture by Margot Livesey 
book 
On the morning of Eva McEwen's birth, six magpies congregate in the apple tree outside the window — a bad omen, according to legend. That night Eva's mother dies; leaving her to be raised by her aunt and heartsick father in the small town of Troon, Scotland. Eva's peaceful childhood is disrupted the day a woman and a girl mysteriously appear in her garden. Over the years, the two make frequent visits; invisible to everyone else, at first they seem benevolent, helping to tidy her room and collect the hens' eggs. But as Eva grows older, her visitors' intentions become increasingly unclear: Do they wish to protect or harm her? Is their meddling in her best interests or prompted by darker motivations?
In the shadow of World War II, Eva studies nursing in Glasgow, tending to the injured soldiers. But when she falls in love with a young plastic surgeon, her companions seem to have a very different idea as to her fate, and once again she finds herself unable to resist their pull. 
---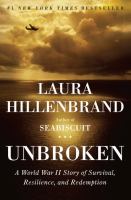 Unbroken by Laura Hillenbrand
book
book on CD
book in Spanish
OverDrive ebook
OverDrive audiobook
In boyhood, Louis Zamperini was an incorrigible delinquent. As a teenager, he channeled his defiance into running, discovering a prodigious talent that had carried him to the Berlin Olympics. But when World War II began, the athlete became an airman, embarking on a journey that led to a doomed flight on a May afternoon in 1943. When his Army Air Forces bomber crashed into the Pacific Ocean, against all odds, Zamperini survived, adrift on a foundering life raft. Ahead of Zamperini lay thousands of miles of open ocean, leaping sharks, thirst and starvation, enemy aircraft, and, beyond, a trial even greater. Driven to the limits of endurance, Zamperini would answer desperation with ingenuity; suffering with hope, resolve, and humor; brutality with rebellion. His fate, whether triumph or tragedy, would be suspended on the fraying wire of his will.
---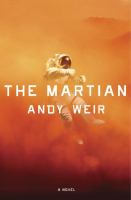 The Martian by Andy Weir 
book 
book on CD 
OverDrive ebook  
Six days ago, astronaut Mark Watney became one of the first people to walk on Mars. Now, he's sure he'll be the first person to die there. 
After a dust storm nearly kills him and forces his crew to evacuate while thinking him dead, Mark finds himself stranded and completely alone with no way to even signal Earth that he's alive—and even if he could get word out, his supplies would be gone long before a rescue could arrive. 
Chances are, though, he won't have time to starve to death. The damaged machinery, unforgiving environment, or plain-old "human error" are much more likely to kill him first. 
But Mark isn't ready to give up yet. Drawing on his ingenuity, his engineering skills—and a relentless, dogged refusal to quit—he steadfastly confronts one seemingly insurmountable obstacle after the next. Will his resourcefulness be enough to overcome the impossible odds against him? 
*All summaries courtesy of the publisher unless otherwise noted.