K-Pop is a genre of pop music out of South Korea that has become so popular it now has a global audience. According to NPR's guide to getting into K-Pop, it is "a maximalist dreamland full of color, high concept performances and videos, a plethora of performers and unrivaled choreography." Whether you're a K-Pop expert or a newbie, this list will get you going with books and music from our library. Curated by Stephanie Mayeux.
Music
Nonfiction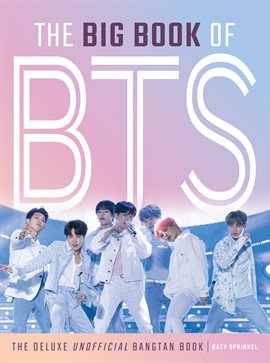 The Big Book of BTS by Katy Sprinkel
Freading ebook
hoopla ebook
Between selling out arenas, presenting at the Grammy Awards, and dropping mixtapes, BTS has still found time to release chart-topping hits like "Fake Love" and "Idol." For these K-Pop icons, the best may still be yet to come. The Big Book of BTS is the ultimate guide to all things Bangtan. Including more than 100 full-color photographs, fans are provided an in-depth look at the lives of RM, J-Hope, Suga, Jimin, V, Jin, and Jungkook. This keepsake explores their meteoric rise, musical influences, unbeatable style, far-reaching activism, and bond with fans. A must-have for ARMYs as well as new K-Pop fans everywhere!
---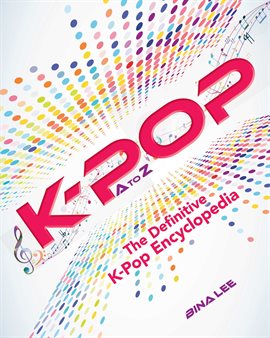 K-pop A to Z by Bina Lee
hoopla ebook
K-POP is popping up everywhere! Korea's infectious and high-energy pop music and entertainment scene is a relatively young phenomenon in the West, and it is rapidly gaining traction. Don't be left out of the phenomenon. This book will help you learn the K-Pop lingo, culture, and important facts about the top stars of the industry, including:
• What it means when someone is your "Bias"
• Who has the best "Eye-smile" in the industry
• What exactly "Call" means
• Why you should avoid being a "Sasaeng fan"
• When G-Dragon started training for K-Pop stardom
• The meaning behind BTS's name
• Where Wanna One got their start
• And much more!
Impress all your "Koreaboo" friends with the knowledge you gain in K-Pop A to Z!
---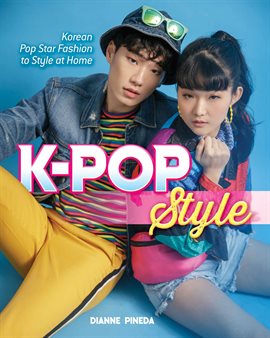 K-Pop Style by Dianne Pineda-Kim
hoopla ebook
Step up and join the K-Pop revolution now! K-Pop, Korea's infectious and high-energy pop music scene, features fashionable and talented singers and eye-popping visuals. Now you too can learn to dress and style yourself just like the top K-pop artists you love!
In this beautiful, photo-filled book, you can read about the influence and inspiration behind a variety of K-Pop artists' clothing and makeup styles from both their street styles and their most popular music videos and concert tours. Study the full-color photos to get the look and street styles of your favorite K-Pop solo artists and groups, both female and male, including:
• BTSG-Dragon (GD)
• RainJessica Jung
• EXOCL (Chaerin Lee)
• BLACKPINK
• Red Velvet
• TWICE
• And MANY More!!
With K-POP Style, you'll discover how to achieve the best outfits and makeup styles of your favorite K-Pop performers and turn heads wherever you go!
---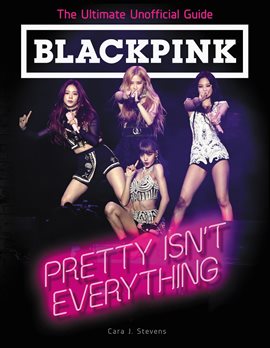 BLACKPINK: Pretty Isn't Everything (The Ultimate Unofficial Guide)
hoopla ebook
Freading ebook
Filled with incredible color photos and fun facts, this unofficial fan guide tells the full story of the global phenomenon Blackpink.
The girls of Blackpink are more than just pretty faces. Since they debuted in 2016, the group has broken record after record, played shows across the globe, and built up a dedicated fan army of BLINKS. Now they're one of the biggest K-pop groups the world has ever seen. And they're only just getting started.
Read the whole story of Blackpink's rise to fame in this extensively researched unofficial biography. Find out everything you need to know about Jennie, Jisoo, Lisa, and Rosé from their trainee days to their current lives as idols. Full of high-quality photos and fun facts, this unofficial guide is a must-have for all BLINKS and K-pop fans!
Fiction
Shine by Jessica Jung
book
Crazy Rich Asians meets Gossip Girl by way of Jenny Han in this knock-out debut about a Korean American teen who is thrust into the competitive, technicolor world of K-pop, from Jessica Jung, K-pop legend and former lead singer of one of the most influential K-pop girl groups of all time, Girls Generation.
---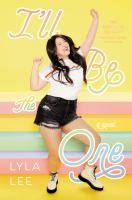 I'll Be the One by Lyla Lee
book
OverDrive ebook
The world of K-Pop has never met a star like this. Debut author Lyla Lee delivers a deliciously fun, thoughtful rom-com celebrating confidence and body positivity, perfect for fans of Jenny Han and Julie Murphy.

Skye Shin has heard it all. Fat girls shouldn't dance. Wear bright colors. Shouldn't call attention to themselves. But Skye dreams of joining the glittering world of K-Pop, and to do that, she's about to break all the rules that society, the media, and even her own mother, have set for girls like her.
---
K=Pop Confidential by Stephan Lee
book
hoopla audiobook
A Korean-American girl travels to Seoul in hopes of debuting in a girl group at the same K-pop company behind the most popular boy band on the planet in this romantic coming-of-age novel about chasing big dreams, for fans of Mary H. K. Choi and Jenny Han.
She'll challenge thousands of other performers in an internationally televised competition looking for the next K-pop star, and she'll do it better than anyone else. When Skye nails her audition, she's immediately swept into a whirlwind of countless practices, shocking performances, and the drama that comes with reality TV. What she doesn't count on are the highly fat-phobic beauty standards of the Korean pop entertainment industry, her sudden media fame and scrutiny, or the sparks that soon fly with her fellow competitor, Henry Cho.
But Skye has her sights on becoming the world's first plus-sized K-pop star, and that means winning the competition — without losing herself.
---
The Band That Changed Her Life by Angela Kamerer-White
book  
They were the biggest boy band in Asia. They had found fame but what about love? 15 boys, 15 girls one grand adventure in K-pop!
---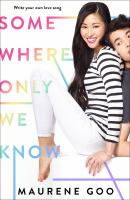 Somewhere Only We Know by Maurene Goo
book
10:00 p.m.: Lucky is the biggest K-pop star on the scene, and she's just performed her hit song "Heartbeat" in Hong Kong to thousands of adoring fans. She's about to debut on The Tonight Show in America, hopefully a breakout performance for her career. But right now? She's in her fancy hotel, trying to fall asleep but dying for a hamburger.
11:00 p.m.: Jack is sneaking into a fancy hotel, on assignment for his tabloid job that he keeps secret from his parents. On his way out of the hotel, he runs into a girl wearing slippers, a girl who is single-mindedly determined to find a hamburger. She looks kind of familiar. She's very cute. He's maybe curious.
12:00 a.m.: Nothing will ever be the same.
With her trademark humor and voice, Maurene Goo delivers a sparkling story of taking a chance on love—and finding yourself along the way.
---
Permanent Record by Mary H.K. Choi
book
On paper, college dropout Pablo Rind doesn't have a whole lot going for him. His graveyard shift at a twenty-four-hour deli in Brooklyn is a struggle. Plus, he's up to his eyeballs in credit card debt. Never mind the state of his student loans.
Pop juggernaut Leanna Smart has enough social media followers to populate whole continents. The brand is unstoppable. She graduated from child stardom to become an international icon, and her adult life is a queasy blur of private planes, step-and-repeats, aspirational hotel rooms, and strangers screaming for her just to notice them.
When Leanna and Pablo meet at 5:00 a.m. at the bodega in the dead of winter it's absurd to think they'd be A Thing. But as they discover who they are, who they want to be, and how to defy the deafening expectations of everyone else, Lee and Pab turn to each other. Which, of course, is when things get properly complicated.
---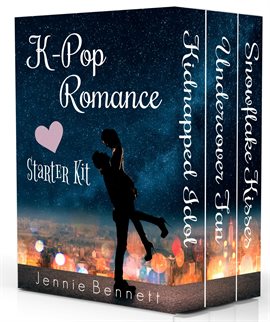 K-Pop Romance Starter Kit by Jennie Bennet
hoopla ebook
Fall in love with the first three books in the K-Pop Romance Series! Celebrity boys, ordinary girls, and a whole lot of fun.
*All summaries courtesy of the publisher unless otherwise noted.