This eclectic list includes books about friendship, self-discovery, and living your happiest life with or without romance. After all, not everyone is looking for love. Curated by Willie Nettles.
A Man Called Ove by Fredrick Bachman  
book 
large print book 
OverDrive ebook 
OverDrive audiobook 
Meet Ove. He's a curmudgeon, the kind of man who points at people he dislikes as if they were burglars caught outside his bedroom window. He has staunch principles, strict routines, and a short fuse. People call him "the bitter neighbor from hell." But must Ove be bitter just because he doesn't walk around with a smile plastered to his face all the time? 
Behind the cranky exterior there is a story and a sadness. So when one November morning a chatty young couple with two chatty young daughters move in next door and accidentally flatten Ove's mailbox, it is the lead-in to a comical and heartwarming tale of unkempt cats, unexpected friendship, and the ancient art of backing up a U-Haul. All of which will change one cranky old man and a local residents' association to their very foundations. 
---
How Not to Die Alone by Richard Roper 
book 
hoopla ebook in Spanish  
hoopla audiobook in Spanish 
Freading ebook in Spanish 
Andrew's been feeling stuck. For years he's worked a thankless public health job, searching for the next of kin of those who die alone. Luckily, he goes home to a loving family every night. At least, that's what his coworkers believe. 
Then he meets Peggy. A misunderstanding has left Andrew trapped in his own white lie and his lonely apartment. When new employee Peggy breezes into the office like a breath of fresh air, she makes Andrew feel truly alive for the first time in decades. 
Could there be more to life than this? But telling Peggy the truth could mean losing everything. For twenty years, Andrew has worked to keep his heart safe, forgetting one important thing: how to live. Maybe it's time for him to start. 
---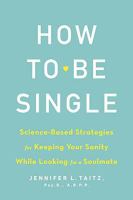 How to Be Single and Happy by Jennifer Taitz
book 
book on CD 
OverDrive audiobook 
hoopla audiobook 
If you're tired of swiping through dating apps, ghosting, and hearing well-meaning questions about why you're still single, it's hard not to feel "less-than" because you haven't found your soul mate. Until now. 
How to Be Single and Happy is an empowering, compassionate guide to stop over-analyzing romantic encounters, get over regrets or guilt about past relationships, and identify what you want and need in a partner. But this isn't just another dating book. Drawing on her extensive expertise as a clinical psychologist, as well as the latest research, hundreds of patient interviews, and key principles in positive psychology, Dr. Jennifer Taitz challenges the most common myths about women and love (like the advice to play hard to get). And while she teaches how to skillfully date, she'll also help you cultivate the mindset, values, and connections that ensure you'll live your best, happiest life, whether single or coupled up. 
---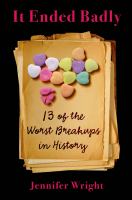 It Ended Badly: Thirteen of the Worst Breakups in History by Jennifer Wright
book 
hoopla audiobook 
It Ended Badly: Thirteen of the Worst Breakups in History is a history of heartbreak replete with beheadings, uprisings, creepy sex dolls, and celebrity gossip and its disastrously bad consequences throughout time. Spanning eras and cultures from ancient Rome to medieval England to 1950s Hollywood, Jennifer Wright's It Ended Badly guides you through the worst of the worst in historically bad breakups. In the throes of heartbreak, Emperor Nero had just about everyone he ever loved, from his old tutor to most of his friends, put to death. Oscar Wilde's lover, whom he went to jail for, abandoned him when faced with being cut off financially from his wealthy family and wrote several self-serving books denying the entire affair. Your obsessive social media stalking of your ex isn't looking so bad now, is it? 
With a wry wit and considerable empathy, Wright digs deep into the archives to bring these thirteen terrible breakups to life. She educates, entertains, and really puts your own bad breakup conduct into perspective. It Ended Badly is for anyone who's ever loved and lost and maybe sent one too many ill-considered late-night emails to their ex, reminding us that no matter how badly we've behaved, no one is as bad as Henry VIII. 
---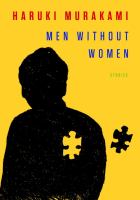 Men Without Women: Stories by Haruki Murakami 
book 
book on CD 
Across seven tales, Haruki Murakami brings his powers of observation to bear on the lives of men who, in their own ways, find themselves alone. Here are vanishing cats and smoky bars, lonely hearts and mysterious women, baseball and the Beatles, woven together to tell stories that speak to us all. 
Marked by the same wry humor that has defined his entire body of work, in this collection Murakami has crafted another contemporary classic.
---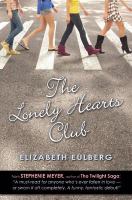 The Lonely Hearts Club by Elizabeth Eulberg 
book 
Penny is sick of boys and sick of dating. So she vows: no more. It's a personal choice. And, of course, soon everyone wants to know about it. And a few other girls are inspired. A movement is born: The Lonely Hearts Club (named after the band from Sgt. Pepper). Penny is suddenly known for her non-dating ways . . . which is too bad, because there's this certain boy she can't help but like. . . . 
---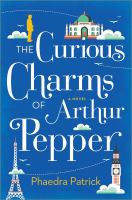 The Curious Charms of Arthur Pepper by Phaedra Patrick
book 
book on CD 
large print book 
hoopla audiobook 
Sixty-nine-year-old Arthur Pepper lives a simple life. He gets out of bed at precisely 7:30 am, just as he did when his wife, Miriam, was alive. He dresses in the same grey slacks and mustard sweater-vest, waters his fern, Frederica, and heads out to his garden. 
But on the one-year anniversary of Miriam's death, something changes. Sorting through Miriam's possessions, Arthur finds an exquisite gold charm bracelet he's never seen before. What follows is a surprising and unforgettable odyssey that takes Arthur from London to Paris and as far as India in an epic quest to find out the truth about his wife's secret life before they met – a journey that leads him to find hope, healing, and self-discovery in the most unexpected places. 
---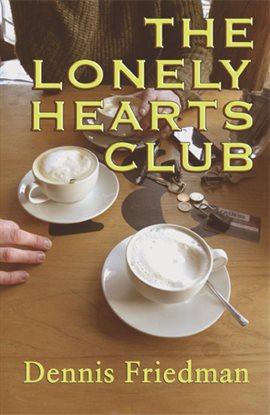 The Lonely Hearts Club by Dennis Friedman 
hoopla ebook 
Freading ebook 
A cleverly plotted novel exploring the bonds that form among a group of heart attack survivors who help one another find strength both physically and emotionally. This witty and unique tale centers on five heart attack convalescents who get to know each other as they are working out in a gym as part of their recovery. Each character enters a gym environment for the first time and is weighed down by his feelings of mortality. Over a short space of time, however, strong friendships form between all of them as they spur each other on: "the Club" becomes not only a refuge from worries and fears, but a debating chamber and springboard into a new life, when each had thought that they were entering their final years. Funny, compassionate, and heartwarming, this is a story about life, self-discovery, and camaraderie, told with considerable charm. 
---
The Opposite of Loneliness: Essays and Stories by Marina Keegan 
book 
hoopla audiobook 
Marina Keegan's star was on the rise when she graduated magna cum laude from Yale in May 2012. She had a play that was to be produced at the New York International Fringe Festival and a job waiting for her at the New Yorker. Tragically, five days after graduation, Marina died in a car crash.
As her family, friends, and classmates, deep in grief, joined to create a memorial service for Marina, her unforgettable last essay for the Yale Daily News, "The Opposite of Loneliness," went viral, receiving more than 1.4 million hits. She had struck a chord.
Even though she was just twenty-two when she died, Marina left behind a rich, expansive trove of prose that, like her title essay, captures the hope, uncertainty, and possibility of her generation. The Opposite of Loneliness is an assem­blage of Marina's essays and stories that, like The Last Lecture, articulates the universal struggle that all of us face as we figure out what we aspire to be and how we can harness our talents to make an impact on the world.
*All summaries courtesy of the publisher unless otherwise noted.