Read a book with a one-word title.
Sometimes all it takes is one word to make your point. These authors certainly thought so when choosing titles for their books. For the March challenge, read a book with a one-word title. Find recommendations for adults, teens, tweens, and children. Get more information about the Read 2021 Challenge here. To learn more about an author or title, visit our NoveList Plus and NoveList Plus K-8 databases.
Adult
Neighbors by Danielle Steel
book
large print book
OverDrive ebook
OverDrive audiobook
Meredith White was one of Hollywood's most recognizable faces. But a personal tragedy cut her acting career short and alienated her from her family. For the last fifteen years, Meredith has been living alone in San Francisco with two trusted caretakers. Then, on a muggy late summer day, a massive earthquake strikes Northern California, plunging the Bay Area into chaos. Without a moment's hesitation, Meredith invites her stunned and shaken neighbors into her mostly undamaged home as the recovery begins.
These people did not even realize that movie star Meredith White was living on their street. Now, they are sharing her mansion, as well as their most closely kept secrets. Without the walls and privacy of their own homes, one by one, new relationships are forged. For every neighbor there is a story, from the doctor whose wife and children fear him, to the beautiful young woman dating a dishonorable man, to the aspiring writer caring for a famous blind musician.
In the heart of the crisis, Meredith finds herself venturing back into the world. And thanks to the suspicions and the dogged detective work of a disaster relief volunteer, a former military officer named Charles, a shocking truth about her own world is exposed. Suddenly Meredith sees her isolation, her estranged family, and even her acting career in a whole new light.
Filled with powerful human dramas, Neighbors is a penetrating look at how our world can be upended in a moment. In a novel of unforgettable characters and stunning twists, acts of love and courage become the most powerful forces of all.
---
Memorial by Bryan Washington
book
A funny and profound story about family in all its strange forms, joyful and hard-won vulnerability, becoming who you're supposed to be, and the limits of love.
Benson and Mike are two young guys who live together in Houston. Mike is a Japanese American chef at a Mexican restaurant and Benson's a Black daycare teacher, and they've been together for a few years–good years–but now they're not sure why they're still a couple. There's the sex, sure, and the meals Mike cooks for Benson, and, well, they love each other. But when Mike finds out his estranged father is dying in Osaka just as his acerbic Japanese mother, Mitsuko, arrives in Texas for a visit, Mike picks up and flies across the world to say goodbye. In Japan he undergoes an extraordinary transformation, discovering the truth about his family and his past. Back home, Mitsuko and Benson are stuck living together as unconventional roommates, an absurd domestic situation that ends up meaning more to each of them than they ever could have predicted. Without Mike's immediate pull, Benson begins to push outwards, realizing he might just know what he wants out of life and have the goods to get it. Both men will change in ways that will either make them stronger together, or fracture everything they've ever known. And just maybe they'll all be okay in the end.
---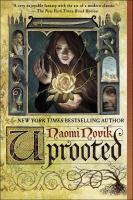 Uprooted by Naomi Novik
book
OverDrive ebook
OverDrive audiobook
Agnieszka loves her valley home, her quiet village, the forests and the bright shining river. But the corrupted Wood stands on the border, full of malevolent power, and its shadow lies over her life. Her people rely on the cold, driven wizard known only as the Dragon to keep its powers at bay. But he demands a terrible price for his help: one young woman handed over to serve him for ten years, a fate almost as terrible as falling to the Wood. The next choosing is fast approaching, and Agnieszka is afraid. She knows–everyone knows–that the Dragon will take Kasia: beautiful, graceful, brave Kasia, all the things Agnieszka isn't, and her dearest friend in the world. And there is no way to save her. But Agnieszka fears the wrong things. For when the Dragon comes, it is not Kasia he will choose.
---
Dilly by Matthew P. Mayo
book
Dilly is the coming-of-age story of an abused orphan boy, Orville Dillard Jr., aka Dilly, who travels west from Ohio to Wyoming and ends up at the Hatterson Cattle Ranch. He also finds himself smack in the middle of the infamous and all-too-real Sheep Wars, in which dozens of sheepherders are murdered and few of the attacking cattlemen are ever held accountable.
---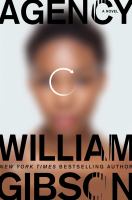 Agency by William Gibson
book
OverDrive ebook
Author William Gibson has trained his eye on the future for decades, ever since coining the term "cyberspace" and then popularizing it in his classic speculative novel Neuromancer in the early 1980s. Cory Doctorow raved that The Peripheral is "spectacular, a piece of trenchant, far-future speculation that features all the eyeball kicks of Neuromancer." Now Gibson is back with Agency–a science fiction thriller heavily influenced by our most current events.
Verity Jane, gifted app whisperer, takes a job as the beta tester for a new product: a digital assistant, accessed through a pair of ordinary-looking glasses. "Eunice," the disarmingly human AI in the glasses, manifests a face, a fragmentary past, and a canny grasp of combat strategy. Realizing that her cryptic new employers don't yet know how powerful and valuable Eunice is, Verity instinctively decides that it's best they don't. Meanwhile, a century ahead in London, in a different time line entirely, Wilf Netherton works amid plutocrats and plunderers, survivors of the slow and steady apocalypse known as the jackpot. His boss, the enigmatic Ainsley Lowbeer, can look into alternate pasts and nudge their ultimate directions. Verity and Eunice are her current project. Wilf can see what Verity and Eunice can't: their own version of the jackpot, just around the corner, and the roles they both may play in it.
---
Synapse by Steven James
book
hoopla ebook
hoopla audiobook
Freading ebook
Thirty years from now, when Kestrel Hathaway, a pastor in Cincinnati, witnesses a terror attack, she's drawn into a world of conspiracies and lies that she and Jordan, her cognizant robot, have to untangle before it's too late. With the help of counterterrorism agent Nick Vernon, she needs to stop a second, more brutal attack, that could leave thousands dead. And the clock is ticking.
Deftly weaving suspense and intrigue into a rich, resonant tale that explores faith and what it really means to be human, James offers us a glimpse into the future and into our own hearts. Synapse is an unforgettable, gripping story of dreams shattered, truth revealed, and hope reborn.
---
IT by Stephen King
book
OverDrive ebook
OverDrive audiobook
Welcome to Derry, Maine. It's a small city, a place as hauntingly familiar as your own hometown. Only in Derry, the haunting is real. They were seven teenagers when they first stumbled upon the horror. Now they are grown-up men and women who have gone out into the big world to gain success and happiness. But the promise they made twenty-eight years ago calls them to reunite in the same place where, as teenagers, they battled an evil creature that preyed on the city's children. Now, children are being murdered again and their repressed memories of that terrifying summer return as they prepare to once again battle the monster lurking in Derry's sewers. Readers of Stephen King know that Derry, Maine, is a place with a deep, dark hold on the author. It reappears in many of his books, including Bag of Bones, Hearts in Atlantis, and 11/22/63. But it all starts with It.
---
Emma by Jane Austen
book / book / book
large print book
OverDrive ebook
OverDrive ebook complete works of Jane Austen
Hoopla ebook
Hoopla ebook anthology
Hoopla audiobook
Hoopla audiobook complete collection
Freading ebook
Emma Woodhouse is the charming, artful heroine of Jane Austen's widely loved satiric novel of manners. With her time consumed by nothing but the care of her indulgent father, Emma amuses herself by arranging the lives of others the way she sees fit. The disastrous consequences of her meddling eventually lead Emma to see the folly of her ways, but not before we meet an unforgettable cast of characters in a story delivered with Austen's matchless wit and irony.
---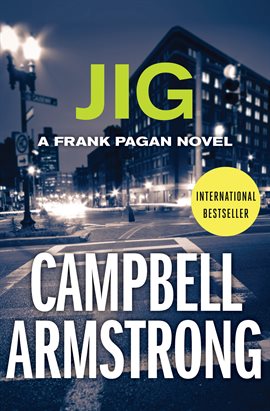 Jig by Campbell Armstrong
hoopla ebook
Freading ebook
A leaky old ship has reliably ferried tons of important freight from America to the Old Country in its decades of service to the Irish Republican Army. Now it is berthing with especially precious cargo: couriers holding briefcases filled with millions of crisp American dollars. In one blinding firefight, the shipment is hijacked. The terrorists trust only one man to go after their money: Jig the dancer, their most reliable assassin, who kills without harming the innocent. Hot on Jig's trail is Scotland Yard's renegade detective Frank Pagan, who suspects an inside job. The dark path of hunter and hunted takes the two men through the minefields of the IRA's war and across the Atlantic to America, where Pagan and Jig are forced to postpone their duel and work together to solve a savage puzzle. Jig is the first book in the Frank Pagan Novels, but you may enjoy reading the series in any order.
---
Memphis by Raynesha Pittman
book
Type "Kingpins of Memphis" in any search engine and you'll see images of Craig Pettis and his alleged crew, and that's how Ethan Wade Carruthers prayed it remained. Though he had never met the youthful-faced man covered in diamonds, he knew the information he found wasn't completely accurate, because he should have discovered his own face and crew. Not that he expected to pull up any results under the name Ethan Wade Carruthers besides an old missing person's report on a 16-year-old boy from the south side of Chicago. Why would he, when Ethan didn't have a life, nor a past, worth reading or writing about?
His intellect had him rejected from the deadly Chicago gang life before he could decide if he wanted to be accepted or not, and with both parents in love with their addiction to freebasing cocaine, he found it easier to pack up and leave. It took many years and miles to impregnate his mind with thoughts of survival. With self-preservation growing inside of him, he birthed the deadliest Kingpin to walk the width of the United States. He named him Joe and released him onto the streets of Memphis. With everyone's eyes stuck on what they can see, Joe made moves that could only be traced back to a ghost whose origin, location, and moves were no more than urban legend. With his name gracing the list of the most notorious Kingpins of all times, will Ethan's rebirth lead him to a fate in a jail cell or a casket, as it had many before him? Or will Joe be the mastermind to construct an exit plan so well thought out that it will give him a way out as quietly as he arrived? Trust, he's not your "average Joe."
Teen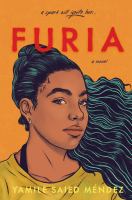 Furia by Yamile Saied Mendez
book
hoopla ebook
hoopla audibook
Freading ebook
In Rosario, Argentina, Camila Hassan lives a double life. At home, she is a careful daughter, living within her mother's narrow expectations, in her rising-soccer-star brother's shadow, and under the abusive rule of her short-tempered father. On the field, she is La Furia, a powerhouse of skill and talent. When her team qualifies for the South American tournament, Camila gets the chance to see just how far those talents can take her. In her wildest dreams, she'd get an athletic scholarship to a North American university.

But the path ahead isn't easy. Her parents don't know about her passion. They wouldn't allow a girl to play fútbol—and she needs their permission to go any farther. And the boy she once loved is back in town. Since he left, Diego has become an international star, playing in Italy for the renowned team Juventus. Camila doesn't have time to be distracted by her feelings for him. Things aren't the same as when he left: she has her own passions and ambitions now, and La Furia cannot be denied. As her life becomes more complicated, Camila is forced to face her secrets and make her way in a world with no place for the dreams and ambition of a girl like her.

Filled with authentic details and the textures of day-to-day life in Argentina, heart-soaring romance, and breathless action on the pitch, Furia is the story of a girl's journey to make her life her own.
---
Elatsoe by Darcie Little Badger
book
hoopla audiobook
Imagine an America very similar to our own. It's got homework, best friends, and pistachio ice cream. There are some differences, though. This America been shaped dramatically by the magic, monsters, knowledge, and legends of its peoples, those Indigenous and those not. Some of these forces are charmingly everyday, like the ability to make an orb of light appear or travel across the world through rings of fungi. But other forces are less charming and should never see the light of day.
Elatsoe lives in this slightly stranger America. She can raise the ghosts of dead animals, a skill passed down through generations of her Lipan Apache family. Her beloved cousin has just been murdered, in a town that wants no prying eyes. But she is going to do more than pry. The picture-perfect facade of Willowbee masks gruesome secrets, and she will rely on her wits, skills, and friends to tear off the mask and protect her family.
---
Fable by Adrienne Young
book
large print book
OverDrive ebook
Welcome to a world made dangerous by the sea and by those who wish to profit from it. Where a young girl must find her place and her family while trying to survive in a world built for men.
As the daughter of the most powerful trader in the Narrows, the sea is the only home seventeen year-old Fable has ever known. It's been four years since the night she watched her mother drown during an unforgiving storm. The next day her father abandoned her on a legendary island filled with thieves and little food. To survive she must keep to herself, learn to trust no one and rely on the unique skills her mother taught her. The only thing that keeps her going is the goal of getting off the island, finding her father and demanding her rightful place beside him and his crew. To do so Fable enlists the help of a young trader named West to get her off the island and across the Narrows to her father.
But her father's rivalries and the dangers of his trading enterprise have only multiplied since she last saw him and Fable soon finds that West isn't who he seems. Together, they will have to survive more than the treacherous storms that haunt the Narrows if they're going to stay alive.
---
Minesweeper by Chris Lynch
book
Fergus Frew thought he knew what to expect when he signed up with the Navy's demolitions team. But as the Korean War rages on, Fergus and his fellow divers — a.k.a. frogmen — are tasked with more than just scouting mudflats. Soon they're planting mines. And sabotaging tunnels, bridges… and even fishing nets. Scariest of all, it falls to Fergus to discover where the enemy has placed their mines, a job as painstaking as it is dangerous. But frogmen are amphibious. And Fergus may not realize it, but he's in a position to change the way the whole world thinks about combat. National Book Award finalist Chris Lynch continues his explosive fiction series based on the real-life, top-secret history of US black ops and today's heroic Navy SEALs.
---
Shiver by Maggie Stiefvater
book
OverDrive audiobook
Hoopla audiobook
For years, Grace has watched the wolves in the woods behind her house. One yellow-eyed wolf–her wolf–is a chilling presence she can't seem to live without. Meanwhile, Sam has lived two lives: In winter, the frozen woods, the protection of the pack, and the silent company of a fearless girl. In summer, a few precious months of being human . . . until the cold makes him shift back again.
Now, Grace meets a yellow-eyed boy whose familiarity takes her breath away. It's her wolf. It has to be. But as winter nears, Sam must fight to stay human–or risk losing himself, and Grace, forever.
---
Orleans by Sherrie Smith
book
OverDrive ebook
First came the storms.
Then came the Fever.
And the Wall.
After a string of devastating hurricanes and a severe outbreak of Delta Fever, the Gulf Coast has been quarantined. Years later, residents of the Outer States are under the assumption that life in the Delta is all but extinct, but in reality, a new primitive society has been born.

Fen de la Guerre is living with the O-Positive blood tribe in the Delta when they are ambushed. Left with her tribe leader's newborn, Fen is determined to get the baby to a better life over the wall before her blood becomes tainted. Fen meets Daniel, a scientist from the Outer States who has snuck into the Delta illegally. Brought together by chance, kept together by danger, Fen and Daniel navigate the wasteland of Orleans. In the end, they are each other's last hope for survival.
---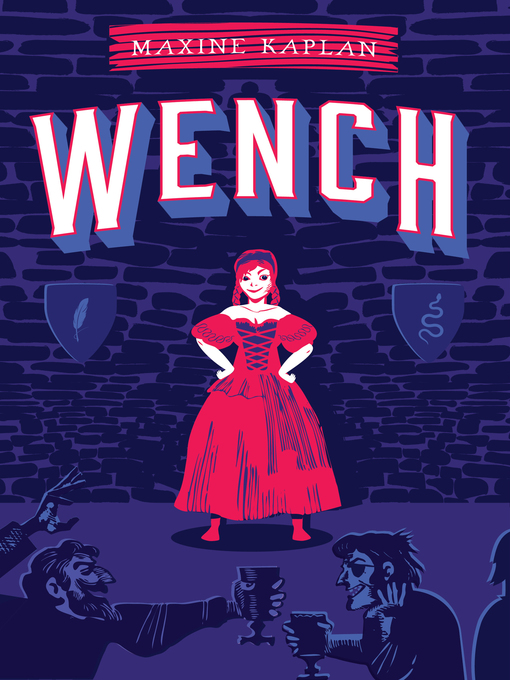 Wench by Maxine Kaplan
OverDrive ebook
Hoopla ebook
Freading ebook
A funny, fiercely feminist YA epic fantasy following the adventures of a tavern wench.
Tanya has worked at her tavern since she was able to see over the bar. She broke up her first fight at 11. By the time she was a teenager she knew everything about the place, and she could run it with her eyes closed. She'd never let anyone—whether it be a drunkard or a captain of the queen's guard—take advantage of her. But when her guardian dies, she might lose it all: the bar, her home, her purpose in life. So she heads out on a quest to petition the queen to keep the tavern in her name—dodging unscrupulous guards, a band of thieves, and a powerful, enchanted feather that seems drawn to her. Fast-paced, magical, and unapologetically feminist, Wench is epic fantasy like you've never seen it before.
---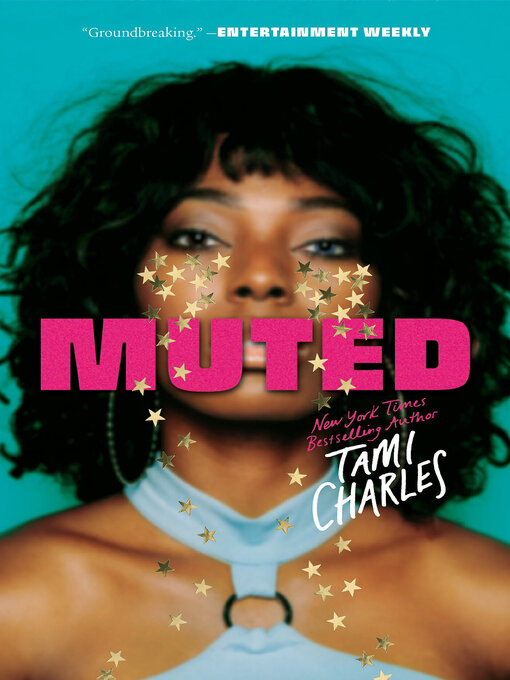 Muted by Tami Charles
OverDrive ebook
Be bold. Get seen. Be Heard.
For seventeen-year-old Denver, music is everything. Writing, performing, and her ultimate goal: escaping her very small, very white hometown. So Denver is more than ready on the day she and her best friends Dali and Shak sing their way into the orbit of the biggest R&B star in the world, Sean "Mercury" Ellis. Merc gives them everything: parties, perks, wild nights — plus hours and hours in the recording studio. Even the painful sacrifices and the lies the girls have to tell are all worth it. Until they're not.
Denver begins to realize that she's trapped in Merc's world, struggling to hold on to her own voice. As the dream turns into a nightmare, she must make a choice: lose her big break, or get broken.
Inspired by true events, Muted is a fearless exploration of the dark side of the music industry, the business of exploitation, how a girl's dreams can be used against her — and what it takes to fight back.
---
January by Gabrielle Lord
book
On New Year's Eve, Cal is chased down the street by a staggering, sick man with a deadly warning, "They killed your father. They'll kill you. You must survive the next 365 days." Hurled into a life on the fun the 15-year-old fugitive is isolated and alone. Hunted by the law and ruthless criminals, Cal must somehow uncover the truth about his father's mysterious death and a history-changing secret. Who can he turn to, who can he trust, when the whole world seems to want him dead? The clock is ticking . Any second could be his last.
---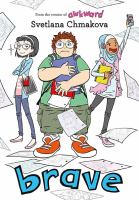 Brave by Svetlana Chmakova
book (graphic novel)
In his daydreams, Jensen is the biggest hero that ever was, saving the world and his friends on a daily basis. But his middle school reality is VERY different. Math is hard. Getting along with friends is hard. Even finding a partner for the class project is a huge problem when you always get picked last. And the pressure's on even more once the school newspaper's dynamic duo, Jenny and Akilah, draw Jensen into the whirlwind of school news, social-experiment projects, and behind-the-scenes club drama. Jensen has always played the middle school game one level at a time, but suddenly, someone's cranked up the difficulty setting. Will those daring daydreams of his finally work in his favor, or will he have to find real solutions to his real-life problems? The charming world of Berrybrook Middle School gets a little bigger in this highly anticipated follow-up to Svetlana Chmakova's award-winning Awkward with a story about a boy who learns his own way of being brave.
Tween
Short by Holly Goldberg Sloan
book
Julia is very short for her age, but by the end of the summer she'll realize how big she is inside, where it counts. This is the summer she gets cast in a regional theatre production of The Wizard of Oz, where she finds that she may not be as tall as other people, but she more than deserves to hold her head high.
---
Twins by Varian Johnson
book (graphic novel)
OverDrive ebook
Maureen and Francine are twins and best friends. They do everything together! But just before they start sixth grade, Francine becomes Fran, a girl who wants to be set apart from her sister. The girls are growing apart and there's nothing Maureen can do to stop it. Are sisters really forever? Or will middle school change things forever?
---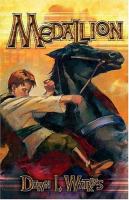 Medallion by Dawn Watkins
book
In Medallion, a Christian fantasy fiction novel, Dawn L. Watkins presents a willful prince who must learn the hard way that being a leader means being first a servant. Prince Trave encounters many dangers—such as an earthquake, monstrous skreels, and treachery from those he thought were his friends—before he faces the biggest challenge of all. Once he learns the real duties of a king, he must prove he is indeed worthy to rule his country.
---
Unlocked by Shannon Messenger
book
OverDrive ebook
In this extra special installment of the Keeper of the Lost Cities series, the story picks up right from Legacy's particularly devastating cliffhanger. But chapters alternate between Sophie and Keefe's perspectives to give readers deeper insights into both beloved characters. New powers will be discovered. Hard truths from the past will come to light. And all of your favorite characters will find themselves tested in ways they never imagined. And that's not all. Unlocked also includes a comprehensive guide to the world of the Lost Cities, featuring new character and world details that have never been revealed before — plus fun bonuses like Keeper-themed recipes, a detailed map of the Lost Cities, gorgeous full-color illustrations, and so much more.
---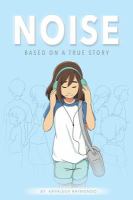 Noise by Kathleen Raymundo
book (graphic novel)
An introverted girl who just wanted to be left alone. A talkative little boy with a very important wish. Based on a true story, Noise is the heartwarming tale of finding joy in unexpected places. Short and sweet, a full-color comic book for both children and adults alike.
---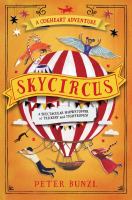 Skycircus by Peter Bunzl
book
hoopla ebook
When a traveling skycircus arrives in town, Lily and Robert can't wait to step aboard. But something sinister lurks there. And before Lily and Robert can do anything, they're captured and whisked off in the mysterious flying circus to somewhere far, far away…
---
Ikenga by Nnedi Okorafor
book
OverDrive ebook
Nnamdi's father was a good chief of police, perhaps the best Kalaria had ever had. He was determined to root out the criminals that had invaded the town. But then he was murdered, and most people believed the Chief of Chiefs, most powerful of the criminals, was responsible. Nnamdi has vowed to avenge his father, but he wonders what a twelve-year-old boy can do. Until a mysterious nighttime meeting, the gift of a magical object that enables super powers, and a charge to use those powers for good changes his life forever. How can he fulfill his mission? How will he learn to control his newfound powers.
---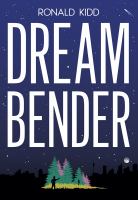 Dreambender by Ronald Kidd
book
hoopla ebook
Freading ebook
Everyone in the City is assigned a job by the choosers―keeper, catcher, computer. Callie Crawford is a computer. She works with numbers: putting them together, taking them apart. Her work is important, but sometimes she wants more. Jeremy Finn is a dreambender. His job is to adjust people's dreams. He and others like him quietly remove thoughts of music and art to keep the people in the City from becoming too focused on themselves and their own feelings rather than on the world. They need to keep the world safe from another Warming. But Jeremy thinks music is beautiful, and when he pops into a dream of Callie singing, he becomes fascinated with her. He begins to wonder if there is more to life than being safe. Defying his community and the role they have established for him, he sets off to find her in the real world. Together, they will challenge their world's expectations. But how far will they go to achieve their own dreams?
---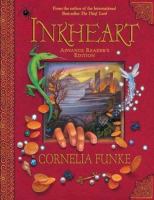 Inkheart by Cornelia Funke
book
OverDrive ebook
Cornelia Funke, the enormously talented author of the international best-seller The Thief Lord, brings readers another spellbinding tale of adventure and magic. Meggie lives a quiet life alone with her father, a book-binder. But her father has a deep secret: he possesses an extraordinary magical power. One day a mysterious stranger arrives who seems linked to her father's past. Who is this sinister character and what does he want? Suddenly Meggie is involved in a breathless game of escape and intrigue as her father's life is put in danger. Will she be able to save him in time?
---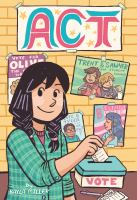 Act by Kayla Miller
book (graphic novel)
Olive is excited to start sixth grade: new teachers, new experiences, and a field trip to the big city with her best buds! But when Olive finds out that a school policy is keeping some kids from going on the trip, she decides to act. She's prepared to do whatever it takes to be heard—even if it means running against Trent and Sawyer, two of her closest friends, in the student council election! With intense campaign competition and emotions running high, can Olive make a big change and keep her friends?
Children
Hug? by Charlene Chua
book
hoopla ebook
How many hugs is too many? This girl's had enough! This humorous picture book explores compassion and the importance of setting boundaries.
---
Louis by Tom Lichtenheld
book
A beloved teddy can "bear" it no longer and plots his escape from his owner's suffocating affections in this laugh-out-loud picture book from New York Times best-selling creator of Goodnight, Goodnight Construction Site and Steam Train Dream Train fame, Tom Lichtenheld.
---
Cozy by Jan Brett
book
OverDrive ebook
A group of clever animals find an unusual but warm and furry home during Alaska's long winter in Jan Brett's newest snowy adventure.
Cozy is the softest musk ox in Alaska, with the warmest fur you ever did feel. When a storm hits while he's separated from his family, he starts to feel lonely, but not for long. As the snow piles up, animals start to notice just how warm and cozy Cozy really is. One mama lemming has a bright idea . . . maybe the best place to spend the winter is under Cozy's fur. As more and more animals burrow in, Cozy adds to the house rules: quiet voices, gentle thumping, claws to yourself, no biting, and no pouncing. That seems easy enough . . . until the lemmings, snowshoe hare, snowy owl, arctic fox, and wolverine begin to bicker. Luckily, signs of spring soon appear, and that means Cozy can find his herd and his new friends can head to their summer homes. But not before promising to get cozy with Cozy next year. Jan Brett brings a new lovable character to life through this gorgeous tale of sharing, friendship, and living in harmony.
---
Baghead by Jarrett Krosoczka
book
From the author of Good Night, Monkey Boy, the hilarious tale of a haircut gone awry! One day Josh had a big, brown bag idea: to wear a paper bag over his head. He thought it was a good idea. His mother did not. Neither did his bus driver, his teacher, or his soccer coach. What could Josh possibly be hiding?
---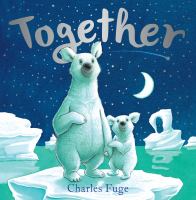 Together by Charles Fuge
book
For bedtime or cuddle time, here's a sweet and reassuring picture book about the love, friendship, and togetherness of a parent and child–from the illustrator of Sometimes I Like to Curl Up In a Ball and I Love It When You Smile.
A parent and baby polar bear have a fun-filled, loving day together in their cheerful Arctic home, as the big bear reassures the little bear that they will be best friends forever. You'll love snuggling up with your little one and this adorable and soothing picture book celebrating togetherness, friendship, and the unbreakable bonds of family.
---
Birdsong by Julie Flette
book
hoopla audiobook
A tender, luminous portrait of art, nature, and connecting across generations.
When a young girl moves from the country to a small town, she feels lonely and out of place. But soon she meets an elderly woman next door, who shares her love of arts and crafts. Can the girl navigate the changing seasons and failing health of her new friend? Acclaimed author and artist Julie Flett's textured images of birds, flowers, art, and landscapes bring vibrancy and warmth to this powerful story, which highlights the fulfillment of inter-generational relationships and shared passions.
---
Whoops! by Louise Batchelor
book
Whoops is a story book for young children. It is a gentle story that presents everyday events. The single-word text leaves the narrative open to allow grown-up readers to individualize the story to make it relevant to different children.
---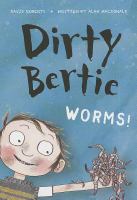 Worms! by Alan MacDonald
book
hoopla ebook
In this trio of troublesome tales, Bertie tries to get out of attending a pink party, struggles to be polite for an entire day, and puts his green thumb to the test in a flower-arranging competition.
---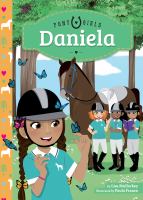 Daniela by Lisa Mullarkey
book
book in Spanish
hoopla ebook
hoopla ebook in Spanish
The Pony Girls are ready for their first summer at Storm Cliff Stables. Horses, swimming, camp life, and most important, friendships. Daniela came to horse camp all the way from Costa Rica. She's hoping to become best friends with her cousin Gabriela. But instead, she just feels jealous. Gabriela is the best at everything. Can Dani put her own talents to work and save the day?
---
Hippopotamister by John Green
book
The zoo isn't what it used to be. It's run down, and Hippo hardly ever gets any visitors. So he decides to set off for the outside with his friend Red Panda. To make it in the human world, Hippo will have to become a Hippopotamister: he'll have to act like a human, get a job, and wear a hat as a disguise. He's a good employee, whether he's a construction worker, a hair stylist, or a sous chef. But what he really needs is a job where he can be himself.