Women across the United States gained the right to vote on August 18, 1920. In celebration of Women's History Month, the struggle for women's suffrage is highlighted in these nonfiction, fiction, and movie titles for adults and children. Curated by Samantha Matherne.
Adult Nonfiction
Votes for Women!: American Suffragists and the Battle for the Ballot by Winifred Conkling
book
hoopla ebook
hoopla audiobook
Freading ebook
The story of the tenacious American women who demanded, fought for — and finally won — their right to vote; paving the way for generations of civil rights activists.
For nearly 150 years, American women did not have the right to vote. On August 18, 1920, they won that right, when the 19th Amendment to the Constitution was ratified at last. To achieve that victory, some of the fiercest, most passionate women in history marched, protested, and sometimes even broke the law for more than eight decades.
From Susan B. Anthony and Elizabeth Cady Stanton, who founded the suffrage movement at the 1848 Seneca Falls Convention, to Sojourner Truth and her famous "Ain't I a Woman?" speech, to Alice Paul, arrested and force-fed in prison, this is the story of the American women's suffrage movement and the private lives that fueled its leaders' dedication. Votes for Women explores suffragists' often powerful, sometimes difficult relationship with the intersecting temperance and abolition campaigns, and includes an unflinching look at some of the uglier moments in women's fight for the vote.
---
Votes for Women!: The American Woman Suffrage Movement and the Nineteenth Amendment: A Reference Guide by Marion W. Roydhouse
book
Votes for Women provides an updated consideration of the questions raised by the mass movement to gain equality and access to power in our democracy. It interprets the campaigns for woman suffrage from the 1830s until 1920, analyzes the impact of the 19th amendment, and presents primary documents to allow a glimpse into the minds of those who campaigned for and against woman suffrage.
The book's examination of the 70-year woman suffrage campaign movement shows how the movement faced enormous barriers, was perceived as threatening the very core of accepted beliefs, and was a struggle that showcased the efforts of strong protagonists and brilliant organizers who were intellectually innovative and yet were reflective of the great divides of race, ethnicity, religion, economics, and region existing across the nation. Included within the narrative section are biographies of significant personalities in the movement, such as militant Alice Paul and anti-suffragist Ida Tarbell as well as more commonly known leaders Elizabeth Cady Stanton and Susan B. Anthony.
---
Women: Our Story
book
Reexamining history from a female perspective, this book celebrates the pivotal but less well-known roles women have played in culture and society.
Packed full of evocative images, this gloriously illustrated book reveals the key events in women's history–from early matriarchal societies through women's suffrage, the Suffragette movement, 20th-century feminism, and gender politics, to recent movements such as #MeToo and International Women's Day–and the key role women have had in shaping our past.
Learn about the everyday lives of women through the ages as well as the big names of women's history–powerful, inspirational, and trailblazing women such as Cleopatra, Florence Nightingale, Emmeline Pankhurst, Eva Peron, and Rosa Parks–and discover the unsung contributions of lesser-known women who have changed the world, and the forgotten events of women's history.
Placing women firmly center stage, Women: Our Story shows women where they came from, and in celebrating the achievements of women of the past, offers positive role models for women of today.
---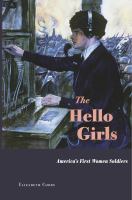 The Hello Girls: America's First Women Soldiers by Elizabeth Cobbs
book
hoopla audiobook
This is the story of how America's first women soldiers helped win World War I, earned the vote, and fought the U.S. Army. In 1918, the U.S. Army Signal Corps sent 223 women to France. They were masters of the latest technology: the telephone switchboard. General John Pershing, commander of the American Expeditionary Forces, demanded female "wire experts" when he discovered that inexperienced doughboys were unable to keep him connected with troops under fire. Without communications for even an hour, the army would collapse.
While suffragettes picketed the White House and President Woodrow Wilson struggled to persuade a segregationist Congress to give women of all races the vote, these competent and courageous young women swore the Army oath. Elizabeth Cobbs reveals the challenges they faced in a war zone where male soldiers welcomed, resented, wooed, mocked, saluted, and ultimately celebrated them. They received a baptism by fire when German troops pounded Paris with heavy artillery. Some followed "Black Jack" Pershing to battlefields where they served through shelling and bombardment. Grace Banker, their 25-year-old leader, won the Distinguished Service Medal.
The army discharged the last Hello Girls in 1920, the same year Congress ratified the Nineteenth Amendment granting the ballot. When the operators sailed home, the army unexpectedly dismissed them without veterans' benefits. They began a sixty-year battle that a handful of survivors carried to triumph in 1979. With the help of the National Organization for Women, Senator Barry Goldwater, and a crusading Seattle attorney, they triumphed over the U.S. Army.
Adult Fiction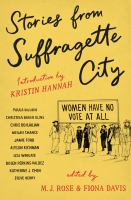 Stories from Suffragette City edited by M. J. Rose & Fiona Davis
book
OverDrive ebook
Stories from Suffragette City is a collection of short stories that all take place on a single day: October 23, 1915. It's the day when tens of thousands of women marched up Fifth Avenue, demanding the right to vote in New York City. Thirteen of today's bestselling authors have taken this moment as inspiration to raise the voices of history and breathe fresh life into their struggles and triumphs.
The characters depicted here, some well-known, others unfamiliar, each inspire and reinvigorate the power of democracy. We follow a young woman who is swept up in the protests when all she expected was to come sell her apples in the city. We see Ava Vanderbilt as her white-gloved sensibility is transformed over the course of the single fateful day. Ida B. Wells battles for racial justice in the women's suffrage movement so that every woman's voice can be heard. Each story stands on its own, but together Stories From Suffragette City becomes a symphony, painting a portrait of a country looking for a fight and ever restless for progress and equality.
With an introduction by Kristin Hannah and stories from: Lisa Wingate, M. J. Rose, Steve Berry, Paula McLain, Katherine J. Chen, Christina Baker Kline, Jamie Ford, Dolen Perkins-Valdez, Megan Chance, Alyson Richman, Chris Bohjalian, and Fiona Davis.
---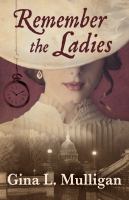 Remember the Ladies by Gina L. Mulligan
book
Growing up in an orphanage prepared Amelia Cooke for the high-stakes role of a female lobbyist in 1887, a time before women could vote. So when she's hired by the National Women's Suffrage Association to lobby for a suffrage amendment, Amelia feels empowered to give women a voice. What she doesn't foresee is Senator Edward Stillman. Stillman is charismatic, driven, and desperate to crush the amendment and Amelia. But in a political game where bribery, threats, extortion, and seduction prevail, who will win and at what cost?
Set in the extravagant Gilded Age, Remember the Ladies explores the conflict between the sexes with delightful writing and elegant descriptions, which brings the reader back to a time when the struggle for women's equality had just begun.
---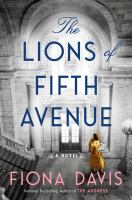 The Lions of Fifth Avenue by Fiona Davis
book
OverDrive ebook
OverDrive audiobook
It's 1913, and on the surface, Laura Lyons couldn't ask for more out of life–her husband is the superintendent of the New York Public Library, allowing their family to live in an apartment within the grand building, and they are blessed with two children. But headstrong, passionate Laura wants more, and when she takes a leap of faith and applies to the Columbia Journalism School, her world is cracked wide open. As her studies take her all over the city, she is drawn to Greenwich Village's new bohemia, where she discovers the Heterodoxy Club–a radical, all-female group in which women are encouraged to loudly share their opinions on suffrage, birth control, and women's rights. Soon, Laura finds herself questioning her traditional role as wife and mother. But when valuable books are stolen back at the library, threatening the home and institution she loves, she's forced to confront her shifting priorities head on… and may just lose everything in the process.
Eighty years later, in 1993, Sadie Donovan struggles with the legacy of her grandmother, the famous essayist Laura Lyons, especially after she's wrangled her dream job as a curator at the New York Public Library. But the job quickly becomes a nightmare when rare manuscripts, notes, and books for the exhibit Sadie's running begin disappearing from the library's famous Berg Collection. Determined to save both the exhibit and her career, the typically risk-averse Sadie teams up with a private security expert to uncover the culprit. However, things unexpectedly become personal when the investigation leads Sadie to some unwelcome truths about her own family heritage–truths that shed new light on the biggest tragedy in the library's history.
---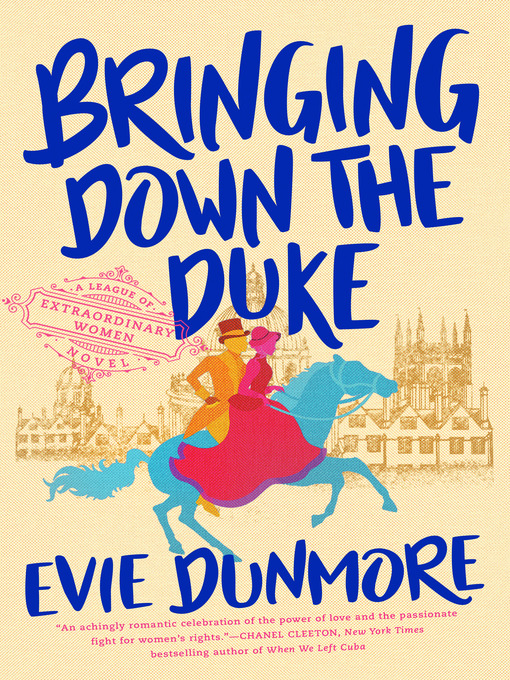 Bringing Down the Duke by Evie Dunmore
book
large print book
OverDrive ebook
Annabelle Archer, the brilliant but destitute daughter of a country vicar, has earned herself a place among the first cohort of female students at the renowned University of Oxford. In return for her scholarship, she must support the rising women's suffrage movement. The cold and calculating Sebastian, Duke of Montgomery, is appalled to find a suffragist squad has infiltrated his ducal home, but the real threat is his impossible feelings for green-eyed beauty Annabelle Archer.
---
The Once and Future Witches by Alix E. Harrow
book
OverDrive ebook
In 1893, there's no such thing as witches. There used to be, in the wild, dark days before the burnings began, but now witching is nothing but tidy charms and nursery rhymes. If the modern woman wants any measure of power, she must find it at the ballot box. But when the Eastwood sisters ― James Juniper, Agnes Amaranth, and Beatrice Belladonna ― join the suffragists of New Salem, they begin to pursue the forgotten words and ways that might turn the women's movement into the witch's movement. Stalked by shadows and sickness, hunted by forces who will not suffer a witch to vote―and perhaps not even to live ― the sisters will need to delve into the oldest magics, draw new alliances, and heal the bond between them if they want to survive. There's no such thing as witches. But there will be. An homage to the indomitable power and persistence of women, The Once and Future Witches reimagines stories of revolution, motherhood, and women's suffrage. The lost ways are calling.
---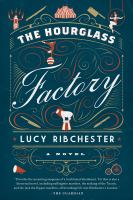 The Hourglass Factory by Lucy Ribchester
book
hoopla ebook
Amid the drama of the suffragette movement in Edwardian London, the disappearance of a famous trapeze artist in the middle of her act leads a young Fleet Street reporter to an underworld of circus performers, fetishists, and society columnists.
The suffragette movement is reaching a fever pitch, and Inspector Frederick Primrose is hunting a murderer on his beat. Across town, Fleet Street reporter Frances "Frankie" George is chasing an interview with trapeze artist Ebony Diamond. Frankie finds herself fascinated by the tightly-laced acrobat and follows her to a Bond Street corset shop that seems to be hiding secrets of its own. When Ebony Diamond mysteriously disappears in the middle of a performance, Frankie and Primrose are both drawn into the shadowy world of a secret society with ties to both London's criminal underworld and its glittering socialites.
How did Ebony vanish, who was she afraid of, and what goes on behind the doors of the mysterious Hourglass Factory? From newsrooms to the drawing rooms of high society, the investigation leads Frankie and Primrose to a murderous villain with a plot more deadly than anyone could have imagined.
Movies
Binge Box: Women's History — Suffragette
DVD binge box
Inspired by true events, this moving drama centers on Maud, a working wife and mother whose life is forever changed when she is secretly recruited to join the U.K.'s growing suffragette movement. Galvanized by the outlaw fugitive Emmeline Pankhurst, Maud becomes an activist for the cause alongside women from all walks of life.
---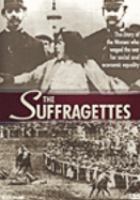 The Suffragettes
DVD
This documentary relays the history of the suffragettes, the preeminent women's rights group to arise in late 19th century Great Britain. At the center of it all stood Emmeline Pankhurst, who traveled to inordinate lengths to secure enfranchisement for British women and landed in prison on more than a handful of occasions. Using Pankhurst as a focal point, the program explores the movement's comprehensive history, concluding with the pivotal year of 1928, in which Pankhurst died, and English women finally attained voting rights.
Children's Nonfiction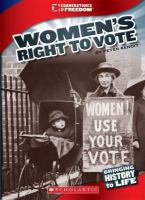 Women's Right to Vote by Peter Benoit
book
Find out why women were barred from voting in the country's early history, how they fought tirelessly against oppression for decades, and how they eventually achieved victory.
Even before the first glorious ring of the Liberty Bell, America was a land of freedom and promise. The Cornerstones of Freedom series explores what inspires people from all over the world to start life anew here, endure the economic and social upheavals, and defend the land and rights that are unique to the United States of America.
Today, it is almost impossible to imagine a time when women were not allowed to vote in the United States. But while women are today an important force in the nation's government, they were not guaranteed the right to vote until 1920, with the passage of the Nineteenth Amendment.
---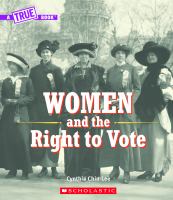 Women and the Right to Vote by Cynthia Chin-Lee
book
Have women always been allowed to vote in the United States? In this book you will learn how, for decades, women of all backgrounds battled for the right to vote by writing articles, signing petitions, and protesting in large parades. Also includes iconic photos, biographies, a timeline, and details about who opposed giving women the right to vote.
---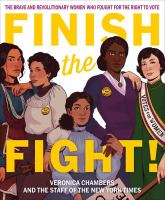 Finish the Fight: The Brave and Revolutionary Women Who Fought for the Right to Vote
book
This exciting collaboration with the New York Times will reveal the untold stories of the diverse heroines who fought for the 19th amendment. On the 100th anniversary of the historic win for women's rights, it's time to celebrate the names and stories of the women whose courage helped change the fabric of America.
---
Ida B. Wells-Barnett: Suffragette and Social Activist by Jones, Naomi E.
book
Ida B. Wells-Barnett began her career at sixteen as a teacher and went on to become a lecturer, investigative journalist, and advocate for social justice. As the first journalist to research and document lynching, she battled racial injustice through her writing and public speaking. She was also a women's rights activist who helped organize women's clubs to work toward suffrage and urban reform. Through historical photographs, educational sidebars, and compelling writing, this biography discusses Wells-Barnett's most significant works and her contributions to civil rights and women's suffrage, along with the major events in her life that shaped her work.
---
National Woman's Party: Fight for Suffrage by Emily Sohn
graphic novel
On the morning of January 10, 1917, thirteen determined women stood at the gates of the White House and held banners reading "HOW LONG MUST WOMEN WAIT FOR LIBERTY?" They were there to force President Woodrow Wilson to take notice of their demand for the right to vote. It was the first day of weeks of picketing, which would stop only when the women were arrested and jailed. Despite criticism from the public and mistreatment by public officials, the suffragists were determined to gain the right to vote. Their resilience and dedication fueled a movement that brought progress to the lives of women.
---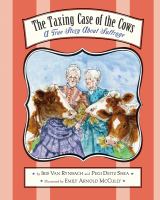 The Taxing Case of the Cows: A True Story about Suffrage Iris Van Rynbach and Pegi Deitz Shea
book
Almost 100 years after the American Revolution, Abby and Julia Smith were fighting against taxation without representation. Women hadn't been given the vote, and the Smith sisters refused to pay an unfair property tax that they had no voice in establishing. When the authorities confiscated their cows, the Smiths bought them back at auction, thus paying what they owed without paying their taxes. The cows were seized at tax time for a number of years, and the Smiths' stand attracted the attention of women's suffrage supporters across the country. Lively, carefully researched illustrations bring this historical episode vividly to life.
Children's Fiction
Secrets on 26th Street by Elizabeth McDavid Jones
book
hoopla ebook
Freading ebook
In New York City in 1914, eleven-year-old Susan encounters a mystery through an independent-minded female boarder and becomes involved in the growing suffrage movement.
Eleven-year-old Susan O'Neal is sick of always having to look after her two younger sisters. But ever since their father died, her mother depends on her. To make ends meet, she's just taken a boarder, an Englishwoman named Beatrice Rutherford, into their Chelsea tenement apartment. Susan and Bea become fast friends, but when Susan finds a folded piece of paper with six cryptic words–must be kept secret for now–she wonders what her new friend is hiding.
Is Bea a spy? Is she trying to involve Susan's mother in something dangerous? Susan's fear becomes a reality when her mother vanishes on the day five thousand women from every state in the Union come to New York for a suffrage rally. A riot erupts, and Susan knows something truly momentous has happened. Terrified for her mother's safety, she begins a search that exposes some hard truths about her city and their new boarder.
---
A Time for Courage: The Suffragette Diary of Kathleen Bowen by Kathryn Lasky
book
January 19, 1917: The picket line has been going on for over a week! And people said they would not last a day and the weather still has not broken. What's more is news of the picket is spreading and more and more women are coming from other parts of the district and some from as far away as Maryland and Virginia. President Wilson felt so sorry for them in the cold that he invited them in for coffee, but they refused. They said they would only come in to talk about a federal amendment for the women's right to vote. No coffee! This made me think of Sojourner Truth's words about men who help lift women into carriages and over mud puddles. That, of course, is the easy part, just like giving them coffee. Giving them the vote is the hard part.
As the United States in on the brink of entering World War I, young Kathleen Kat Bowen begins recording the activities of the women's suffrage movement occurring in Washington, D.C., in 1917.
---
Maria Takes a Stand: The Battle for Women's Rights by Norma Jean Lutz
book
Freading ebook
1914 is a tough year for twelve-year-old Maria Schmidt. Ever since the Kaiser started a war in Europe, Maria's German-sounding surname has brought her trouble at school. Even worse, her family's been threatened because of her father's union activities. In the midst of all that, however, Maria finds a noble cause to support: woman's suffrage. Maria Takes a Stand uses actual historical events to tell a compelling fictional story of a girl who must overcome personal hardships to serve a cause larger than herself.
*All summaries courtesy of the publisher unless otherwise noted.