For Women's History Month, we're celebrating strong women in literary lead roles. While some of them are fictional, they all inspire us to be proud of who we are. Curated by Tabor Millien.
(*All summaries courtesy of the publisher unless otherwise noted.)
Adult Fiction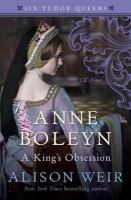 Anne Boleyn : A King's Obsession by Alison Weir
book
OverDrive ebook
hoopla audiobook
Born into a noble English family, Anne is barely a teenager when she is sent from her family's Hever Castle to serve at the royal court of the Netherlands. This strategic move on the part of her opportunistic father also becomes a chance for the girl to grow and discover herself. There, and later in France, Anne thrives, preferring to absorb the works of progressive writers rather than participate in courtly flirtations. She also begins to understand the inequalities and indignities suffered by her gender.
Anne isn't completely inured to the longings of the heart, but her powerful family has ambitious plans for her future that override any wishes of her own. When the King of England himself, Henry VIII, asks Anne to be his mistress, she spurns his advances, reminding him that he is a married man who has already conducted an affair with her sister, Mary. Anne's rejection only intensifies Henry's pursuit, but in the absence of a male heir, and given an aging Queen Katherine, the opportunity to elevate and protect the Boleyn family, and to exact vengeance on her envious detractors, is too tempting for Anne to resist, even as it proves to be her undoing.
While history tells of how Anne Boleyn died, this compelling new novel reveals how fully she lived.
---
Hild by Nicola Griffith
book
A brilliant, lush, sweeping historical novel about the rise of the most powerful woman of the Middle Ages: Hild is born into a world in transition. In seventh-century Britain, small kingdoms are merging, usually violently. A new religion is coming ashore; the old gods priests are worrying. Edwin of Northumbria plots to become king of the Angles, ruthlessly using every tool at his disposal: blood, bribery, belief.
Hild is the king's youngest niece. She has the powerful curiosity of a bright child, a strong will, and a way of seeing the world, of studying nature, of matching cause with effect, of observing human nature and predicting what will happen next that can seem uncanny, even supernatural, to those around her. She establishes herself as the king's seer and is indispensable unless she should ever lead the king astray. The stakes are life and death: for Hild, her family, her loved ones, and the increasing numbers who seek the protection of the strange girl who can read the world and see the future. Hild is a young woman at the heart of the violence, subtlety, and mysticism of the early medieval age, all of it brilliantly and accurately evoked by Nicola Griffith's luminous prose. Hild brings a beautiful, brutal world and one of its most fascinating, pivotal figures, the girl who would become St. Hilda of Whitby, to vivid, absorbing life.
---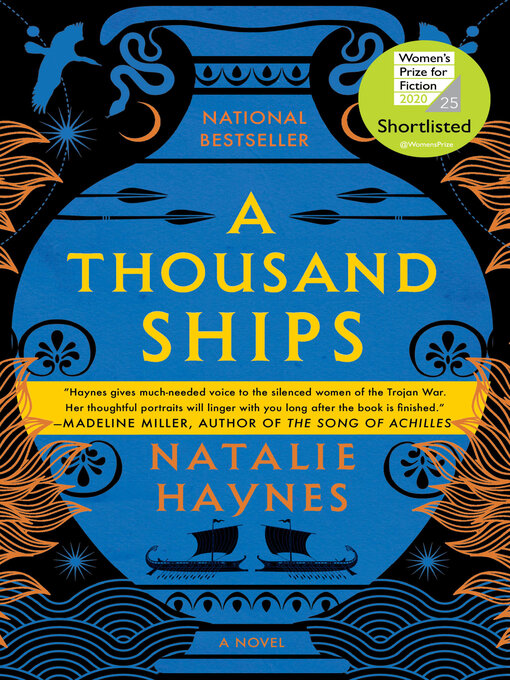 A Thousand Ships by Natalie Haynes
OverDrive ebook
This is the women's war, just as much as it is the men's. They have waited long enough for their turn.
In the middle of the night, a woman wakes to find her beloved city engulfed in flames. Ten seemingly endless years of conflict between the Greeks and the Trojans are over. Troy has fallen.
From the Trojan women whose fates now lie in the hands of the Greeks, to the Amazon princess who fought Achilles on their behalf, to Penelope awaiting the return of Odysseus, to the three goddesses whose feud started it all, these are the stories of the women whose lives, loves, and rivalries were forever altered by this long and tragic war.
A woman's epic, powerfully imbued with new life, A Thousand Ships puts the women, girls, and goddesses at the center of the Western world's greatest tale ever told.
---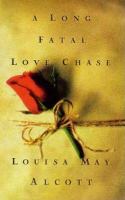 A Long Fatal Love Chase by Louisa May Alcott
book
"I'd gladly sell my soul to Satan for a year of freedom," cries impetuous Rosamond Vivian to her callous grandfather. Then, one stormy night, a brooding stranger appears in her remote island home, ready to take Rosamond at her word. Spellbound by the mysterious Philip Tempest, Rosamond is seduced with promises of love and freedom, then spirited away on Tempest's sumptuous yacht. But she soon finds herself trapped in a web of intrigue, cruelty, and deceit. Desperate to escape, she flees to Italy, France, and Germany, from Parisian garret to mental asylum, from convent to chateau, as Tempest stalks every step of the fiery beauty who has become his obsession.
A story of dark love and passionate obsession that was considered "too sensational" to be published in the author's lifetime, A Long Fatal Love Chase was written for magazine serialization in 1866, two years before the publication of Little Women. Buried among Louisa May Alcott's papers for more than a century, its publication is a literary landmark, a novel that is bold, timeless, and mesmerizing.
---
Ring Shout by P. Djèlí Clark
book
book on CD
OverDrive ebook
D. W. Griffith is a sorcerer, and The Birth of a Nation is a spell that drew upon the darkest thoughts and wishes from the heart of America. Now, rising in power and prominence, the Klan has a plot to unleash Hell on Earth.
Luckily, Maryse Boudreaux has a magic sword and a head full of tales. When she's not running bootleg whiskey through Prohibition Georgia, she's fighting monsters she calls Ku Kluxes. She's damn good at it, too. But to confront this ongoing evil, she must journey between worlds to face otherworldly nightmares and her own demons. Together with a foul-mouthed sharpshooter and a Harlem Hellfighter, Maryse sets out to save a world from the hate that would consume it.
---
The Year of Yellow Jack by Anne L. Simon
book
At the start of 1839, the small, south Louisiana town of New Iberia appears poised for prosperity. Acadian, French, English, and American immigrants have joined Spanish settlers in the area. Steamboats move up and down the Bayou Teche, carrying the products of the fertile land to market in New Orleans. Across the bayou, Hortense Duperier enjoys a privileged life in a grand brick house with her husband, Fréderick, and their three children. Suddenly, Fréderick's untimely death and financial reverses force her to manage the estate on her own.When signs of the dreaded yellow fever threaten an epidemic, Hortense turns to Félicité, an enslaved woman from Haiti. Together, the two women dispense Félicité's traditional remedies, defying the medical practices and social constraints of their time to save the young town.
---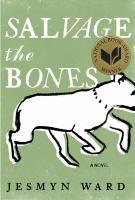 Salvage the Bones by Jesmyn Ward
book
large print book
OverDrive ebook
Enduring a hardscrabble existence as the children of alcoholic and absent parents, four siblings from a coastal Mississippi town prepare their meager stores for the arrival of Hurricane Katrina while struggling with such challenges as a teen pregnancy and a dying litter of prize pups.
---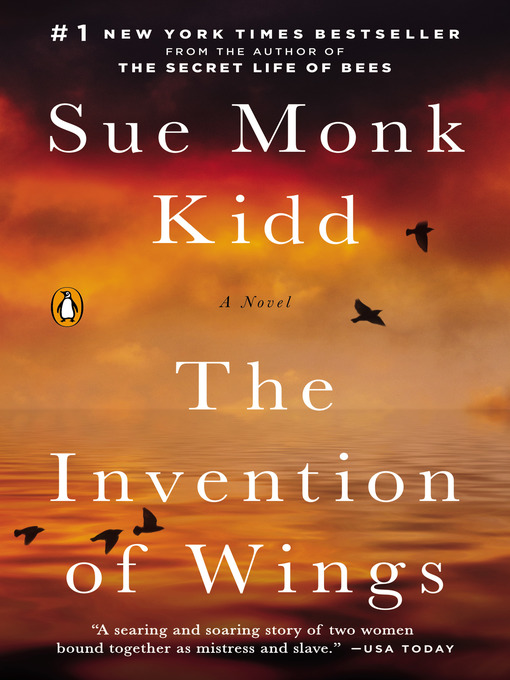 The Invention of Wings by Sue Monk Kidd
large print book
book on CD
OverDrive ebook
OverDrive audiobook
hoopla audiobook
Hetty "Handful" Grimke, an urban slave in early 19th century Charleston, yearns for life beyond the suffocating walls of the wealthy Grimke household. The Grimke's daughter, Sarah, who has always known she is meant to do something large in the world, is hemmed in by the limits imposed on women. On Sarah's eleventh birthday, she is given ownership of ten-year-old Handful, and we follow their remarkable journeys over the next thirty-five years.
---
What Should be Wild by Julia Fine
book
hoopla audiobook
hoopla ebook
Freading ebook
Born with a touch that can kill or resurrect, Maisie grows up isolated at her father's manor, told that men who wander into the nearby woods return with their minds shattered. She doesn't know that her female ancestors routinely vanished in the woods, but she has to do something when her father disappears.
---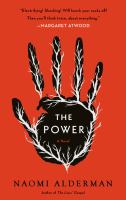 The Power by Naomi Alderman
book
OverDrive ebook
What would happen if women suddenly possessed a fierce new power? In The Power, the world is a recognizable place: there's a rich Nigerian boy who lounges around the family pool; a foster kid whose religious parents hide their true nature; an ambitious American politician; a tough London girl from a tricky family. But then a vital new force takes root and flourishes, causing their lives to converge with devastating effect. Teenage girls now have immense physical power. They can cause agonizing pain and even death. And, with this small twist of nature, the world drastically resets. From award-winning author Naomi Alderman, The Power is speculative fiction at its most ambitious and provocative, at once taking us on a thrilling journey to an alternate reality, and exposing our own world in bold and surprising ways.
---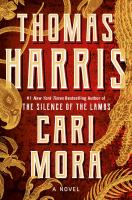 Cari Mora by Thomas Harris
book
book on CD
OverDrive ebook
A ruthless man driven by unspeakable appetites to pursue a fortune in cartel gold hidden beneath a Miami mansion finds his efforts challenged by Cari Mora, the mansion's caretaker and a war survivor with unusual talents.
---
Adult Nonfiction
Titanic Survivor: The Newly Discovered Memoirs of Violet Jessop Who Survived Both the Titanic and Britannic Disasters by Violet Jessop
book
After a childhood in Argentina and formative years in England, Violet Jessop spent her entire career at sea. She was a stewardess for first-class passengers on the Titanic, and she wrote a unique eyewitness account on the most written-about disaster of our time. Four years later, Violet was a nurse onboard the hospital ship Britannic when it struck a mine and sank to the bottom of the Aegean. Titanic Survivor is a unique autobiography for those who want to know how it really felt to be there during the sinking of the Titanic.
---
Young Adults
The Devouring (The Devouring Series book 1) by Simon Holt
book
Fifteen-year-old Reggie loves all things scary. When she finds a mysterious journal about wicked creatures that inhabit the bodies of children on Sorry Night, the eve of the winter solstice, she just considers it fun bedtime reading. The journal says that once inside a human, these creatures, the Vours, assume the victim's personality, banishing their soul to a dark netherworld called a "fearscape." Wonderfully frightening, but Reggie assumes they are just the musings of an anonymous lunatic until one extraordinary night, when she learns that Vours are indeed real, and that she must fight them to save the people she loves. With help from her mentor Eben, a bookstore owner, and her best friend Aaron, Reggie traces the owner of the journal to an abandoned house, where she comes face-to-face with a Vour and learns to devour her fear before it devours her. With suspense, surprises, and its share of gore, The Devouring will please both thriller and horror fans.
---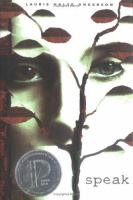 Speak by Laurie Halse Anderson
book
graphic novel
"Speak up for yourself – we want to know what you have to say." From the first moment of her freshman year at Merryweather High, Melinda knows that this is a big fat lie, part of the nonsense of high school. She is friendless, an outcast, because she busted an end-of-summer party by calling the cops, so now nobody will talk to her, let alone listen to her. As time passes, she becomes increasingly isolated and practically stops talking altogether. Only her art class offers any solace, and it is through her work on an art project that she is finally able to face what really happened at that terrible party: she was raped by an upperclassman, a guy who still attends Merryweather and is still a threat to her. Her healing process has just begun when she has another violent encounter with him. But this time Melinda fights back, refuses to be silent, and thereby achieves a measure of vindication. In this powerful novel, an utterly believeable heroine with a bitterly ironic voice delivers a blow to the hypocritical world of high school. She speaks for many a disenfranchised teenager while demonstrating the importance of speaking up for oneself.