Public libraries have a long history of bringing materials to people who can't come to the library. National Library Outreach Day celebrates the various innovative ways libraries serve their communities. Find out about Ascension Parish Library's Mobile Library here. List curated by Ashley Lee.
Adults
Mobile Library mystery series by Ian Sansom
books (full series) 
hoopla ebook (full series)
freading ebook (full series)  
Introducing Israel Armstrong, one of literature's most unlikely detectives in the first of a series of novels from the author of the critically acclaimed Ring Road. Israel is an intelligent, shy, passionate, sensitive sort of soul: he's Jewish; he's a vegetarian; he could maybe do with losing a little weight. And he's just arrived in Ireland to take up his first post as a librarian. But the library's been shut down and Israel ends up stranded on the North Antrim coast driving an old mobile library.
There's nice scenery, but 15,000 fewer books than there should be. Who on earth steals that many books? How? When would they have time to read them all? And is there anywhere in this godforsaken place where he can get a proper cappuccino and a decent newspaper?
Israel wants answers…
---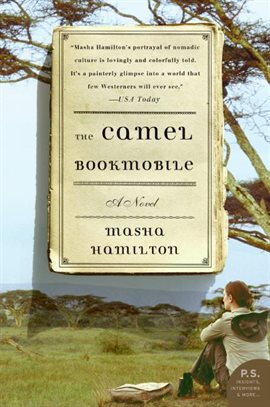 The Camel Bookmobile by Masha Hamilton
book
hoopla audiobook
freading ebook
Fiona Sweeney wants to do something that matters, and she chooses to make her mark in the arid bush of northeastern Kenya. By helping to start a traveling library, she hopes to bring the words of Homer, Hemingway, and Dr. Seuss to far-flung tiny communities where people live daily with drought, hunger, and disease. Her intentions are honorable, and her rules are firm: due to the limited number of donated books, if any one of them is not returned, the bookmobile will not return.
But, encumbered by her Western values, Fi does not understand the people she seeks to help. And in the impoverished small community of Mididima, she finds herself caught in the middle of a volatile local struggle when the bookmobile's presence sparks a dangerous feud between the proponents of modernization and those who fear the loss of traditional ways.
---
The Uncommon Reader by Alan Bennett
book
When her corgis stray into a mobile library parked near Buckingham Palace, the Queen feels duty-bound to borrow a book. Discovering the joy of reading widely (from J. R. Ackerley, Jean Genet, and Ivy Compton-Burnett to the classics) and intelligently, she finds that her view of the world changes dramatically. Abetted in her newfound obsession by Norman, a young man from the royal kitchens, the Queen comes to question the prescribed order of the world and loses patience with the routines of her role as monarch. Her new passion for reading initially alarms the palace staff and soon leads to surprising and very funny consequences for the country at large.
With the poignant and mischievous wit of The History Boys, England's best loved author revels in the power of literature to change even the most uncommon reader's life.
---
Wonderland Creek by Lynn Austin
book 
book on CD 
hoopla ebook 
hoopla audiobook 
Alice Grace Ripley lives in a dream world, her nose stuck in a book. But the happily-ever-after life she's planned on suddenly falls apart when her boyfriend, Gordon, breaks up with her, accusing her of living in a world of fiction instead of the real world. Then to top it off, Alice loses her beloved job at the library because of cutbacks due to the Great Depression. Fleeing small-town gossip, Alice heads to the mountains of eastern Kentucky to deliver five boxes of donated books to the library in the tiny coal-mining village of Acorn. Dropped off by her relatives, Alice volunteers to stay for two weeks to help the librarian, Leslie McDougal. But the librarian turns out to be far different than she anticipated–not to mention the four lady librarians who travel to the remote homes to deliver the much-desired books. While Alice is trapped in Acorn against her will, she soon finds that real-life adventure and mystery–and especially romance–are far better than her humble dreams could have imagined.
---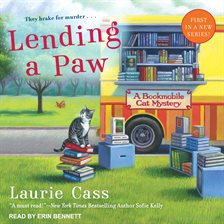 Bookmobile Cat Mystery series by Laurie Cass
hoopla audiobook (full series) 
books (3 books in the series) 
With the help of her rescue cat, Eddie, librarian Minnie Hamilton is driving a bookmobile based in the resort town of Chilson, Michigan. But she'd better keep both hands on the wheel, because it's going to be a bumpy ride.
Eddie followed Minnie home one day, and now she can't seem to shake the furry little shadow. But in spite of her efforts to contain her new pal, the tabby sneaks out and trails her all the way to the bookmobile on its maiden voyage. Before she knows it, her slinky stowaway becomes her cat co-pilot! Minnie and Eddie's first day visiting readers around the county seems to pass without trouble until Eddie darts outside at the last stop and leads her to the body of a local man who's reached his final chapter. Initially, Minnie is ready to let the police handle this case, but Eddie seems to smell a rat. Together, they'll work to find the killer because a good librarian always knows when justice is overdue.
---
The Librarian of Boone's Hollow: A Novel by Kim Vogel Sawyer
book 
During the Great Depression, city-dweller Addie Cowherd dreams of becoming a novelist and offering readers the escape that books had given her during her tragic childhood. When her father loses his job, she is forced to take the only employment she can find — delivering books on horseback to poor coal-mining families in the hills of Kentucky. But turning a new page will be nearly impossible in Boone's Hollow, where residents are steeped in superstitions and deeply suspicious of outsiders. Even local Emmett Tharp feels the sting of rejection after returning to the tiny mountain hamlet as the first in his family to graduate college. And as the crippled economy leaves many men jobless, he fears his degree won't be worth much in a place where most men either work the coal mine or run moonshine. As Addie also struggles to find her place, she'll unearth the truth about a decades-old rivalry. But when someone sets out to sabotage the town's library program, will the culprit chase Addie away or straight into the arms of the only person who can help her put a broken community back together?
---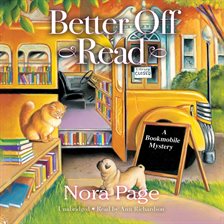 Bookmobile series by Nora Page
hoopla ebook and audiobook (full series)
Septuagenarian librarian Cleo Watkins won't be shushed when an upstart young mayor threatens to permanently shelve her tiny town's storm-damaged library. She takes to her bookmobile, Words on Wheels, to collect allies and rally library support throughout Catalpa Springs, Georgia.
However, Cleo soon rolls into trouble. A major benefactor known for his eccentric DIY projects requests all available books on getting away with murder. He's no Georgia peach, and Cleo wonders if she should worry about his plans. She knows she should when she discovers him bludgeoned and evidence points to her best friend, Mary-Rose Garland.
Sure of Mary-Rose's innocence, Cleo applies her librarian's sleuthing skills to the case, assisted by friends, family, and the dapper antiquarian bookseller everyone keeps calling her boyfriend. Evidence stacks up, but a killer is overdue to strike again. With lives and her library on the line, Cleo must shift into high gear to close the book on murder in Better Off Read, the charming Bookmobile series debut by Nora Page.
Children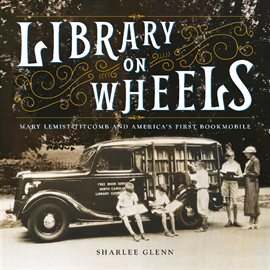 Library on Wheels: Mary Lemist Titcomb and America's First Bookmobile by Sharlee Glenn
Hoopla audiobook
Freading ebook
If you can't bring the man to the books, bring the books to the man.
Mary Lemist Titcomb (1852-1932) was always looking for ways to improve her library. As librarian at the Washington County Free Library in Maryland, Titcomb was concerned that the library was not reaching all the people it could. She was determined that everyone should have access to the library, not just adults and those who lived in town. Realizing its limitations and inability to reach the county's 25,000 rural residents, including farmers and their families, Titcomb set about to change the library system forever with the introduction of book deposit stations throughout the country, a children's room in the library, and her most revolutionary idea of all, a horse-drawn Book Wagon. Soon book wagons were appearing in other parts of the country, and by 1922, the book wagon idea had received widespread support. The bookmobile was born!
---
That Book Woman by Heather Henson
book 
hoopla audibook 
hoopla movie 
An exquisitely illustrated paean to everyone who struggles to learn how to read, and to everyone who won't give up on them.
Cal is not the readin' type. Living way high up in the Appalachian Mountains, he'd rather help Pap plow or go out after wandering sheep than try some book learning. Nope. Cal does not want to sit stoney-still reading some chicken scratch. But that Book Woman keeps coming just the same. She comes in the rain. She comes in the snow. She comes right up the side of the mountain, and Cal knows that's not easy riding. And all just to lend his sister some books. Why, that woman must be plain foolish. Or is she braver than he ever thought?
That Book Woman is a rare and moving tale that honors a special part of American history, the Pack Horse Librarians, who helped untold numbers of children see the stories amid the chicken scratch, and thus made them into lifetime readers.
---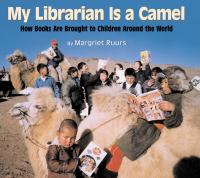 My Librarian is a Camel: How Books are Brought to Children Around the World by Margriet Ruurs
book 
Do you get books from a public library in your town or even in your school library? In many remote areas of the world, there are no library buildings. In many countries, books are delivered in unusual ways: by bus, boat, elephant, donkey, train, even by wheelbarrow. Why would librarians go to the trouble of packing books on the backs of elephants or driving miles to deliver books by bus? Because, as one librarian in Azerbaijan says, "Books are as important to us as air or water!"
---
Wild About Books by Judy Sierra
book
hoopla audiobook
hoopla movie
It started the summer of 2002, when the Springfield librarian, Molly McGrew, by mistake drove her bookmobile into the zoo.
In this rollicking rhymed story, Molly introduces birds and beasts to this new something called reading. She finds the perfect book for every animal—tall books for giraffes, tiny ones for crickets. "She even found waterproof books for the otter, who never went swimming without Harry Potter." In no time at all, Molly has them "forsaking their niches, their nests, and their nooks," going "wild, simply wild, about wonderful books." Judy Sierra's funny animal tale coupled with Marc Brown's lush, fanciful paintings will have the same effect on young Homo sapiens. Altogether, it's more fun than a barrel of monkeys!
---
Wish On All the Stars by Lisa Schroeder
book 
hoopla audiobook 
Mission Beach is starting to feel more like home to Juliet, especially now that she is an official member of the Starry Beach Club (dedicated to making wishes come true), together with her new friends, Emma and Carmen. Their current project is saving the local bookmobile which needs rent money fast, and Emma's idea is to have a fund-raising crafts fair where she expects Juliet to sell her paintings–an idea that Juliet is not really comfortable with.
Previously Recommended on Shelf Analysis
*All summaries courtesy of the publisher unless otherwise noted.