Looking for new authors? These authors each have a short list of published books, making it easy to binge-read their work. They have burst onto the scene with engaging, thought-provoking, and powerful narratives that are sure to leave you wondering when their next books will hit our shelves. Curated by Tabor Millien.
Jasper DeWitt
Jasper DeWitt is a horror novelist and an award-winning author on Reddit's NoSleep.
author website
The Patient
book
OverDrive ebook
OverDrive aubiobook
In a series of online posts, Parker H., a young psychiatrist, chronicles the harrowing account of his time working at a dreary mental hospital in New England. Through this internet message board, Parker hopes to communicate with the world his effort to cure one bewildering patient. We learn, as Parker did on his first day at the hospital, of the facility's most difficult, profoundly dangerous case – a 40-year-old man who was originally admitted to the hospital at age six. This patient has no known diagnosis. His symptoms seem to evolve over time. Every person who has attempted to treat him has been driven to madness or suicide. Desperate and fearful, the hospital's directors keep him strictly confined and allow minimal contact with staff for their own safety, convinced that releasing him would unleash catastrophe on the outside world. Parker, brilliant and overconfident, takes it upon himself to discover what ails this mystery patient and finally cure him. But from his first encounter with the mystery patient, things spiral out of control and, facing a possibility beyond his wildest imaginings, Parker is forced to question everything he thought he knew.
---
Jeremy Robert Johnson
Johnson's fiction has been praised by the Washington Post and authors like Chuck Palahniuk and David Wong, and has appeared internationally in numerous anthologies and magazines.
author website
The Loop
book
OverDrive ebook
Turner Falls is a small tourist town nestled in the hills of western Oregon, the kind of town you escape to for a vacation. When an inexplicable outbreak rapidly develops, this idyllic town becomes the epicenter of an epidemic of violence as the teenage children of several executives from the local biotech firm become ill and aggressively murderous. Suddenly the town is on edge, and Lucy and her friends must do everything it takes just to fight through the night.
---
Alexandra Oliva
Born and raised in upstate New York, Alexandra Oliva has a BA in history from Yale University and an MFA in creative writing from The New School.
author website
The Last One
book
It begins with a reality TV show. Twelve contestants are sent into the woods to face challenges that will test the limits of their endurance. While they are out there, something terrible happens, but how widespread is the destruction, and has it occurred naturally, or is it man-made? Cut off from society, the contestants know nothing of it. When one of them — a young woman the show's producers call Zoo — stumbles across the devastation, she can imagine only that it is part of the game.
Alone and disoriented, Zoo is heavy with doubt regarding the life and husband she left behind, but she refuses to quit. Staggering countless miles across unfamiliar territory, Zoo must summon all her survival skills and learn new ones as she goes.
But as her emotional and physical reserves dwindle, she grasps that the real world might have been altered in terrifying ways, and her ability to parse the charade will be either her triumph or her undoing.
---
Emily Ruskovich
Ruskovich is a winner of an O. Henry Award, The Idaho Book Award, and a Pacific Northwest Book Award. A graduate of the Iowa Writers' Workshop, she currently teaches Creative Writing in the M.F.A. Program at Boise State University.
author website
Idaho
book
Ann and Wade have carved out a life for themselves from a rugged landscape in northern Idaho, where they are bound together by more than love. In a wild emotional and physical landscape, with her husband's memory fading, Ann attempts to piece together the truth of what happened to Wade's first wife, Jenny, and to their daughters.
---
C D Major (Cesca Major)
Major writes suspenseful books inspired by events in the recent past. She worked in television and teaching before writing full time.
author website
The Other Girl
book
1942, New Zealand. Edith's been locked away for a long time. She was just five years old when she was sent to Seacliff Lunatic Asylum. Fifteen years later, she has few memories of her life before the asylum, but longs for one beyond it. When she survives a devastating fire that destroys her ward, Edith is questioned by the police and a young doctor, Declan Harris. Intrigued by his beautiful patient, Declan begins to doubt the official reasons for her incarceration. Is she truly mad? Or could the impossible stories she was told as a child actually be true? Time is running out. With Edie awaiting a new and permanent treatment, soon there will be little of her left to save. Meanwhile intrigue has tipped into obsession. Declan needs to uncover the truth, but in doing so he will risk losing everything. As he sets out to save her mind, will he lose his own?
The Last Night
Freading ebook
In a quiet coastal village, Irina spends her days restoring furniture, passing the time in peace, and hiding away from the world. A family secret, long held and never discussed, casts a dark shadow, and Irina chooses to withdraw into her work. When an antique bureau is sent to her workshop, the owner anonymous, Irina senses a history to the object that makes her uneasy. As Irina begins to investigate the origins of the piece, she unearths the secrets it holds within. Decades earlier in the 1950s, another young woman kept secrets. Her name was Abigail. Over the course of one summer, she fell in love, and dreamed of the future. But Abigail could not know that a catastrophe loomed, and this event would change the course of many lives forever.
---
C.J. Tudor
Tudor has been writing since she was a child but only knuckled down to it properly in her thirties. Her English teacher once told her that if she 'did not become Prime Minister or a best-selling author' he would be 'very disappointed.'
author's Amazon page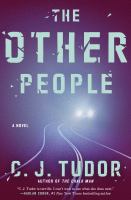 The Other People
book
Driving home one night, stuck behind a rusty old car, Gabe sees a little girl's face appear in its rear window. She mouths one word: Daddy. It's his five-year-old daughter, Izzy. He never sees her again.
Three years later, Gabe spends his days and nights traveling up and down the highway, searching for the car that took his daughter, refusing to give up hope, even though most people believe she's dead.
When the car that he saw escape with his little girl is found abandoned with a body inside, Gabe must confront not just the day Izzy disappeared, but the painful events from his past now dredged to the surface.
The Chalk Man
book
book on CD
audiobook on Playaway
OverDrive ebook
In 1986, Eddie and his friends are just kids on the verge of adolescence. They spend their days biking around their sleepy little English village and looking for any taste of excitement they can get. The chalk men are their secret code; little chalk stick figures they leave for one another as messages only they can understand. But then a mysterious chalk man leads them right to a dismembered body, and nothing is ever the same.
In 2016, Eddie is fully grown, and thinks he's put his past behind him. But then he gets a letter in the mail, containing a single chalk stick figure. When it turns out that his friends got the same message, they think it could be a prank . . . until one of them turns up dead. That's when Eddie realizes that saving himself means finally figuring out what really happened all those years ago.
The Hiding Place
book
book on CD
Joe never wanted to come back to Arnhill. After the way things ended with his old gang — the betrayal, the suicide — and what happened when his sister went missing, the last thing he wanted to do was return to his hometown. But Joe doesn't have a choice, not after a chilling email surfaces in his inbox: I know what happened to your sister. It's happening again . . .
Lying his way into a teaching job at his former high school is the easy part. Facing off with onetime friends who aren't too happy to have him back in town–while avoiding the enemies he's made in the years since–is tougher. But the hardest part of all will be returning to the abandoned mine where his life changed forever, and finally confronting the horrifying truth about Arnhill, his sister, and himself. Because for Joe, the worst moment of his life wasn't the day his sister went missing. It was the day she came back.
---
Joseph Fink & Jeffrey Cranor
Joseph Fink and Jeffrey Cranor are co-writers of the podcast Welcome to Night Vale. Their books are set in that same town, Night Vale, but can be read separate from the podcast and even each other.
author website
Welcome to Night Vale
book
hoopla audiobook
Freading ebook
Located in a nameless desert somewhere in the great American Southwest, Night Vale is a small town where ghosts, angels, aliens, and government conspiracies are all commonplace parts of everyday life. It is here that the lives of two women, with two mysteries, will converge.
Nineteen-year-old Night Vale pawn shop owner Jackie Fierro is given a paper marked "KING CITY" by a mysterious man in a tan jacket holding a deer skin suitcase. Everything about him and his paper unsettles her, especially the fact that she can't seem to get the paper to leave her hand, and that no one who meets this man can remember anything about him. Jackie is determined to uncover the mystery of King City and the man in the tan jacket before she herself unravels.
Night Vale PTA treasurer Diane Crayton's son, Josh, is moody and also a shape shifter. And lately Diane's started to see her son's father everywhere she goes, looking the same as the day he left years earlier, when they were both teenagers. Josh, looking different every time Diane sees him, shows a stronger and stronger interest in his estranged father, leading to a disaster Diane can see coming, even as she is helpless to prevent it.
Diane's search to reconnect with her son and Jackie's search for her former routine life collide as they find themselves coming back to two words: "KING CITY". It is King City that holds the key to both of their mysteries, and their futures…if they can ever find it.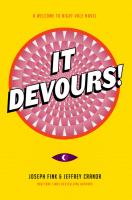 It Devours
book
hoopla ebook
hoopla audiobook
Freading ebook
Nilanjana Sikdar is an outsider to the town of Night Vale. Working for Carlos, the town's top scientist, she relies on fact and logic as her guiding principles. But all of that is put into question when Carlos gives her a special assignment investigating a mysterious rumbling in the desert wasteland outside of town. This investigation leads her to the Joyous Congregation of the Smiling God, and to Darryl, one of its most committed members. Caught between her beliefs in the ultimate power of science and her growing attraction to Darryl, she begins to suspect the Congregation is planning a ritual that could threaten the lives of everyone in town. Nilanjana and Darryl must search for common ground between their very different world views as they are faced with the Congregation's darkest and most terrible secret.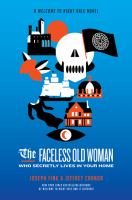 The Faceless Old Woman Who Secretly Lives in Your Home
book
In the town of Night Vale, there's a faceless old woman who secretly lives in everyone's home, but no one knows how she got there or where she came from…until now. Told in a series of eerie flashbacks, the story of The Faceless Old Woman goes back centuries to reveal an initially blissful and then tragic childhood on a Mediterranean Estate in the early nineteenth century, her rise in the criminal underworld of Europe, a nautical adventure with a mysterious organization of smugglers, her plot for revenge on the ones who betrayed her, and ultimately her death and its aftermath, as her spirit travels the world for decades until settling in modern-day Night Vale.
Interspersed throughout is a present-day story in Night Vale, as The Faceless Old Woman guides, haunts, and sabotages a man named Craig. In the end, her current-day dealings with Craig and her swashbuckling history in nineteenth century Europe will come together in the most unexpected and horrifying way.
*All summaries courtesy of the publisher unless otherwise noted.