Full cast audiobooks bring dramatic readings to the next level by using multiple voices for character and narration. Check out this mix of adult, YA, and children's audiobooks. Curated by Ashley Lee.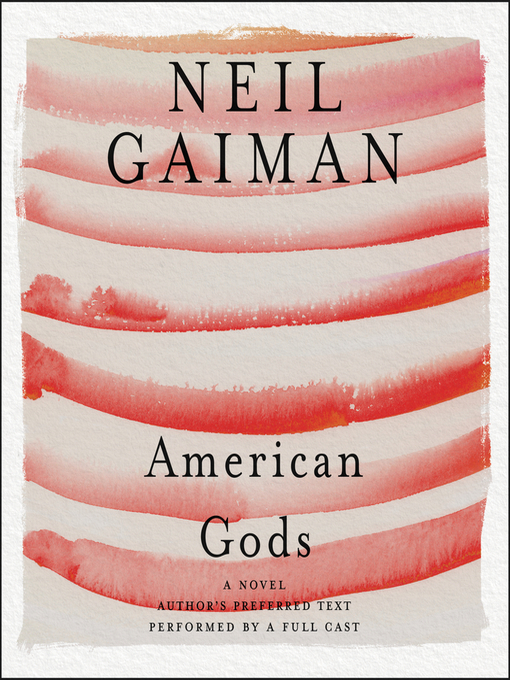 American Gods by Neil Gaiman
OverDrive audiobook
hoopla audiobook
Locked behind bars for three years, Shadow did his time, quietly waiting for the day when he could return to Eagle Point, Indiana. A man no longer scared of what tomorrow might bring, all he wanted was to be with Laura, the wife he deeply loved, and start a new life.
But just days before his release, Laura and Shadow's best friend are killed in an accident. With his life in pieces and nothing to keep him tethered, Shadow accepts a job from a beguiling stranger he meets on the way home, an enigmatic man who calls himself Mr. Wednesday. A trickster and a rogue, Wednesday seems to know more about Shadow than Shadow does himself.
Life as Wednesday's bodyguard, driver, and errand boy is far more interesting and dangerous than Shadow ever imagined. Soon Shadow learns that the past never dies and that beneath the placid surface of everyday life a storm is brewing—an epic war for the very soul of America—and that he is standing squarely in its path. 
---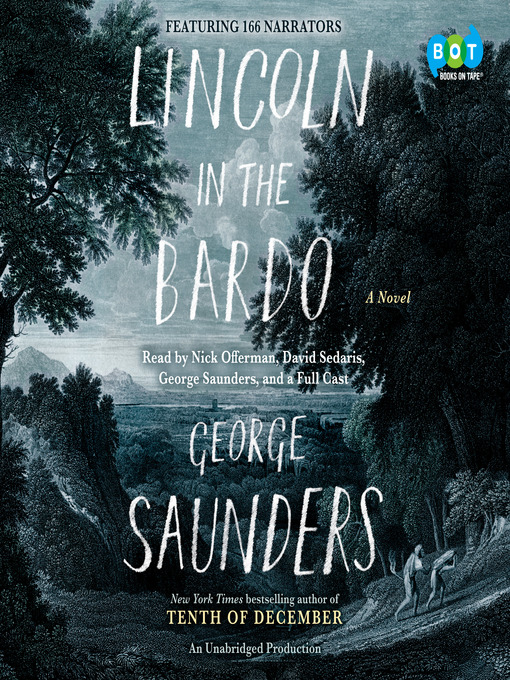 Lincoln in the Bardo by George Saunders 
book on CD 
OverDrive audiobook 
The Civil War is less than one year old. The fighting has begun in earnest, and the nation has begun to realize it is in for a long, bloody struggle. Meanwhile, President Lincoln's beloved eleven-year-old son, Willie, lies upstairs in the White House, gravely ill. In a matter of days, despite predictions of a recovery, Willie dies and is laid to rest in a Georgetown cemetery. "My poor boy, he was too good for this earth," the president says at the time. "God has called him home." Newspapers report that a grief-stricken Lincoln returns, alone, to the crypt several times to hold his boy's body.
From that seed of historical truth, George Saunders spins an unforgettable story of familial love and loss that breaks free of its realistic, historical framework into a supernatural realm both hilarious and terrifying. Willie Lincoln finds himself in a strange purgatory where ghosts mingle, gripe, commiserate, quarrel, and enact bizarre acts of penance. Within this transitional state – called, in the Tibetan tradition, the bardo – a monumental struggle erupts over young Willie's soul. 
---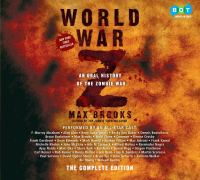 World War Z: An Oral History of the Zombie War by Max Brooks 
book on CD 
We survived the zombie apocalypse, but how many of us are still haunted by that terrible time? We have (temporarily?) defeated the living dead, but at what cost? Told in the haunting and riveting voices of the men and women who witnessed the horror firsthand, World War Z is the only record of the pandemic. 
  
The Zombie War came unthinkably close to eradicating humanity. Max Brooks, driven by the urgency of preserving the acid-etched first-hand experiences of the survivors, traveled across the United States of America and throughout the world, from decimated cities that once teemed with upwards of thirty million souls to the most remote and inhospitable areas of the planet. He recorded the testimony of men, women, and sometimes children who came face-to-face with the living, or at least the undead, hell of that dreadful time. World War Z is the result. Never before have we had access to a document that so powerfully conveys the depth of fear and horror, and also the ineradicable spirit of resistance, that gripped human society through the plague years. 
---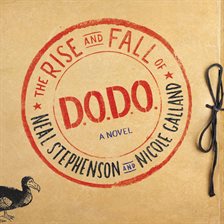 The Rise and Fall of D.O.D.O by Neal Stephenson and Nicole Galland 
hoopla audiobook
When Melisande Stokes an expert in linguistics and languages, accidentally meets military intelligence operator Tristan Lyons in a hallway at Harvard University it is the beginning of a chain of events that will alter their lives and human history itself. The young man from a shadowy government entity approaches Mel, a low-level faculty member, with an incredible offer. The only condition: she must sign a nondisclosure agreement in return for the rather large sum of money. Tristan needs Mel to translate some very old documents, which, if authentic, are earth shattering. They prove that magic actually existed and was practiced for centuries. But the arrival of the scientific revolution and the Age of Enlightenment weakened its power and endangered its practitioners. Magic stopped working altogether in 1851, at the time of the Great Exhibition at London's Crystal Palace – the world's fair celebrating the rise of industrial technology and commerce. Something about the modern world "jams" the "frequencies" used by magic, and it's up to Tristan to find out why. And so the Department of Diachronic Operations (D.O.D.O.) gets cracking on its real mission: to develop a device that can bring magic back, and send Diachronic Operatives back in time to keep it alive…and meddle with a little history at the same time. But while Tristan and his expanding operation master the science and build the technology, they overlook the mercurial and treacherous nature of the human heart.
Written with the genius, complexity, and innovation that characterize all of Neal Stephenson's work and steeped with the down-to-earth warmth and humor of Nicole Galland's storytelling style, this exciting and vividly realized work of science fiction will make you believe in the impossible, and take you to places – and times – beyond imagining.  
---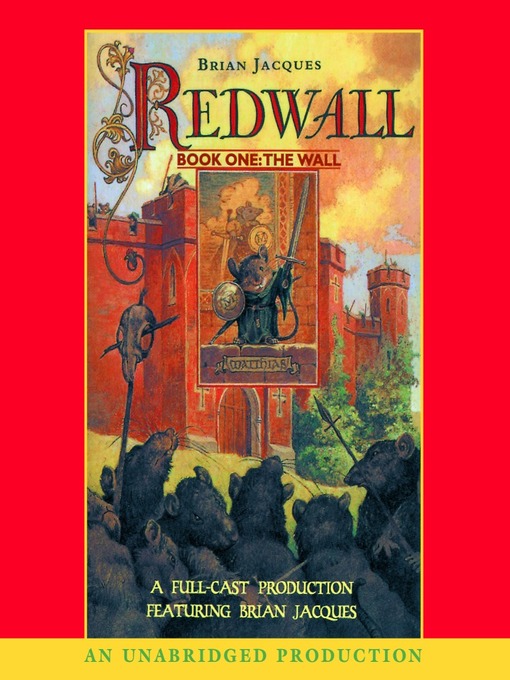 Redwall by Brain Jacques 
Playaway audiobook 
OverDrive audiobook 
It is the Summer of the Late Rose, and the gentle mice of Mossflower Wood gather to celebrate a year of peace and abundance at Redwall. But a sinister shadow has fallen across the ancient stone Abbey. For it is rumored that Cluny is coming. Cluny, the menacing one-eyed rat and his battle-seasoned horde. Cluny, who has vowed to conquer Redwall Abbey!
The woodland creatures rush to a desperate defense. But what can an Abbey of peace-loving mice do against Cluny the Scourge and his evil band of rats? If only they had the sword of Martin the Warrior, they might stand a chance of saving their beloved Abbey. But the hiding place of the legendary sword has been long forgotten. It is the bumbling young Matthias who sets out to find the sword, fights for his abbey, and becomes a most unlikely hero. 
---
The Lion, the Witch, and the Wardrobe by C.S. Lewis 
book on CD 
Four adventurous siblings – Peter, Susan, Edmund, and Lucy Pevensie – step through a wardrobe door and into the land of Narnia, a land frozen in eternal winter and enslaved by the power of the White Witch. But when almost all hope is lost, the return of the Great Lion, Aslan, signals a great change…and a great sacrifice.
---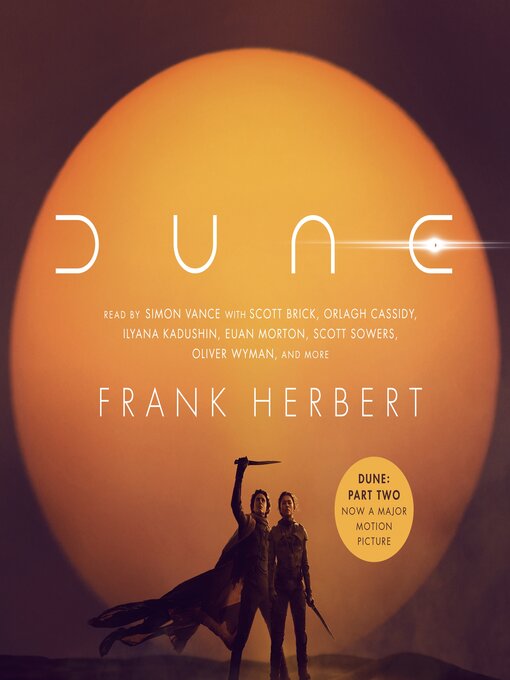 Dune by Frank Herbert 
book on CD 
OverDrive audiobook 
Science fiction's supreme masterpiece, Dune will be forever considered a triumph of the imagination. Set on the desert planet Arrakis, it is the story of the boy Paul Atreides, who will become the mysterious man known as Muad'Dib. Paul's noble family is named stewards of Arrakis, whose sands are the only source of a powerful drug called "the spice." After his family is brought down in a traitorous plot, Paul must go undercover to seek revenge, and to bring to fruition humankind's most ancient and unattainable dream.
A stunning blend of adventure and mysticism, environmentalism and politics, Dune won the first Nebula Award, shared the Hugo Award, and formed the basis of what is undoubtedly the grandest epic in science fiction. 
---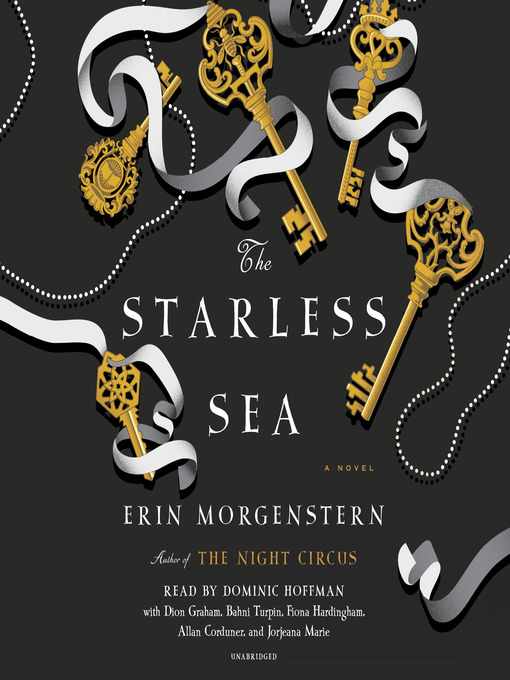 The Starless Sea by Erin Morgenstern 
OverDrive audiobook 
Zachary Ezra Rawlins is a graduate student in Vermont when he discovers a mysterious book hidden in the stacks. As he turns the pages, entranced by tales of lovelorn prisoners, key collectors, and nameless acolytes, he reads something strange: a story from his own childhood. Bewildered by this inexplicable book and desperate to make sense of how his own life came to be recorded, Zachary uncovers a series of clues—a bee, a key, and a sword—that lead him to a masquerade party in New York, to a secret club, and through a doorway to an ancient library hidden far below the surface of the earth.
What Zachary finds in this curious place is more than just a buried home for books and their guardians—it is a place of lost cities and seas, lovers who pass notes under doors and across time, and of stories whispered by the dead. Zachary learns of those who have sacrificed much to protect this realm, relinquishing their sight and their tongues to preserve this archive, and also of those who are intent on its destruction. Together with Mirabel, a fierce, pink-haired protector of the place, and Dorian, a handsome, barefoot man with shifting alliances, Zachary travels the twisting tunnels, darkened stairwells, crowded ballrooms, and sweetly soaked shores of this magical world, discovering his purpose—in both the mysterious book and in his own life. 
---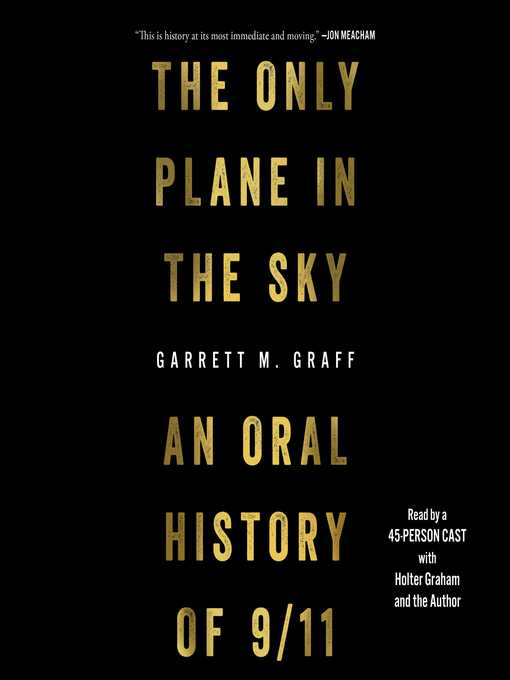 The Only Plane in the Sky by Garrett M. Graff 
OverDrive audiobook 
Garrett M. Graff's The Only Plane in the Sky is the most vivid and human portrait of the September 11 attacks yet, comprised of never-before-published transcripts, recently declassified documents, and original interviews and stories from nearly five hundred government officials, first responders, witnesses, survivors, friends, and family members. Here is a vivid, profound, and searing portrait of humanity on a day that changed the course of history, and all of our lives. 
---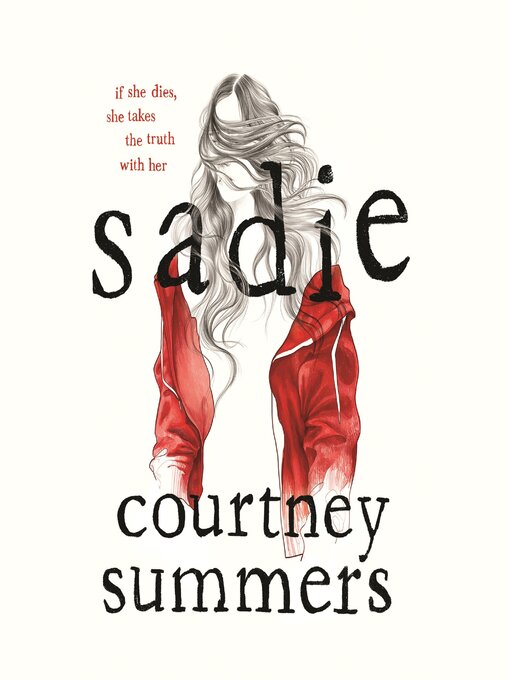 Sadie by Courtney Summers 
Playaway audiobook 
OverDrive audiobook 
hoopla audiobook 
A missing girl on a journey of revenge and a Serial-like podcast following the clues she's left behind.
Sadie hasn't had an easy life. Growing up on her own, she's been raising her sister Mattie in an isolated small town, trying her best to provide a normal life and keep their heads above water. But when Mattie is found dead, Sadie's entire world crumbles. After a somewhat botched police investigation, Sadie is determined to bring her sister's killer to justice and hits the road following a few meager clues to find him. When West McCray, a radio personality working on a segment about small, forgotten towns in America overhears Sadie's story at a local gas station, he becomes obsessed with finding the missing girl. He starts his own podcast as he tracks Sadie's journey, trying to figure out what happened, hoping to find her before it's too late. Courtney Summers' Sadie is propulsive and harrowing and will keep listeners riveted until the last track. 
---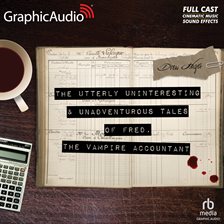 The Utterly Uninteresting And Unadventurous Tales Of Fred, The Vampire Accountant by Drew Hayes 
hoopla audiobook 
Some people are born boring. Some live boring. Some even die boring. Fred managed to do all three, and when he woke up as a vampire, he did so as a boring one. Timid, socially awkward, and plagued by self-esteem issues, Fred has never been the adventurous sort. One fateful night — different from the night he died, which was more inconvenient than fateful — Fred reconnects with an old friend at his high school reunion. This rekindled relationship sets off a chain of events thrusting him right into the chaos that is the parahuman world, a world with chipper zombies, truck driver wereponies, maniacal necromancers, ancient dragons, and now one undead accountant trying his best to "survive." Because even after it's over, life can still be a downright bloody mess!
---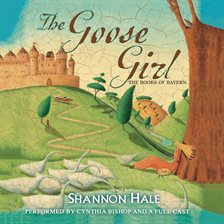 Books of Bayern series by Shannon Hale 
hoopla audiobooks, the complete series 
Book 1 The Goose Girl 
Princess Anidori-Kiladra of Kildenree was born with a word on her tongue and a secret magic. Though she is raised in luxury, she is never quite comfortable with who she is or what she is to become. Then she is sent on a journey to marry an unknown prince. The trip is difficult, and before it is finished all her expectations are overturned. Alone, friendless, stripped of her crown and her title, Ani must learn to make her own path in the world. Along the way, she just might learn to be a princess. 
Bold in concept, stunning in execution, The Goose Girl is one of the most spectacular debut novels of recent years. Now more than four dozen actors bring it to thrilling new life in this unabridged audio edition-a recording that will delight those who already love the book, and enthrall those who have not yet discovered it. 
---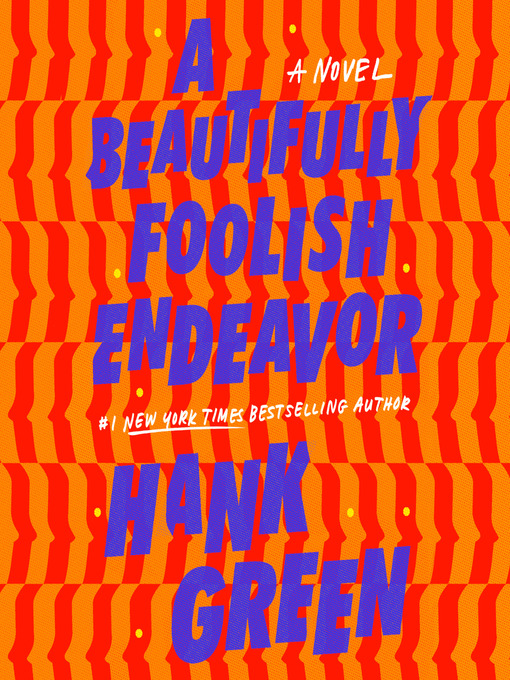 A Beautifully Foolish Endeavor by Hank Green 
OverDrive audiobook 
Who has the right to change the world forever? 
How will we live online? 
How do we find comfort in an increasingly isolated world? 
 
The Carls disappeared the same way they appeared, in an instant. While the robots were on Earth, they caused confusion and destruction with only their presence. Part of their maelstrom was the sudden viral fame and untimely death of April May: a young woman who stumbled into Carl's path, giving them their name, becoming their advocate, and putting herself in the middle of an avalanche of conspiracy theories. 
 
Months later, April's friends are trying to find their footing in a post-Carl world. Andy has picked up April's mantle of fame, speaking at conferences and online; Maya, ravaged by grief, begins to follow a string of mysteries that she is convinced will lead her to April; and Miranda is contemplating defying her friends' advice and pursuing a new scientific operation…one that might have repercussions beyond anyone's comprehension. Just as it is starting to seem like the gang may never learn the real story behind the events that changed their lives forever, a series of clues arrive—mysterious books that seem to predict the future and control the actions of their readers—all of which seems to suggest that April could be very much alive. In the midst of the search for the truth and the search for April is a growing force, something that wants to capture our consciousness and even control our reality. 
A Beautifully Foolish Endeavor is the bold and brilliant follow-up to An Absolutely Remarkable Thing. It is a fast-paced adventure that is also a biting social commentary, asking hard, urgent questions about the way we live, our freedoms, our future, and how we handle the unknown. 
---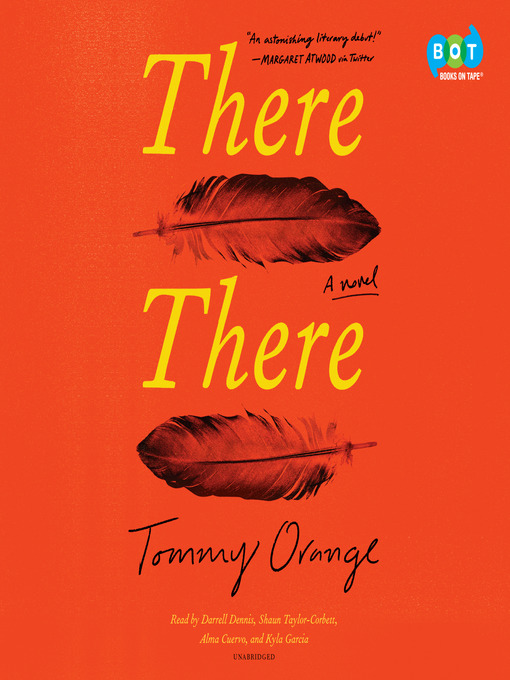 There, There by Tommy Orange 
book on CD 
Playaway audiobook 
OverDrive audiobook 
As we learn the reasons that each person is attending the Big Oakland Powwow—some generous, some fearful, some joyful, some violent—momentum builds toward a shocking yet inevitable conclusion that changes everything. Jacquie Red Feather is newly sober and trying to make it back to the family she left behind in shame. Dene Oxendene is pulling his life back together after his uncle's death and has come to work at the powwow to honor his uncle's memory. Opal Viola Victoria Bear Shield has come to watch her nephew Orvil, who has taught himself traditional Indian dance through YouTube videos and will perform in public for the very first time. There will be glorious communion, and a spectacle of sacred tradition and pageantry. And there will be sacrifice, and heroism, and loss. 
  
*All summaries courtesy of the publisher unless otherwise noted.