Read a book that is a retelling of a fairy tale, myth, or story.
Retellings put a new spin on fairy tales, myths, and other stories that have had a lasting impact on our collective imagination. This month, we challenge you to explore something old that has been made new again by reading a retelling. Find recommendations for adults, teens, tweens, and kids. Get more information about the Read 2021 Challenge here.
Adults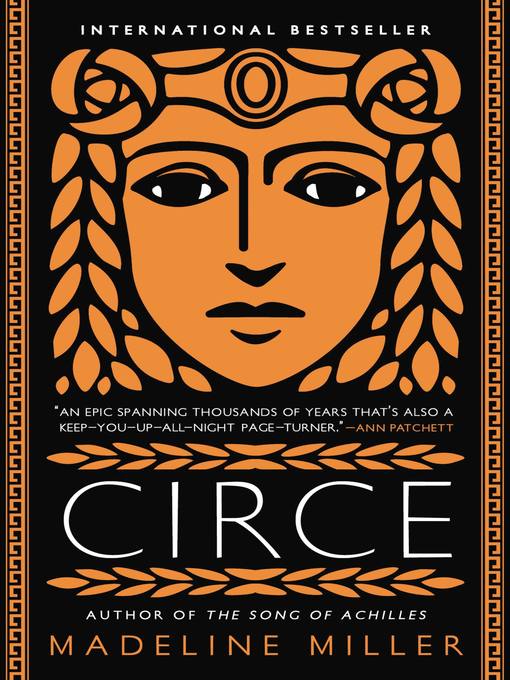 Circe by Madeline Miller
book
OverDrive ebook
OverDrive audiobook
In the house of Helios, god of the sun and mightiest of the Titans, a daughter is born. But Circe is a strange child—not powerful, like her father, nor viciously alluring like her mother. Turning to the world of mortals for companionship, she discovers that she does possess power—the power of witchcraft, which can transform rivals into monsters and menace the gods themselves.

Threatened, Zeus banishes her to a deserted island, where she hones her occult craft, tames wild beasts and crosses paths with many of the most famous figures in all of mythology, including the Minotaur, Daedalus and his doomed son Icarus, the murderous Medea, and, of course, wily Odysseus.

But there is danger, too, for a woman who stands alone, and Circe unwittingly draws the wrath of both men and gods, ultimately finding herself pitted against one of the most terrifying and vengeful of the Olympians. To protect what she loves most, Circe must summon all her strength and choose, once and for all, whether she belongs with the gods she is born from, or the mortals she has come to love.

With unforgettably vivid characters, mesmerizing language and page-turning suspense, Circe is a triumph of storytelling, an intoxicating epic of family rivalry, palace intrigue, love and loss, as well as a celebration of indomitable female strength in a man's world.
---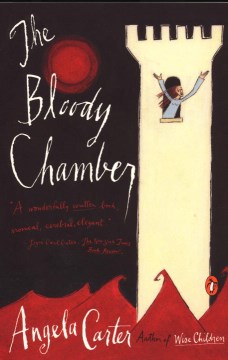 The Bloody Chamber and Other Stories by Angela Carter
book
Angela Carter was a storytelling sorceress, the literary godmother of Neil Gaiman, David Mitchell, Audrey Niffenegger, J. K. Rowling, Kelly Link, and other contemporary masters of supernatural fiction. In her masterpiece, The Bloody Chamber–which includes the story that is the basis of Neil Jordan's 1984 movie The Company of Wolves–she spins subversively dark and sensual versions of familiar fairy tales and legends like "Little Red Riding Hood," "Bluebeard," "Puss in Boots," and "Beauty and the Beast," giving them exhilarating new life in a style steeped in the romantic trappings of the gothic tradition.
---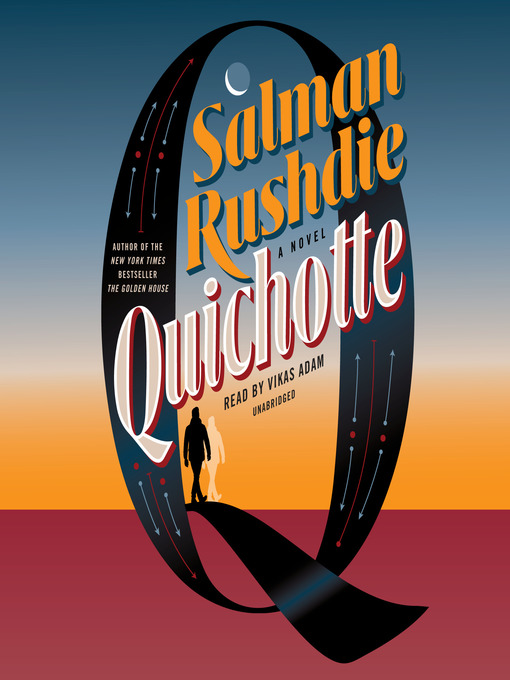 Quichotte by Salman Rushdie
book
OverDrive audiobook
Inspired by the Cervantes classic, Sam DuChamp, mediocre writer of spy thrillers, creates Quichotte, a courtly, addled salesman obsessed with television who falls in impossible love with a TV star. Together with his (imaginary) son Sancho, Quichotte sets off on a picaresque quest across America to prove worthy of her hand, gallantly braving the tragicomic perils of an age where "Anything-Can-Happen." Meanwhile, his creator, in a midlife crisis, has equally urgent challenges of his own.

Just as Cervantes wrote Don Quixote to satirize the culture of his time, Rushdie takes the reader on a wild ride through a country on the verge of moral and spiritual collapse. And with the kind of storytelling magic that is the hallmark of Rushdie's work, the fully realized lives of DuChamp and Quichotte intertwine in a profoundly human quest for love and a wickedly entertaining portrait of an age in which fact is so often indiscernible from fiction.
---
Gods of Jade and Shadow by Silvia Moreno-Garcia
book
The Jazz Age is in full swing, but Casiopea Tun is too busy cleaning the floors of her wealthy grandfather's house to listen to any fast tunes. Nevertheless, she dreams of a life far from her dusty small town in southern Mexico. A life she can call her own.

Yet this new life seems as distant as the stars, until the day she finds a curious wooden box in her grandfather's room. She opens it–and accidentally frees the spirit of the Mayan god of death, who requests her help in recovering his throne from his treacherous brother. Failure will mean Casiopea's demise, but success could make her dreams come true.

In the company of the strangely alluring god and armed with her wits, Casiopea begins an adventure that will take her on a cross-country odyssey from the jungles of Yucatán to the bright lights of Mexico City–and deep into the darkness of the Mayan underworld.
---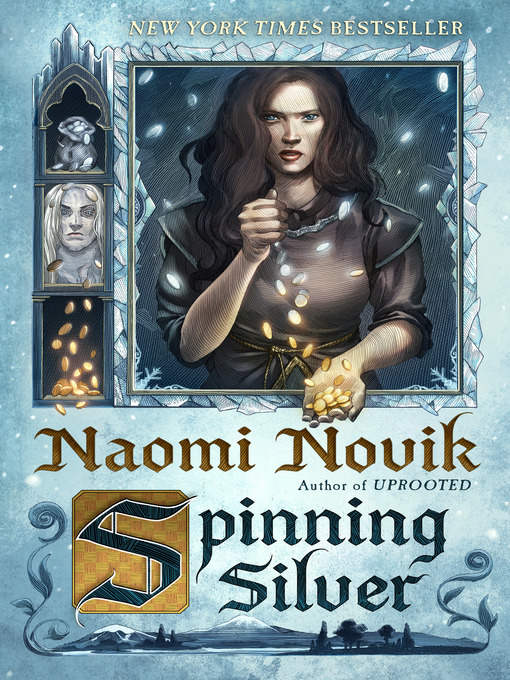 Spinning Silver by Naomi Novik
book
OverDrive ebook
Miryem is the daughter and granddaughter of moneylenders, but her father's inability to collect his debts has left his family on the edge of poverty—until Miryem takes matters into her own hands. Hardening her heart, the young woman sets out to claim what is owed and soon gains a reputation for being able to turn silver into gold. When an ill-advised boast draws the attention of the king of the Staryk—grim fey creatures who seem more ice than flesh—Miryem's fate, and that of two kingdoms, will be forever altered. She will face an impossible challenge and, along with two unlikely allies, uncover a secret that threatens to consume the lands of humans and Staryk alike.
---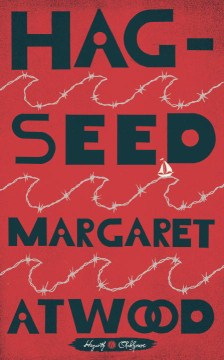 Hag-seed by Margaret Atwood
book
book on CD
Felix is at the top of his game as artistic director of the Makeshiweg Theatre Festival. Now he's staging a Tempest like no other: not only will it boost his reputation, but it will also heal emotional wounds. Or that was the plan. Instead, after an act of unforeseen treachery, Felix is living in exile in a backwoods hovel, haunted by memories of his beloved lost daughter, Miranda. And also brewing revenge, which, after twelve years, arrives in the shape of a theatre course at a nearby prison.

Margaret Atwood's novel take on Shakespeare's play of enchantment, retribution, and second chances leads us on an interactive, illusion-ridden journey filled with new surprises and wonders of its own.
---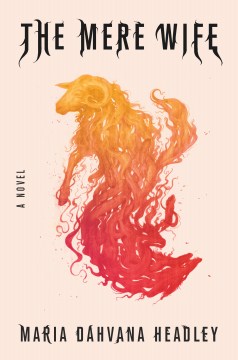 The Mere Wife by Maria Headley
hoopla audiobook
New York Times bestselling author Maria Dahvana Headley presents a modern retelling of the literary classic Beowulf, set in American suburbia as two mothers—a housewife and a battle-hardened veteran—fight to protect those they love in The Mere Wife.
From the perspective of those who live in Herot Hall, the suburb is a paradise. Picket fences divide buildings—high and gabled—and the community is entirely self-sustaining. Each house has its own fireplace, each fireplace is fitted with a container of lighter fluid, and outside—in lawns and on playgrounds—wildflowers seed themselves in neat rows. But for those who live surreptitiously along Herot Hall's periphery, the subdivision is a fortress guarded by an intense network of gates, surveillance cameras, and motion-activated lights.
For Willa, the wife of Roger Herot (heir of Herot Hall), life moves at a charmingly slow pace. She flits between mommy groups, playdates, cocktail hour, and dinner parties, always with her son, Dylan, in tow. Meanwhile, in a cave in the mountains just beyond the limits of Herot Hall lives Gren, short for Grendel, as well as his mother, Dana, a former soldier who gave birth as if by chance. Dana didn't want Gren, didn't plan Gren, and doesn't know how she got Gren, but when she returned from war, there he was. When Gren, unaware of the borders erected to keep him at bay, ventures into Herot Hall and runs off with Dylan, Dana's and Willa's worlds collide.
A retelling of Beowulf set in the suburbs, Maria Dahvana Headley's The Mere Wife turns the epic on its head, recasting the classic tale of monstrosity and loss from the perspective of those presumed to be on the attack.
---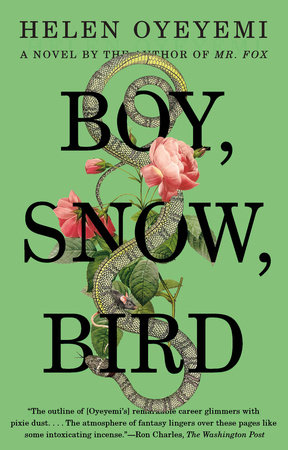 Boy, Snow, Bird by Helen Oyeyemi
hoopla audiobook
In the winter of 1953, Boy Novak arrives by chance in a small town in Massachusetts looking, she believes, for beauty—the opposite of the life she's left behind in New York. She marries Arturo Whitman, a local widower, and becomes stepmother to his winsome daughter, Snow.
A wicked stepmother is a creature Boy never imagined she'd become, but elements of the familiar tale of aesthetic obsession begin to play themselves out when the birth of Boy's daughter, Bird, who is dark-skinned, exposes the Whitmans as light-skinned African-Americans passing for white. And even as Boy, Snow, and Bird are divided, their estrangement is complicated by an insistent curiosity about one another. In seeking an understanding that is separate from the image each presents to the world, Boy, Snow, and Bird confront the tyranny of the mirror to ask how much power surfaces really hold.
Dazzlingly inventive and powerfully moving, Boy, Snow, Bird is an astonishing and enchanting novel. With breathtaking feats of imagination, Helen Oyeyemi confirms her place as one of the most original and dynamic literary voices of our time.
---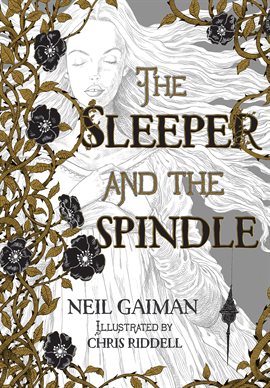 Sleeper and the Spindle by Neil Gaiman
book
hoopla ebook
hoopla audiobook
freading ebook
In a beautiful collaboration, New York Times bestselling and Newbery and Carnegie Medal-winning author Neil Gaiman and Kate Greenaway-winning illustrator Chris Riddell have created a thrillingly reimagined fairy tale. The result is a beautiful and coveted edition of The Sleeper and the Spindle. In this captivating and darkly funny tale, Neil Gaiman and Chris Riddell have twisted together the familiar and the new as well as the beautiful and the wicked to tell a brilliant version of Snow White's (sort of) and Sleeping Beauty's (almost) stories.
Teens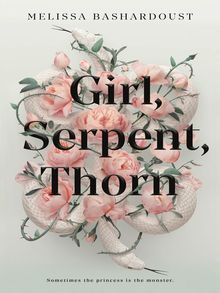 Girl, Serpent, Thorn by Melissa Bashardoust
book
book on CD
Playaway audiobook
Melissa Bashardoust's Girl, Serpent, Thorn is "an alluring feminist fairy tale" (Kirkus Reviews) about a girl cursed to be poisonous to the touch and who discovers what power might lie in such a curse.

There was and there was not, as all stories begin, a princess cursed to be poisonous to the touch. But for Soraya, who has lived her life hidden away, apart from her family, safe only in her gardens, it's not just a story. As the day of her twin brother's wedding approaches, Soraya must decide if she's willing to step outside of the shadows for the first time. Below in the dungeon is a demon who holds knowledge that she craves, the answer to her freedom. And above is a young man who isn't afraid of her, whose eyes linger not with fear, but with an understanding of who she is beneath the poison. Soraya thought she knew her place in the world, but when her choices lead to consequences she never imagined, she begins to question who she is and who she is becoming…human or demon. Princess or monster.
---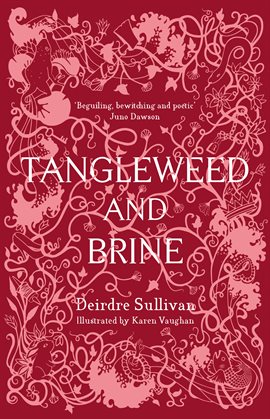 Tangleweed and Brine by Deirdre Sullivan
book
hoopla ebook
Bewitched retellings of classic fairy-tales with brave and resilient heroines. In the tradition of Angela Carter, stories such as Cinderella and Rumpelstiltskin are given a witchy makeover. Tales of blood and intrigue, betrayal, and enchantment from a leading Irish YA author–not for the faint-hearted or damsels in distress. Intricately illustrated with black and white line drawings, in the style of Aubrey Beardsley, by a new Irish illustrator.
---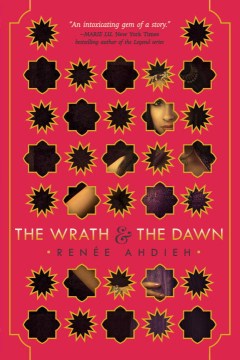 The Wrath & the Dawn by Renee Ahdieh
book
OverDrive ebook
Every dawn brings horror to a different family in a land ruled by a killer. Khalid, the eighteen-year-old Caliph of Khorasan, takes a new bride each night only to have her executed at sunrise. So it is a suspicious surprise when sixteen-year-old Shahrzad volunteers to marry Khalid. But she does so with a clever plan to stay alive and exact revenge on the Caliph for the murder of her best friend and countless other girls. Shazi's wit and will, indeed, get her through to the dawn that no others have seen, but with a catch . . . she's falling in love with the very boy who killed her dearest friend.

She discovers that the murderous boy-king is not all that he seems and neither are the deaths of so many girls. Shazi is determined to uncover the reason for the murders and to break the cycle once and for all.
---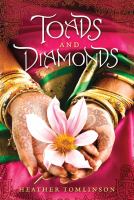 Toads and Diamonds by Heather Tomlinson
book
Diribani never expected to meet a goddess at the village well, much less one who grants her a remarkable gift: Flowers and precious jewels drop from her lips whenever she talks. Tana is happy for her beloved stepsister, yet when she encounters the goddess, she finds herself speaking snakes and toads. While Diribani's newfound wealth brings her a prince, Tana is chased out of the village because the province's governor fears snakes, though thousands are dying of a plague spread by rats. As their fates hang in the balance, each sister struggles to understand her gift. Will it bring her wisdom, good fortune . . . or death? Diribani never expected to meet a goddess at the village well, much less one who grants her a remarkable gift: Flowers and precious jewels drop from her lips whenever she talks. Tana is happy for her beloved stepsister, yet when she encounters the goddess, she finds herself speaking snakes and toads. While Diribani's newfound wealth brings her a prince, Tana is chased out of the village because the province's governor fears snakes, though thousands are dying of a plague spread by rats. As their fates hang in the balance, each sister struggles to understand her gift. Will it bring her wisdom, good fortune . . . or death?
---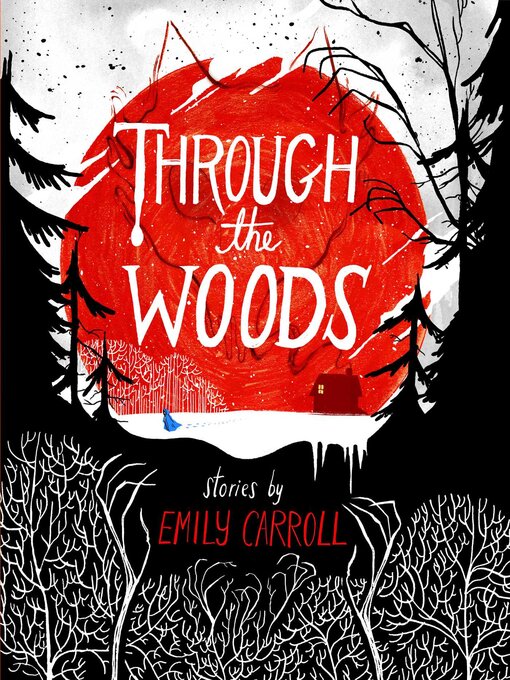 Through the Woods by Emily Carroll
book
OverDrive ebook
Discover a terrifying world in the woods in this collection of five hauntingly beautiful graphic stories that includes the online webcomic sensation "His Face All Red," in print for the first time.
Journey through the woods in this sinister, compellingly spooky collection that features four brand-new stories and one phenomenally popular tale in print for the first time. These are fairy tales gone seriously wrong, where you can travel to "Our Neighbor's House"—though coming back might be a problem. Or find yourself a young bride in a house that holds a terrible secret in "A Lady's Hands Are Cold." You might try to figure out what is haunting "My Friend Janna," or discover that your brother's fiancée may not be what she seems in "The Nesting Place." And of course you must revisit the horror of "His Face All Red," the breakout webcomic hit that has been gorgeously translated to the printed page.
Already revered for her work online, award-winning comic creator Emily Carroll's stunning visual style and impeccable pacing is on grand display in this entrancing anthology, her print debut.
---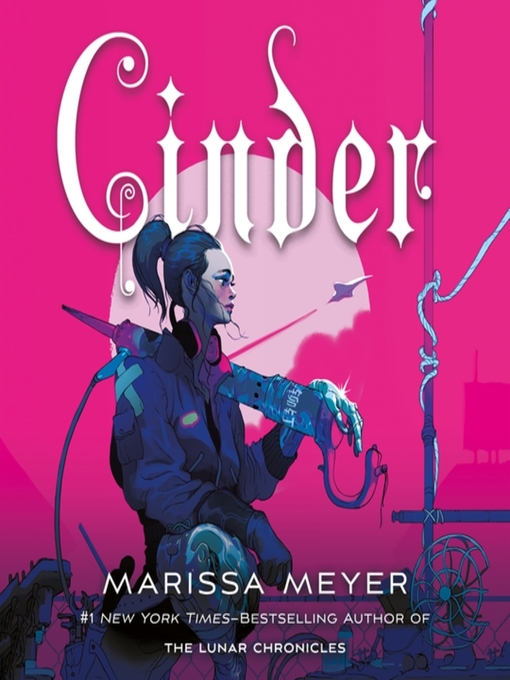 Cinder by Marissa Meyer
book
book on CD
OverDrive ebook
OverDrive audiobook
hoopla audiobook
Humans and androids crowd the raucous streets of New Beijing. A deadly plague ravages the population. From space, a ruthless lunar people watch, waiting to make their move. No one knows that Earth's fate hinges on one girl. . . .
Cinder, a gifted mechanic, is a cyborg. She's a second-class citizen with a mysterious past, reviled by her stepmother and blamed for her stepsister's illness. But when her life becomes intertwined with the handsome Prince Kai's, she suddenly finds herself at the center of an intergalactic struggle, and a forbidden attraction. Caught between duty and freedom, loyalty and betrayal, she must uncover secrets about her past in order to protect her world's future.
---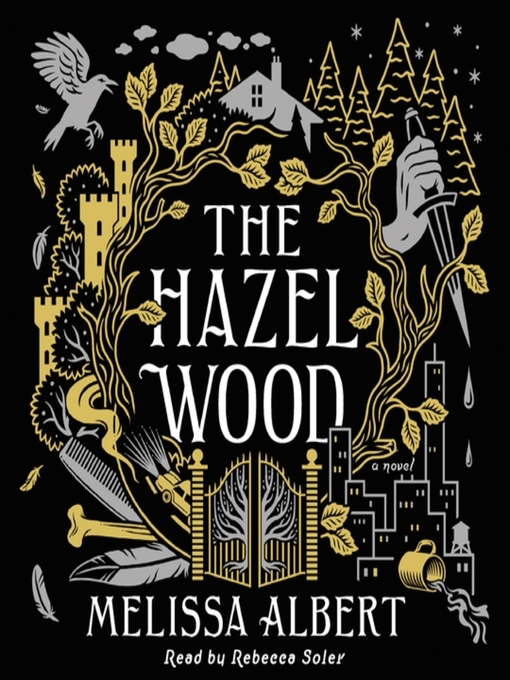 The Hazel Wood by Melissa Albert
book
large print book
book on CD
OverDrive ebook
OverDrive audiobook
hoopla audiobook
Seventeen-year-old Alice and her mother have spent most of Alice's life on the road, always a step ahead of the uncanny bad luck biting at their heels. But when Alice's grandmother, the reclusive author of a cult-classic book of pitch-dark fairy tales, dies alone on her estate, the Hazel Wood, Alice learns how bad her luck can really get: Her mother is stolen away—by a figure who claims to come from the Hinterland, the cruel supernatural world where her grandmother's stories are set. Alice's only lead is the message her mother left behind: "Stay away from the Hazel Wood."
Alice has long steered clear of her grandmother's cultish fans. But now she has no choice but to ally with classmate Ellery Finch, a Hinterland superfan who may have his own reasons for wanting to help her. To retrieve her mother, Alice must venture first to the Hazel Wood, then into the world where her grandmother's tales began—and where she might find out how her own story went so wrong.
---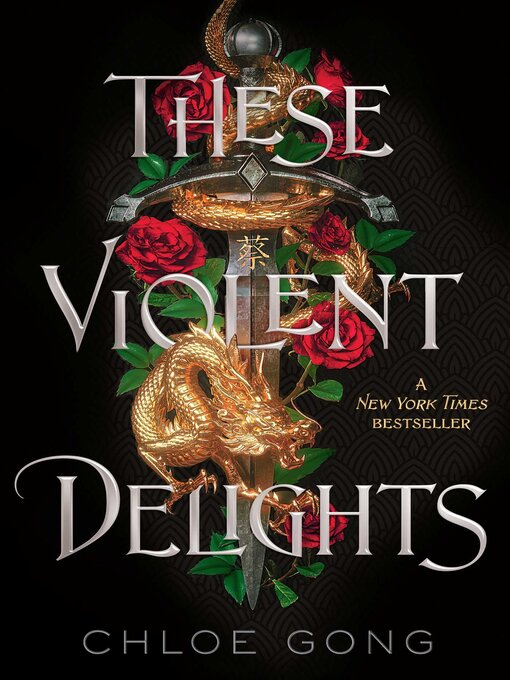 These Violent Delights by Chloe Gong
book
OverDrive ebook
OverDrive audiobook
hoopla audiobook
The year is 1926, and Shanghai hums to the tune of debauchery. A blood feud between two gangs runs the streets red, leaving the city helpless in the grip of chaos. At the heart of it all is eighteen-year-old Juliette Cai, a former flapper who has returned to assume her role as the proud heir of the Scarlet Gang–a network of criminals far above the law. Their only rivals in power are the White Flowers, who have fought the Scarlets for generations. And behind every move is their heir, Roma Montagov, Juliette's first love…and first betrayal. But when gangsters on both sides show signs of instability culminating in clawing their own throats out, the people start to whisper. Of a contagion, a madness. Of a monster in the shadows. As the deaths stack up, Juliette and Roma must set their guns–and grudges–aside and work together, for if they can't stop this mayhem, then there will be no city left for either to rule.
---
The Seafarer's Kiss by Julia Ember
book
hoopla ebook
freading ebook
Having long-wondered what lives beyond the ice shelf, nineteen-year-old mermaid Ersel learns of the life she wants when she rescues and befriends Ragna, a shield-maiden stranded on the mermen's glacier. But when Ersel's childhood friend and suitor catches them together, he gives Ersel a choice: say goodbye to Ragna or face justice at the hands of the glacier's brutal king.

Determined to forge a different fate, Ersel seeks help from Loki. But such deals are never as one expects, and the outcome sees her exiled from the only home and protection she's known. To save herself from perishing in the barren, underwater wasteland and be reunited with the human she's come to love, Ersel must try to outsmart the God of Lies.
Tweens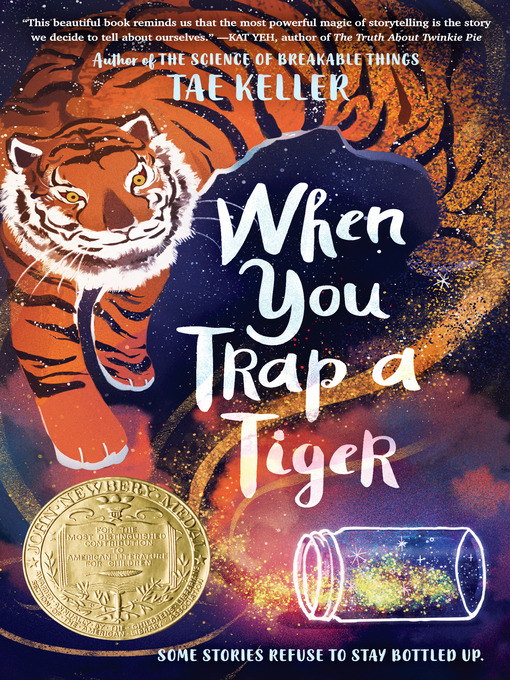 When You Trap a Tiger by Tae Keller
book
OverDrive ebook
OverDrive audiobook
Would you make a deal with a magical tiger? This uplifting story brings Korean folklore to life as a girl goes on a quest to unlock the power of stories and save her grandmother.

Some stories refuse to stay bottled up…

When Lily and her family move in with her sick grandmother, a magical tiger straight out of her halmoni's Korean folktales arrives, prompting Lily to unravel a secret family history. Long, long ago, Halmoni stole something from the tigers. Now they want it back. And when one of the tigers approaches Lily with a deal—return what her grandmother stole in exchange for Halmoni's health—Lily is tempted to agree. But deals with tigers are never what they seem! With the help of her sister and her new friend Ricky, Lily must find her voice…and the courage to face a tiger.
---
Breadcrumbs by Anne Ursu
book
book on CD
hoopla ebook
hoopla audiobook
Freading ebook
Once upon a time, Hazel and Jack were best friends. They had been best friends since they were six, spending hot Minneapolis summers and cold Minneapolis winters together, dreaming of Hogwarts and Oz, superheroes and baseball. Now that they were eleven, it was weird for a boy and a girl to be best friends. But they couldn't help it–Hazel and Jack fit, in that way you only read about in books. And they didn't fit anywhere else. And then, one day, Jack just stopped talking to Hazel. And while her mom tried to tell her that this sometimes happens to friends at this age, Hazel had read enough stories to know that it's never that simple. And it turns out she was right. Jack's heart had been frozen, and he was taken into the woods by a woman dressed in white to live in a palace made of ice. Now it's up to Hazel to venture into the woods after him.
---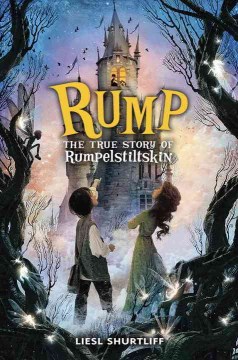 Rump by Liesl Shurtliff
book
OverDrive ebook
OverDrive audiobook
In a magic kingdom where your name is your destiny, 12-year-old Rump is the butt of everyone's joke. But when he finds an old spinning wheel, his luck seems to change. Rump discovers he has a gift for spinning straw into gold. His best friend, Red Riding Hood, warns him that magic is dangerous, and she's right. With each thread he spins, he weaves himself deeper into a curse.

To break the spell, Rump must go on a perilous quest, fighting off pixies, trolls, poison apples, and a wickedly foolish queen. The odds are against him, but with courage and friendship—and a cheeky sense of humor—he just might triumph in the end.
---
Ratpunzel by Ursula Vernon
book
hoopla audiobook
Princess Harriet Hamsterbone does not like sitting around at home. How's a princess supposed to have any fun when her parents are constantly reminding her to be careful and act princessly? So when her pal Prince Wilbur needs help finding a stolen hydra egg, Harriet happily takes up the quest. The thief's trail leads them to a wicked witch and a tall tower, occupied by a rat whose tail has more to it than meets the eye
---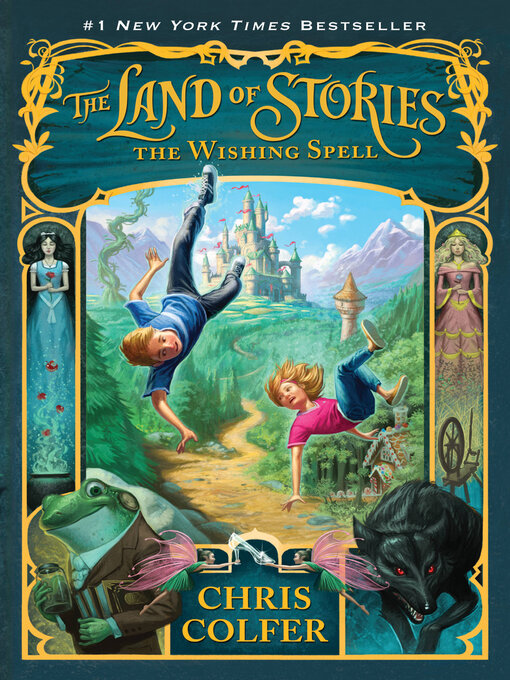 The Wishing Spell by Chris Colfer
book
OverDrive ebook
OverDrive audiobook
Alex and Conner Bailey's world is about to change, in this fast-paced adventure that uniquely combines our modern day world with the enchanting realm of classic fairy tales.

The Land of Stories tells the tale of twins Alex and Conner. Through the mysterious powers of a cherished book of stories, they leave their world behind and find themselves in a foreign land full of wonder and magic where they come face-to-face with fairy tale characters they grew up reading about.

But after a series of encounters with witches, wolves, goblins, and trolls alike, getting back home is going to be harder than they thought.
---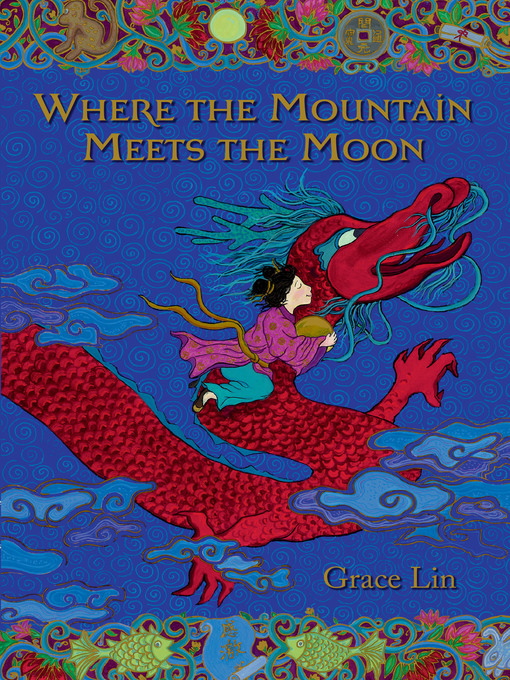 Where the Mountain Meets the Moon by Grace Lin
book
OverDrive ebook
In the valley of Fruitless mountain, a young girl named Minli lives in a ramshackle hut with her parents. In the evenings, her father regales her with old folktales of the Jade Dragon and the Old Man on the Moon, who knows the answers to all of life's questions. Inspired by these stories, Minli sets off on an extraordinary journey to find the Old Man on the Moon to ask him how she can change her family's fortune. She encounters an assorted cast of characters and magical creatures along the way, including a dragon who accompanies her on her quest for the ultimate answer.
---
Aru Shah and the End of Time by Roshani Chokshi
book
large print book
hoopla ebook
Best-selling author Rick Riordan introduces this adventure by Roshani Chokshi about twelve-year-old Aru Shah, who has a tendency to stretch the truth in order to fit in at school. While her classmates are jetting off to family vacations in exotic locales, she'll be spending her autumn break at home, in the Museum of Ancient Indian Art and Culture, waiting for her mom to return from her latest archeological trip. Is it any wonder that Aru makes up stories about being royalty, traveling to Paris, and having a chauffeur? One day, three schoolmates show up at Aru's doorstep to catch her in a lie. They don't believe her claim that the museum's Lamp of Bharata is cursed, and they dare Aru to prove it. Just a quick light, Aru thinks. Then she can get herself out of this mess and never ever fib again. But lighting the lamp has dire consequences. She unwittingly frees the Sleeper, an ancient demon whose duty it is to awaken the God of Destruction. Her classmates and beloved mother are frozen in time, and it's up to Aru to save them. The only way to stop the demon is to find the reincarnations of the five legendary Pandava brothers, protagonists of the Hindu epic poem, the Mahabharata, and journey through the Kingdom of Death. But how is one girl in Spider-Man pajamas supposed to do all that?
---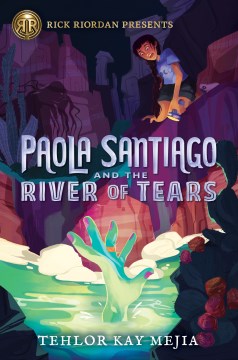 Paola Santiago and the River of Tears by Tehlor Kay Mejia
book
hoopla ebook
Space-obsessed 12-year-old Paola Santiago and her two best friends, Emma and Dante, know the rule: Stay away from the river. It's all they've heard since a schoolmate of theirs drowned a year ago. Pao is embarrassed to admit that she has been told to stay away for even longer than that, because her mother is constantly warning her about La Llorona, the wailing ghost woman who wanders the banks of the Gila at night, looking for young people to drag into its murky depths.

Hating her mother's humiliating superstitions and knowing that she and her friends would never venture into the water, Pao organizes a meet-up to test out her new telescope near the Gila, since it's the best stargazing spot. But when Emma never arrives and Pao sees a shadowy figure in the reeds, it seems like maybe her mom was right…Pao has always relied on hard science to make sense of the world, but to find her friend she will have to enter the world of her nightmares, which includes unnatural mist, mind-bending monsters, and relentless spirits controlled by a terrifying force that defies both logic and legend.
---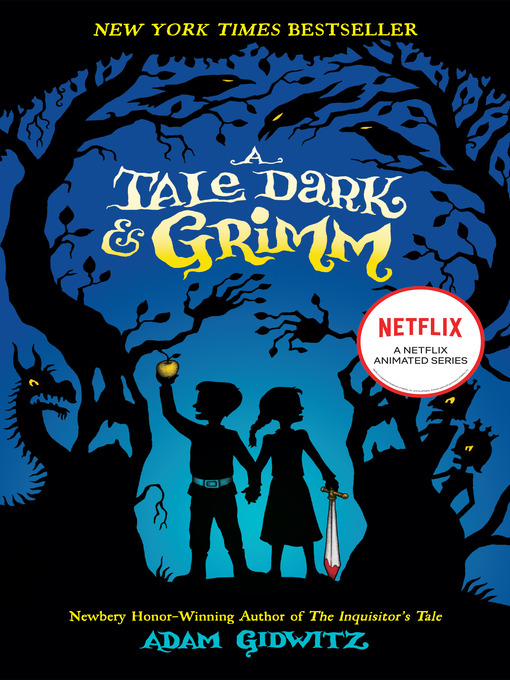 A Tale Dark and Grimm by Adam Gidwitz
book
book on CD
OverDrive ebook
In this mischievous and utterly original debut, Hansel and Gretel walk out of their own story and into eight other classic Grimm-inspired tales. As readers follow the siblings through a forest brimming with menacing foes, they learn the true story behind (and beyond) the bread crumbs, edible houses, and outwitted witches.
Fairy tales have never been more irreverent or subversive as Hansel and Gretel learn to take charge of their destinies and become the clever architects of their own happily ever after.
Kids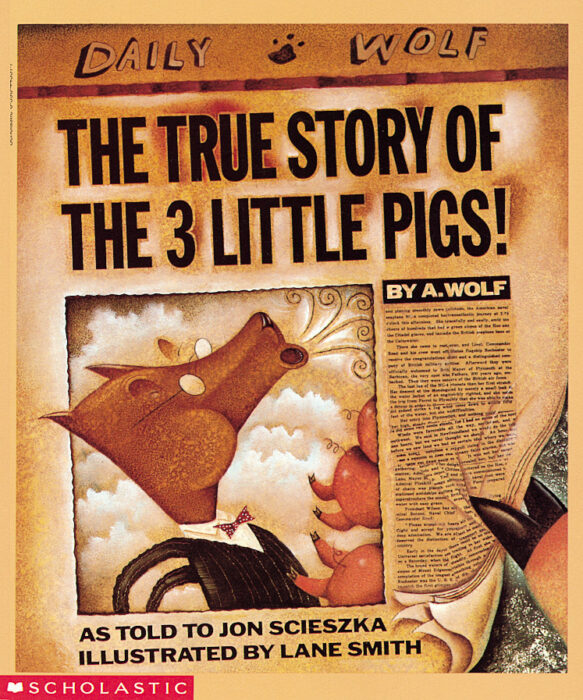 The True Story of the Three Little Pigs by Jon Scieszka
book
hoopla audiobook
hoopla video
The big bad wolf has spent ten years in pig prison for the destruction of the three little pigs, and he has quite a story to tell that just might prove his innocence!
Alexander T. Wolf writes his own account of this infamous meeting, and insists that he was railroaded in the classic fairytale. After all, it was only an innocent sneeze (he had a bad cold), and all he wanted was to borrow a cup of sugar from one of the pigs. Why is he now the bad guy?
Smith's colorful and humorous illustrations put an interesting spin on the comical text. An engaging read for young readers. Teachers and parents will get a kick out of it too!
---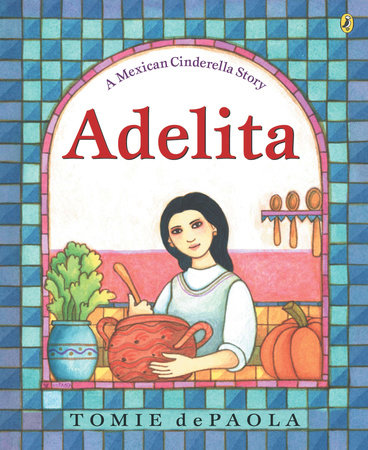 Adelita by Tomie DePaola
book
Hace mucho tiempo—a long time ago—there lived a beautiful young woman named Adelita. So begins the age-old tale of a kindhearted young woman, her jealous stepmother, two hateful stepsisters, and a young man in search of a wife. The young man, Javier, falls madly in love with beautiful Adelita, but she disappears from his fiesta at midnight, leaving him with only one clue to her hidden identity: a beautiful rebozo—shawl. With the rebozo in place of a glass slipper, this favorite fairy tale takes a delightful twist. Tomie dePaola's exquisite paintings, filled with the folk art of Mexico, make this a Cinderella story like no other.
---
After the Fall by Dan Santat
book
Everyone knows that when Humpty Dumpty sat on a wall, Humpty Dumpty had a great fall. But what happened after?
Caldecott Medalist Dan Santat's poignant tale follows Humpty Dumpty, an avid bird watcher whose favorite place to be is high up on the city wall—that is, until after his famous fall. Now terrified of heights, Humpty can longer do many of the things he loves most.
Will he summon the courage to face his fear?
---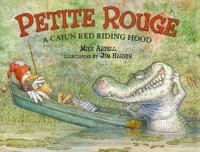 Petite Rouge by Mike Artell
book
hoopla audiobook
Big Bad Gator Claude will do anything to have a taste of Petite Rouge…even if it means putting on a duck bill, flippers, and frilly underwear. He presents no match for the spunky heroine and her quick-thinking cat TeJean, though, as they use some strong Cajun hot sauce to teach Claude a lesson he will never forget
The combination of hilarious rhyme and exaggerated art creates a highly original retelling of the classic fairy tale. A pronunciation guide/glossary accompanies a tempting dialect that begs to be read aloud or acted out again and again. This is Little Red Riding Hood as she's never been seen before: Cajun and ducky.
---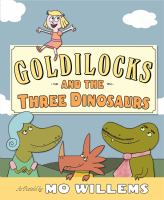 Goldilocks and the Three Dinosaurs by Mo Willems
book
hoopla audiobook
hoopla video
Once upon a time, there were three hungry Dinosaurs: Papa Dinosaur, Mama Dinosaur . . . and a Dinosaur who happened to be visiting from Norway.
One day–for no particular reason–they decided to tidy up their house, make the beds, and prepare pudding of varying temperatures. And then–for no particular reason–they decided to go . . . someplace else. They were definitely not setting a trap for some succulent, unsupervised little girl.
---
The Little Mermaid by Jerry Pinkney
book
Melody, the littlest sea princess, is not content just to sing in the choir of mermaids like her sisters. She is an explorer who wonders about what lies above the water's surface . . . especially the young girl she has spied from a distance. To meet her requires a terrible sacrifice: she trades her beautiful voice for a potion that gives her legs, so that she may live on land instead. It seems like a dream come true at first. But when trouble stirs beneath the ocean, Melody faces another impossible choice — stay with her friend, or reclaim her true identity and save her family.

Legendary artist Jerry Pinkney's singular reinvention of this tale about love and sacrifice empowers young, twenty-first century girls with the strong message that you should never give up your voice . . . for anyone.
---
Lon Po Po by Ed Young
book
PlayAway video
hoopla audiobook
In this Chinese version of the classic fairy tale, a mother leaves her three children home alone while she goes to visit their grandmother. When the children are visited by a wolf, pretending to be their Po Po, or granny, they let him in the house, but ultimately are not fooled by his deep voice and hairy face. Combining ancient Chinese panel art techniques with a contemporary palette of watercolors and pastels, this powerful story brings lessons about strangers, trust and courage to a new generation.
---
Just a Minute by Yuyi Morales
book
In this version of a traditional tale, Senor Calavera arrives at Grandma Beetle's door, ready to take her to the next life, but after helping her count, in English and Spanish, as she makes her birthday preparations, he changes his mind.
---
Interstellar Cinderella by Deborah Underwood
book
hoopla ebook
Once upon a planetoid,
amid her tools and sprockets,
a girl named Cinderella dreamed
of fixing fancy rockets.
With a little help from her fairy godrobot, Cinderella is going to the ball. But when the prince's ship has mechanical trouble, someone will have to zoom to the rescue Readers will thank their lucky stars for this irrepressible fairy tale retelling, its independent heroine, and its stellar happy ending.
---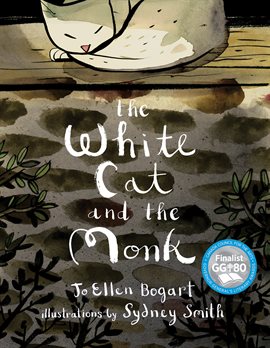 The White Cat and the Monk: A Retelling of the Poem Pangur Bán by Jo Ellen Bogart
book
hoopla ebook
A monk leads a simple life. He studies his books late into the evening and searches for truth in their pages. His cat, Pangur, leads a simple life, too, chasing prey in the darkness. As night turns to dawn, Pangur leads his companion to the truth he has been seeking.
The White Cat and the Monk is a retelling of the classic Old Irish poem "Pangur Bán." With Jo Ellen Bogart's simple and elegant narration and Sydney Smith's classically inspired images, this contemplative story pays tribute to the wisdom of animals and the wonders of the natural world.
---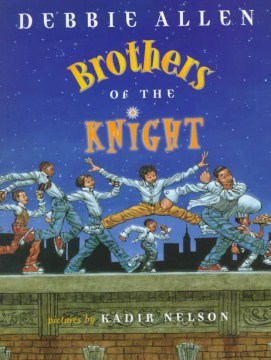 Brothers of the Knight by Debbie Allen
book
Reverend Knight can't understand why his twelve sons' sneakers are torn to threads each and every morning, and the boys aren't talking. They know their all-night dancing wouldn't fit with their father's image in the community. Maybe Sunday, a pretty new nanny with a knack for getting to the bottom of household mysteries, can crack the case. This modern, hip retelling of the classic tale The Twelve Dancing Princesses bursts with vibrant artwork and text that's as energetic as the twelve toe-tapping Knight brothers themselves.
*All summaries courtesy of the publisher unless otherwise noted.