Put your sleuthing skills to the test with these mysteries and thrillers featuring private investigators. Curated by Ashley Lee.
Comoran Strike series by Robert Galbraith
books (complete series)
books on CD
OverDrive audiobook (complete series)
OverDrive ebooks (complete series)

Book #1 The Cuckoo's Calling
After losing his leg to a land mine in Afghanistan, Cormoran Strike is barely scraping by as a private investigator. Strike is down to one client, creditors are calling, and after a breakup with his longtime girlfriend, he's living in his office. Then John Bristow walks through his door with a shocking story: His sister, the legendary supermodel Lula Landry — known to her friends as the Cuckoo — famously fell to her death a few months earlier. The police ruled it a suicide, but John refuses to believe that. The case plunges Strike into the world of multimillionaire beauties, rock-star boyfriends, and desperate designers, and it introduces him to every variety of pleasure, enticement, seduction, and delusion known to man. You may think you know detectives, but you've never met one quite like Strike. You may think you know about the wealthy and famous, but you've never seen them under an investigation like this.
---
Maisie Dobbs series by Jacqueline Winspear
books (complete series)
books on CD
OverDrive audiobooks (complete series)
OverDrive ebooks
hoopla ebooks
hoopla audiobooks (complete series)
Book #1 Maisie Dobbs
The book that introduced the world to the intuitive, intelligent, and resourceful heroine Maisie Dobbs—one of literature's favorite sleuths!
Maisie Dobbs entered domestic service in 1910 at thirteen, working for Lady Rowan Compton. When her remarkable intelligence is discovered by her employer, Maisie becomes the pupil of Maurice Blanche, a learned friend of the Comptons. In 1929, following an apprenticeship with Blanche, Maisie hangs out her shingle: M. Dobbs, Trade and Personal Investigations. She soon becomes enmeshed in a mystery surrounding The Retreat, a reclusive community of wounded World War I veterans. At first, Maisie only suspects foul play, but she must act quickly when Lady Rowan's son decides to sign away his fortune and take refuge there. Maisie hurriedly investigates, uncovering a disturbing mystery, which, in an astonishing denouement, gives Maisie the courage to confront a ghost that has haunted her for years.
---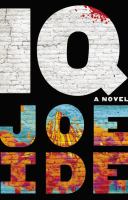 IQ series by Joe Ide
books (complete series)
OverDrive ebook
Book #1 IQ
A resident of one of LA's toughest neighborhoods uses his blistering intellect to solve the crimes the LAPD ignores. East Long Beach. The LAPD is barely keeping up with the neighborhood's high crime rate. Murders go unsolved, lost children unrecovered. But someone from the neighborhood has taken it upon himself to help solve the cases the police can't or won't touch. They call him IQ. He's a loner and a high school dropout, his unassuming nature disguising a relentless determination and a fierce intelligence. He charges his clients whatever they can afford, which might be a set of tires or a homemade casserole. To get by, he's forced to take on clients that can pay. This time, it's a rap mogul whose life is in danger. As Isaiah investigates, he encounters a vengeful ex-wife, a crew of notorious cutthroats, a monstrous attack dog, and a hit man who even other hit men say is a lunatic. The deeper Isaiah digs, the more far reaching and dangerous the case becomes.
---
Leonid McGill series by Walter Mosley
books (complete series)
books on CD
Book #1 The Long Fall
His name is etched on the door of his Manhattan office: LEONID McGILL, PRIVATE INVESTIGATOR. It's a name that takes a little explaining, but he's used to it. "Daddy was a communist and great-great-Granddaddy was a slave master from Scotland. You know, the black man's family tree is mostly root. Whatever you see aboveground is only a hint at the real story."
Ex-boxer, hard drinker, in a business that trades mostly in cash and favors: McGill's an old-school P.I. working a city that's gotten fancy all around him. Fancy or not, he has always managed to get by—keep a roof over the head of his wife and kids, and still manage a little fun on the side—mostly because he's never been above taking a shady job for a quick buck. But like the city itself, McGill is turning over a new leaf, "decided to go from crooked to slightly bent."
New York City in the twenty-first century is a city full of secrets—and still a place that reacts when you know where to poke and which string to pull. That's exactly the kind of thing Leonid McGill knows how to do. As soon as The Long Fall begins, with McGill calling in old markers and greasing NYPD palms to unearth some seemingly harmless information for a high-paying client, he learns that even in this cleaned-up city, his commitment to the straight and narrow is going to be constantly tested.
---
Marion Lane and the Midnight Murder by T.A. Willberg
book
OverDrive ebook
hoopla audiobook
Book #1 in new series
The letter was short. A name, a time, a place.
Marion Lane and the Midnight Murder plunges readers into the heart of London, to the secret tunnels that exist far beneath the city streets. There, a mysterious group of detectives recruited for Miss Brickett's Investigations & Inquiries use their cunning and gadgets to solve crimes that have stumped Scotland Yard.
Late one night in April 1958, a filing assistant at Miss Brickett's receives a letter of warning, detailing a name, a time, and a place. She goes to investigate but finds the room empty. At the stroke of midnight, she is murdered by a killer she can't see–her death the only sign she wasn't alone. It becomes chillingly clear that the person responsible must also work for Miss Brickett's, making everyone a suspect.
Marion Lane, a first-year Inquirer-in-training, finds herself drawn ever deeper into the investigation. When her friend and colleague is framed for the crime, to clear his name she must sort through the hidden alliances at Miss Brickett's and secrets dating back to WWII. Masterful, clever and deliciously suspenseful, Marion Lane and the Midnight Murder is a fresh take on the Agatha Christie-style locked-room murder mystery, with an exciting new heroine detective.
---
Jackson Brodie series by Kate Atkinson
books (complete series)
books on CD
OverDrive ebooks
hoopla audiobook
Book #1 Case Histories
Cambridge is sweltering, during an unusually hot summer. To Jackson Brodie, former police inspector turned private investigator, the world consists of one accounting sheet – Lost on the left, Found on the right – and the two never seem to balance. His days are full of people clamoring for answers and explanations. A jealous husband suspects his wife. Two spinster sisters make a shocking find. A solicitor investigates an old murder. A nurse has lost her niece; a widow, her cats. Jackson has never felt at home in Cambridge, and has a failed marriage to prove it. He is forty-five but feels much, much older. He is at that dangerous age when men suddenly notice that they're going to die eventually, inevitably, and there isn't a damn thing they can do about it. Surrounded by death, intrigue and misfortune, his own life is brought sharply into focus.
---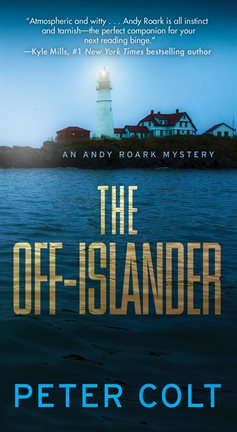 Andy Roark series by Peter Cook
2nd book
hoopla ebooks (complete series)
hoopla audiobooks (complete series)
Book #1 The Off-Islander
In Peter Colt's gritty, gripping new series set along the New England coast, a Boston-born Vietnam veteran and P.I. is hired to find a missing father, but may find far more than he bargained for.
Boston, 1982. Private investigator Andy Roark has spent the past decade trying to rediscover his place in the world. In Vietnam, there was order and purpose. Everything-no matter how brutal-happened for a reason. Back home, after brief stints in college and with the police force, Roark has settled for a steady, easy routine of divorce and insurance fraud cases.
Roark's childhood friend, Danny Sullivan, dragged himself out of blue-collar Southie to become a respected and powerful lawyer. Now he wants Roark to help one of his clients with a sensitive request. Deborah Swift, wealthy wife of an aspiring California politician, is trying to trace her father, last seen on Cape Cod, who walked out on her and her mother long ago. Other investigators have turned up nothing, but Roark's local connections might give him an edge.
The case takes Roark to the island of Nantucket, tranquil in its off-season, and laden with picturesque charm. Yet even here, on the quaint cobblestone streets and pristine beaches, Roark's finely honed senses alert him to danger just below the surface. Nothing is quite as it seems. And the biggest case of Roark's career may just shatter what little peace of mind he has left.
---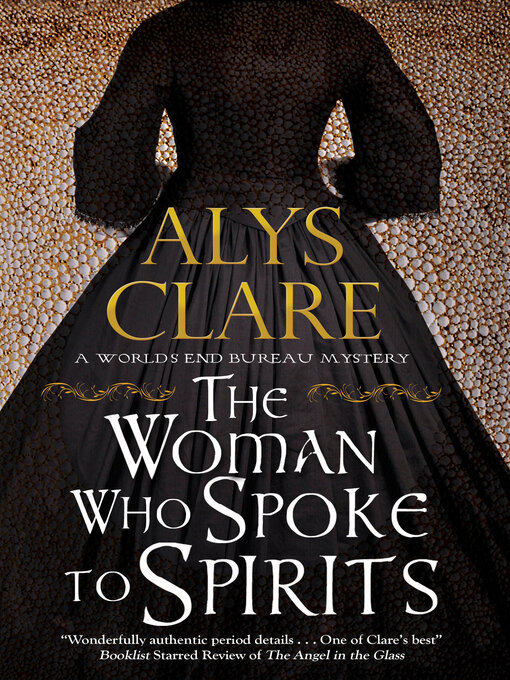 World's End Bureau series by Alys Clare
OverDrive ebooks (complete series)
hoopla ebooks (complete series)
Book #1 The Woman Who Spoke to Spirits
Introducing private investigators Lily Raynor and Felix Wilbraham in the first of the brand-new World's End Bureau Victorian mystery series.
London, 1880. "I'm dreadfully afraid someone is threatening to kill my wife…" When accounts clerk Ernest Stibbins approaches the World's End investigation bureau with wild claims that his wife Albertina has been warned by her spirit guides that someone is out to harm her, the bureau's owner Lily Raynor and her new employee Felix Wilbraham are initially skeptical. How are the two private inquiry agents supposed to investigate threats from beyond the grave? But after she attends a séance at the Stibbins family home, Lily comes to realize that Albertina is in terrible danger. And very soon so too is Lily herself.
---
Ali Reynolds series by J.A. Jance
books (complete series)
books on CD
hoopla audiobooks
Book #1 Edge of Evil
The end of her high-profile broadcasting career came too soon for TV journalist Alison Reynolds — bounced off the air by executives who wanted a "younger face." With a divorce from her cheating husband of ten years also pending, there is nothing keeping her in L.A. any longer. Cut loose from her moorings, Ali is summoned back home to Sedona, Arizona, by the death of a childhood friend. Once there she seeks solace in the comforting rhythms of her parents' diner, the Sugarloaf Café, and launches an online blog as therapy for others who have been similarly cut loose.
But when threatening posts begin appearing, Ali finds out that running a blog is far more up-close and personal than sitting behind a news desk. And far more dangerous. Suddenly something dark and deadly is swirling around her life . . . and a killer may be hunting her next.
*All summaries courtesy of the publisher unless otherwise noted.