Read a funny book.
In these trying times, we could all use a good laugh. So, this month, we challenge you to have a little fun with your reading list, and find something that tickles your funny bone. Find recommendations for adults, teens, tweens, and kids. Get more information about the Read 2021 Challenge here.
Adults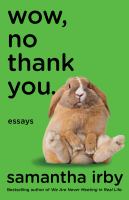 Wow, No Thank You: Essays by Samantha Irby
book
OverDrive ebook
From Samantha Irby, beloved author of We Are Never Meeting in Real Life, a rip-roaring, edgy and unabashedly raunchy new collection of hilarious essays.

Irby is forty, and increasingly uncomfortable in her own skin despite what Inspirational Instagram Infographics have promised her. She has left her job as a receptionist at a veterinary clinic, has published successful books and has been friendzoned by Hollywood, left Chicago, and moved into a house with a garden that requires repairs and know-how with her wife in a Blue town in the middle of a Red state where she now hosts book clubs and makes mason jar salads. This is the bourgeois life of a Hallmark Channel dream. She goes on bad dates with new friends, spends weeks in Los Angeles taking meetings with tv executives slash amateur astrologers while being a cheese fry-eating, slightly damp Midwest person, with neck pain and no cartilage in her knees, who still hides past due bills under her pillow. The essays in this collection draw on the raw, hilarious particulars of Irby's new life. Wow, No Thank You is Irby at her most unflinching, riotous, and relatable.
---
Is This Anything? by Jerry Seinfeld
book
large print book
OverDrive ebook
OverDrive audiobook
The first book in twenty-five years from Jerry Seinfeld features his best work across five decades in comedy. Since his first performance at the legendary New York nightclub "Catch a Rising Star" as a twenty-one-year-old college student in fall of 1975, Jerry Seinfeld has written his own material and saved everything. "Whenever I came up with a funny bit, whether it happened on a stage, in a conversation, or working it out on my preferred canvas, the big yellow legal pad, I kept it in one of those old school accordion folders," Seinfeld writes. "So I have everything I thought was worth saving from forty-five years of hacking away at this for all I was worth." For this book, Jerry Seinfeld has selected his favorite material, organized decade by decade. In page after hilarious page, one brilliantly crafted observation after another, readers will witness the evolution of one of the great comedians of our time and gain new insights into the thrilling but unforgiving art of writing stand-up comedy.
---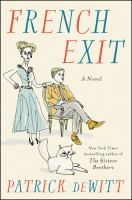 French Exit by Patrick deWitt
book
OverDrive ebook
hoopla audiobook
From bestselling author Patrick deWitt, a brilliant and darkly comic novel about a wealthy widow and her adult son who flee New York for Paris in the wake of scandal and financial disintegration.
Frances Price – tart widow, possessive mother, and Upper East Side force of nature – is in dire straits, beset by scandal and impending bankruptcy. Her adult son Malcolm is no help, mired in a permanent state of arrested development. And then there's the Price's aging cat, Small Frank, who Frances believes houses the spirit of her late husband, an infamously immoral litigator and world-class cad whose gruesome tabloid death rendered Frances and Malcolm social outcasts.
Putting penury and pariahdom behind them, the family decides to cut their losses and head for the exit. One ocean voyage later, the curious trio land in their beloved Paris, the City of Light serving as a backdrop not for love or romance, but self destruction and economical ruin – to riotous effect. A number of singular characters serve to round out the cast: a bashful private investigator, an aimless psychic proposing a seance, and a doctor who makes house calls with his wine merchant in tow, to name a few.
Brimming with pathos, French Exit is a one-of-a-kind 'tragedy of manners,' a send-up of high society, as well as a moving mother/son caper which only Patrick deWitt could conceive and execute.
---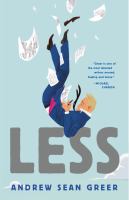 Less by Andrew Sean Greer
book
book on CD
OverDrive ebook
OverDrive audiobook
Who says you can't run away from your problems? You are a failed novelist about to turn fifty. A wedding invitation arrives in the mail: your boyfriend of the past nine years is engaged to someone else. You can't say yes–it would be too awkward–and you can't say no–it would look like defeat. On your desk are a series of invitations to half-baked literary events around the world. QUESTION: How do you arrange to skip town? ANSWER: You accept them all. What would possibly go wrong?
Arthur Less will almost fall in love in Paris, almost fall to his death in Berlin, barely escape to a Moroccan ski chalet from a Saharan sandstorm, accidentally book himself as the (only) writer-in-residence at a Christian Retreat Center in Southern India, and encounter, on a desert island in the Arabian Sea, the last person on Earth he wants to face. Somewhere in there, he will turn fifty. Through it all, there is his first love. And there is his last. Because, despite all these mishaps, missteps, misunderstandings and mistakes, Less is, above all, a love story. A scintillating satire of the American abroad, a rumination on time and the human heart, a bittersweet romance of chances lost, by an author The New York Times has hailed as "inspired, lyrical," "elegiac," "ingenious," as well as "too sappy by half," Less shows a writer at the peak of his talents raising the curtain on our shared human comedy.
---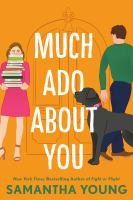 Much Ado About You by Samantha Young
book
OverDrive ebook
At thirty-three-years old Evangeline Starling's life in Chicago is missing that special something. And when she's passed over for promotion at work, Evie realizes she needs to make a change. In a burst of impulsivity, she plans a holiday in a quaint English village. The holiday package comes with a temporary position at the bookstore located beneath her rental apartment. Not only is Evie swept up in running the delightful store, she's drawn into the lives, loves and drama of the friendly villagers. Including Roane Robson, the charismatic and sexy farmer who tempts Evie every day.
---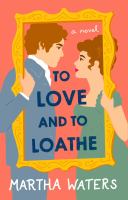 To Love and to Loathe by Martha Waters
book
OverDrive ebook
The widowed Diana, Lady Templeton and Jeremy, Marquess of Willingham are infamous among English high society as much for their sharp-tongued bickering as their flirtation. One evening, an argument at a ball turns into a serious wager: Jeremy will marry within the year or Diana will forfeit one hundred pounds. So shortly after, just before a fortnight-long house party at Elderwild, Jeremy's country estate, Diana is shocked when Jeremy appears at her home with a very different kind of proposition. After his latest mistress unfavorably criticized his skills in the bedroom, Jeremy is looking for reassurance, so he has gone to the only woman he trusts to be totally truthful. He suggests that they embark on a brief affair while at the house party. Jeremy can receive an honest critique of his bedroom skills and widowed Diana can use the gossip to signal to other gentlemen that she is interested in taking a lover. Diana thinks taking him up on his counter-proposal can only help her win her wager. With her in the bedroom and Jeremy's marriage-minded grandmother, the formidable Dowager Marchioness of Willingham, helping to find suitable matches among the eligible ladies at Elderwild, Diana is confident her victory is assured. But while they're focused on winning wagers, they stand to lose their own hearts.
---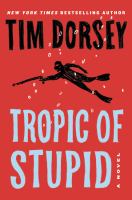 Tropic of Stupid by Tim Dorsey
book
Devoted Floridaphile Serge Storms is a lover of history, so he's decided to investigate his own using one of those DNA services from late-night TV. Excited to construct a family tree, he and Coleman hit the road to meet his kin. Along the way, he plans to introduce Coleman to the Sunshine State's beautiful parks where he can brush up on his flora, fauna, and wildlife, and more importantly, collect the missing stamps for his park passport book.
But as the old saying goes, the apple doesn't fall far . . . Serge is thrilled to discover he may be related to a notorious serial killer who's terrorized the state for twenty years and never been caught. Which one of his newfound relatives will be the one to help him hunt down this deranged maniac? Serge doesn't know that a dogged investigator from the Florida Department of Law Enforcement is also hot on the trail.
Then Serge meets a park ranger who's also longing to make a family re-connection. But all is not as it appears on the surface, and Serge's newfound friendship in the mysterious swamps of Florida may lead to deadly results.
---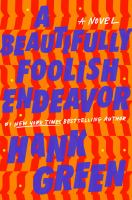 A Beautifully Foolish Endeavor: A Novel by Hank Green
book
OverDrive ebook
OverDrive audiobook
Who has the right to change the world forever?
How will we live online?
How do we find comfort in an increasingly isolated world?
The Carls disappeared the same way they appeared, in an instant. While the robots were on Earth, they caused confusion and destruction with only their presence. Part of their maelstrom was the sudden viral fame and untimely death of April May: a young woman who stumbled into Carl's path, giving them their name, becoming their advocate, and putting herself in the middle of an avalanche of conspiracy theories.
Months later, April's friends are trying to find their footing in a post-Carl world. Andy has picked up April's mantle of fame, speaking at conferences and online; Maya, ravaged by grief, begins to follow a string of mysteries that she is convinced will lead her to April; and Miranda is contemplating defying her friends' advice and pursuing a new scientific operation…one that might have repercussions beyond anyone's comprehension. Just as it is starting to seem like the gang may never learn the real story behind the events that changed their lives forever, a series of clues arrive–mysterious books that seem to predict the future and control the actions of their readers–all of which seems to suggest that April could be very much alive.
In the midst of the search for the truth and the search for April is a growing force, something that wants to capture our consciousness and even control our reality. A Beautifully Foolish Endeavor is the bold and brilliant follow-up to An Absolutely Remarkable Thing. It is a fast-paced adventure that is also a biting social commentary, asking hard, urgent questions about the way we live, our freedoms, our future, and how we handle the unknown.
Teens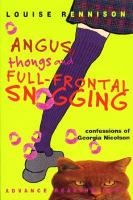 Angus, Thongs and Full-Frontal Snogging by Louise Rennison
book
book on CD
hoopla audiobook
Angus:
My mixed-breed cat, half domestic tabby, half Scottish wildcat. The size of a small Labrador, only mad.
Thongs:
Stupid underwear. What's the point of them, anyway? They just go up your bum, as far as I can tell.
Full-Frontal Snogging:
Kissing with all the trimmings, lip to lip, open mouth, tongues … everything.
Her dad's got the mentality of a Teletubby (only not so developed). Her cat, Angus, is trying to eat the poodle next door. And her best friend thinks she looks like an alien — just because she accidentally shaved off her eyebrows. Ergghhhlack. Still, add a little boy-stalking, teacher-baiting, and full-frontal snogging with a Sex God, and Georgia's year just might turn out to be the most fabbitty fab fab ever!
---
Nimona by Noelle Stevenson
book
hoopla comic
hoopla audiobook
Nimona is an impulsive young shape-shifter with a knack for villainy. Lord Ballister Blackheart is a villain with a vendetta. As sidekick and supervillain, Nimona and Lord Blackheart are about to wreak some serious havoc. Their mission: prove to the kingdom that Sir Ambrosius Goldenloin and his buddies at the Institution of Law Enforcement and Heroics aren't the heroes everyone thinks they are.
Nemeses!
Dragons!
Science!
Symbolism!
All these and more await in this brilliantly subversive, sharply irreverent epic from Noelle Stevenson, based on her award-winning web comic.
---
Me and Earl and the Dying Girl: A Novel by Jesse Andrews
book
hoopla ebook
Freading ebook
This is the funniest book you'll ever read about death.
It is a universally acknowledged truth that high school sucks. But on the first day of his senior year, Greg Gaines thinks he's figured it out. The answer to the basic existential question: How is it possible to exist in a place that sucks so bad? His strategy: remain at the periphery at all times. Keep an insanely low profile. Make mediocre films with the one person who is even sort of his friend, Earl.
This plan works for exactly eight hours. Then Greg's mom forces him to become friends with a girl who has cancer. This brings about the destruction of Greg's entire life.
---
A Toaster on Mars by Darrell Pitt
book
For fans of Terry Pratchett and Douglas Adams comes a hilarious new space and time adventure.
The year is 2509 and Earth is a rather polluted blue dot that suffers from global warming, overpopulation and not enough people using deodorant.
Blake Carter, star agent with the Planetary Bureau of Investigation, isn't having a good day. First he's beaten up by a bunch of religious zealots, and then he's assigned a robot—sorry, cyborg—as his new partner, right before his ex-wife calls to tell him his daughter has gone missing. His car keeps criticizing his driving, and finally, to top things off, the world is held to ransom by his nemesis, evil genius Bartholomew Badde.
Can things get any worse? Yes!
---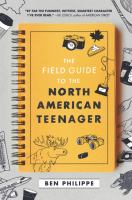 The Field Guide to the North American Teenager by Ben Philippe
book
OverDrive ebook
OverDrive audiobook
hoopla ebook
hoopla audiobook
Norris Kaplan is clever, cynical, and quite possibly too smart for his own good. A Black French Canadian, he knows from watching American sitcoms that those three things don't bode well when you are moving to Austin, Texas.
Plunked into a new high school and sweating a ridiculous amount from the oppressive Texas heat, Norris finds himself cataloging everyone he meets: the Cheerleaders, the Jocks, the Loners, and even the Manic Pixie Dream Girl. Making a ton of friends has never been a priority for him, and this way he can at least amuse himself until it's time to go back to Canada, where he belongs.
Yet against all odds, those labels soon become actual people to Norris…like loner Liam, who makes it his mission to befriend Norris, or Madison the beta cheerleader, who is so nice that it has to be a trap. Not to mention Aarti the Manic Pixie Dream Girl, who might, in fact, be a real love interest in the making.
But the night of the prom, Norris screws everything up royally. As he tries to pick up the pieces, he realizes it might be time to stop hiding behind his snarky opinions and start living his life along with the people who have found their way into his heart.
---
It Only Happens in the Movies by Holly Bourne
book
OverDrive ebook
From award-winning British author Holly Bourne comes a clever, deconstructed rom-com that proves that in real life "girl meets boy" doesn't always mean "happily ever after" . . . or does it?
Audrey is over romance. While dealing with her parents' contentious divorce, a breakup of her own, and shifting friendship dynamics, she has every reason to feel cynical. But then she meets Harry, her fellow coworker at the local cinema. He's brash, impulsive, and a major flirt. And even though Audrey tries to resist, she finds herself falling for his charms. But in this funny, insightful, and ultimately empowering novel, love—and life—isn't what it's like in the movies.
---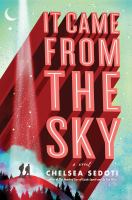 It Came From the Sky by Chelsea Sedoti
book
book on CD
hoopla ebook
Freading ebook
This is the absolutely true story of how Lansburg, Pennsylvania, was invaded by aliens. None of this story is false. At least…not according to Gideon Hofstadt.
Last fall, Lansburg, Pennsylvania, was invaded. Weeks of chaos followed. There were sightings of UFOs, close encounters, and even abductions. There were believers, Truth Seekers, and above all, people who looked to the sky and hoped for more. Only…there were no aliens.
Gideon Hofstadt knows the truth; after one of his science experiments went wrong, Gideon and his older brother blamed the resulting explosion on extraterrestrial activity. To their surprise, their lie was not only believed by the town…it was embraced.
As the brothers go to increasingly greater lengths to keep up the ruse to avoid getting caught, the hoax flourishes. But Gideon's obsession with their tale threatens his whole world. Can he find a way to banish the aliens before Lansburg, and his life, are changed forever?
---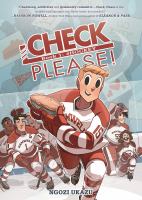 Check please!: #Hockey by Ngozi Ukazu
book
Eric Bittle may be a former junior figure skating champion, vlogger extraordinaire, and very talented amateur pâtissier, but being a freshman on the Samwell University hockey team is a whole new challenge. It is nothing like co-ed club hockey back in Georgia! First of all? There's checking (anything that hinders the player with possession of the puck, ranging from a stick check all the way to a physical sweep). And then, there is Jack―his very attractive but moody captain.
A collection of the first half, freshmen and sophomore year, of the megapopular webcomic series of the same name, Check, Please!: #Hockey is the first book of a hilarious and stirring two-volume coming-of-age story about hockey, bros, and trying to find yourself during the best four years of your life.
Tweens
The Case of the Case of Mistaken Identity by Mac Barnett
book
National treasures, criminal masterminds, and…secret agent librarians?
Steve Brixton wants to be a crime-busting detective just like his favorite crime-busting detectives, the Bailey Brothers. Turns out, though, that real life is nothing like the stories.
When Steve borrows the wrong book from the library, he finds himself involved in a treasonous plot that pits him against helicopter-rappelling librarians, has him outwitting a gaggle of police, and sees him standing off against the mysterious Mr. E. And all his Bailey Brothers know-how isn't helping at all!
Worst of all, his social studies report is due Monday, and Ms. Gilfeather will not give him an extension!
---
Sideways Stories from Wayside School by Louis Sachar
book
OverDrive ebook collection
hoopla ebook
Freading ebook
Bestselling and Newbery Medal-winning author Louis Sachar knows how to make readers laugh. And there are laughs galore in perennial favorite Sideways Stories from Wayside School, the first book in the series!
Accidentally built sideways and standing thirty stories high (the builder said he was very sorry for the mistake), Wayside School has some of the wackiest classes in town, especially on the thirtieth floor. That's where you'll meet Bebe, the fastest draw in art class; John, who only reads upside down; Myron, the best class president ever; and Sammy, the new kid—he's a real rat.
---
The Phantom Tollbooth by Norton Juster
book
book
OverDrive ebook
For Milo, everything's a bore. When a tollbooth mysteriously appears in his room, he drives through only because he's got nothing better to do. But on the other side, things seem different. Milo visits the Island of Conclusions (you get there by jumping), learns about time from a ticking watchdog named Tock, and even embarks on a quest to rescue Rhyme and Reason. Somewhere along the way, Milo realizes something astonishing. Life is far from dull. In fact, it's exciting beyond his wildest dreams!
---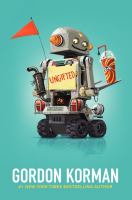 Ungifted by Gordon Korman
book
OverDrive ebook
hoopla audiobook
For fans of Louis Sachar and Jack Gantos, this funny and touching underdog story is a lovable and goofy adventure with robot fights, middle-school dances, live experiments, and statue-toppling pranks.
When Donovan Curtis pulls a major prank at his middle school, he thinks he's finally gone too far. But thanks to a mix-up by one of the administrators, instead of getting in trouble, Donovan is sent to the Academy of Scholastic Distinction, a special program for gifted and talented students.
Although it wasn't exactly what Donovan had intended, the ASD couldn't be a more perfectly unexpected hideout for someone like him. But as the students and teachers of ASD grow to realize that Donovan may not be good at math or science (or just about anything), he shows that his gifts may be exactly what the ASD students never knew they needed.
---
It's My Party and I Don't Want to Go by Amanda Panitch
book
A funny and honest portrayal of living with social anxiety, this timely novel explores the universal themes of growing up and finding your voice, set in a fast-paced comedy. Ellie Katz is sabotaging her own party. Sure, it seems extreme, but it's the only option for her bat mitzvah. Crowds and attention always made her nervous, and lately they've been making it harder and harder for Ellie to breathe. The celebration would mean (1) a large crowd, (2) lots of staring, and (3) distant family listening to her sing in another language. No thank you! To avoid certain catastrophe, she hatches a plan with her best friend Zoe to ruin the big day. Cue the email hacking, DJ takedown, and an all-out food fight! Everything is falling apart according to plan, until a fight with Zoe leaves Ellie alone on her path of destruction, facing some unintended consequences and disappointments. Can she find a way to right her wrongs, face her fears, and light her candles?
---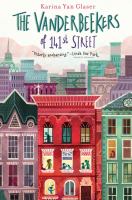 The Vanderbeekers of 141st Street by Karina Yan Glaser
book
The Vanderbeekers have always lived in the brownstone on 141st Street. It's practically another member of the family. So when their reclusive, curmudgeonly landlord decides not to renew their lease, the five siblings have eleven days to do whatever it takes to stay in their beloved home and convince the dreaded Beiderman just how wonderful they are. And all is fair in love and war when it comes to keeping their home.
---
How the Dragon was Tricked: And Other Silly Stories
book
To the cunning young man in How the Dragon Was Tricked, duping a dragon is easy and fooling a king is even easier! The magic and fun of this story, as well as in Buttercup, Wishing for Wings, and The Lad and the Devil, engage readers with the language arts curriculum's focus on creative word choice and storytelling. Full-color illustrations make scenes from each of the fanciful tales real, while readers' imaginations are sparked to fill in the rest.
---
The Sunken Tower by Tait Howard
book
Set deep underground in a sunken city, a young wizard and his two companions embark on a journey to escape the clutches of an evil cult.
Dig is having a very bad day. His bag is broken, he can't catch a break at the local market, and just when things are looking up, he's kidnapped by a couple of Blood Cultists and taken to the underground city that serves as their base, where he'll make a tasty human sacrifice for an unspeakably horrible monster. Thrown into a dungeon, he's left to feel sorry for himself. But his new cellmates, Iana and Crina, are ecstatic about Dig's appearance. He's a wizard, which means he knows magic, which means he can help get them all out of this terrible sunken city for good If Iana can get her hands on a sword, and Crina can remember the way to the giant tower that leads to the surface, then everything will go smoothly. That is, until the Blood Cultists catch up with them, and Dig's magical abilities are put to the ultimate test. Because Dig's been keeping a secret. And if it's found out… he may never see the surface again.
---
Kids
The Book with No Pictures by B.J. Novak
book
OverDrive ebook
You might think a book with no pictures seems boring and serious. Except . . . here's how books work. Everything written on the page has to be said by the person reading it aloud. Even if the words say . . .
BLORK. Or BLUURF. And even if the words include things like BLAGGITY BLAGGITY and MY HEAD IS MADE OF BLUEBERRY PIZZA!
---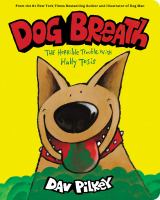 Dog Breath : The Horrible Trouble with Hally Tosis by Dav Pilkey
book / book
Hally the dog has horrible breath. Even the skunks avoid her. So when Mr and Mrs Tosis decide enough is enough and try to find a new home for Hally, the Tosis kids hatch a plan to save Hally. They try everything: a breathtaking view, Breath of a Salesman, and even a speedy rollercoaster, but nothing works. Only a miracle can save Hally now.
---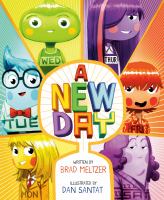 A New Day by Brad Meltzer
book
Sunday quit, just like that. She said she was tired of being a day. And so the other days of the week had no choice but to advertise: WANTED: A NEW DAY. Must be relaxing, tranquil, and replenishing. Serious inquiries only. Soon lots of hopefuls arrived with their suggestions, such as Funday, Bunday, Acrobaturday, SuperheroDay, and even MonstersWhoResembleJellyfishDay. Things quickly got out of hand until one more candidate showed up: a little girl with a thank-you gift for Sunday. The girl suggested simply a nice day–a day to be kind. And her gratitude made a calendar's worth of difference to Sunday, who decided she didn't need to quit after all.
When we appreciate each other a little bit more, all the days of the week can be brand-new days where everything is possible.
---
The Three Little Pugs by Noah Jones
book
Princess Pink has to shut down a shady car dealership run by the Three Little Pugs.

In the Land of Fake-Believe, Princess Pink meets the Three Little Pugs–the trickiest car dealers in town. They sold Scaredy-Pants Wolf an actual lemon instead of a car Princess and her friend Moldylocks must work together to get their friend his money back. Princess will have to use her new karate moves to block, chop, and kick down this shady business for good.
This series is part of Scholastic's early chapter book line called Branches, which is aimed at newly independent readers. With easy-to-read text, high-interest content, fast-paced plots, and illustrations on every page, these books will boost reading confidence and stamina. Branches books help readers grow.
---
Moo Moo in a Tutu by Tim Miller
book
Introducing Moo Moo & Mr. Quackers!
Mr. Quackers, I just had the best idea in the whole world! I've decided to become a ballerina!
Are you for real?!
Moo Moo in a Tutu is a hilarious story about the one-of-a-kind friendship between an adventurous cow and a very loyal duck that will have you quacking up all the way through and applauding for more.
---
Tooth Fairy trouble by Marty Kelley
book
hoopla ebook
When Molly Mac loses her first tooth, talk of the Tooth Fairy makes her head spin! What does the Tooth Fairy do with all of those teeth anyway? Molly and her best friend, Kayley, decide to investigate. When Molly figures out what happens to her lost tooth, will she approve?
---
Spy Guy: The Not-So-Secret Agent by Jessica Young
book
hoopla ebook
Spy Guy is a spy—but not a very good one. He's too loud, too squeaky, and in need of a good disguise. All Spy Guy wants is to figure out the secret to spying. But as the Chief says, that he must discover for himself. With a lot of trial and even more error, can Spy Guy figure out the secret to spying?

---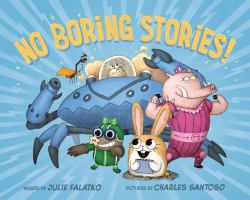 No Boring Stories! by Julie Falatko
book
A group of misfits takes a stand against sweet, cuddly, boring stories in this picture book by the critically acclaimed author of the Snappsy the Alligator series, Julie Falatko.
The unpopular animals have had enough. They want to be in a picture book. Stories about mommy-loving kitties and cuddly bunnies at bedtime are boring. Wouldn't you rather hear about yeti crabs in robo suits and fierce babirusa princesses who fight giant grape monsters? This group of misfits has a unique story to tell, but they'll never finish writing it if their over-eager bunny neighbor won't GO AWAY. Julie Falatko, critically acclaimed author of the Snappsy the Alligator books, brings her signature humor to this stand-alone picture book about finding your tribe and writing the stories you want to see, no matter how weird or wild they are
*All summaries are courtesy of the publisher unless otherwise noted.